I am starting to plan Nathan's 3 year birthday party and ordered some things from Oriental Trading. I had a coupon for $10 off a $30 purchase so I had to spend $5 extra after the total for the favors. I decided to get Nathan and Autumn their own crafts. They have some really original ones for really cheap! I got Nathan an Easter egg race track with cars craft.
Autumn was napping but decided to wake up right when we started which made it more of a challenge. Nathan loved the race cars.
I got Autumn a bunny marshmallow ornament craft kit and I will make it for her on a different day.
All the pieces. The egg race track is made out of foam.
Nathan popping all of the wheels out...
Then I put all this sticks/axis on the cars
The wheels aren't even on yet and Nathan is driving the pink car on Autumn's bumbo
Awww...
Putting the numbers on the cars
Lots of numbers
We had a glue stick but I need to find my tacky glue from downstairs as its not keeping the character pieces on the cars well.. this is the bunny car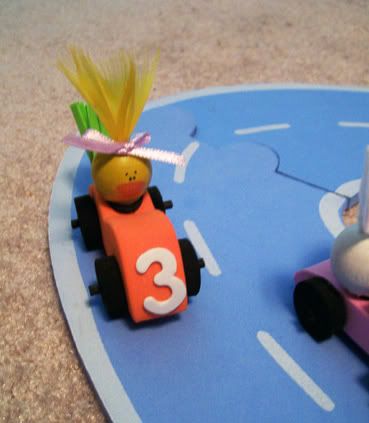 Chick car