For Nathan's 1st birthday, I bought him this adorable wooden gift bucket with a chalk board on one side at Target and filled it with fire engine themed items. Of course, I had so much fun with it, that I decided I wanted to make Autumn a chalkboard bucket, too! I was so disappointed when I went to Target and the chalkboard buckets are half the size, but still the same price! Grr! I was more upset over the size then the price, because Nathan's is in his closet and we store misc. toys or stuffed animals in it.
I wish I could include photos of Nathan's chalkboard bucket with the one I just made for Autumn, but I don't have my old files from my old laptop converted over to my new laptop yet.
So, here are photos of Autumn's chalkboard bucket: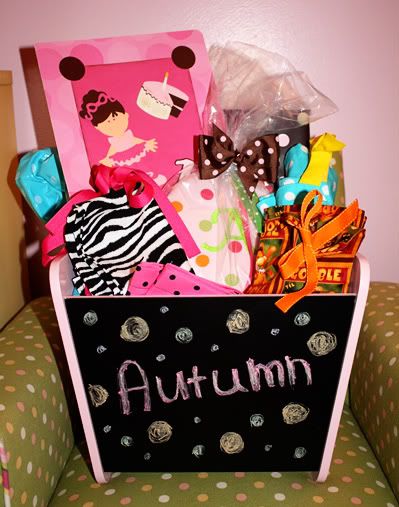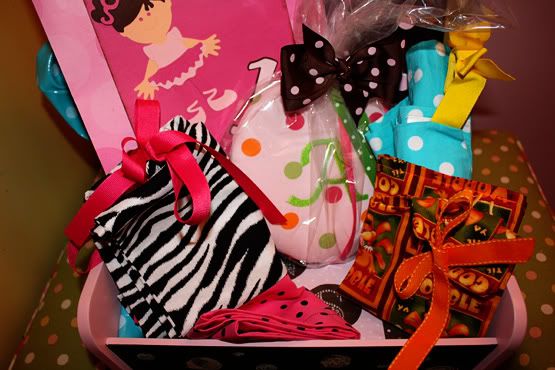 Contents:
- Pink Chalkboard Bucket
- Homemade card that a girl at work made for her with her cricut
- 2T Pillowcse dress in zebra print and hot pink polka dot accents
- 2T Gymboree Polka Dot Raincoat with Matching Dress
- Homemade Thanksgiving Bib from friend Cami at work
- Homemade Jewelry Box (made out of cigar box that I modge podged) with chunky jewelry
- VTech Helicopter (wrapped)
- Monogrammed Hair Bow Holder that matches Auttie's room
- Brown and Pink Prissy Miss bow (also giving these bows out for favors at her party)
Join Swagbucks to earn Amazon giftcards!