Well, of course, Valentine's Day has to be special for Nathan and Autumn, too! I got them a couple of gifts each so they could share with us in the excitement of the day. Nathan got 6 Valentine Hot Wheels and a fishies tube. Autumn got the Fisher Price Laugh and Learn teapot and a tea party board book (well, the board book is actually from my mom, but I threw it in the pictures because it goes with the teapot so well!).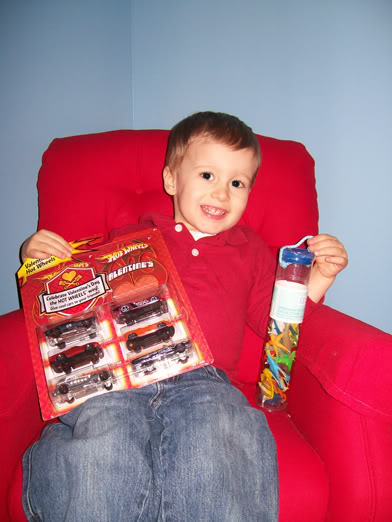 Nathan sitting still and smiling really nice for me, because he knows if he doesn't I will take his toys back! (heheh.. j/k)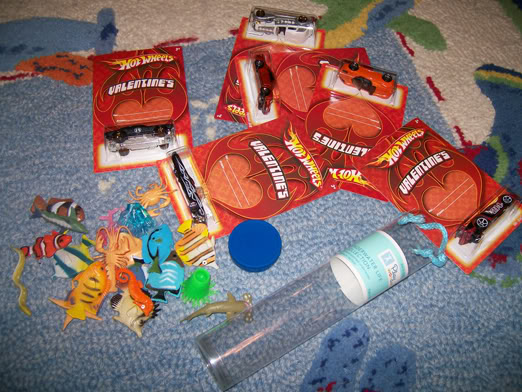 The Hot Wheels were actual individual Valentine cards that you'd normally hand out but since they were all different, I thought he'd love them for his Valentine gift.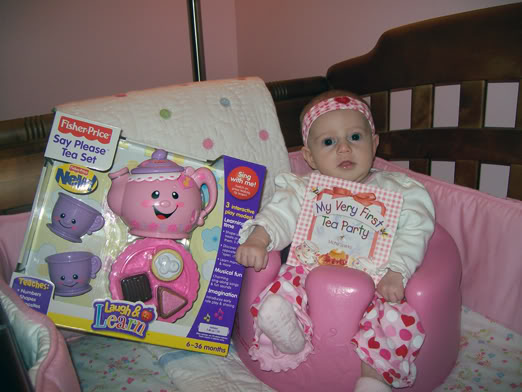 We ordered Outback to GO for our Valentine dinner… while Jeremi went to pick it up, Nathan went with him, so I found it as a good chance to get a picture of Autumn with her Valentine gifts. If Nathan had been home, he would have wanted them right away!! Here she is in her bumbo before I opened her teapot.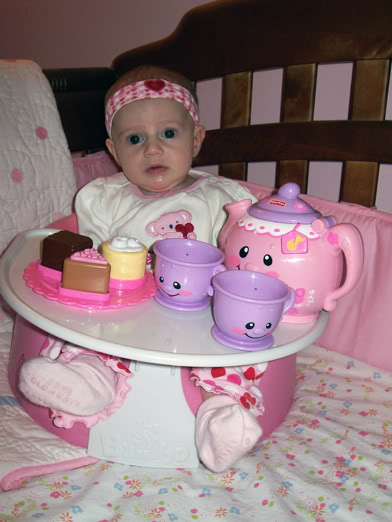 Autumn at her own tea party!! I love this bumbo chair, it has a tray that hooks onto it. I have just started to sit her in it and she seems to like it so far… I only keep her in it 5-10 minutes because it is still a lot of work for her to hold her head up in it and plus its for 3 mo. and up and she is JUST 3 mo. this last week.
P.S. It was kind of sad, Jeremi got a cold today and my cold got sort of worse today… so we both have faucet-like runny noses… then we had Outback but Autumn was fussy so I ate it on the couch while nursing her and Jeremi ate his at the kitchen table while he fed Nathan dinner. So, we did not even have our Valentine's dinner at the same table OR room! lol!! Kids! 😉