I am a little behind this year on the Easter baskets, but I finished them tonight, and I wanted to share them.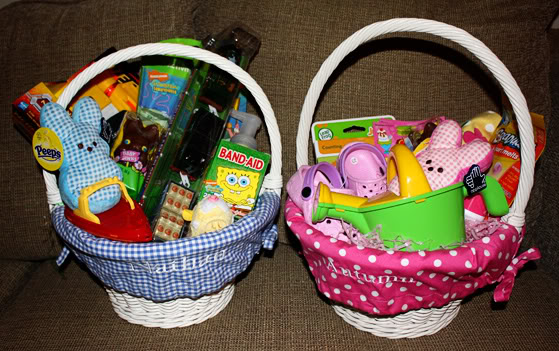 Nathan and Autumn's baskets. I am thinking that next year I may get a new basket liner for Nathan, because the the blue gingham just seems sort of babyish (plus they have cooler ones now with cars, etc. on them).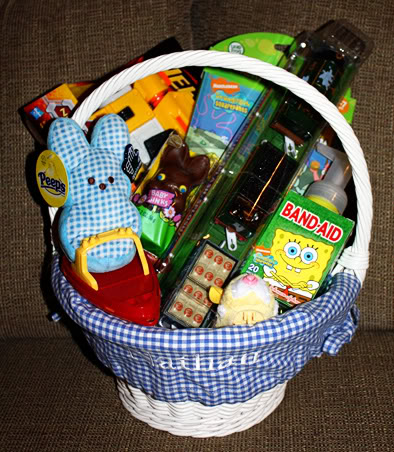 You may ask, where is all of the candy? There is a chocolate Easter bunny in there, but the kids will get their share of candy when they do 3 egg hunts tomorrow!! I have a trackmaster train, Peep (I get the kids a different stuffed Peep each year), Sponge Bob bandaids, Sponge Bob soap for after he uses the potty, his first nerf gun (coworker gave me this idea, lets hope that Autumn isn't his target) and some other misc. items. Don't worry, it looks like I spent a lot, but I probably spent $25 tops on all of these things thanks to Swagbucks and bargain shopping!!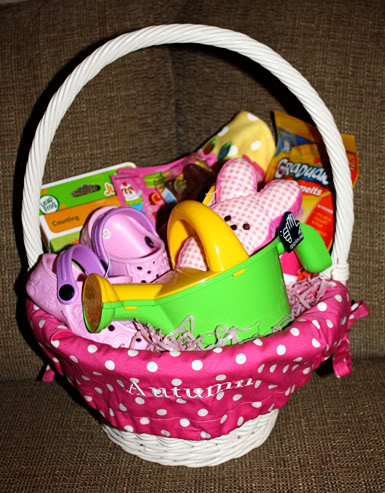 Autumn's basket includes an outfit, Koala Kids crocs, scratch and sniff stickers (she LOVES stickers), her stuffed Peep, chocolate bunny, Avon scented paint and roll bath soap, etc.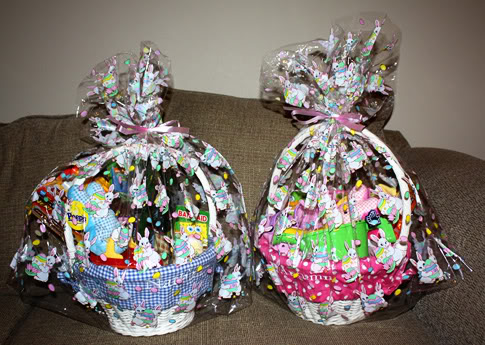 Baskets wrapped up and pretty (and so they can't get into them until I get a picture of them with their baskets– lets hope that works!). I used these basket bags last year!
HAPPY early Easter! Off to iron Nathan's dress shirt and paint my toes since it is going to be BEAUTIFUL outside tomorrow!