It is time for our fashion link up again, this will be the sixth What Wives Wear party!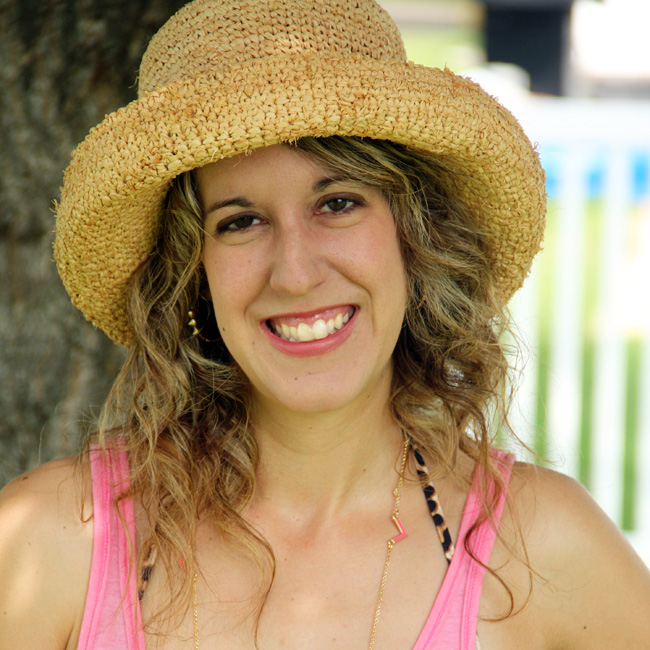 Today I am wearing another romper! My last romper (see post HERE) had anchors all over it and today I am wearing a neon pink romper with a straw hat and gladiator sandals.
I have been trying to figure out what I will wear while we are on our Destin vacation next month and this romper is P E R F E C T! It is definitely one of those rompers that you HAVE to wear a swimming suit under, unlike my anchor romper. This romper has shorts where my anchor romper was a skirt. I love how lose and comfortable it is and the neon color goes perfect with my bikini. This romper is from ON and the straw hat is from Ann Taylor. I tried my fedora with this, but the straw hat looked much cuter imho.
Here is a full view shot and you can see that I am wearing my new gladiator sandals from Charming Charlie. These sandals were really inexpensive and they are SO comfortable. Some styles of gladiator sandals do NOT look comfortable to me… they are really popular this summer, so I am super excited I found this pair that I can walk for days in!
Of course, with cute sandals, you just have to stage a cute little photo with them and the straw hat! lol!
We are having family beach photos taken on the beach next month and I need to figure out what we are all going to wear. EEK. I have an idea, but I really need to get on it! We are also going to NYC this month, so I need to figure out what I am going to wear there… obviously this romper outfit will be solely for our Destin trip. 🙂
I am wearing a pink chevron necklace with the romper and gold stud earrings. I love the contrast of the leopard print on the tie of my bikini against the hot pink romper.
Another look at the gladiator sandals
Here is what I am wearing:
Neon Pink Romper – Old Navy (last year)
Pink Chevron Necklace – Charming Charlie
Shredded Wrap Bracelet – Molly Suzanne
Gladiator Sandals – Charming Charlie
Thanks everyone for linking up every week with us! I have loved getting to know some of you that stop by every week and I love getting new ideas on how to style items in my closet.
Thank you for joining us for the What Wives Wear Link Up, below you will see all of the details and who we featured this week!
Follow Sherri:
Follow Carrie:
What Wives Wear Link Up is a place for wives/moms
to express their own personal style.
Link up your favorite outfit post of the week.
Get inspired while inspiring others!

We will meet and link up every Thursday.

Each week the hosts will choose the Top Two looks
to be featured for the next weeks link up.
Join us each week and we may just pick you!
Are you ready for the top two? Leather can be worn during any season and looks especially nice with vibrant color(s).
Link Up Guidelines:
1. Feel free to grab our button to display on your blog sidebar. Help spread the word and share about our link up community.
2. Follow your hosts. Leave a comment letting us know you are a new follower and we will be sure to follow back.
3. Share the love by visiting and commenting to at least three other blogs in the link up.
4. Tweet about this! Tweet
Linked up with:
Tres Chic Fashion Thursday
Monday Mommy Blog Hop