I just wanted to let you know that Motivational Monday will return next week, but the What Wives Wear link up will return this Wednesday and I hope to see your holiday outfits!



So, are you ready for a little Christmas recap? I hope you all had a blessed Christmas… our started with a lot of asthma coughing and colds, but we are hoping to finish off the rest of this Christmas break with some fun activities since we are all feeling much better!


There was SO much the two weeks leading up to Christmas. Nathan's Christmas play was a week prior to Autumn's and I hate to say that I didn't get any pictures, because we were SO far in the back and had to rush there from Autumn's dance class. I did get this photo of Autumn before her Christmas play, I got this dress for 50% off at JCPenny. I usually don't shop there, but I was so late at getting her a dress for Christmas, that we just ran in there after seeing Santa! It was only $17 and is so cute on her!




I always love taking pictures of the kids hauls from their Christmas parties. Nathan's teacher gave him a pack of highlighters and her mom made these cute little beaded lizards for the class.




Here is Autumn's haul from her Christmas party. 🙂 Her teacher got her an adorable ornament for Christmas.




This flower pot angel was made by Autumn for me in her class, isn't it cute? It has her hand prints for its hands… what makes it extra special is the pink flower pot angel next to it is one that Nathan made for me when he was in Kindergarten. I will always treasure both of these!


I have photos from both Nathan's cub scouts and Autumn's daisy scout Christmas parties… Autumn even did Christmas caroling for daisy scouts… BUT, I'll post about those later. This post will have enough photos!




Brian started cooking the evening before Christmas Eve, here are the homemade noodles he was making for the beef burgundy. YUM!! I make all of the sides and he makes the main dish, it works out great!




Christmas Eve was sort of a weird day for me… I had been getting over a cold and had felt wonderful the day before, but on Christmas Eve I felt just yucky ALL day. I tried to make the best of it, because we had my family over for lunch and we were planning to do our stockings game and the Christmas Eve vigil afterwards. We started with my family over and I can tell I must not have felt well, because I didn't even get a photo of the food table! I even took my temperature a couple of times and it was completely normal… it is never fun to get over a cold and then to start feeling bad again! Here is me with my gift from my mom, a Silhouette Cameo! I have a Cricut, but I have been wanting something that works better… especially with vinyl! I can't wait to work on some crafts with this machine!




Nathan couldn't wait for Uncle Jeff to come over on Christmas Eve, because he wanted to have a Minecraft marathon!! The boy is so lucky, because Jeff and Tracy are having the kids over again later this week!




Autumn and Tracy had a blast too, they played Pop the Pig! and put together a bunch of puzzles.




The kids got to open some presents, Nathan got a camera from Grandma and Pa! He has been taking pictures ever since and I even stole some of the photos he took on Christmas Eve for this blog post!




Autumn got a Barbie puppy water slide and tub, a knock-off AG bed for her AG dolls and a spa set for her dolls.




After family left, we got out the stockings!! I am crazy in that I wrap ALL of the presents in the stockings (Brian wraps mine) and then we get a 4-sided dice and we each pick a number on it. Then we roll the dice and the number that is facing up tells who gets to open a gift, we keep rolling the dice and taking turns opening gifts in our stockings. It is a lot of fun and makes the whole stocking opening go a lot slower, so that we can enjoy it and see what everyone got. I didn't really get a good photo of the kids with their stockings, though… but, mommy was not feeling so hot!




Autumn got this 4-pack of American Girl doll movies… it has Molly, Kit, Samantha and I think Katrina? Anyway… these movies are SO darn good and I only paid $11.99 for this 4 pack of DVD's! I must say, the Molly one was a bit of a tear-jerker for me.




Well, stockings were open and we had an hour to kill until it was time to go to the Christmas Eve vigil. I was on the couch under a blanket and almost in tears I felt so awful. Brian took my temperature and it was 103.8!! I was under a ton of blankets, but still… I couldn't understand why I was feeling so horrible, when my cold had been on its mend… well, Walgreens Med Stop was closed and so was Urgent Care. We had to go to the ER on Christmas Eve! I felt so bad to drag everyone there and that we had to miss out on church. Once I got to the ER, they made me wear a mask and I had to take Tylenol AND Motrin, get a chest X-ray, got checked for the flu and strep… so, what did I have? A sinus infection with double ear infection! The nurse wasn't sure why my fever got up as high as it did, but once it went back down and I started the antibiotics, it never came back. I felt so much better once we got home and I got the antibiotics started… and, I felt perfect on Christmas morning… SO, so glad we got some drugs for me! Who knows how I would have felt otherwise!




Once we got home I fed the kids a very late dinner of chicken noodle soup… and, since we never got our Christmas cookies baked, due to all of the asthma issues with Autumn earlier in the week, we left Santa chocolate chips. How pathetic, I know. LOL. Oh, and a carrot for the reindeer. But, don't worry… we are all better and plan to bake our gingerbread cookies TOMORROW! 🙂 I can't wait… and, we aren't stuffed from Christmas, so they'll taste even better!!




Here are the kids on Christmas morning… they woke up pretty late for them, 7:30 a.m.!!!




A closer view of the kids on Christmas morning…. gotta love Aut's hair. 🙂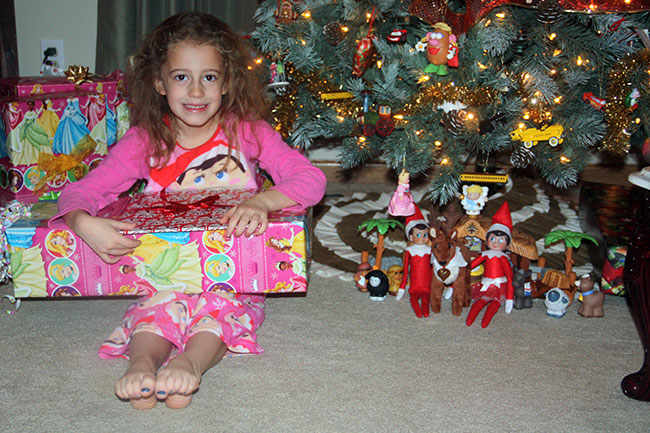 And… the Elves and their pet 🙂 Yes, they got a pet… If you don't follow me on Instagram, you should HERE 🙂 So, you don't miss out on details like this one!




Of course, Autumn picked out which gift was shaped like an American Girl doll box and opened it first. She got Isabelle… she has WAY too many AG dolls, I know… but, was the #1 item she wanted for Christmas. Isabelle is fun, too… she has pink highlights!




Nathan's big gift was an Anki race car set… these are SO cool, it comes with a big mat that you unroll and it comes with two cars that you race and control from your iPad or iPhone.




These anki cars work better than slot cars! They stay on the track and the kids just love doing races… heck, mom even enjoys racing! We do roll up the mat when they aren't playing, so it doesn't get dust or lint on it.




Autumn got Popcorn, this doggy that comes with babies inside her. 🙂 She also wanted cowboy boots and got them!




Nathan also got a little Mip robot. 🙂




The aftermath…. oy!




My Christmas gifts… I wanted this gold monogrammed anthro mug, but it was sold out on their site! Brian found it elsewhere for me thankfully!! I love it!! I also got a gold iPhone 6!!




The kids went over to their dads for Christmas afternoon and Brian and I picked up the house and then went out to see a movie at the 5 Star… we saw Into the Woods, oh my goodness it was SO darn good! It was sold out everywhere, so we had to drive out to St. Charles to see it, but it was worth the drive!

Well, that is it… 🙂 Hope you enjoyed the photo overload (if you're still reading) and have a wonderful New Year!