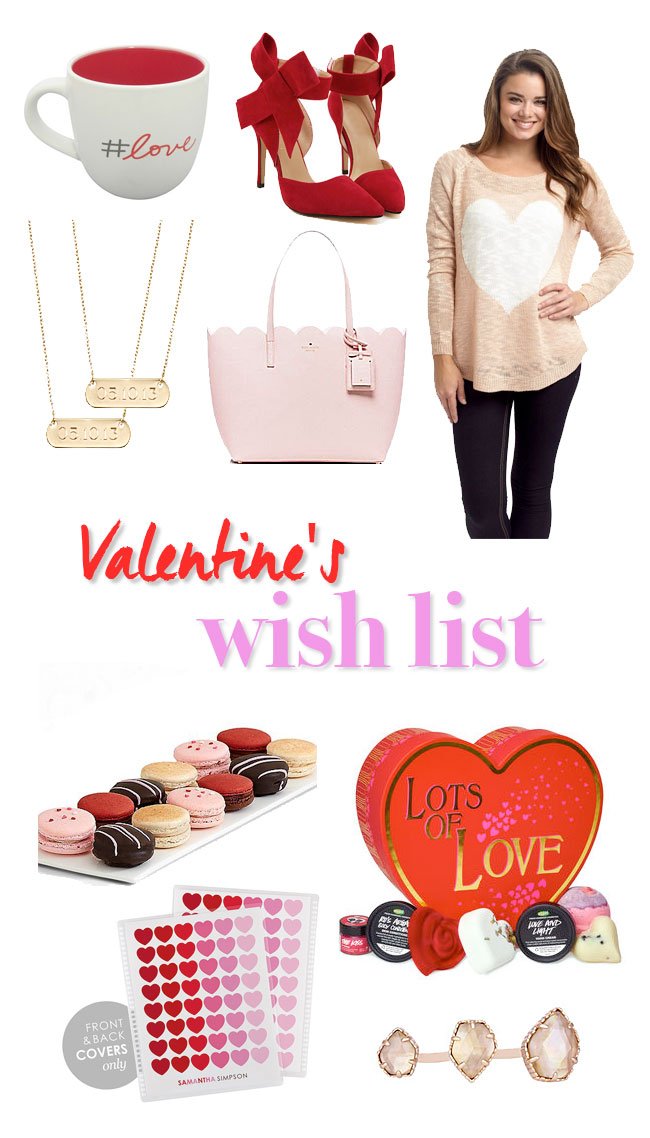 Valentine's Day is NEXT weekend. Do you have anything fun planned? Brian and I actually made some pretty awesome kid free plans this year. Last year we were at the Great Wolf Lodge with the kids (and 2 out of 4 of us was sick! Boo!), so it'll be fun to have some time as a couple this year. I'll share more on that later!

Today I wanted to share with you a Valentine's Day Wish List of items I would love to receive for Valentine's Day. There is a wide range of prices here, but most of them are affordable. I don't think my husband reads my blog, SO I doubt I'll get any of these… but, we'll see! Ha!
#Love Mug from Target – Who can resist a cute mug from Target? This one would be perfect for Valentine's Day. I love that it is red inside the mug, too!

Red with Bow Slingbacks High Heeled Pumps from Romwe – I have been wanting a pair of red shoes lately and I've seen several bloggers with red high heeled pumps with bows. This pair is affordable for how often I would wear them.
Signature Engravable Bar Necklace from Stella & Dot – I would love two of these necklaces with my kids names on them. I would wear them everyday. 🙂

Lily Avenue Carrigan (in Ballet Slipper) from Kate & Spade – I have been dying for a blush purse lately and I don't have one from Kate & Spade yet. This one with its adorable scalloped edges would be perfect for the upcoming Spring.

Blush Pink Heart Knit Sweater from PinkBlush – Blush is such a popular color right now and this cozy heart sweater would be perfect to wear on Valentine's Day.

12 Valentine's Macarons from Shari's Berries – Brian proposed to me in Paris and what better way to remember Valentine's Day then with some macarons! Yum!

Heart Candy Cover from Erin Condren – I recently got an Erin Condren planner for my blog and I am in LOVE with it. You can pick a different cover for every season, holiday, etc. I only have one cover for my planner right now, but how fun would it be to have this Heart Candy Cover to look at all month?

Lots of Love Bath Gift Set from LUSH USA – I take a bath quite often with LUSH homemade bath bombs and bubble bars. I love all of LUSH's other products, too! I always ask my hubby to get my a gift set from LUSH if he doesn't know what else to get me. 

Naomi Double Ring in Brown Pearl from Kendra Scott – Double rings seem to be all the trend and Rocks Box left me missing my monthly shipments of Kendra Scott! I would love to add one of these rings to my jewelry collection.

Let me know if you have any of these and like/love them or if you would like to receive any of these for Valentine's Day! Oh, and any tips of what to get a man that has it all would be greatly appreciated! 😉

To see which parties I have linked up with, click HERE.