Disclosure: The HomeDNA Kit and Lab Results were provided to me. All thoughts about the experience are completely my own.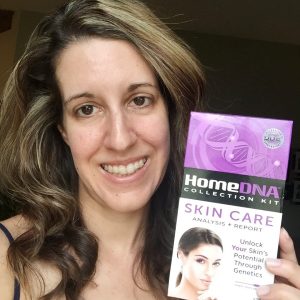 Hey everyone! I am beyond excited today to share my HomeDNA Collection Kit Skin Care Analysis Report with you! All I had to do was swab the inside of my cheek and mail them my DNA sample. This analysis tells you how you rate on  7 Skin Care Categories: Fine Lines & Wrinkles, Collagen Quality, Skin Sensitivity, Pigmentation, Sun Protection, Skin Elasticity and Skin Antioxidants. So, are you ready to hear how I did? I must admit, it was a little nerve wracking opening up the results, I wasn't sure if I'd score Optimal or Non-Ideal!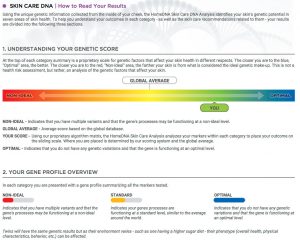 The analysis goes into great detail on how to read your results. You will be either Non-Ideal, Standard or Optimal in each category. It also shows you where the 'Global Average' falls.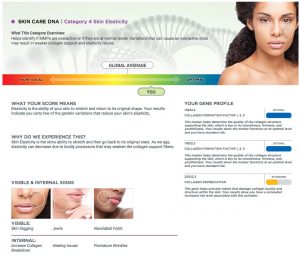 To show you an example on how I scored in one of the categories, I'll share my results for Category 4 Skin Elasticity. I scored really well in this category with little risk and above the Global Average. I scored fairly well in most categories, but there were some that I need some help in. Let me share a category that I scored Non-Ideal in.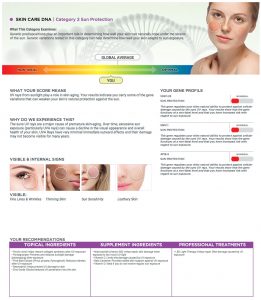 In Category 2 Skin Protection, sadly… I scored Non-Ideal. I guess this didn't surprise me… I am really good about using sunscreen on my face daily, but not as good on the rest of my body. I do use it when I go to the pool, but I need to get better about using it at other times when I'm outdoors since my skin isn't Optimal in the category. It is nice that the analysis shares ways that I can repair and protect by skin from UV damage from the sun with Topical Ingredients, Supplemental Ingredients and Professional Treatments.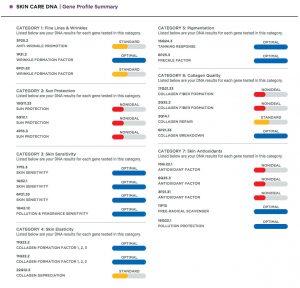 Here is the summary of how I scored in each category. Category 2 Sun Protection and Category 7 Skin Antioxidants are the ones that I'll need to improve. Thankfully, I scored decently in the other categories.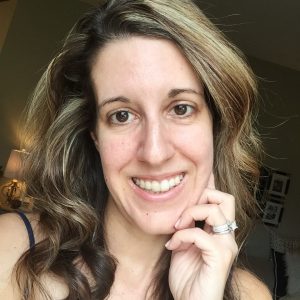 Now when I visit the store, I can buy products for my problem areas and not just for what I think I need. I turned 40 this summer and I know that I need to start taking care of my skin now more than ever. Be sure to check out the HomeDNA Skin Care Analysis for your own skin, it is so important to learn all you can about your skin!
SaveSave
SaveSave
SaveSave
SaveSave
SaveSave
SaveSave
SaveSave