This is a sponsored post written by me on behalf of Smithfield Fresh Pork. All opinions are mine alone.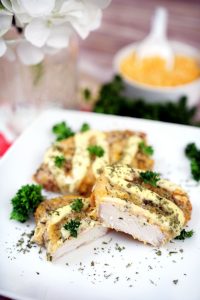 Do you ever get tired of preparing the same dinner recipes week after week? Today I'm sharing a delicious recipe for Crispy and Cheesy Oven Roasted Pork Loin from Smithfield, which will surely refresh your family's dinner plate! I've swapped out chicken with some delicious and tasty fresh pork for this recipe and it has definitely 'shaken up' our dinner routine for the better!
Smithfield Fresh Pork is a quality product that is convenient, versatile and so easy to use at dinner time. I love how it has changed the flavor of our dinner several nights a week! The possibilities with Smithfield Fresh Pork are really endless! It is made from 100% fresh pork with no artificial ingredients, so I can be proud of what I am serving my family. It comes in a variety of cuts, including boneless loins, chops, tenderloins, roasts, ribs, and ground pork, as well as an assortment of pre-marinated flavors, such as Roasted Garlic & Herb, Applewood Smoked Bacon, Sweet Teriyaki, and more. My husband and I love to grill, roast, sauté, or slow-cook Smithfield Fresh Pork for an easy and delicious dinner.
You can find Smithfield Fresh Pork at your local retailer, such as Save-A- Lot, and select grocery stores nationwide.
You can also enter the Smithfield Shake It Up Challenge by submitting one of your original recipes and a photo at Smithfield.com/ShakeItUp for a chance to win $5,000 and other great prizes! See more details at the bottom of this post.
Crispy and Cheesy Oven Roasted Pork Loin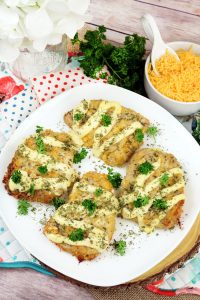 Now I'll share with you how to whip up this easy and delicious Crispy and Cheesy Oven Roasted Pork Loin. It's a sure crowd pleaser with its delicious cracker crumb crust that is drizzled with a rich cheese sauce and sprinkled with fresh parsley. I've always made this as a traditional chicken dish, but I really learned how to 'shake up' dinner for my family by preparing it with Smithfield Fresh Pork!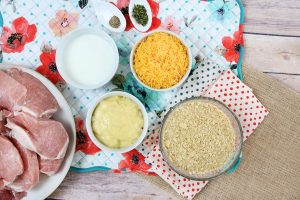 This is quick and easy for a busy dinner night and you'll have it on the table in less than an hour. This recipe served my family of four, but you could easily double the recipe to serve eight guests or more.
Ingredients:
• Smithfield Boneless Fresh Pork Loin (Sliced 1″ Thick PRIOR to Cooking)
• Cooking Spray
• 2 Sleeves Crackers, Crushed into Crumbs
• 3/4 Cup Milk
• 1/4 Teaspoon Salt
• 1/4 Teaspoon Pepper
• 2 Cups Shredded Cheddar Cheese
• 1 Teaspoon Dried Parsely
• 1 14 Ounce Can Condensed Cheddar Cheese Soup
• 1/4 Cup Milk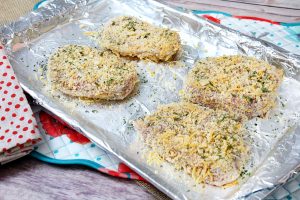 Preheat the oven to 400°F. Wrap a cooking pan in foil and spray with cooking spray.
Pour the crackers crumbs, milk, and cheddar into three separate bowls. Add salt and pepper to the milk.
Dip each of the Smithfield Fresh Pork Loin slices into the milk, then the cheddar, and then finish dipping it into the cracker crumbs. Place dipped slices on the cooking pan. Sprinkle with dried parsley.
Cover cooking pan with aluminum foil and bake in oven for 35 minutes. Remove foil and bake an additional 10 minutes or until the pork loin slices are cooked through and edges are brown and crispy.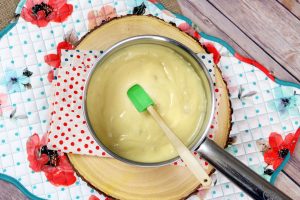 In a small sauce pan combine soup and 1/4 milk and stir until combined.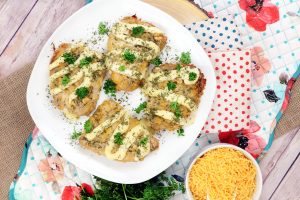 Drizzle the warm cheese sauce over the Smithfield Fresh Pork and add some fresh parsley on top.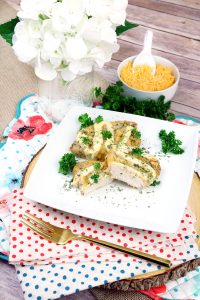 I hope that you'll try this delicious and easy Crispy and Cheesy Oven Roasted Pork Loin to shake up your dinner routine sometime soon!
Don't forget to enter the Smithfield Fresh Pork Shake It Up Challenge!
All you need to do is use fresh pork in your go-to beef or chicken recipes to see how a little change can add a lot of flavor. You can enter to win a chance to win $5,000 and other great prizes!
From now through April 8, visit Smithfield.com/ShakeItUp to submit a photo of your original dish that shows how you 'shake up' your cooking routine with Smithfield Fresh Pork! You must also include a brief description on how this recipe shakes up your meal routine to receive one entry into the Contest. Limit one Photo entry per person.
Each eligible entry in the photo contest will count towards 10 entries into the sweepstakes drawing. Plus, you can share your photo on Facebook OR Twitter using the hashtag #SmithfieldShakeItUp and #ContestEntry to receive 10 additional entries into the sweepstakes drawing.
If you're looking for more Shake It Up recipe inspiration, or for the official contest rules, visit Smithfield.com/ShakeItUp.
This is a sponsored post written by me on behalf of Smithfield Fresh Pork.
SaveSave
SaveSave
SaveSave
SaveSave
SaveSave
SaveSave
SaveSave
SaveSave
SaveSave
SaveSave
SaveSave
SaveSave
SaveSave
SaveSave
SaveSave