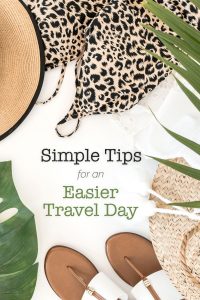 Hey everyone! Last weekend over the long Memorial Day weekend I went on a little getaway with my husband to Cancun, Mexico! We had a lovely time and today I'm sharing with you some Simple Tips for an Easier Travel Day, Summer Coupons/Savings and a Giveaway to The Parking Spot!
And, before I start on my Simple Tips for an Easier Travel Day, I wanted to mention that The Parking Spot is offering up to 40% off extended stay parking this summer. Now, St. Louis travelers can have more cash for FUN on their travels! 
So, let's get started with the Easier Travel Day Tips:
Easier Travel Day Tip 1: Arrive to the Airport Early
Always, ALWAYS arrive to the airport early on your travel day. At least 2 hours (before travel time!) for a domestic flight and 4 hours early (before travel time) for an international flight. I can't stress enough how important this is, especially if you need to drive through rush hour traffic or if you realize you've forgotten something important and may need to backtrack home to get it. You never know if check in is going to be crowded (it always is if you're running late) and it also takes time to get through security. If you have crabby and tired kids, you want that extra buffer time in case you need to deal with a melt down or run to a bathroom. I also like to have time to check my flight, make a coffee run, do a quick email/social media check and hit the bathroom before boarding the plane. You don't want to miss your flight, it can be costly and you'll lose out on precious vacation time!
Easier Travel Day Tip 2: Plan Ahead for Parking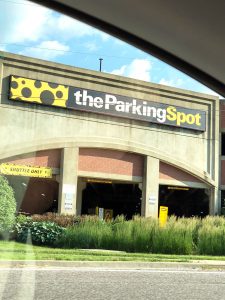 My husband and I ALWAYS park at the airport. This works best for us, because we can load up our car the night before and arrive at the airport on our own clock. We have been using The Parking Spot for years and my husband also parks here for when he has work travel. All you have to do is park in their covered garage which is right by the airport. They will load up your luggage, ask you which airline you are flying on and take you to your airport terminal. I have never had to wait longer than a few minutes for a shuttle, they have so many at all hours of the day. When you're leaving the airport you can easily find one of their shuttles to take you back to the parking garage. They'll take you to the exact parking garage floor that you parked your car on.
Don't forget to check out The Parking Spot's coupons for up to 30% off parking, or 40% off weekly parking at St. Louis TPS Locations 1, 2 and 3. You'll also find coupons for other cities HERE.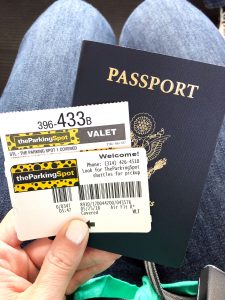 You get one of these tickets when you pull into the garage and it makes it so easy for the shuttle driver to take you right back to your car. The shuttles have seat belts and are air conditioned.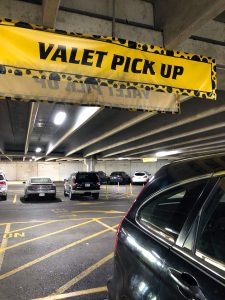 Lately, we've been really enjoying the Valet part of The Parking Spot. We hand off our keys to our car and they park the car for us. When we arrive back, they have our car running (with the a/c or heat on!) and waiting for us. They even load up our suitcases in the car for us. I'm always tired after a day of travel and this is just so nice. They always offer us complimentary bottled waters when we check out. We seriously have been so pleased with The Parking Spot, that this is where we always park when coming to the airport. It's affordable, safe, well-lit, clean and reliable.
Easier Travel Day Tip 3: Dress Accordingly for the Airport and Pack Extras
I always bring a light jacket and it seems like denim jackets are the go to summer jacket for the airport. I never, ever wear a maxi dress or skirt to the airport. The last time I did that, I had to be hand checked at security. NOT fun. Easy, yet comfortable slide on shoes or sandals are important. Also, don't forget to pack along some essentials in your carry on incase your checked bagged were to get lost. Unfortunately, my checked bag got lost and I didn't receive it until the next day in the afternoon on this short trip! I literally only had the clothes on my back! Make sure you pack an extra day of clothes, small travel kit with all your toiletries in a travel size, hair brush, swimsuit, etc. I suggest packing half of your items in your spouse's suitcase if this is an option for you. It'll make a world of difference if one of your suitcases shows up missing!
I hope all of these tips help and that you have a relaxing and fun vacation this year, especially if it involves airport travel! Don't forget to enter the giveaway for free The Parking Spot parking vouchers!
(4) Separate Vouchers for a Free Week of Parking at The Parking Pass*
*(1 Voucher for 4 Separate Winners! Make sure your city as The Parking Pass before entering!)
SaveSave
SaveSave
SaveSave
SaveSave
SaveSave