Welcome to Thursday Fashion Files!
Welcome to Thursday Fashion Files with Carrie at Curly Crafty Mom and Jill at Doused in Pink. I'm excited to have you here and would love to have you link up one of your latest outfits at the bottom of this post.
I will be taking occasional Co-Hosts for Thursday Fashion Files, if you are interested you can email me at carrie (at) curlycraftymom (dot) com to set up a date.
I always enjoy ordering a Stitch Fix box every new season, because who doesn't love new clothes? I believe this is box #14 for me! For this box, I asked for trendy summer tops, bottoms and a dress. I mentioned we had a Disney vacation with the kids and a romantic Maui getaway coming up soon and I'd love clothing that I would enjoy wearing for both of these trips. This box was just PERFECT and I kept the ENTIRE box. Which, is a first for me! I usually only keep 1 or 2 items. However, I thought this box was pretty affordable, with all 5 items ringing in at $196.00 total, which is approximately $39 per piece.
41 Hawthorn – Karlee Ruffle Detail Blouse $54.00 – Kept
Dear John – Finnegan Printed Short $58.00 – Kept
Shop This Post:

When I saw these Finnegan Printed Shorts, I just squealed. I love them THAT much! The shorts have a lot of colors in them that I have in my closet (pink, green, white and yellow), so it'll be fun to mix and match tops with them. I don't have a lot of yellow in my closet, so I was really excited about the Karlee Ruffle Detail Blouse and the fun 'short/almost tank top' sleeves. The yellow blouse is thick enough that I don't need to wear a cami or anything else under it, which makes it nice and breathable for the summer.
Pale Sky – Crustin Rope Detail Top $64.00 –
Kept
French Grey – Rani Brushed Knit Skirt $44.00 –
Kept
The Curtain Rope Detail Top has some fun details on it to make it the perfect dressy white tee. It's so cute with the Rani Brushed Knit Skirt that they sent, but it would also look really cute with the Finnegan Printed Shorts that they sent. This skirt is just a dream, it is light and comfortable with the elastic waist and it even has pockets! The length is just a little above my knees, which is the perfect flirty skirt length IMHO.
Market & Spruce – Annora Faux Wrap Knit Dress $68.00 –
 Kept
Shop This Post:

The last item in my box was this Annora Faux Wrap Knit Dress and it is YELLOW (or would you say mustard?!), which will officially give me two yellow items in my closet now. 🙂 I really love how this dress hangs on me, it just hits all of the right spots and yet it isn't too tight. I think it'll be a wonderful dress option in Hawaii! I've already worn it out once for a rooftop dinner date night. 🙂
Stitch Fix
 is sort of like having your own personal shopper! You fill out a survey online (it includes photos of different outfits) and it helps them decide which outfits and which price range you fit into. They send you 5 pieces (tops, bottoms, accessories, jewelry, etc., etc.) and you decide which items you want to keep. After you've decided what you want to keep, you ship the rest back within 3 business days. If you buy all of the items you get a discount. There is a monthly fee of $20 that you will lose if you do not buy any of the 5 items. But, if you buy just one item they will subtract that $20 from your order.
And, if you sign up using my code, you'll get $25.00 off your next 
Stitch Fix
 box! To sign up under me, click 
HERE
.
Hope everyone has a wonderful Thursday! Which items from this box did you love? Am I crazy for keeping all 5 items? 😉
Link Up Guidelines:
1. Feel free to grab our button to display on your blog sidebar. Help spread the word and share about our link up community.
2. **By adding your links, you are stating that you have the proper licensing/rights to the images in your blog posts.** 
3.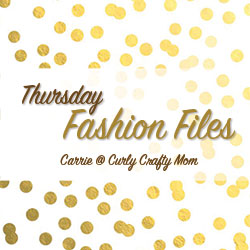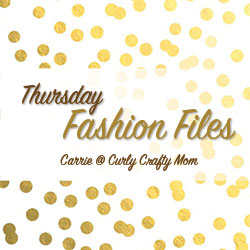 My Pick from Last Week's Party:
My pick from last week's party is Kellyann from This Blonde's Shopping Bag.
You are invited to the Inlinkz link party!