Today was the first heavy snowfall in Saint Louis and also Autumn's first snow day. My parents have been coming over on Mondays and Tuesdays to help me out while I've been on maternity leave but they couldn't make it today because of the weather. This was my second day alone with both kids and it went really well, infact, we had a lot of fun.
Every time we heard one of the huge snow plows go by our house, Nathan would run to the door to see it. He was so excited! I wish I could have gotten him out in the snow to play but I am getting over a nasty cold and plus then I would have to leave Autumn in the house alone during one of her naps and I was not comfortable with that. I told him that if Daddy got home from work early they could build a snowman together, but Nathan said, "Noooo! I want to build a snow CAR!" lol. He is just precious. Unfortuantly Dad got home reallly late because the roads were horrible… all I can say is thank goodness I am on maternity leave and did not have to drive in this mess…
Autumn is getting really good at holding rattles. I decided to take a picture of her holding two rattles. Of course, Nathan uses the drop down side on the crib to help aid him in taking things away from Autumn.
I packed up my maternity clothes today. I am so glad to get them out of my closet!! Its sort of sad, too, because Jeremi does not want another baby so I will probably never wear them again. I will probably hang onto them till I am 35 though, just incaseee.
Here are a few pictures from today…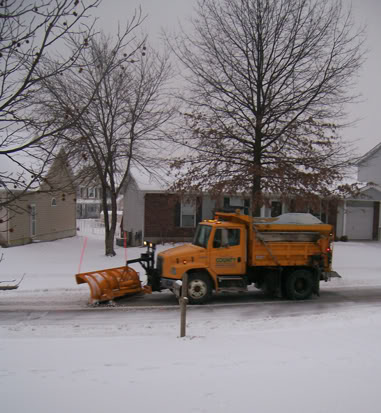 This is the second time the snow plow came through… got a picture just for Nathan!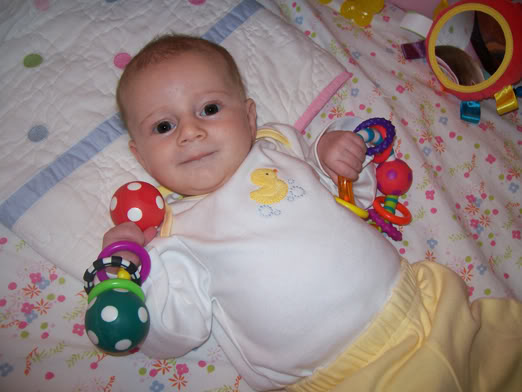 Autumn and her rattles!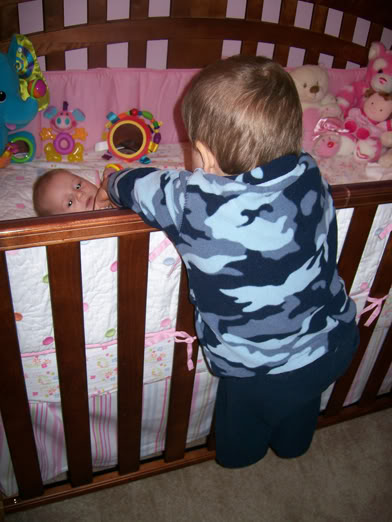 Nathan trying to get the rattles from Autumn. They used to be HIS rattles.