Today was a hectic but good day, Autumn Nicole Spear was baptised at Salem Lutheran Church. She was fussy on the drive there but once at church she calmed down and slept through most of the service. She did wake up when the pastor soaked her in water three times but she loved being held by her godmother (future) Aunt Tracy.
We had a party at our house afterwards for a couple of hours. We had pizza from CiCi's and cake from McArthurs Bakery. We had 22 people that came to celebrate with us.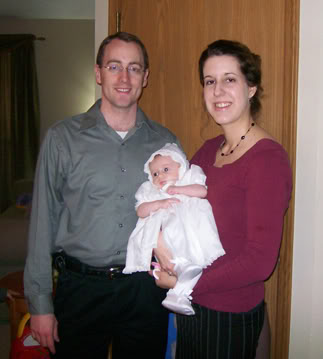 Before we left for church, Autumn is wearing the same dress that I was baptised in. My mom has kept it all these years.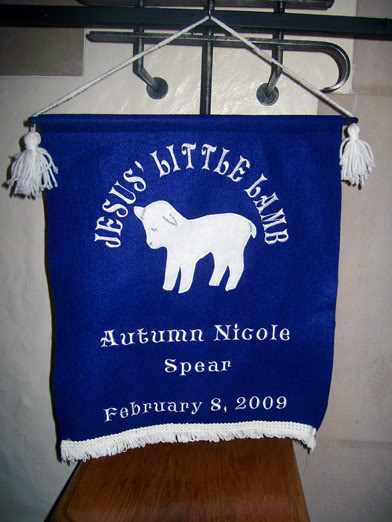 A banner the church made for Autumn's special day, they also made one of these for Nathan when he was baptised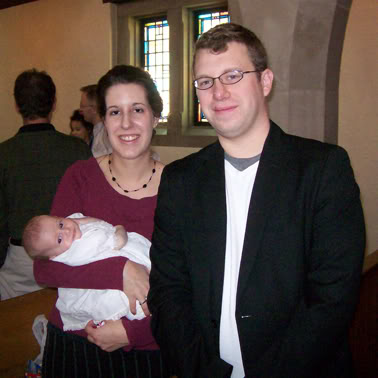 Here I am with Autumn and my cousin Steve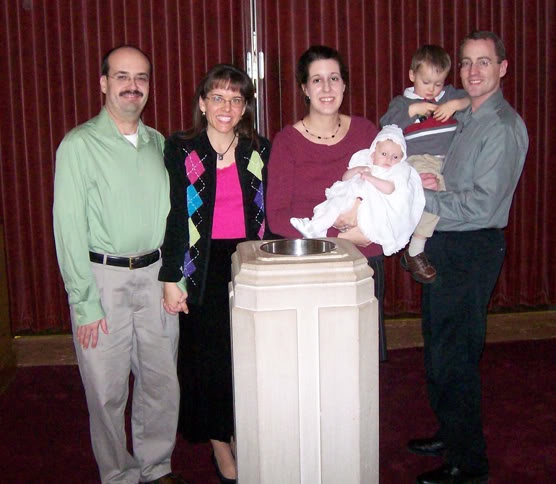 Here we are as a family and with Autumn's godparents– Uncle Jeff and soon to be Aunt Tracy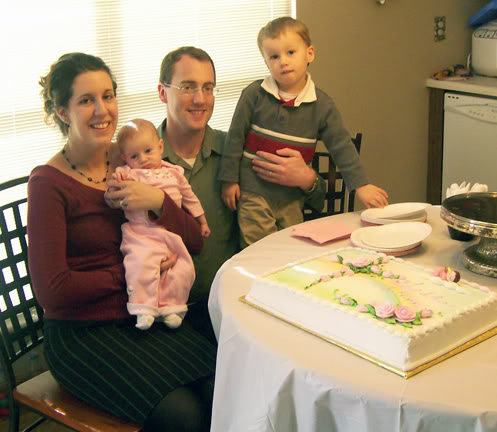 Before cake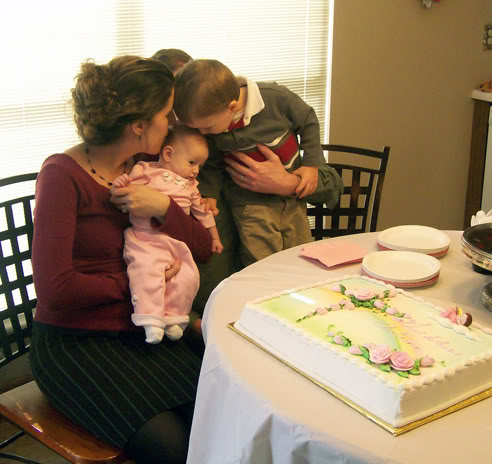 The three of us giving Autumn kissies! Jeremi's head is a bit covered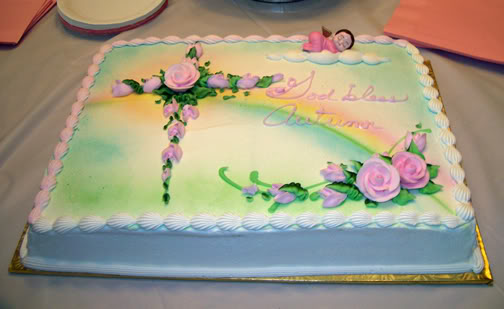 Yummy cake from McArthur's Bakery. I had the same cake for Nathan's baptism, but the boy version of it.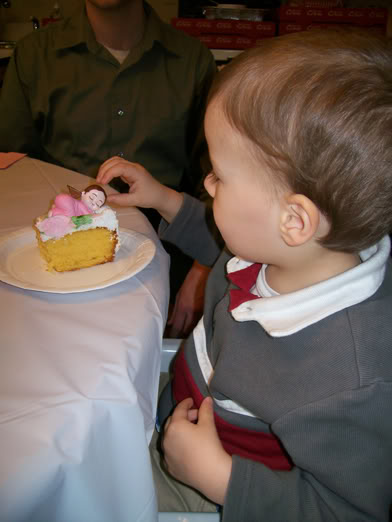 Nathan had to have the piece of cake with the little girl on it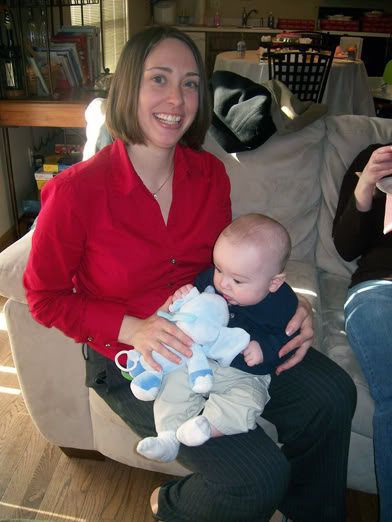 My friend Britany and her 5 mo. old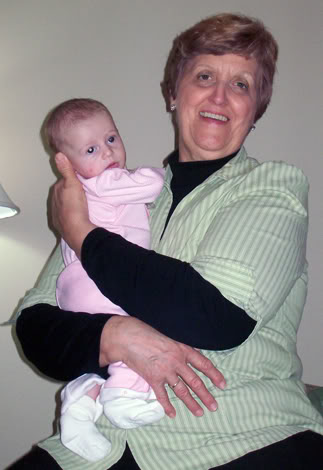 My mom with Autumn… I took her out of the dress when we got home- it was just too many layers. Plus, she is getting her pictures taken in it at Olan Mills with the free new baby package on Wednesday so I need to keep it clean.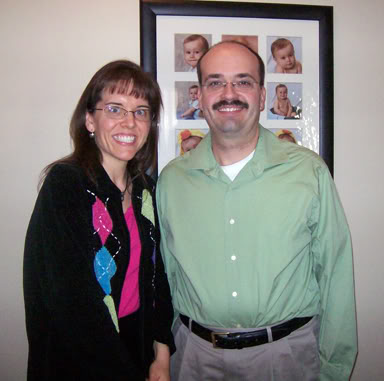 The awesome godparents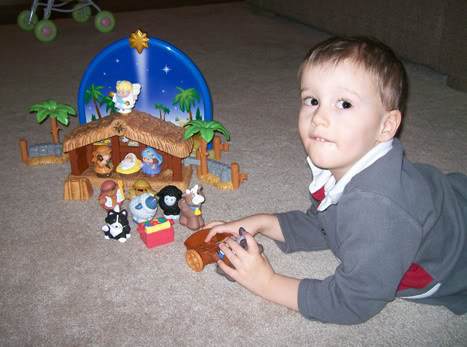 Autumn got some really nice gifts that she is thankful for… Mommy, Daddy and Nathan got her the Little People Nativity Set. Mom had the hardest time finding it since it isn't Christmas… Its so cute!!! Of course, Nathan helped Autumn open all her gifts and is keeping them safe until she can play with them herself. lol.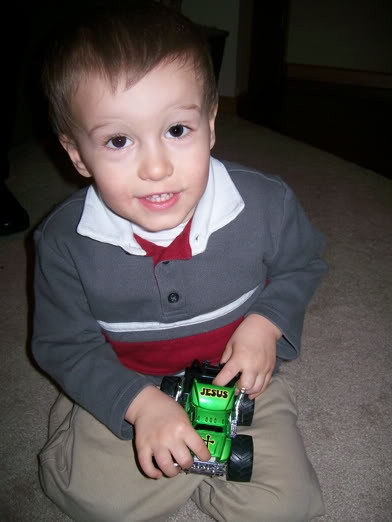 Nathan even got a gift!!! He got this cool pimped out green truck that says Jesus on it from Jeff and Tracy.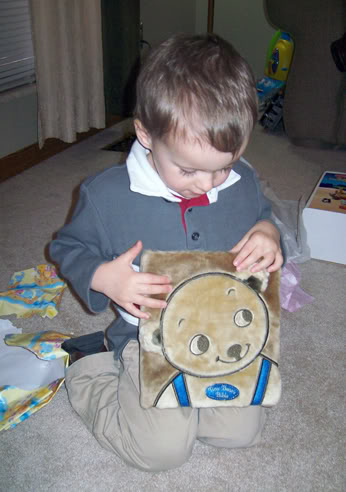 Jeff and Tracy also got Autumn this brown bear bible that is sooo soft on the outside and also a Precious Moments cross that isn't pictured but it is so cute!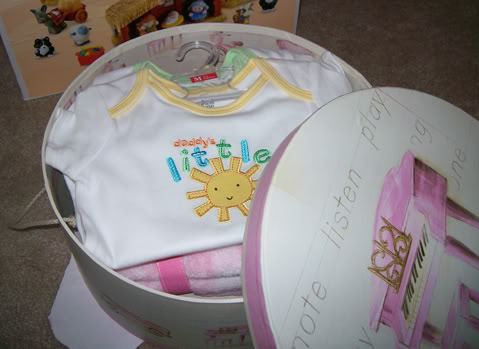 My friend Becky and her mom got Autumn some cute clothes, bibs and a blankie.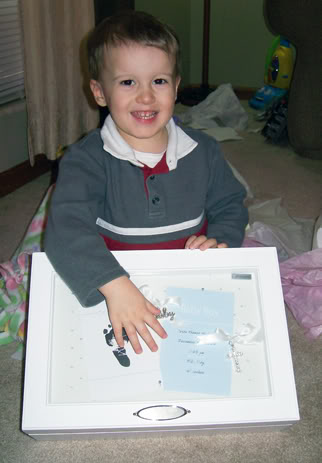 Grandma Jo got Autumn a cute keepsake box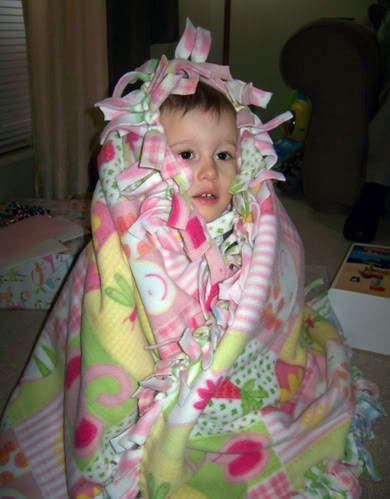 Grandma Jo also made Autumn this cute blanket. Nathan has a dino one she made him awhile back and he sleeps with it every night.
Autumn also got other gifts, I just didn't get a picture of them all. Thanks to everyone that came to help us celebrate!