Nathan was so great today with using the potty, he is telling us when he needs to go and sits down and uses it. We are still using a potty chair and not the actual toilet and he wants us to pull his pants/underwear off for him so we will need to work on that. I am excited that we have been diaper free since he has turned 3 and after several days of him wetting his shorts EVERY time he went, he is finally using the potty EVERY time for two days now! YAY! #2 is another story… but, we will get there!
Autumn is still being difficult about letting me keep her out of her swaddle at night. She loves to move her arms around when she nurses now (she loves to pull my hair, too! heheh) and it makes it hard for her to settle down. I have her sleeping with one arm out of the swaddle every night. Well, except tonight I put both arms back in the swaddle blanket. Sigh. She has only done both arms out of the swaddle for one full night so far. Ugh. I never thought I would still be swaddling her at 6 months!! Another SIGH.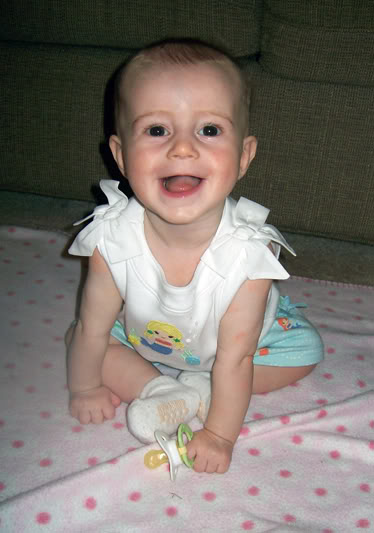 On a more cheery note, Autumn IS mastering her sitting up skills!
Today I got to do another fun activity with Nathan while Autumn napped. My mom gets Highlight's for Nathan at her house and there is always neat activities in it. We've done Three Bread Bears and today we did Sweet Smelling Playdough.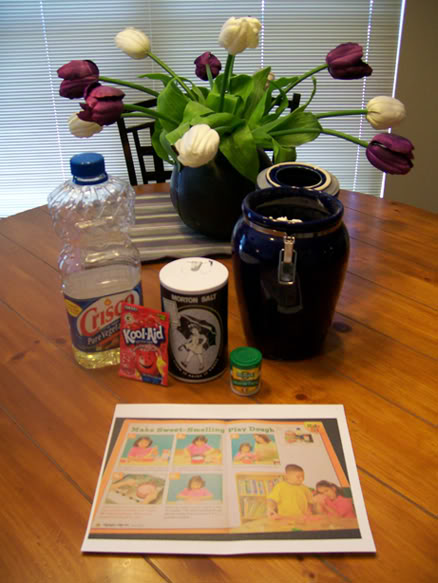 Ingredients – all of these I already had around the house except for the Kool Aid mix
Sweet smelling play dough!
Directions for those that want to try this fun activity – click on the photo to see it at full size.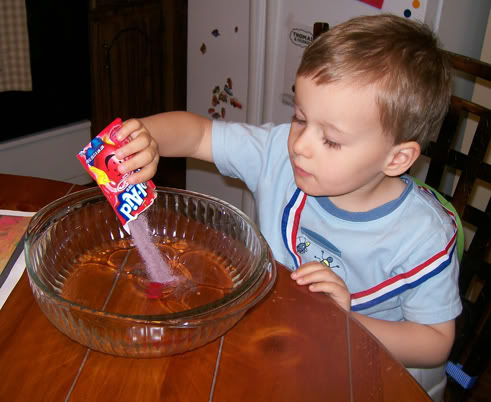 Nathan dumping the Kool Aid into the water/oil mixture – my slow camera finally got a shot in action! I believe we use the oil in the recipe so it locks in the Kool Aid mixture so that when you play with the play dough the red dye does not stain your hands.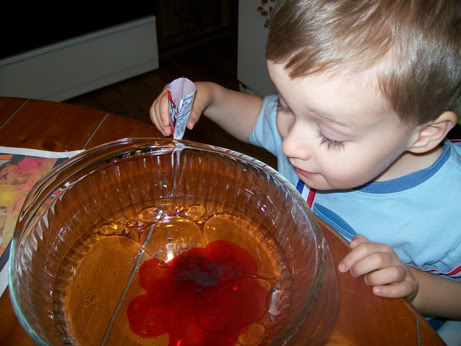 Nathan loved watching it turn red!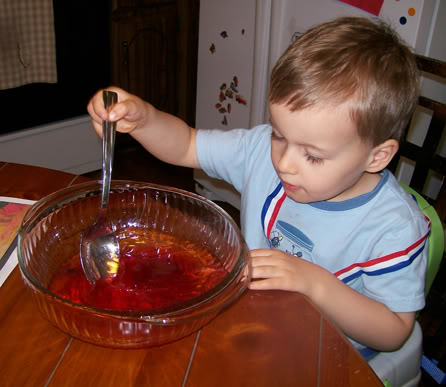 Mixing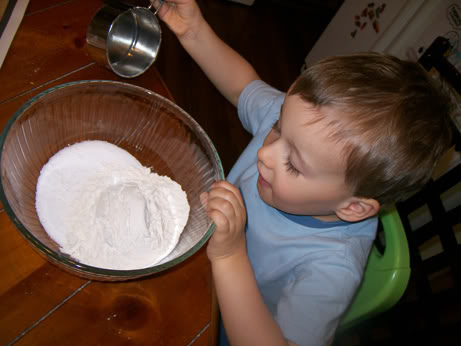 Adding the flour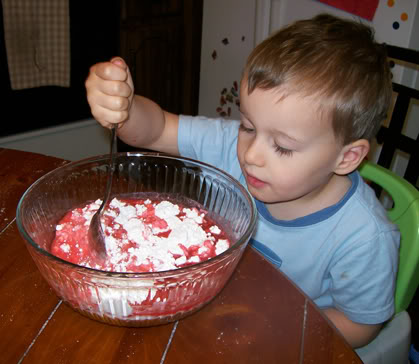 We combined the liquid and dry mixes and Nathan mixed it all up again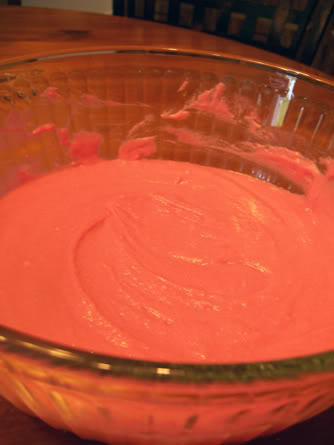 After he mixed it up we had a nice smooth texture. I transfered it to a stove safe pot and cooked it over medium heat until it had the same texture as mashed potatoes (what is funny was we were making mashed potatoes for lunch on another burner!)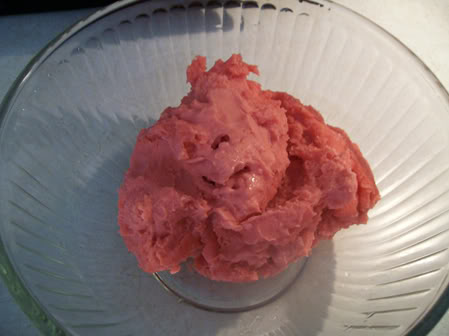 Final result, play dough! And, it smelled SO sweet and yummy. I tried a nibble and let's just say, it does not taste sweet at all!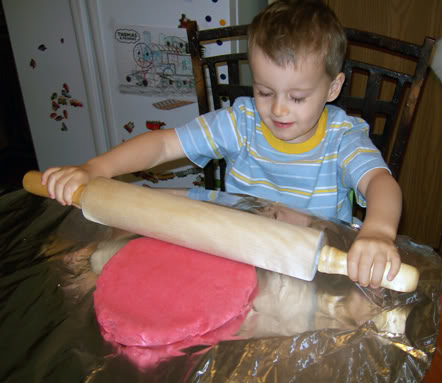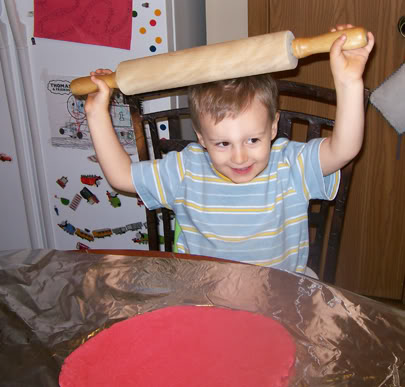 Nathan rolling out the dough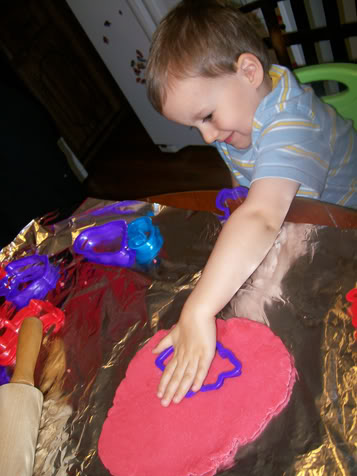 I have an awesome plastic cookie cutter set that I got from Bed Bath Beyond after Jeremi and I got married and it has 100 cutters in it. Nathan had so much fun selecting different cookie cutters to use for the play dough.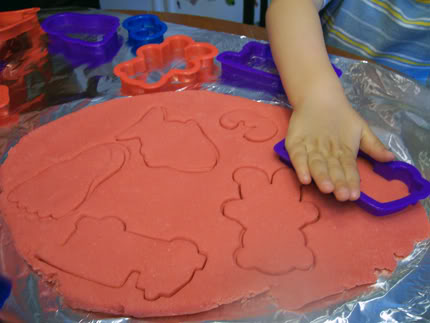 The play dough let Nathan make a lot of different shapes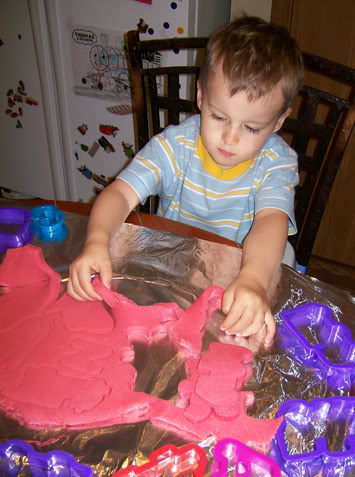 Tearing his shapes out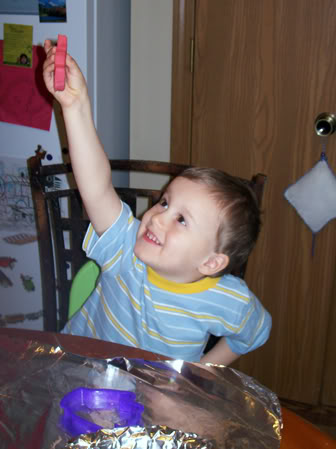 Nathan showing off a moon that he made with the sweet smelling play dough
I had so much fun making the play dough with Nathan and it is so much better then the play dough you buy at the store. I could have done different colors by buying different flavored Kool Aid mixes. I do have a question for you all though- how do you get Kool Aid/oil stains out of clothing? Soap and water is not doing it but his shirt/shorts are soaking in Shout right now.