Nathan has gone through several different toy phases in his almost 3 years of life. First, it was balls (he even said the word 'ball' before 'mom'). Then, it was wheels and spinning things. Next, Pixar cars… After that, it was Hot Wheels. Finally, (well for now), he loves Thomas and just trains in general.
Nathan has quite the collection of Thomas trains. I thought I would take some pictures of him with his trains today: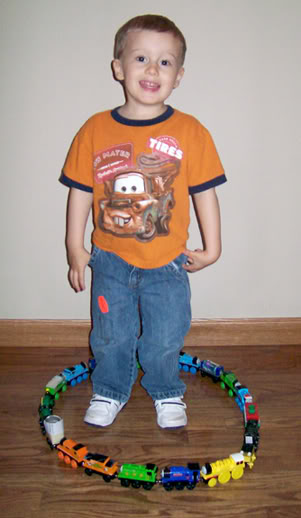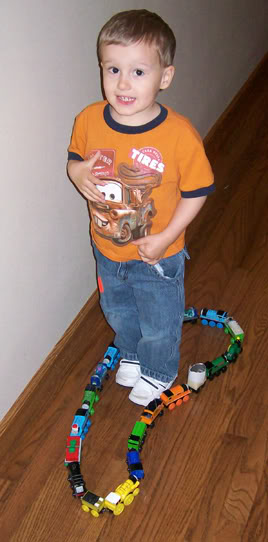 Its funny because he loves to keep the trains connected to each other and the train is sooo long! We had a guy over here selling windows to us and the salesman was kneeling on the floor with his one foot out. Nathan came over with his looong Thomas train and had them go under the salesman's leg and around his foot!!! The salesman started laughing so hard and said in his 20 something years of selling windows he had never seen something so funny. It took Nathan a couple of minutes and he was making little train noises the entire time.
Yup, he loves trains.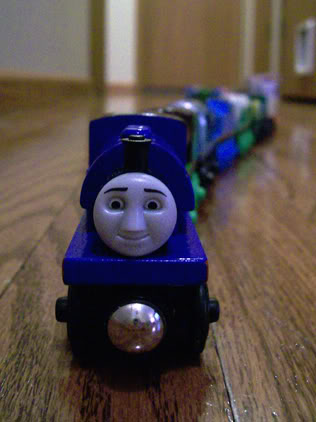 Chooo, choo!
P.S. We normally take Nathan all the way out to a children's hair cutting place off of Manchester to get his monthly haircut. Well, today Jeremi took him to Great Cuts and it was only $15 with tip and its so much closer! (it was $12 more at the other place) Nathan was so scared of haircuts from age 1 to 2 so we wouldn't even dream of taking him to a regular place as he'd cry the entire time. After he turned 2 he got so much better about his haircuts and now that he is almost 3 Jeremi thought he would do just fine at Great Clips. Well, he did and I am so proud of him! My boy is growing up. They did a great job on his hair, too!