Nathan has been pee'ing on the potty for over a week now with no accidents. However, today was the first time he EVER and I mean has EVER pooped on the potty. Yay! We told him he could have a Lightning McQueen alarm clock from Kohl's as soon as he pooped on the potty, so Jeremi went and got him his alarm clock tonight. I am so proud of my boy and I am really hoping he continues to poop on the potty!!
We went to the Mills Outlet Mall today which is a little bit of a drive from our house. The kids fell asleep on the way there (too bad they didn't sleep while we shopped- ya-right!) so we stopped at Steak N Shake to try their new mini burgers.
Then, at The Mills… I went in Children's Place outlet and got Autumn about 5 things ranging from $.99 to $1.99 ea.!! Then, I went into Old Navy and they had sent me a coupon that I could get a free flag tee if I bought something else in the store. So, I bought Autumn a pair of coral colored socks and I got myself a flag tank top! Yeah!!! Then, I went in The Gap Outlet and got myself 4 shirts for work and 1 pair of crop pants for $53– not bad for The Gap!!!!
Jeremi went in Cabera's and left with a 5′ shark for Nathan. Ugh, more STUFF in the house. The thing was as long as the double stroller and Nathan carried it the entire shopping trip. I wish I would have had my camera- so cute!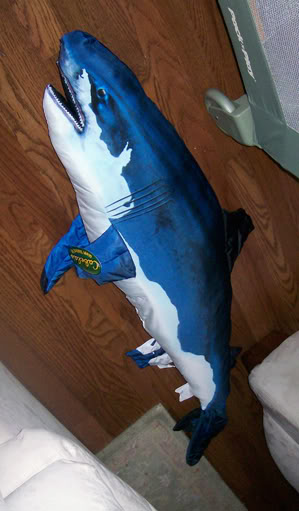 The Shark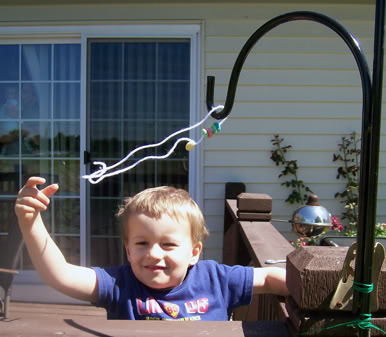 Here is one other picture from today. My topsy turvy hanger has a loop on the other side for something so I had Nathan hang his bird feeder that he made at a Spring party awhile back. I have NO idea if birds will eat stale Fruit
Loops, but I guess we will find out. I need to find my hummingbird feeder that I stored away to hang in its place.