Today I left work early to enjoy the BEAUTIFUL 80 degree weather! I took Nathan to my FAVORITE park as a child, Watson Trails Park in Sunset Hills. I spent so much time at this park as a child. My Dad used to take me and my brother to this park to play tennis. I remember being at this park with my girlscout troup and we'd play on the playground while our scout leaders toasted us Smores. Then as a teen I remember etching my initials on a gazebo in one of the trails- I would LOVE to try to find that gazebo and my initials if it is still standing. There is so much to do at his park, there is 3 different playgrounds (one is the original one from when I was a kid, but not much is left to it!), TONS of trails where you find all kinds of neat surprises (water fountains, gazebo's, etc.). Then there is the lake and the ducks, an exercise trail where you do different fitness routines at certain points, and I could go on and on. I loved going back to this park, it had been over a decade since I had been there, and it was so nice to be reminded of my childhood and to see my kids enjoy the park as I had enjoyed it growing up.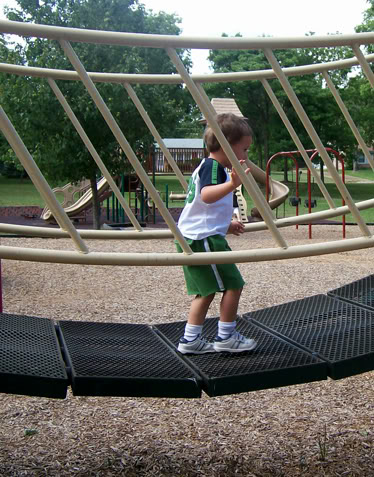 The first thing we did at the park was check out the playground.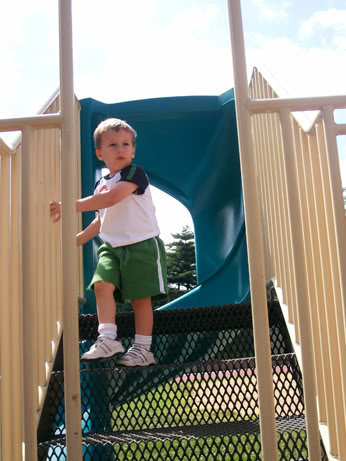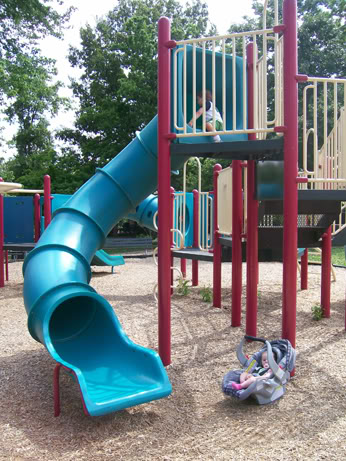 Then, my big boy decied to climb the stairs to go up the BIG tunnel slide. This is his first time down a tunnel slide and he ENJOYED it. He must have gone down the slide a million times before we left the playground area of the park. I used to get SO nervous about Nathan going down the larger slides by himself, but, I must say, I stood back and watched and he did just fine.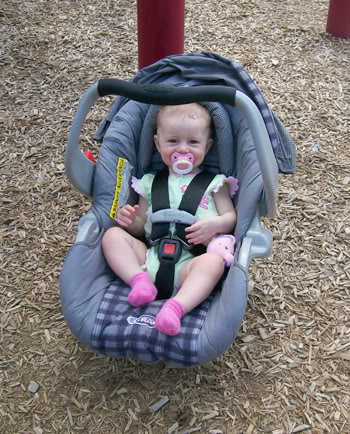 Little Bits slept most of the time that we were in the playground in her carrier. She woke up near the end and was all smiles.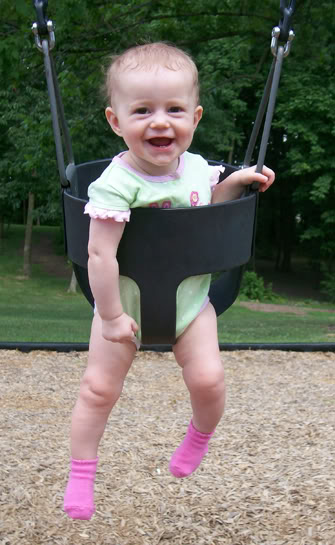 I decided to put Autumn inside the swing for her very first swing ride. She LOVED it, which surprised me, because she is one particular girl about new things. She just smiled and smiled so of course I had to take a snapshot.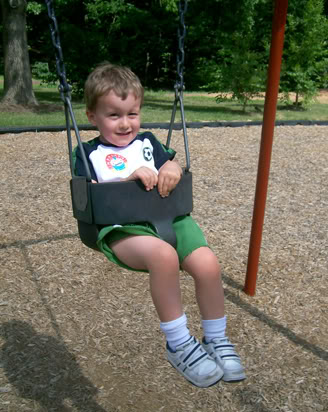 My bigger baby in the swing. Heehee! Ok, so, are our 3 year old's past the baby swings now? Because, he wanted no part of the swing! He just wanted OUT so he could get back to that slide! I wonder if he would have been more interested in a regular swing that he wouldn't be 'trapped' inside.

My two monkeys swinging away.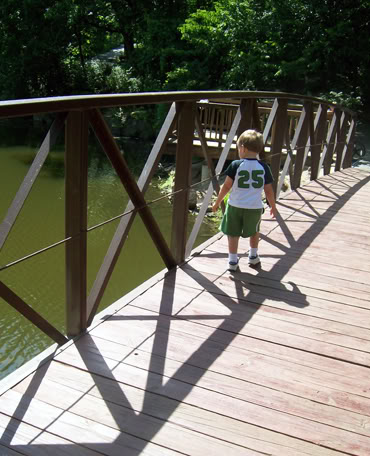 After the playground, we decided to head out to the lake to see the water. Nathan loved walking back and forth over the bridge. He eyeballed all the boys fishing and riding their bikes. I think Nathan may see a big boy bike in his near future. ;o)- I was so bummed because I forgot to bring the bread that I had in the car for the ducks. Boo!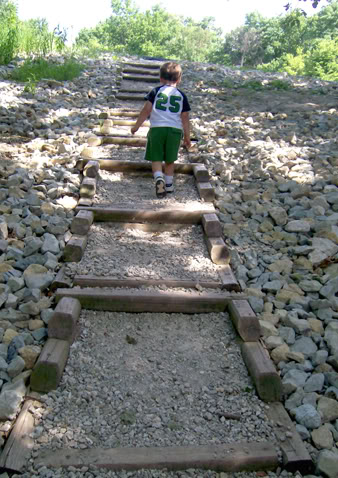 There are a lot of trails to take into the woods in this park, and some of them can be quite long and you can lose your sense of direction easily. I decided to take a short trail since I didn't want to risk getting lost in the park with two munchkins by myself. heheh! Maybe another day! The trail we took lead to these really neat stone and wooden steps. I didn't remember these from my childhood so they must have built them recently.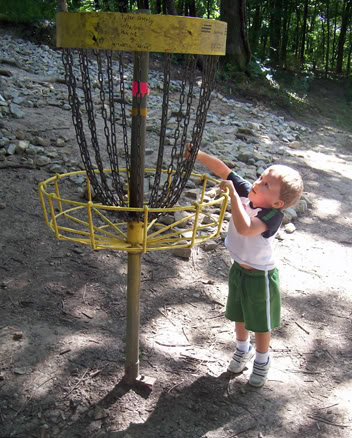 The trail also lead us to this yellow thingy with chains on it. What is it? Does anyone have a clue?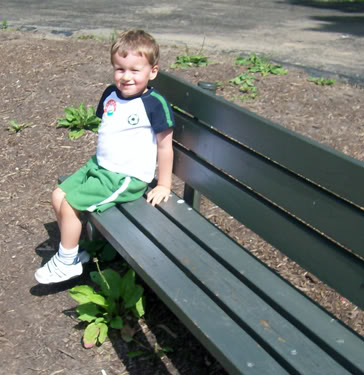 After the trail, we went back to the water and Nathan took a little rest on the park bench. Then we headed back to the car and on the way there we saw the old playground that I used to play on as a kid and the start of the exercise trail. If we hadn't been at the park for so long and I wasn't worried about Autumn being tired, we would have went down to take a looksie. The start of the workout trail had about 12 flat benches (well, that is sort of how it looks- hard to describe) that I know Nathan would have loved to climb on and run across. Then you would continue on the trail until you'd find another exercise course, etc., and go on and on. It is a really neat trail. So I think we need to come back to the park another day to revisit the exercise trail and so Nathan can play on the old playground (even though half of it is not there anymore!). What a fun day!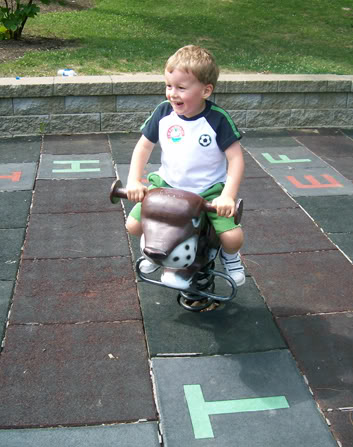 I had to take Nathan to the public restroom before we went back to the car, and on the way there we saw a HUGE hopscotch area! How fun! I would have shown Nathan how hopscotch works if I hadn't of been carrying Autumn in my Baby Bjorn. We also saw the huge basketball courts and tennis courts. I think I need to buy a bucket of tennis balls and I'd love to let Nathan bounce them and try to swing a tennis racket for fun on the courts someday before anyone else gets to the park. I think it'd be fun to see him chase after all the balls!
Anyway, I think we'll be coming back to Watson Trails Park again soon! I also plan to take Nathan to see the sculpture park sometime in the near future!
Earn Amazon giftcards by searching the web with Swagbucks!