Today Kelly and I (well… and Nathan, Autumn and Chloe, too!) explored our second park together which was Bee Tree park. This is a beautiful park that sits on the bluffs above the Meramec river. There are several trails inside the park that you can walk on that give you breathtaking views of the Meramec. We did not walk the trails but enjoyed the playground instead. It was a beautiful day at only 82 degrees. Seriously, what is up with the weather? It should be hot and humid!!!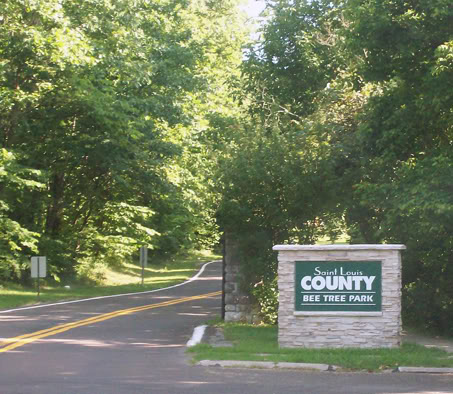 Bee Tree Park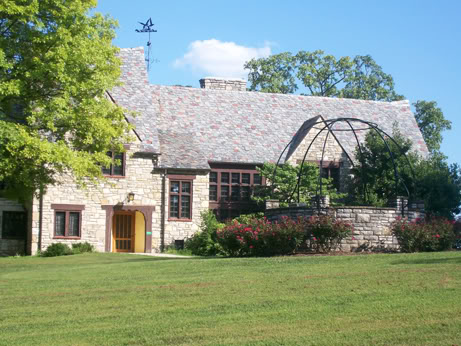 You will see the Nims mansion once you drive into the park and the gardens that surround it. I read that this is a popular photo site for brides and grooms.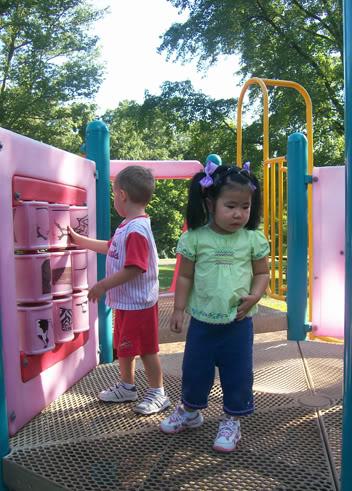 Bee Tree has two playgrounds that are next to each other. The first playground is perfect for toddlers and preschoolers because it is lower to the ground with shorter slides and a padded floor. Then, the second playground was higher up with taller slides and gravel. Nathan and Chloe had fun seeing what the playground had to offer them.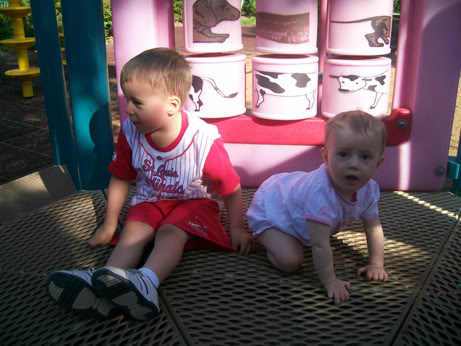 Here is Nathan and his sissy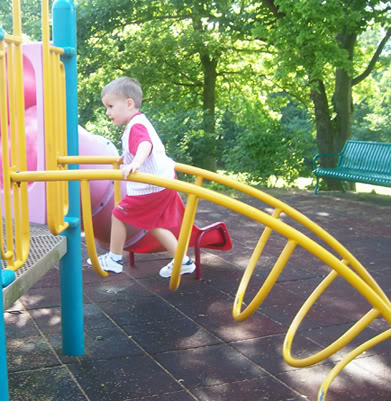 Nathan loved climbing up these 'upside down' monkey bars. heheh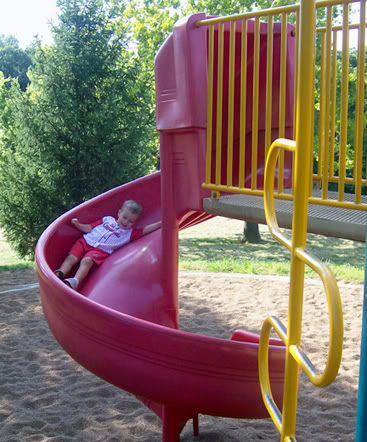 Nathan went down the big curvy slide (a trillion times)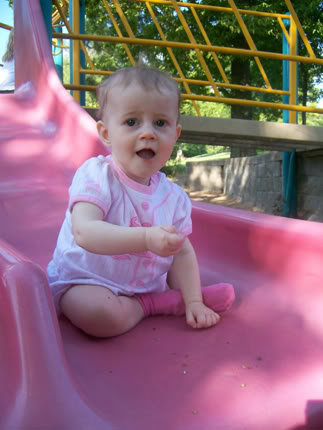 And, Autumn enjoyed sitting on the baby slide while she tried to eat the rocks before mom could snatch her picture!! Trust me, Autumn, they are not as tasty as puffs!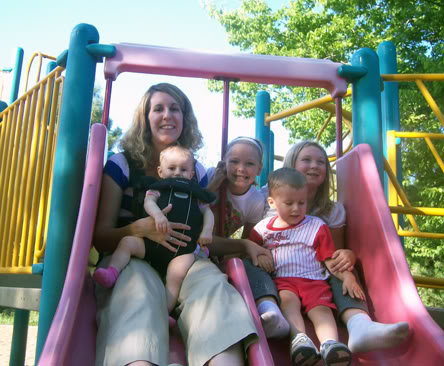 Then, of course, all the kids in the park had to go down the slide with us. I trusted a kid to take a picture with my camera. Then, of course, all the kids wanted to take a picture… Yep, Carrie, that was not a smart idea. But, it is a cute picture… well, the kids are cute, minus that sleep deprived adult in the photo with them. ;o)-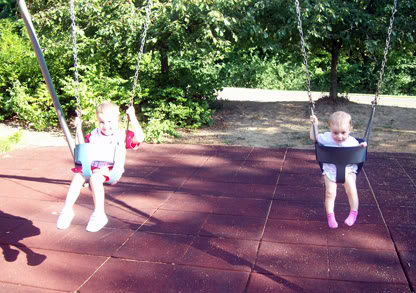 My classic swing picture with both kids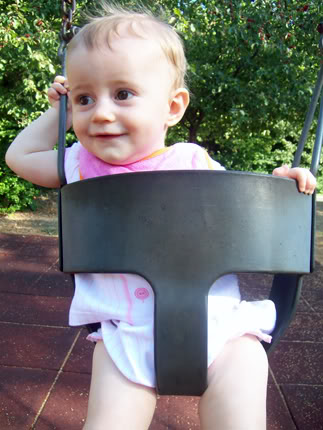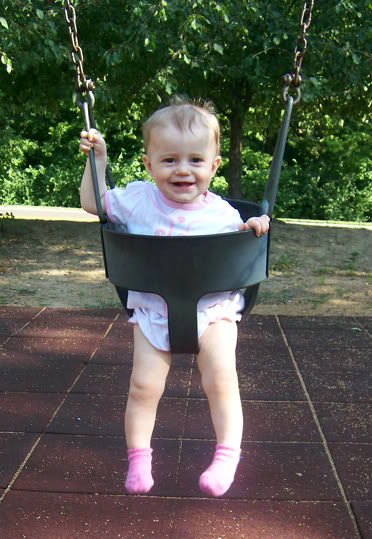 Autumn LOVES to swing!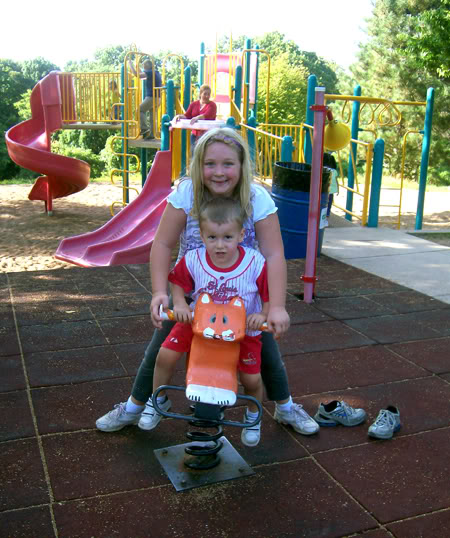 Nathan loveeesss orange kitties. He loves them because Grandma told him that Mommy had an orange kitty at one time. So, how cool was it that they had an orange cat at the park? Of course, one of the kids wanted me to take her picture with Nathan.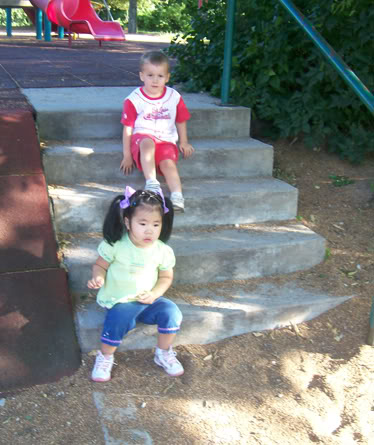 Nathan and Chloe on the steps… seriously, it was next to impossible to get a picture of the two together. That is kids for ya!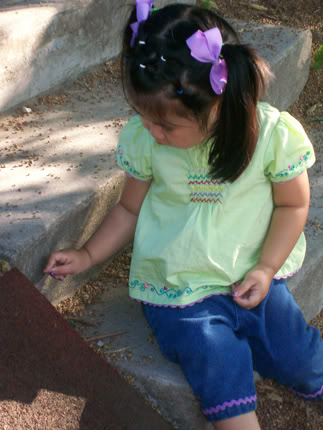 Chloe loves ants, she kept 'catching' ants on a little stick that she had… it was so adorable! She sat there for a long time- she has such a good attention span and just loves little critters!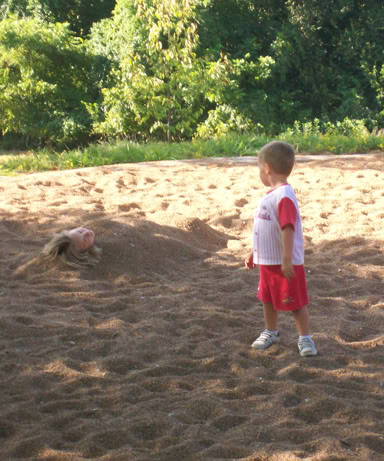 Oh what do you see in this photo? Is that… someones… head?!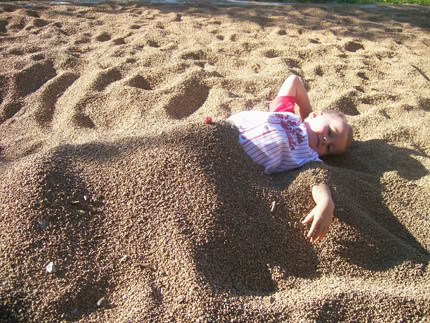 Don't even ask me why I did this… Nathan was a dirty boy after I dug him out. Of course, when we got home he told me he wanted to take his shoes off. WHY didn't I realize that a million tiny itty bitty pebbles would fall out all over the floor? Guess I am cleaning the hardwood floors tomorrow! Daddy gave Nathan a nice bath.
Then, after the park, Kelly was going to go with me to the library but when we got there it was closed 🙁 So, I will have to go tomorrow to get Nathan's reading program prizes. Drats!
We plan to visit another park soon… can't wait!
Earn Amazon giftcards by searching the web with Swagbucks!