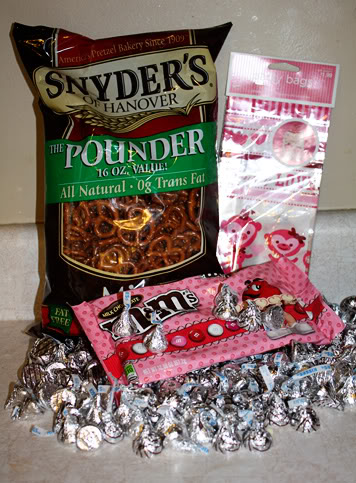 Last year I saw a recipe for Valentine's day that involved heart shaped pretzels, milk chocolate/HUGS kisses, and M&M's. YUM! I saved this recipe from last year and I was so excited to finally make it with Nathan today.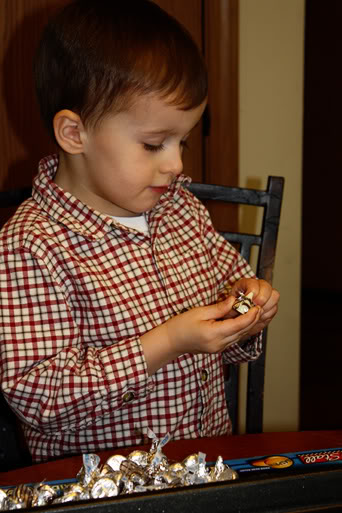 FIRST, we had to unwrap a whole lot of hershey kisses… this was actually Nathan's favorite part… he sat next to me and unwrapped until his heart was content.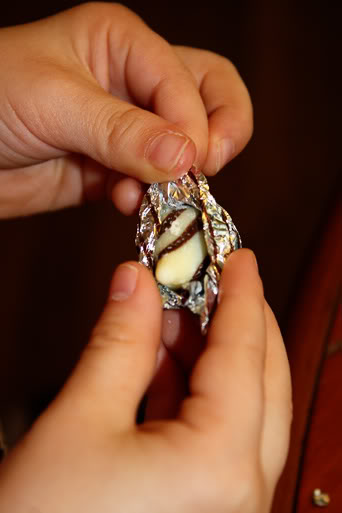 We unwrapped two bags and he was a big help!!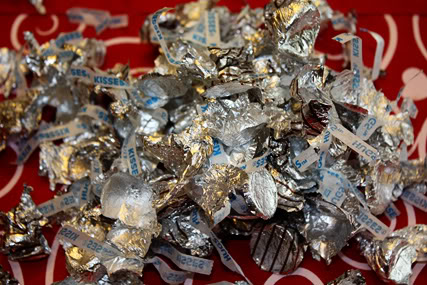 Of course it resulted in this…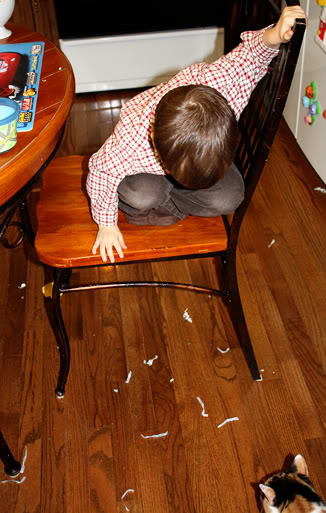 And this (which is really nothing if you have a toddler, which takes a messy floor to another whole level, just *trust* me). I should have taken a picture of it, but after we were done, Nathan got out his little John Deere set that he won from a blog prize awhile back from John Deere Mom's blog, and all the little hershey kiss strings went into a trailer. So cute! I am just glad he picked it up.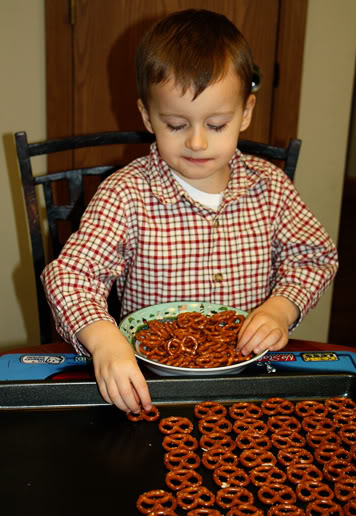 Next, we lined up the heart shaped pretzels on a cookie tray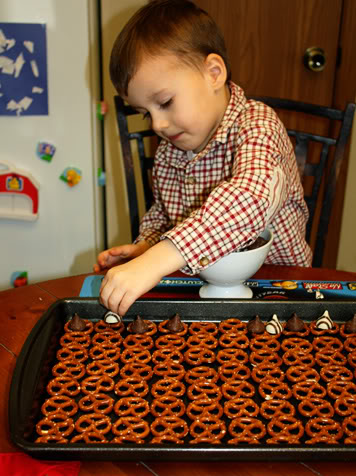 Then rotated hershey kisses with HUGS kisses on top of the pretzels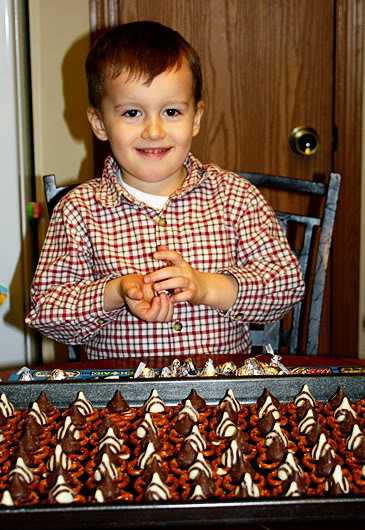 They were finally ready for the oven, which we set at 170 degrees F. We baked them for 4-6 minutes, the HUGS of course melted a lot faster then the milk chocolate ones, so I may suggest doing the HUGS on their own sheet next time. ((Ok, off the subject, but how do I get rid of a shadow behind someone in a photo? Is it because he is standing on the opposite wall from a window or WHAT? Help! I seem to have this ugly shadow behind the head problem quite often.))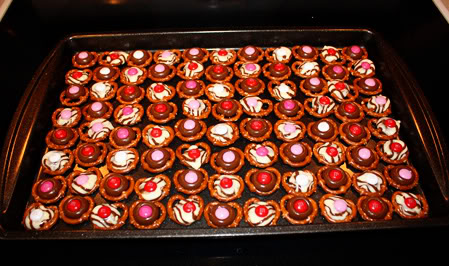 Then, you press an M&M into the center of each kiss. (I did this because the tray was still hot from the oven, and you have to do it quickly.) If the kiss isn't hot enough it will not let you push the M&M all the way down. The end result… yum… yum… extra yum…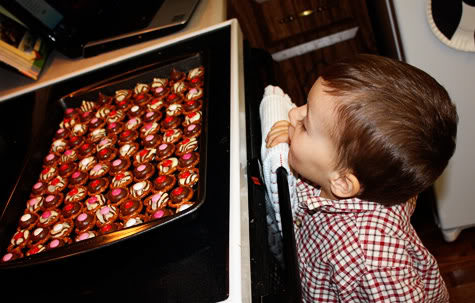 Nathan checking out his treats. Put them in the fridge overnight so that they set (of course, I didn't wait overnight, but I would suggest that, especially for the Hugs ones. I let them set enough so that I could put them into bags, and then I put them back in the fridge.)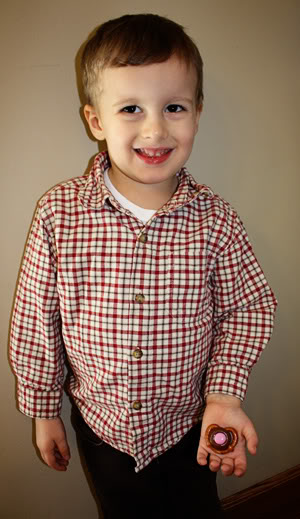 Nathan, so proud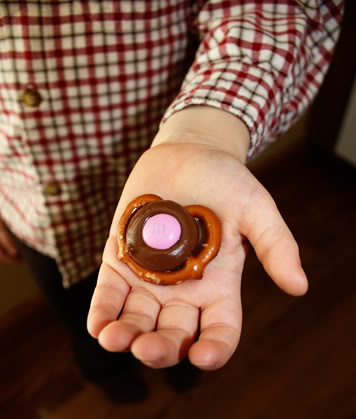 Cute as a button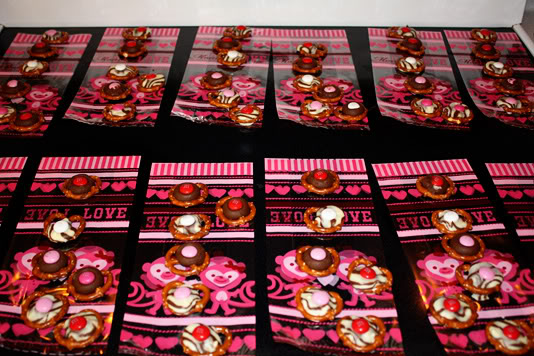 Our assembly line, getting the pretzel treats ready for the goody bags for Nathan's classmates.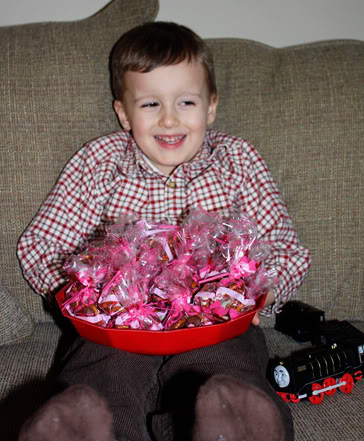 Nathan with his treat bags for the Valentine's party at school this week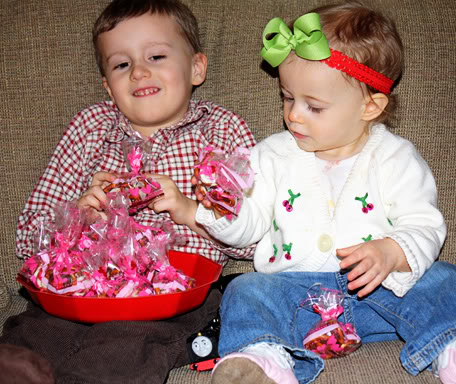 Autumn checking them out, too… of course. I plan to make little tags for them that say 'To: and From:' and maybe the recipe… we'll see.
Join Swagbucks to earn Amazon giftcards!
Earn Amazon giftcards by filling out surveys on Opinion Outpost!
Another fun and fast way to earn Amazon giftcards, Superpoints!