I decided to throw a little Valentine party for the kids today at the house and we had lots and lots of fun! We made cupcakes together, opened gifts and played out in the snow! Jeremi had to work this weekend since they are super busy because of Mardi Gras, but we had a mini-celebration on Saturday night and ordered Sqwires to Go (I heart their breaded scallops and risotto) and watched Marley and Me. Jeremi got me Office 2007 for my Valentine's gift and I got Jeremi a new headset. Oh, what a GREAT movie but what a sad ending. I cried at the end and even started crying this morning when I thought about the movie, I guess it sort of brought back memories of my cherished orange tabby cat, Brat, and how much I loved him and how he was a party of the family until we had to put him down. AHhhhhhh. Ok, on a lighter note… here are SOME PICTURES of the kids with their gifts.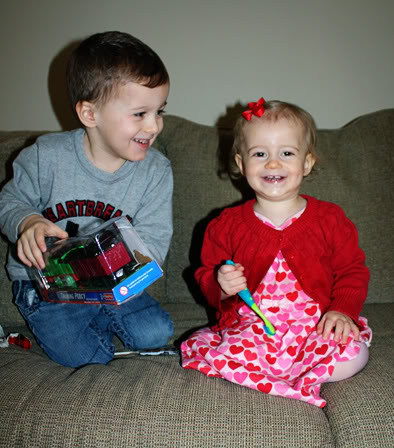 Here are the kids on the couch after they had opened their gifts. Nathan got one of the new 'talking' Thomas trackmaster trains…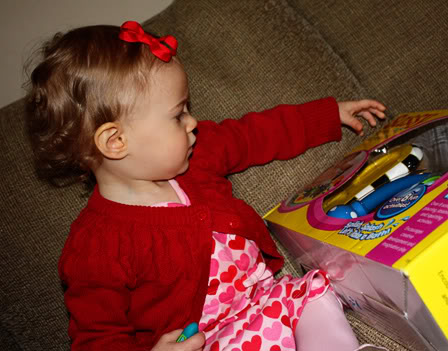 and Autumn got a Sassy sink that you put in the tub. She loves her baths!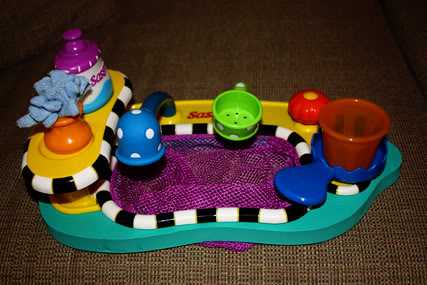 We haven't tested this bath toy out yet, but it has great reviews on Amazon. Basically its a floating sink and the net serves as the bowl to the sink. The faucet actually sprays water when you squeeze it and there are 7 other little gadgets on it such as a scrubber, squirt bottle, etc. So cute!! I can't wait to see how she likes it when we have our next bath night.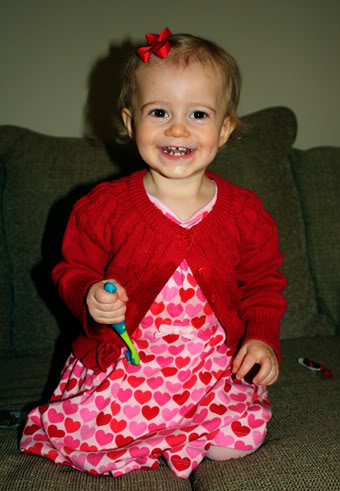 Isn't Autumn adorable in her Valentine dress?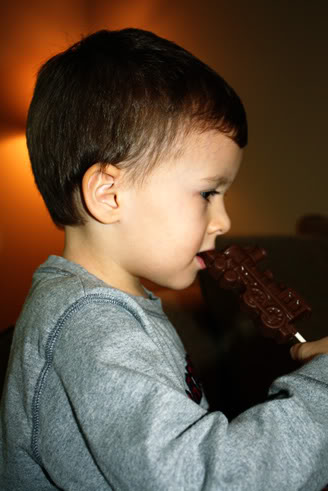 The kids also got their cherished Chocolate Chocolate suckers. Nathan got a train and Autumn a princess. These were a HUGE hit with them!!!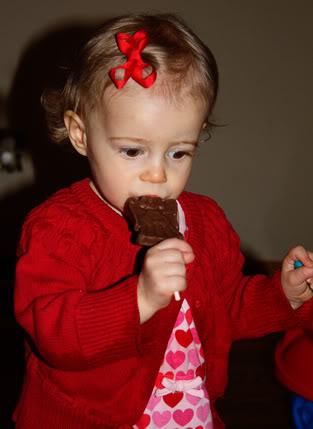 Autumn was done with her chocolate princess pop within 15 minutes, Nathan gnawed on his all day long but did finish it.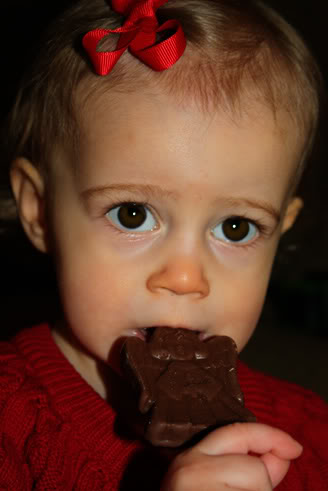 Mmmmm! I sort of wished I had gotten myself one.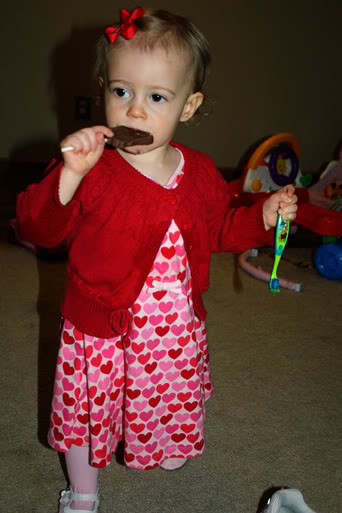 Autumn was in pure heaven… at least she was ready to brush her teeth after eating all of that sugar!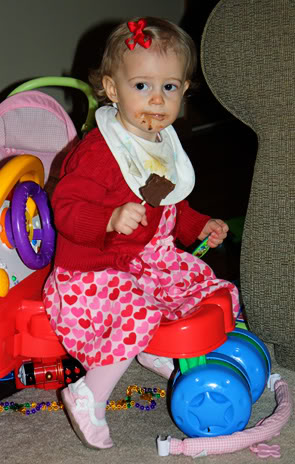 Yeah, it didn't take me long to realize that I better put a bib on her chocolatey face.
Join Swagbucks to earn Amazon giftcards!
Earn Amazon giftcards by filling out surveys on Opinion Outpost!
Another fun and fast way to earn Amazon giftcards, Superpoints!