It was in the mid-sixties in St. Louis today, and since Jeremi was out of town this weekend, I really needed to get the kids out of the house for some fresh air.
Fresh air = happy campers
I really didn't have anything planned today, but while Autumn was napping I thought about how great it would be to go back to Creve Coeur Lake, which is a lake and park that I drove past almost everyday on my lunch hour at my first job after college. It is beautiful to just drive by, because the lake is HUGE and there is a trail that goes allll the way around it. The last time I had been to Creve Coeur Lake was with a mom's club and a bunch of us had Spring 2006 babies and we walked around the entire lake!!! It took us several hours, and trust me, the back side of the lake is not as crowded with pedestrians so you would not want to walk it alone. Its hard to imagine that Nathan was under a year old then AND I wasn't even preggo with Autumn yet! Time sure flies!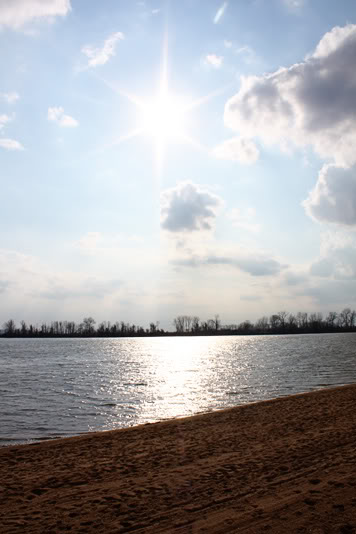 Beautiful lake! We did not see any sailboats out today, but a guy that works with Jeremi actually teachers sailboat lessons at Creve Coeur Lake.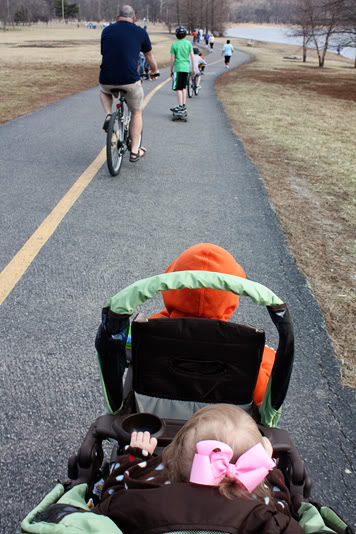 Here we are on the trail, I kept to the very fair right because we had a lot of bikers zipping past us, and that always makes me the most nervous. Nathan had the biggest eyes, he saw bikers, kids his age or a little older on bikes (he is getting a bike for his birthday in May so of course he is all pumped up now!), skateboarders, rollerbladers, other kids in strollers, dogs… oh, and it gets better… DOGS IN STROLLERS! Umm, yes, I saw one couple walking their dog in a stroller and then an older lady with two dogs in a stroller. It was so cute. I seriously wanted to take a picture, but I didn't want to invade on their privacy. I have never, ever seen such a thing.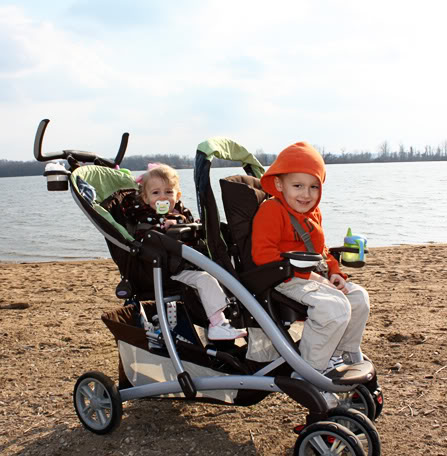 Here are the kids on the beach part of the lake. And, no, I did not take Nathan out of the stroller because he would NEVER get back in!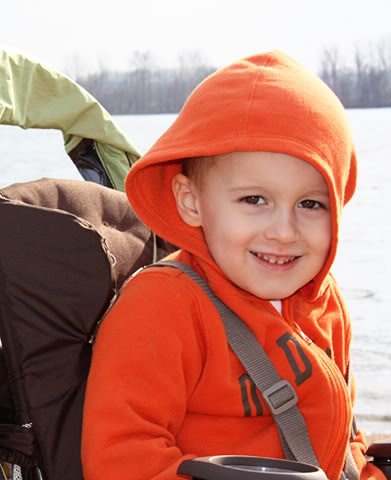 My almost 4 year old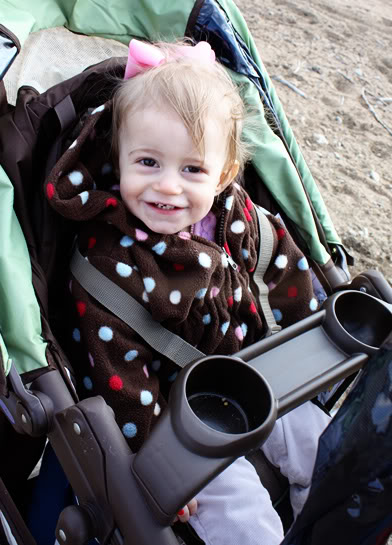 Miss Auttie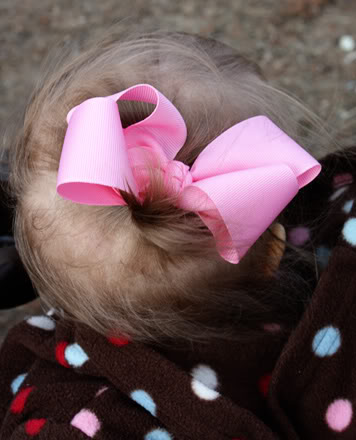 Autumn is sporting her first pony tail… ever!
It was a fun walk, but ohhhh, that double stroller gets heavy… think about it, the stroller is 38 lbs, Nathan is 34+ lbs and Autumn is 20 lbs… 92 lbs! and since it is 11 miles to walk around the entire lake (did it once, and wasn't ready to do it again), we only walked for about 40 minutes total.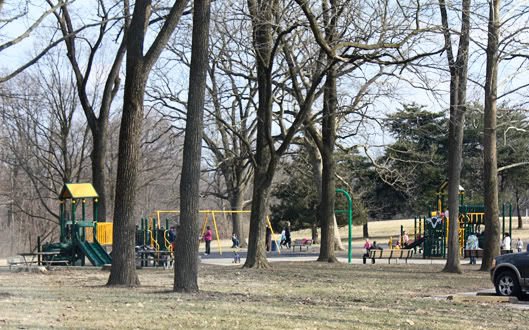 So, next we decided to try out ONE of the four playgrounds that Creve Coeur park has to offer. I looked online and one of the playgrounds is just swings, then two of them looked sort of the same (one of the ones is the one we visited) and then there was another that looked about the coolest of them all but I could not find it!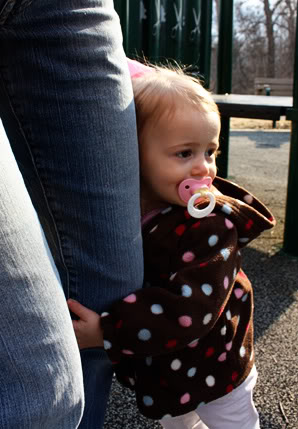 Autumn loves to cling to her Momma's leg when she is in new situations.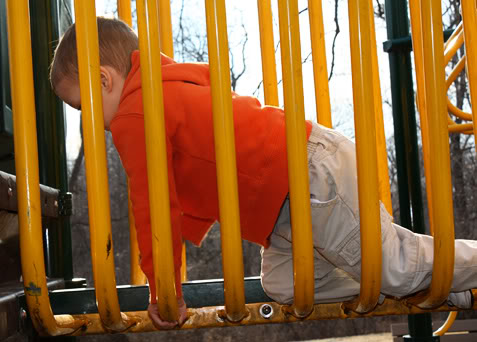 Nathan is the opposite, he was ready for some long awaited slide time!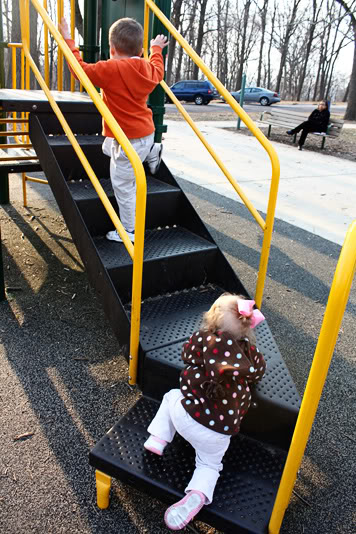 Little by little, Little Autumn decided that there was funner things out there then Momma's leg. Yep, sorry, Momma, but, I can't let Big Bro pass me up!!! Last year when I took the kids to the park, I just wore Autumn, but now… oh, a little more stressful. I am a super paranoid mom so I like to have both kids in my view at all times, I do not sit on the bench, I am up watching them at all times. Nathan is pretty easy to watch as he usually just goes up and down the slide over and over again for the most part, but still, now I am watching two kids and it is hard, but I did it.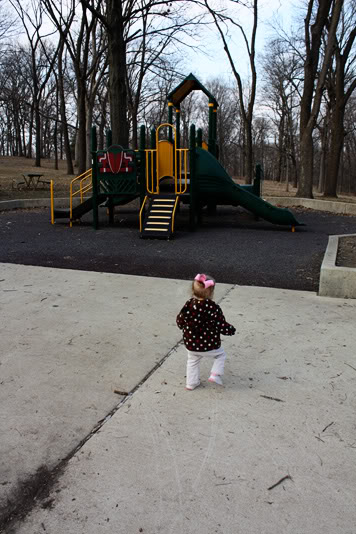 There were two playgrounds, a smaller one for babies and toddlers and then a bigger kid playground. It didn't take long for Autumn to realize that there was a playground just for her. Luckily, I got Nathan to come over to check it out for a bit. I really need to take Autumn to the park for some Mom and Auttie time though, so I can just watch her. She loved the slide!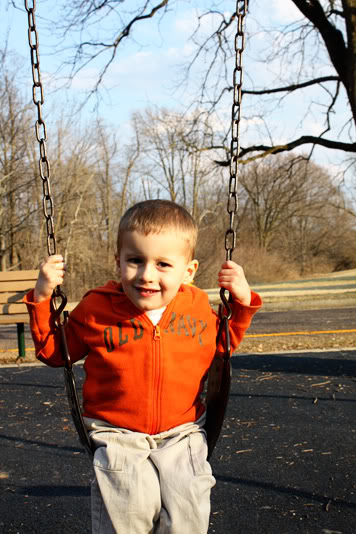 Nathan on the swing!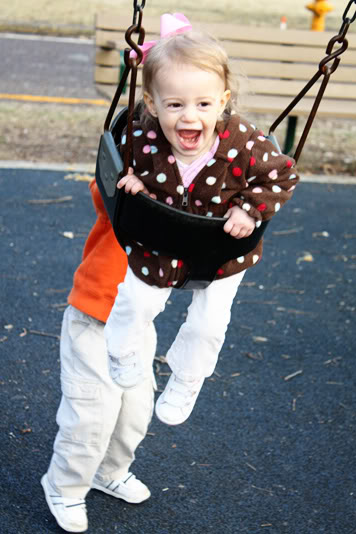 Nathan pushing Autumn on the swing
We had fun at the playground, but I would not go out of my way to visit this playground… the lake is the big factor for our drive out this way, and the playground was just an added bonus. The entire playground was asphalt and concrete, ummm, yeah, good thing the slide wasn't super tall. And, not so gentle on Autumn when she'd stumble over her feet. There was a water play area, but of course, it wasn't on and it looked mainly like a big water faucet that dumped water over the kids, VERY simple.
I was talking to another couple while I was swinging the kids and they told me of another fantastic park to check out called Stacey Park in Olivette. I have never heard of it, but we may check it out next. They also suggested Tilles and Kirkwood Park.