I decided to try another recipe that has had numerous good reviews on BBC. This recipe is SO, so easy to make… and, NO eggs are in it, so its perfect for anyone that has a child with egg allergies.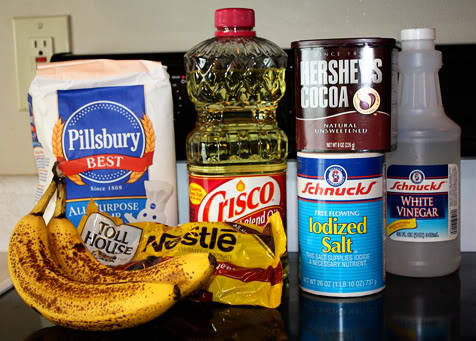 Ingredients (sugar and baking soda not pictured)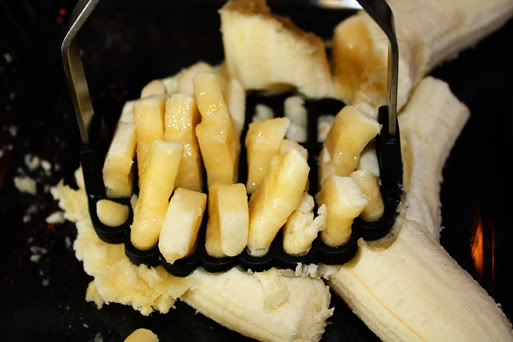 Mash two really ripe bananas in a 8×8 baking dish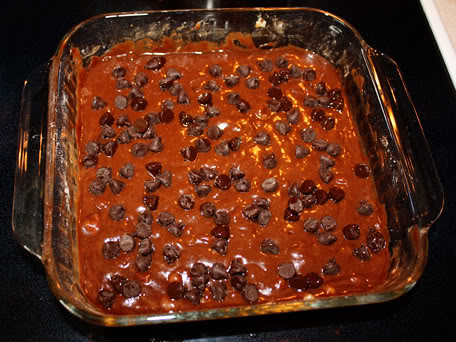 Mix the rest of the ingredients into the dish, and mix. Sprinkle chocolate chips on top. (See! So easy, no dirty bowls or anything, you just mix it all up in the same baking dish!) Oh, and this recipe calls for white vinegar, which I found sort of odd, but it is really cool when you add it to the rest of the ingredients as it fizzes a bit… definitely entertained my preschooler! ha!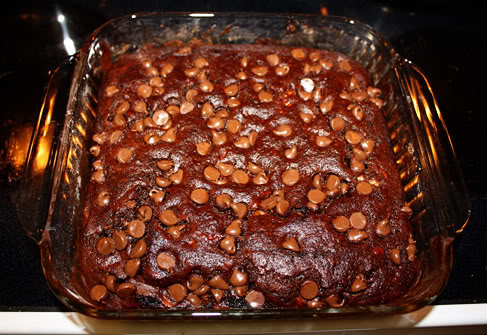 Bake 35 minutes, then let it sit for 45 minutes to cool. It is SO good! Nathan told me that I make the best chocolate cake EVER!!! What a sweetie… if you think this is good, wait till I post the chocolate souffle recipe I tried a few years back from Cooking Light. I found the recipe while I was cleaning out my closet and seriously, the souffle is to die for… must make it SOON! Unfortunately, its not an easy recipe like this one, but so worth it. Mmm!
Chocolate-Banana Snack Cake
2 very ripe medium bananas
1 1/4 cups Gold Medal® all-purpose flour
3/4 cup sugar
1/4 cup unsweetened baking cocoa
1/3 cup vegetable oil
1/3 cup water
1 teaspoon baking soda
1 teaspoon white vinegar
1/4 teaspoon salt
1/3 cup semisweet chocolate chips
1. Heat oven to 350°F. Place bananas in ungreased 8-inch square pan; mash with fork. Stir in remaining ingredients except chocolate chips. Sprinkle chocolate chips over batter.
2. Bake 35 to 37 minutes or until toothpick inserted in the center comes out clean. Cool completely, about 45 minutes.