It has been raining ALL weekend, and I know, I know, we need rain… but, I love to be outside in the Spring! I was planning to run with my work friend Cammie outside at Jefferson Barracks park because they have a beautiful paved trail that is 2.7 miles but the rain canceled that! Then, we have the painter coming over Monday-Wednesday so we had to get everything taken down for him and it was quite a job. We also have AT&T coming out tomorrow to install U-verse/fiber optic and we will finally have DVR! I cannot believe I have gone this long without it…
Well, on top of all of that, we went to Dick's yesterday to get my new treadmill! Yay! I settled on a $799 Livestrong model but I REALLY wanted the $999 Sole model that was right next to it because it has really good ratings with Consumer Reports, etc. I had a budget to stick to, since this is sort of coming out of my own money… Jeremi and I set aside money each week for each other which is sort of an 'allowance', and it is our own personal spending money- even though we do everything else jointly. It seems to work out well for us and we use it for work lunches, clothes, I spend most of mine on things for the kids, etc. Well, my parents were so sweet because they offered to chip in towards the treadmill that is $200 more since my Dad wants to use it when they are over at our house watching the kids. So, Jeremi went back up there and changed my order over to the Sole treadmill today- YAY! Thanks Mom and Dad! 🙂 They are SO sweet!
Here is the treadmill I will be getting in 2 weeks, I am guessing it will be here on Mother's Day, but we'll see…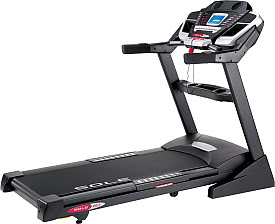 Here is a photo of it, its the Sole F63, here is the description:

You will enjoy working out from the comfort of home with this Sole F63 treadmill. Intuitive features include speed and incline adjustments on the handrails, built-in cooling fans, and a convenient blue backlit LCD display that allows you to keep track of your progress. The built-in audio system lets you work out to your favorite music.