Nathan is so eager to help his Mommy these days and I am taking advantage of it! Yesterday, while Autumn was napping I thought it'd be nice to clean my car out since I hadn't cleaned it out since BEFORE Autumn was born! What can I say, I have been busy! Well, anytime I say the word 'car' and 'help' Nathan is up and ready!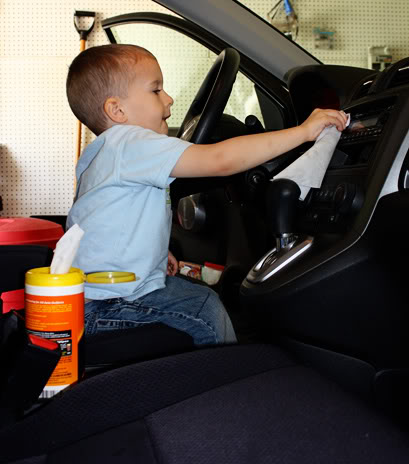 First I cleaned the interior windows with windex while Nathan played outside on his Big Wheel. Then, Nathan helped me scrub the inside to get all of the dust and grime off of everything. Nathan told me HE would clean on the driver's side, sure, sure… that was all find and dandy until he decided to clean the garage door opener AND hit the button in the process! This wouldn't have been a big deal if I hadn't of had the tail gate wide open… LUCKILY, no scratches but, lets just say that I took away the garage door opener after that. ;o)- Of course, Nathan loved seeing Mom jump out of the car in a panic over that one! I tell you, these kids keep you on your toes!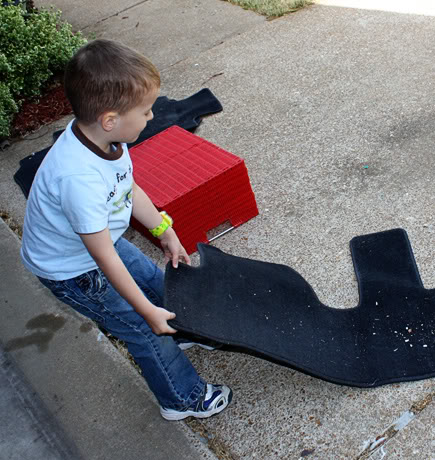 Then, I had Nathan pull out all of the rugs and shake them out on the driveway. He LOVED this part! Then we vacuumed them and also vacuumed the inside of the car under the rugs, the carseats, etc. I must say that I LOVE the Dyson Animal because it comes with this special attachment that gets cat hair off of upholstery… well, GUESS WHAT? It also gets itty bitty pieces of mulch out of the back of your car! The back of my car was a mess and it sucked it all right up. Hoorah!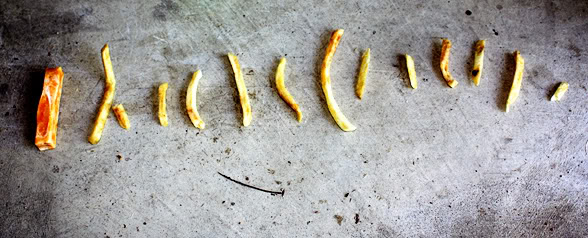 And, this is my favorite part… everytime I clean my car out I love seeing what I can find. Well, we found 1 moldy cheese stick from Trader Joe's AND 16 french fries (3 aren't pictured because I found them after I threw these away). Yep, my car was totally gross. And remember, this is 16 months of not cleaning it… poor neglected car. I normally take my car to Waterway twice a year for interior cleaning, but somehow I have been slacking on that lately and, well, I think partially the reason was because I knew it was TOO messy for even Waterway! ;o)- Sad, isn't it?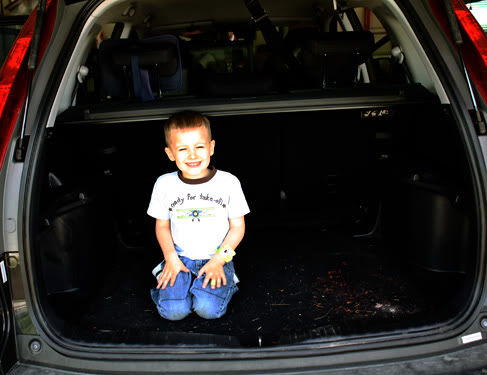 And, of course, this wouldn't be complete without a picture of Nathan in the back. This is a really bad picture but I am not sure if you can see the shelf I have installed in my CRV but it is so cool, you can pull it out so that it covers the top and people (especially thieves) cannot see your bags, etc. in the back of your SUV. Oh, and see all of the mulch and crud on the floor? The Dyson fixed that problem!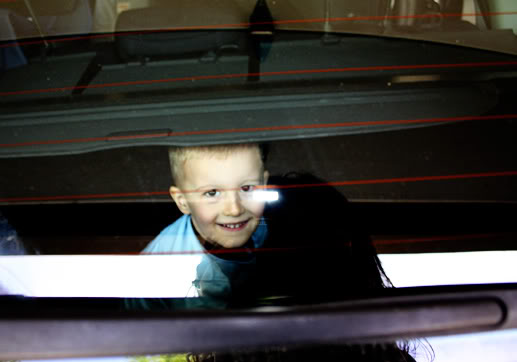 He begged me to close the tail gate and I didn't want to do that but he promised to stay still so, yes, here is Nathan in the back of my car. Don't worry, I didn't keep him in there long, just long enough to get a picture. :o)-
Well, the sad part about all of this is that Honda gives its customers free car washes, on Saturdays and the car wash was CLOSED! So, here I cleaned the inside of my car out and now the outside is not sparkly clean. And, yes, I do clean the outside of my car quite often (hence, free car wash)… but, no free car wash this weekend! (and, yes, I stalked the place twice!) ((and, yes, I was too cheap to pay for one!)) So, no car wash. Maybe next week.