I've really been in the baking mood lately, and I have always wanted to try out turtle brownies, so I did! And, yum! Not sure what I'll be baking next!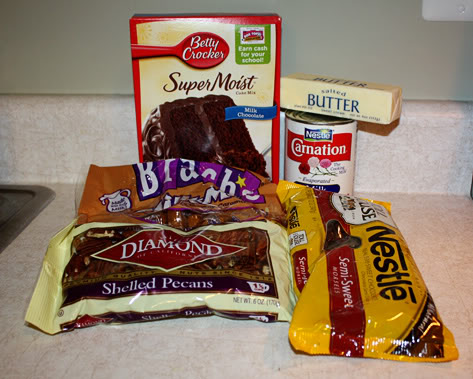 Ingredients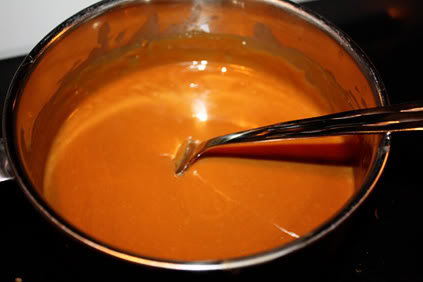 First, unwrap the caramels and melt in a saucepan with 2 tablespoons of evaporated milk. You'll want to stir constantly so that the caramel doesn't burn to the bottom of the pan.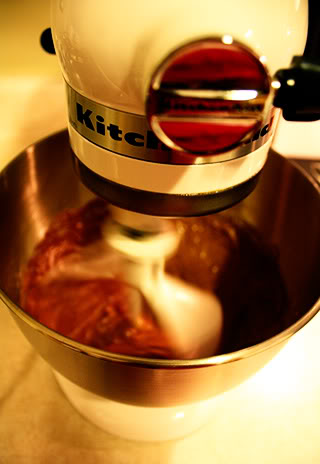 Then stir together the rest of the evaporated milk, cake mix and melted butter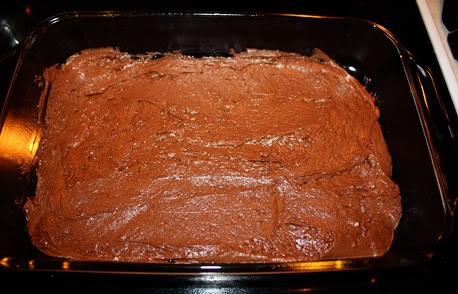 Spread half of the mix to the bottom of a greased 9×13 pan. Bake for 10 minutes at 350.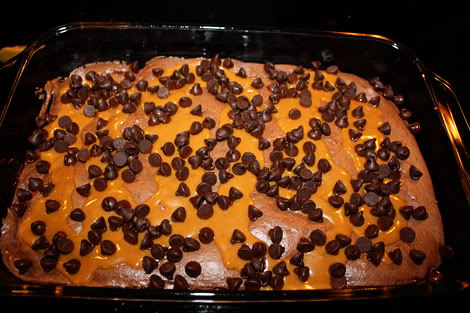 Remove brownies from oven. Then, drizzle melted caramel over top of brownies, and sprinkle 1 cup of chocolate chips on top of the caramel.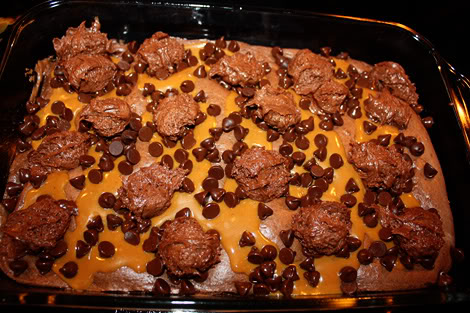 Scoop the remaining batter by teaspoons on top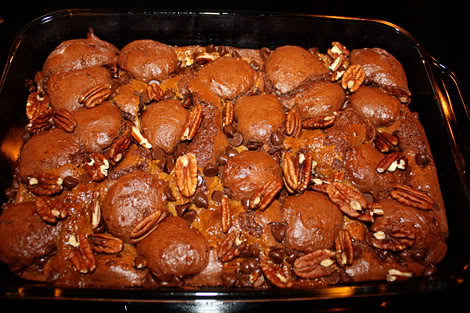 Bake at 350 for 20 minutes. Take out and garnish while whole pecans.
Delicious!! These turned out better then I had expacted, and were so moist and the caramel had great flavor. Wonderful brownies for a fall day!
Caramel Turtle Brownies
1 (14 ounce) package individually wrapped caramels
1 (12 fluid ounce) can evaporated milk
1 (18.25 ounce) package chocolate cake mix
6 tablespoons butter, melted
1 cup semisweet chocolate chips
1/4 pound whole pecans
1. Preheat oven to 350 degrees F (175 degrees C). Grease a 9×13 inch pan. Set aside.
2. Unwrap caramels and place in saucepan with 2 Tablespoons evaporated milk. Melt over medium to low heat, stirring constantly.
3. In a large bowl, combine the remaining evaporated milk, dry cake mix, and melted butter. Stir until well blended. Spread half of this mixture in the prepared pan. Bake for 10 minutes.
4. Remove brownies from oven. Sprinkle chocolate chips and drizzle melted caramels over the top. Drop remaining cake mixture by teaspoonfuls over all. Return to oven for 20 minutes. Garnish with whole pecans if you'd like.