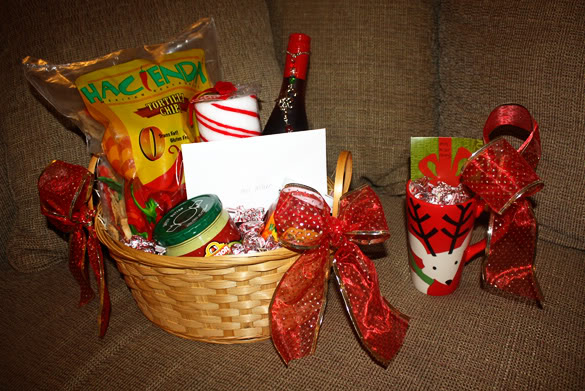 Since I am the room mother that is in charge of all of the parties for Nathan's class this year, I was also put in charge of the gift for the teacher and assistant teacher. PATS sent out forms and anyone for anyone that wanted to put in some money for a gift for their teachers. I received the money last Friday and I purchased the gifts (Mrs. Miller did give me a wish list) and will give it to her at the party this Friday.
I decided to make her up a basket with some goodies:
Hacienda Dip and Chips (Said she loves chips, salsa and guacamole!)
Guacamole Dip (Doesn't need to be refrigerated)
Montelle Winery Spiced Christmas wine
Candy cane candle
Ornament
Candy cane hershey kisses that I poured into the top of the basket
Also, I enclosed a gift card to Target, which is the main gift.
Hopefully the bows I made for the basket look ok. I also had some money to buy the assistant teacher a gift, so I found a cute mug at Target and filled it with candy cane hershey kisses and a gift card to St. Louis Bread Co.