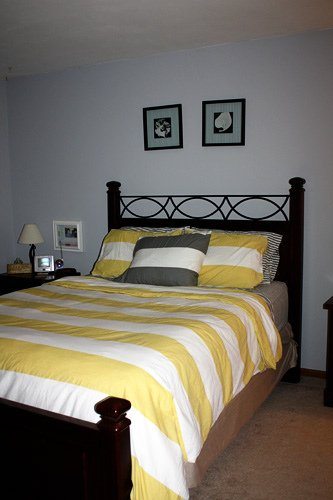 I really felt the need after the separation to make my bedroom more my own again. Especially when the old bedding was from our registry 8 years ago (its amazing it held out that long!). So, I was really excited to order a new set from West Elm. I fell in love with this yellow/white and gray/white striped set several months ago. Thankfully, it did not sell out before I could save enough pennies away for it.
Here is a picture of the bedding, isn't it lovely? I still need to get a white fitted bed skirt as the one in the picture is khaki and from the old bed set. You can't really tell from this picture, but the sheets are gray/white with tiny stripes. I also need to get some new curtains and accessories for the room. The walls in the room are painted a light gray, although they look a little blueish in this photo… so I doubt I will need to repaint. I definitely want to do something different instead of the two frames above the bed.
Let me know if any of you have ideas for curtains that would go with the gray/white/yellow pattern or what I could do on the wall above the bed. I need decorating advice! Thanks.
SaveSave