I look forward to Go!'s Halloween 10k every year, it is so fun to get dressed up and to run in a race on a brisk Fall morning. I rarely dress up on Halloween, because I am so focused on the kids costumes, but this is when *I* get to have fun and dress up! Brian usually dresses up, too and does the race with me, which is super sweet of him… he is more of a meat head (weights), so running isn't something he gets excited about like me. 🙂 So, this year Miss Autumn helped me pick out my costume, she wanted her Momma to be SMURFETTE! So, Smurfette I was!!!

I even sported some Smurfette knee highs. I will say, they are not as comfy, supportive and sweat resistant as my normal running socks… but, for a Halloween 10k, they were quite sweet!




Brian and I are so horrible at being on time. I thought the race started at 7:00 a.m. (that was the 5k!) and so when we left the house at 7:45 a.m., we knew we would be late starting the race… BUT, then I realized the race really didn't start until 7:30 a.m., so we got there a little early. WHHhhHHhhhew!
 
So, how did I do? Well, I didn't train specifically for this 10k, because I am in Week 10 of 12 weeks of half marathon training. But… somehow I did completely awesome. I really surprised myself, because the race was really congested the first mile or two and I knew I was running a little slow… but, I really picked up the pace once I got through and… well, I PR'ed WAYYY past my best time for a 10K.
Above you'll see the map… I actually ran the fastest the last full mile of the race and my average pace was 9:04 a mile. The course was different this year, we got to run RIGHT ALONG side the arch and the riverfront!
Here are my stats:
Finishing Time: 56:43
Overall: 440 out of 1,950
Female: 206th out of 1383
Age Group: 38 out of 259

Last year I did really bad on the 10k, so I will not repeat my time… but, I ran while sick. 🙁 But, my best 10k time is 1:05:42.. so, I shaved off quite a lot of minutes this year. I am the most excited about having a time under 1 hour! Yes!!! I can't tell you how proud I am of myself… I still can't believe it. 




If you follow me on Instagram, you saw that Brian dressed up as Gargamel. He even had a magic wand, you can't really see it in this picture.




My medal



Here is my bib and the awesome shirt they gave us, I didn't wear it… but, I will later! I love that it is a light grey and breathable material.


Ok, so NOW… are you ready for a costume recap from years past????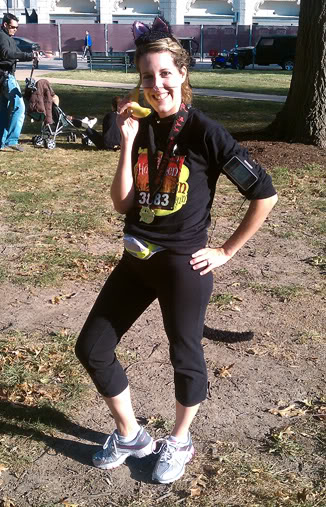 2010 (FIRST year!) – Black Cat

2011 – Sookie Stackhouse
 
2012 – Cow Girl




2013 – Smurfette
What will next year bring??? Happy Weekend!