Happy Memorial Day! Thank you to those of you that serve our country, have served it and to those of you that have lost loved ones while they served our country. I hope everyone is having a nice and relaxing Memorial Day weekend. I always think of Memorial Day as the unofficial start of the summer, so today I am sharing our Summer Bucket List!
Summer Bucket List for the Kids
1. Take Nathan on 3 one-on-one dates and Autumn on 3 one-on-one dates
June: Took Nathan to Pole Position & Red Lobster, Took Autumn to Magic House

2. Learn how to Geocache, take a class at Shaw Nature Reserve
3. Basketball Camp (Nathan) and Gymnastics (Autumn)
4. Get a Zoo membership and go every week and explore a different area of the zoo
5. Visit Windcrest dairy farm
6. Vacation to Destin, Florida and family photos on the beach
7. State Fair on my birthday! It is in Sedalia, MO this year, which is 3 hours (eek!) away… so, we will probably need to stay overnight for it.
8. Library Reading Program


9. Go hiking on the Spring Branch Trail at Mastodon Park, I have never been to this park, but this trail is suitable for kids and has a nice little creek that runs along it. There is a more difficult trail that I put on my bucket list below to do with Brian!

10. Cardinals baseball game with kids (5/31), this will be Autumn's first game
Summer Bucket List for Me and Brian
 
1. A fun little trip away with Brian, not sure where yet. – Went to NYC

2. Moonlight Paddle boats Picnic at The Boat House
3. Do a sunset dinner at Montelle winery
4. Soulard Market on a Saturday morning
5. See Grease at The Muny in August
6. Tour the new area of the art museum, perhaps a picnic or reading on blanket in front of Grand Basin if not too hot.
7. Outdoor Concert – St. Louis Fair on Fourth of July

8. Go hiking on the Limestone trail with Brian at Mastodon Park
9. Go running at Fenton Park
10. Make a chalkboard wall in the kitchen AND FINISH decorating Master Bathroom
Menu Plan for Week of May 25, 2014:
Sunday – Chinese


Our usual lazy dinner we have every other Sunday! I love hot and sour soup and the chinese restaurant by our house has the best (almost as good as P.F. Changs!).

Monday – Cheddar Beer Burgers with Chips, recipe HERE


Mix and Match Mama is my new favorite blog, she has wonderful recipes, fashion and traveling advice (and she is the sister of one of the previous Bachelors!). When I saw this recipe for Cheddar Beer Burgers, I knew we had to make this for Memorial Day! We will probably keep it simple and just serve these with some chips.

Tuesday – Nathan's Cub Scout Graduation, Hot Dogs & Chips
Nathan is having his Cub Scout graduation this day, so I don't have to make dinner! Yay!
Wednesday – Gazpacho with Homemade Bread, recipe HERE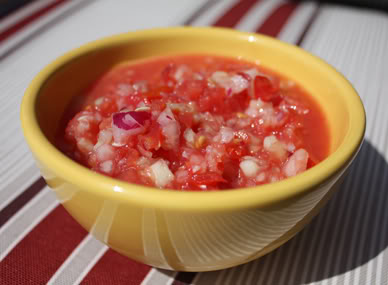 I thought a light dinner on Thursday would be nice and the tomatoes in the store have been SO much better lately! This is my favorite gazpacho recipe and Brian is going to make some delicious homemade bread to go with this light soup.
Thursday – Homemade Buffalo Chicken Pizza with Ranch Drizzle, recipe HERE


One of my 'Wine' friends told me that she makes buffalo pizza a lot for dinner and she got me craving it. So, I am trying out a new recipe that I found on Pinterest, the only difference is that I plan to drizzle ranch on top of the pizza!
Friday – Tacos
Every other week we have tacos and I really need to take a photo of our tacos, so I have a photo to show for this meal!
Saturday – Honey BBQ Pork Chops, Baked Potatoes, Green Beans and Peach Crisp, recipe HERE and HERE


I thought why not BBQ twice in one week, since the weather is going to be HOT. I thought Honey BBQ pork chops with baked potatoes, green beans and a peach crisp that I am pulling from our freezer stash would be pretty tasty!
Linked up with:
The Mommy Monday Blog Hop 
Frugal Crafty Home Blog Hop
Small Victories Sunday Linkup 
Snickerdoodle Sunday 
Pin It Monday 
Fluster's Creative Muster 
Hit Me With Your Best Shot 
Moonlight & Mason Jars 
Create It Thursday 
Link n' Blogs 
Inspiration Gallery 
Craft Frenzy Friday 
Inspire Me Please 
Say G'Day Saturday  
Share Your Creativity