This Mother's Day weekend, I want to share how #LoveGrowsHere!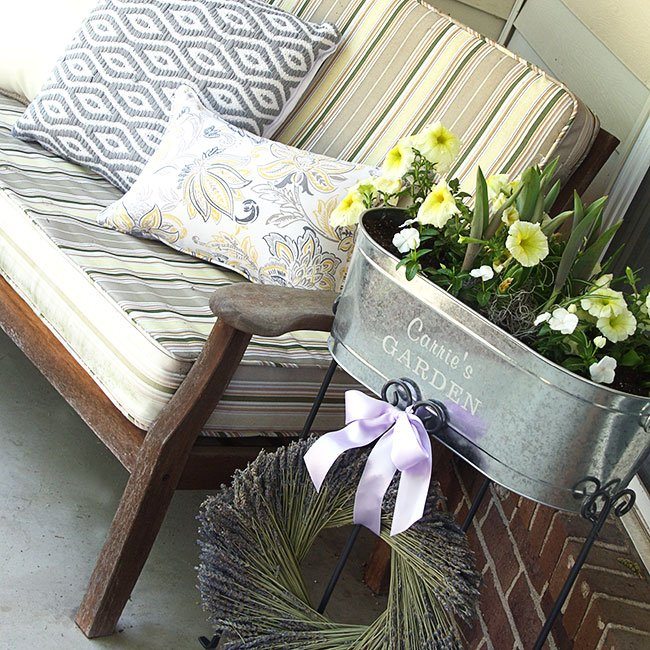 Spring has sprung and I have been wanting to dust off my front porch and give it a little color and pizzazz. And, there is no better way than with the help of my kids and by showing how #LoveGrowsHere!




First. we headed off to the store to pick out some flowers for the porch… and, a few flowers for the kids 'special' garden in our backyard, too (of course!).




Then, the next evening we got to work on planting some flowers! I was excited about this new personalized galvanized tub that I had a special spot for on my front porch and couldn't wait to help the kids fill it with some flowers.




If you take a closer look, you'll see that I have a collection of bulbs planted in the middle. It consists of six blue ribbon tulip bulbs, 2 Miss Saigon hyacinth bulbs and six King of the Striped crocus bulbs. It is going to be so exciting once these finally bloom. To add a little color around them, we planted some petunias and impatiens.




Hard at work!




She insisted we water the flowers, before I moved the tub and stand back to the front porch. 🙂




All done!! One thing that I just love is that my kids enjoy gardening just as much as I do… I can remember when they were little and we started the tradition of planting sunflower seeds and seeing whose sunflower plant grew the tallest. It is memories like these that I treasure with my kids and I definitely know that #LoveGrowsHere.




Now, lets head back to the front porch! I definitely freshened it up with this new galvanized bucket with stand, flowers, hanging birch baskets and even new pillows for the bench. I really should have taken a before photo!




This is my favorite corner, where I can sit and look at the beautiful flowers and smell the natural lavender from the wreath.




I will definitely share a photo on Instagram once the bulbs bloom. I was going to hang this love and lavender wreath where my other wreath is at, but a little momma bird built a nest. I decided to hang it from the galvanized tub instead and I am just in awe at how well it looks there. The contrast of the purple against the yellow petunias is gorgeous and once the bulbs bloom, there will be even more purple color!


This tub could be used for storing cold beverages for a party if I turned it the other way… but, for now I am loving how I had it personalized with 'Carrie's Garden'.




I took this photo with my macro lens so that you can see every little tiny detail in these stalks of lavender. So pretty… if only I could add the scent to my blog post! This preserved wreath is new to my porch this year. I know that this elegant and timeless wreath will be enjoyed for many years.




Here is the front door, you'll see that I have two footed urns that I personalized with gold A's… can you tell that I love to personalize my household items? I filled the urns with two different arrangements of flowers, to add a little visual interest. You'll also see the wreath that has a little bird nest in it.




A close up of one of the urns.




Another view of the porch… if you look in the lower right, you'll see a frog house that I got at a craft fair many years ago. I usually do hanging baskets with annual flowers, but decided to make it easy on myself and did ferns this year… I am going to test it out and see how I like them!




This is a close up of the bright pink dianthus (perennial) that comes up every year by our walkway to the porch. This is why I am in love with my new macro lens, I seriously need to go to the botanical gardens and fill my entire sans card up with photos like these! Look at the little buds that are about ready to pop!




All three of these pillows are new and are from Marshall's. Such a great store for inexpensive yet attractive finds like these pillows.


One last view of this beautiful galvanized tub and the lavender wreath.
Mother's Day is only two days away and one tradition my husband has done with the kids for the last few years is to take them to a local nursery to get little tiny plants and succulents for my fairy garden. They are always so excited to help him pick out the plants and then to help me build the fairy garden in our bird house (see last years fairy garden HERE). It is traditions like these and spending time gardening that makes me know that #LoveGrowsHere. Be sure to share photos and this hash tag this Mother's Day weekend to show how #LoveGrowsHere at your home. I look forward to seeing what you post!

Where You Can Find These Items:
Galvanized Personalized Planter Tub with Stand – Personal Creations
Mom's Lavender Wreath Preserved – ProPlants
Lovely Lavender Bulb Collection – ProPlants
Wreath (hanging on house) – HomeGoods
Doormat – Wal-Mart
Pillows – Marshalls