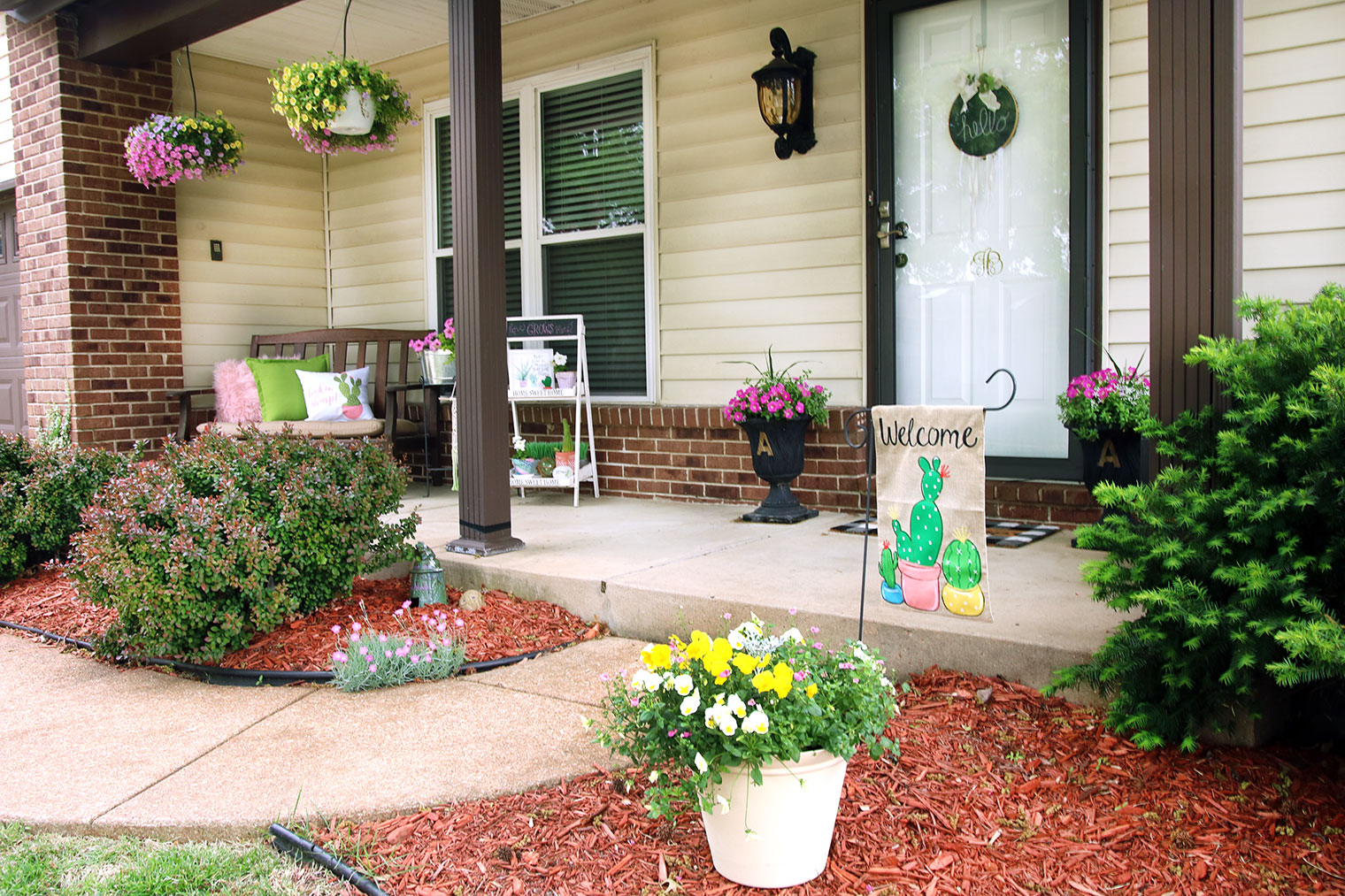 Happy Monday everyone! Today is my kiddos LAST full day of school. Can you believe it? I can't. I've been working on refreshing my front porch for a few weeks now. I usually like to go with a neutral look for it, but I've found that having a little color really adds more curb appeal. So, I think I'm going to keep the neutrals inside the house for now and I'm going to always have a little color on my front porch and back patio areas.
It seems there are a lot of different trends right now… cactuses being one of them! I saw two LARGE displays inside Hobby Lobby of just cactus merchandise and if you do a search on Kirklands for cactus themed stuff, a lot of goodies will pop up. I don't know why I am loving cactuses this year, but… I decided to do a cactus theme for my front porch. Now, I didn't want to go all out… I just wanted some subtle touches here and there along with a lot of precious blooming flowers! Flowers are my jam and I always, always buy too many… but, I love them… even though the annuals die every year. But, for several months I really enjoy them and I swear they're worth every dollar!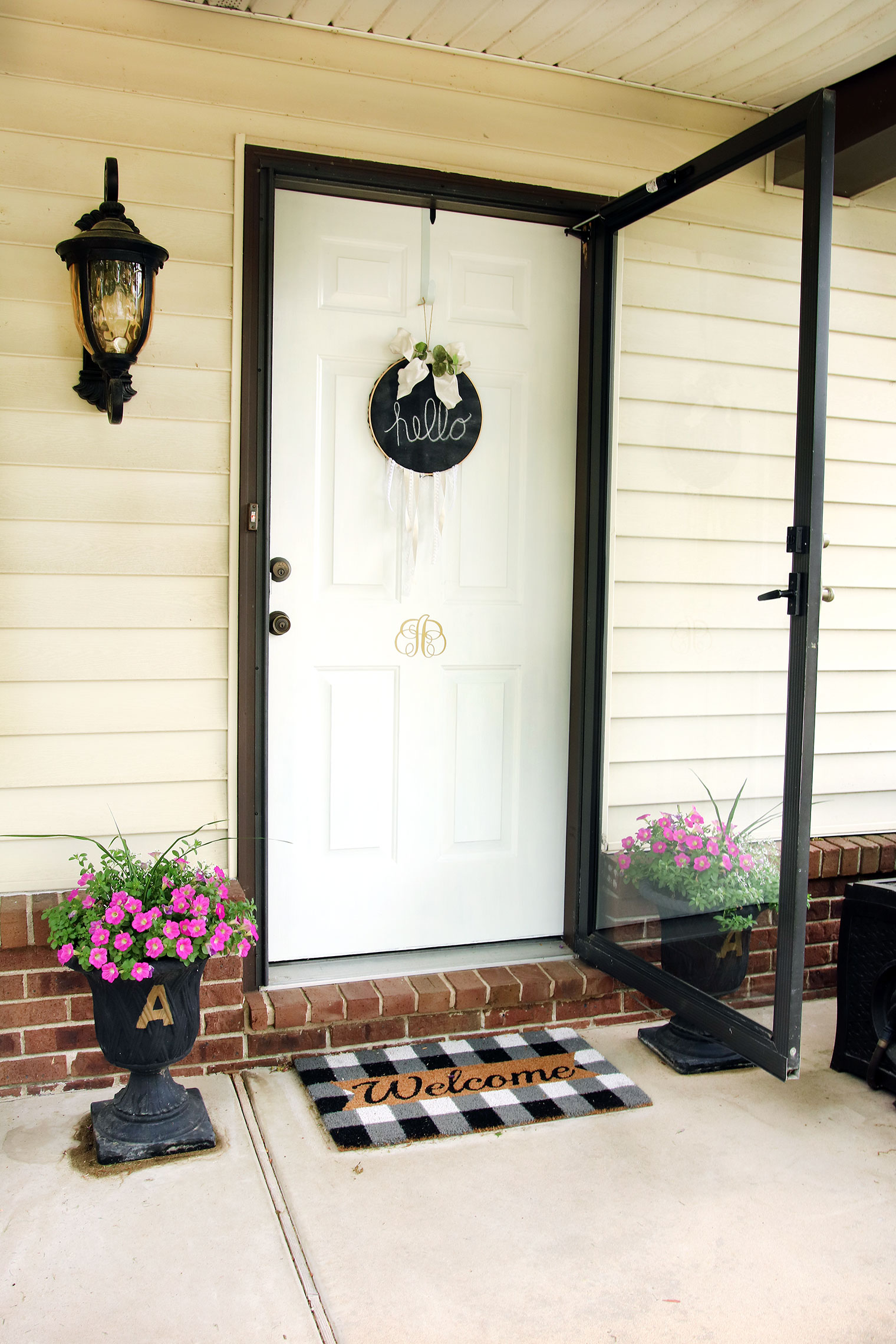 A couple of years ago, I joined in with several other bloggers on doing a refresh on my front porch area. One of the big projects I tackled was painting our front door white (it used to be a dark brown) and adding a gold monogram to our door. I just love it! It really has brightened the front door and has made it more welcoming. The outdoor wall light by the door was also a fun add on at the time from Lamps Plus and was sponsored, which saved me a lot of money back then when I was redoing this space! The urns with the gold monograms on them were also a DIY from MANY, many years back. And, the black/white 'Welcome' doormat is from Kirkland's. I actually got it on sale for a great price! The chalkboard embroidery hoop wreath on the front door was part of my 12 Months of Wreaths series from last year.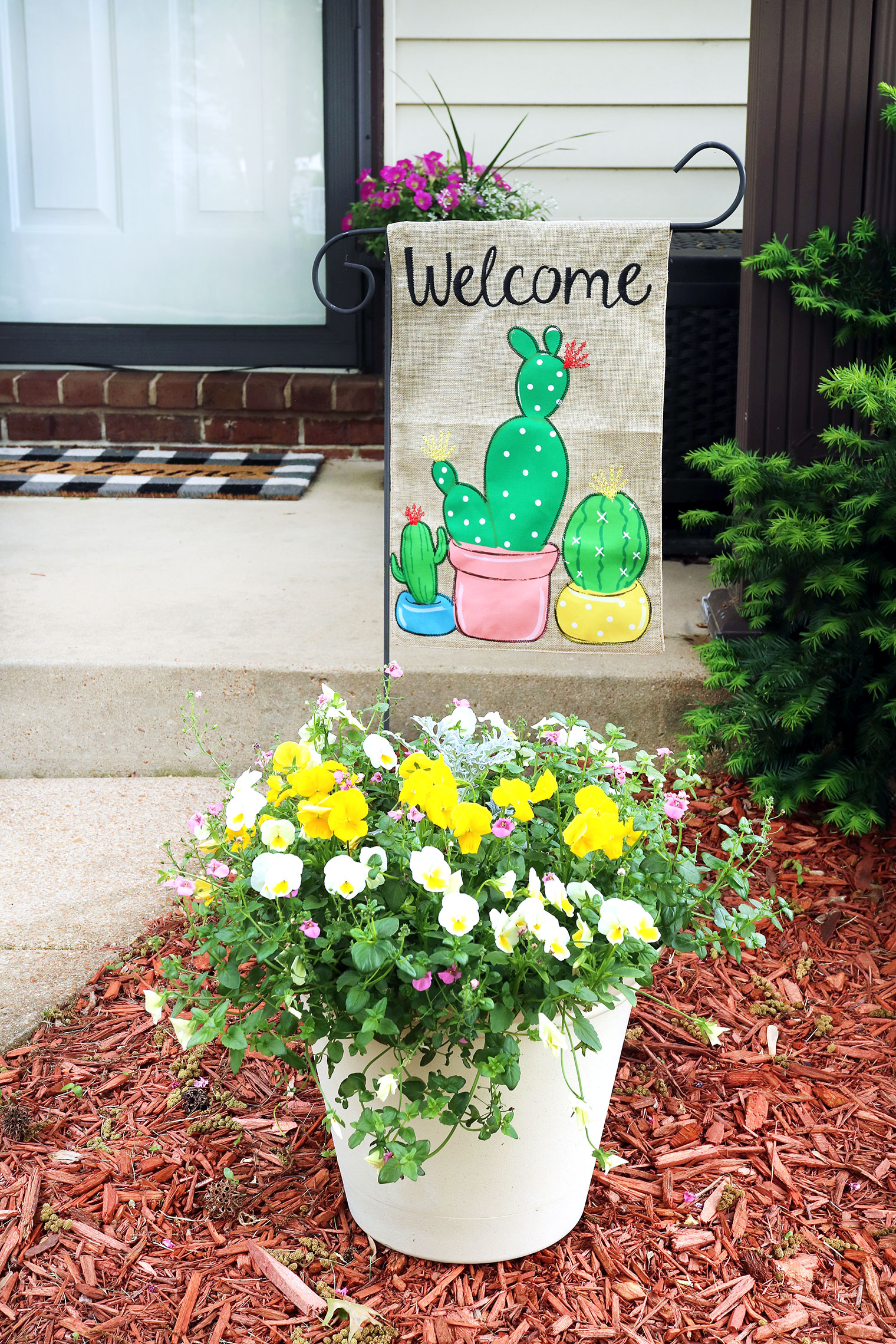 We used to have a bush where this pot is, but we had it tore out and I've decided to just place a planter here with some flowers and I also have a cactus themed flag and flag stand in this space. The cactus flag is also from Kirkland's.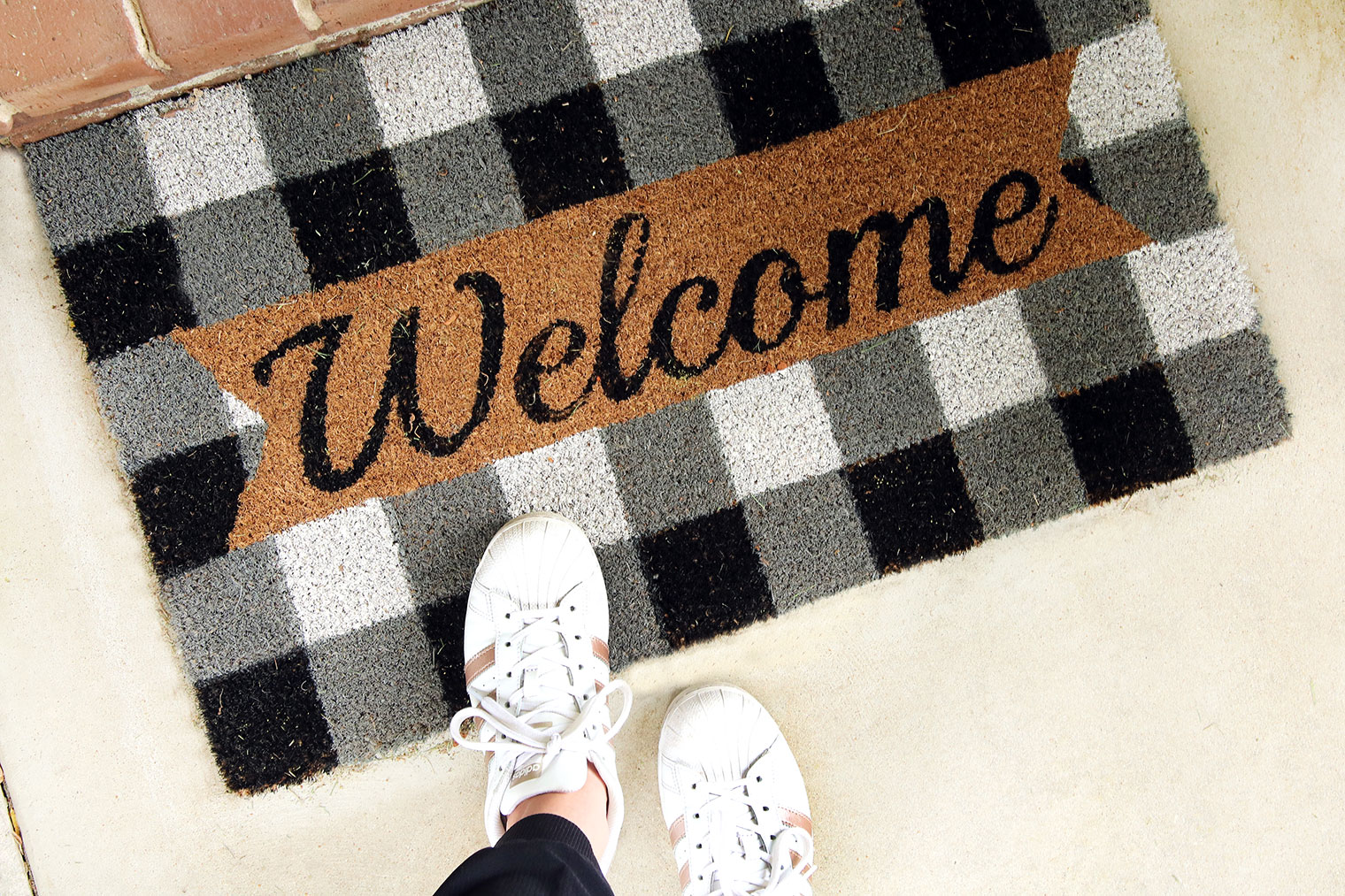 Here is a close up of the plaid Welcome doormat. I just love it!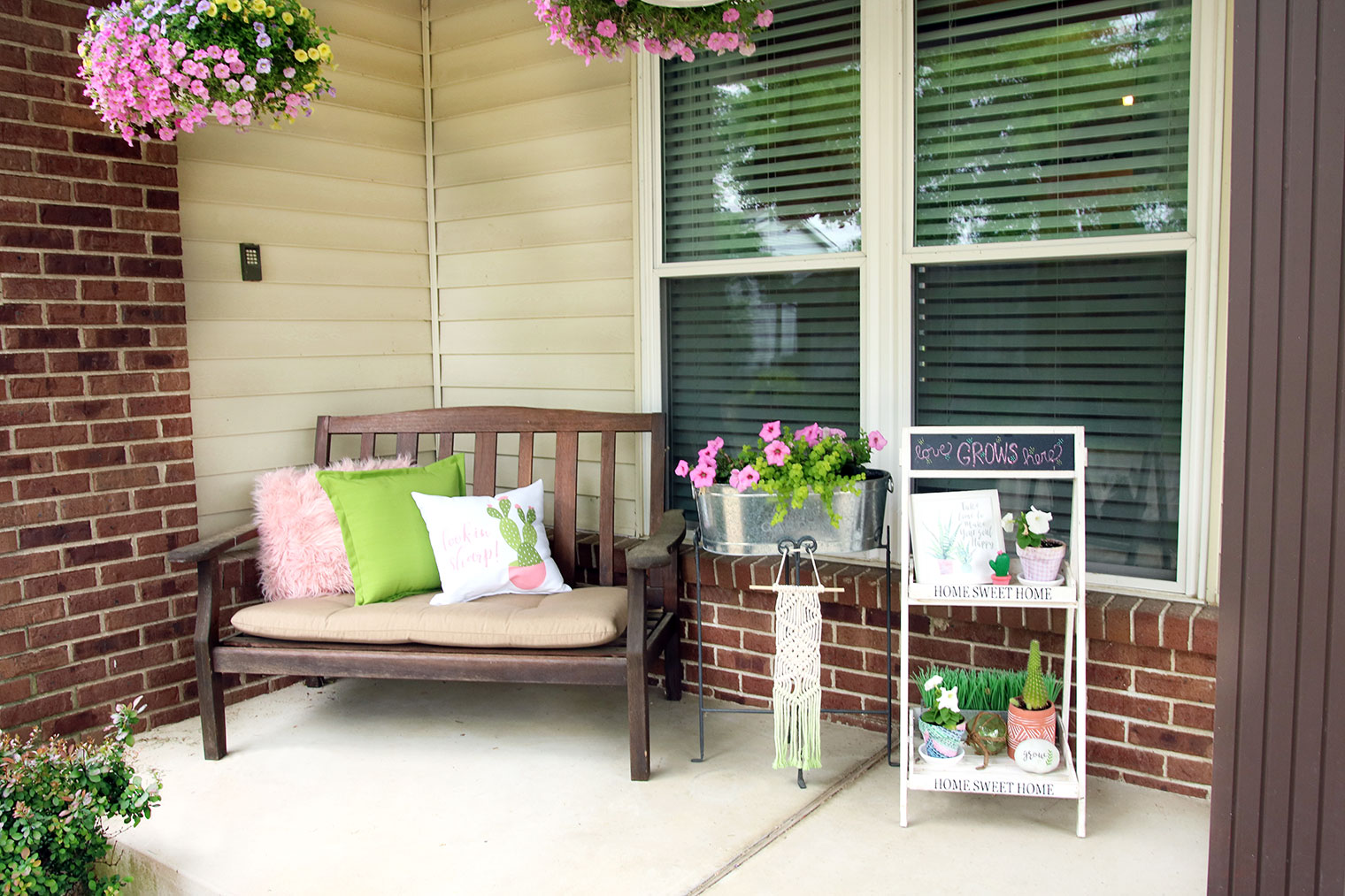 Here is a view of the sitting area on the front porch. The hanging baskets I purchased from a local farmers market by our house. Then, we have a wooden bench that I always decorate with tons of pillows and sometimes even a blanket. I have a metal planter tin that says 'Carrie's Garden' and it sits on a stand. I also have a wooden ladder shelf with a chalkboard writing area that I acquired from a collaboration with the At Home store during my front porch blogging collab several years back.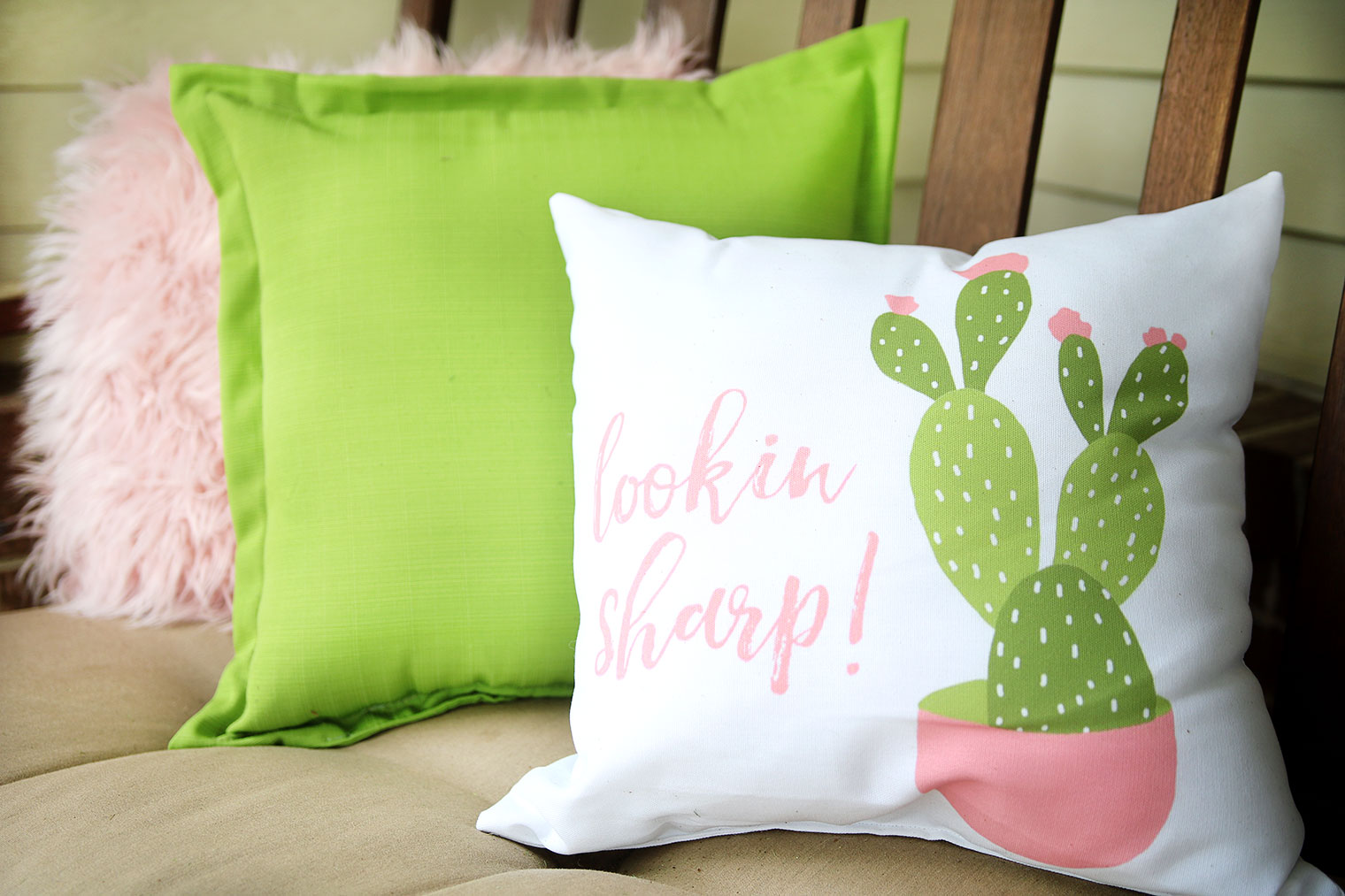 I did purchase these pillows all new from Kirkland's and they were probably the most expensive part of my cactus front porch refresh. But, I really wanted specific colors and they worked out wonderfully! You can find the Lookin' Sharp pillow HERE, the green pillow HERE and the furry blush pillow HERE (all from Kirkland's!).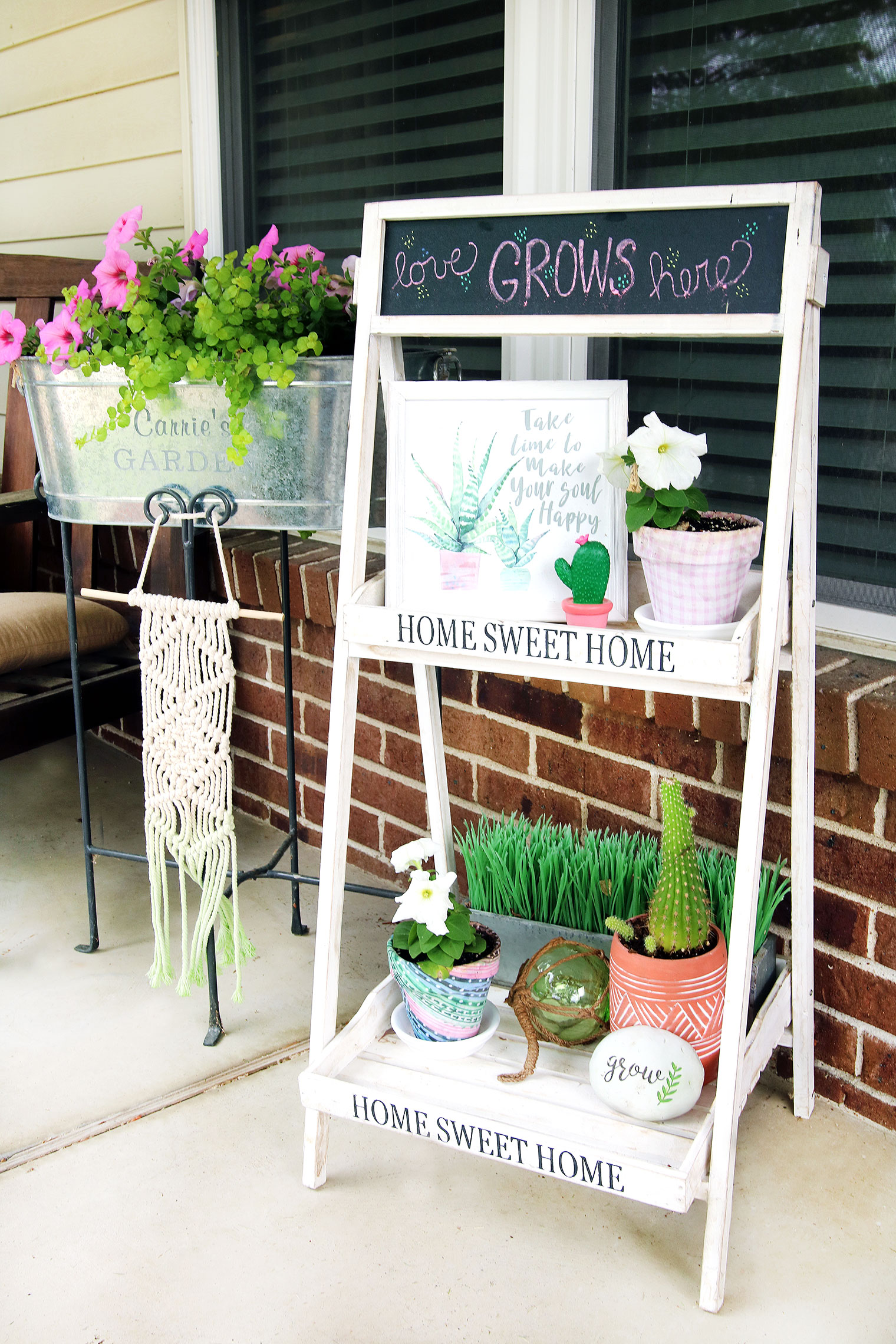 Decorating this ladder shelf is one of my favorite things to do each season! I went with a white, green, blue and blush color scheme for this cactus theme.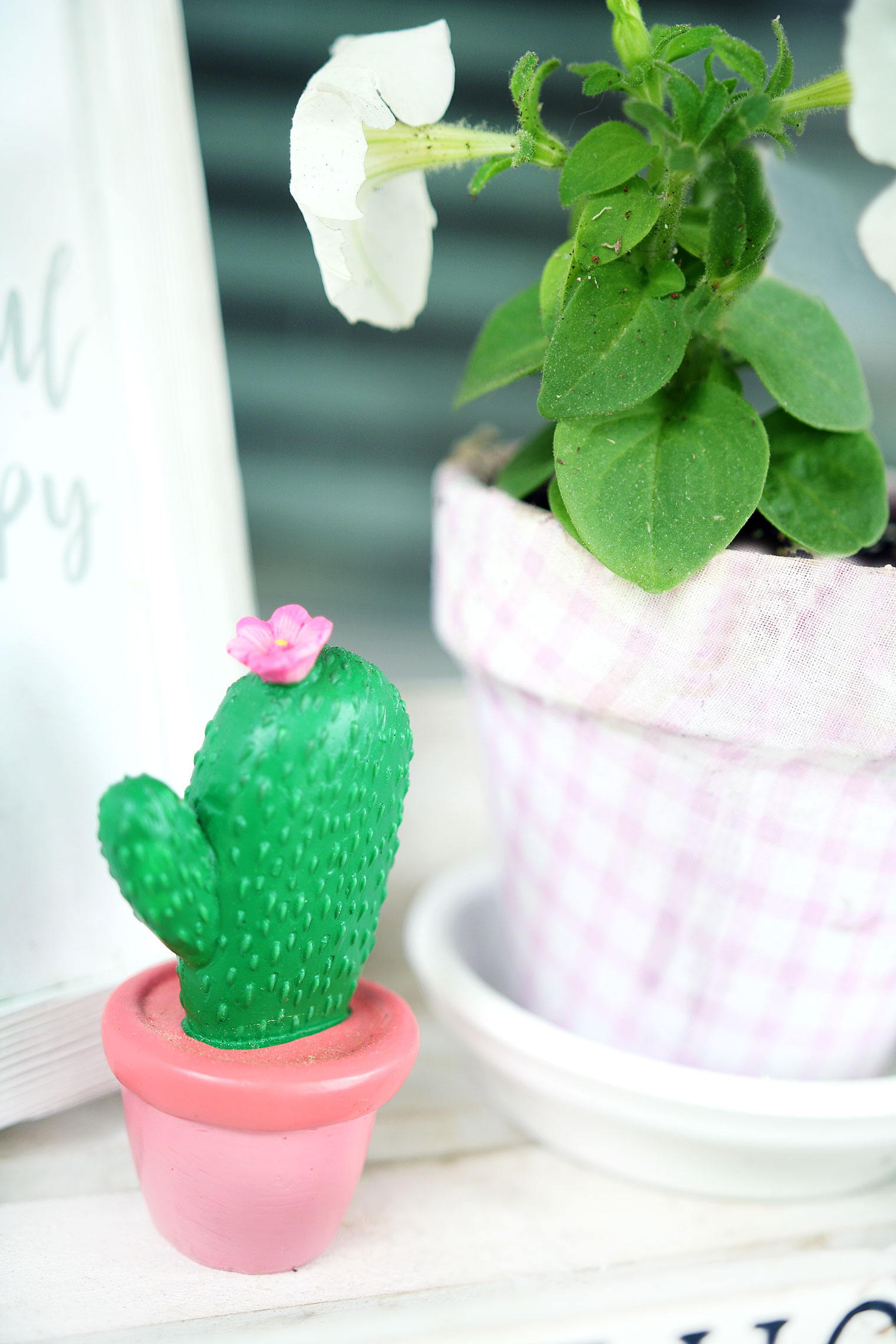 This little baby cactus figurine was in the Target dollar spot… for a $1.00! When I purchased it, I didn't even know I was going to do a cactus porch theme. The blush gingham pot is a DIY, I love to add fabric to terra-cotta pots with mod podge! I did a Hometalk Live on how to do it. You can see my DIY post HERE.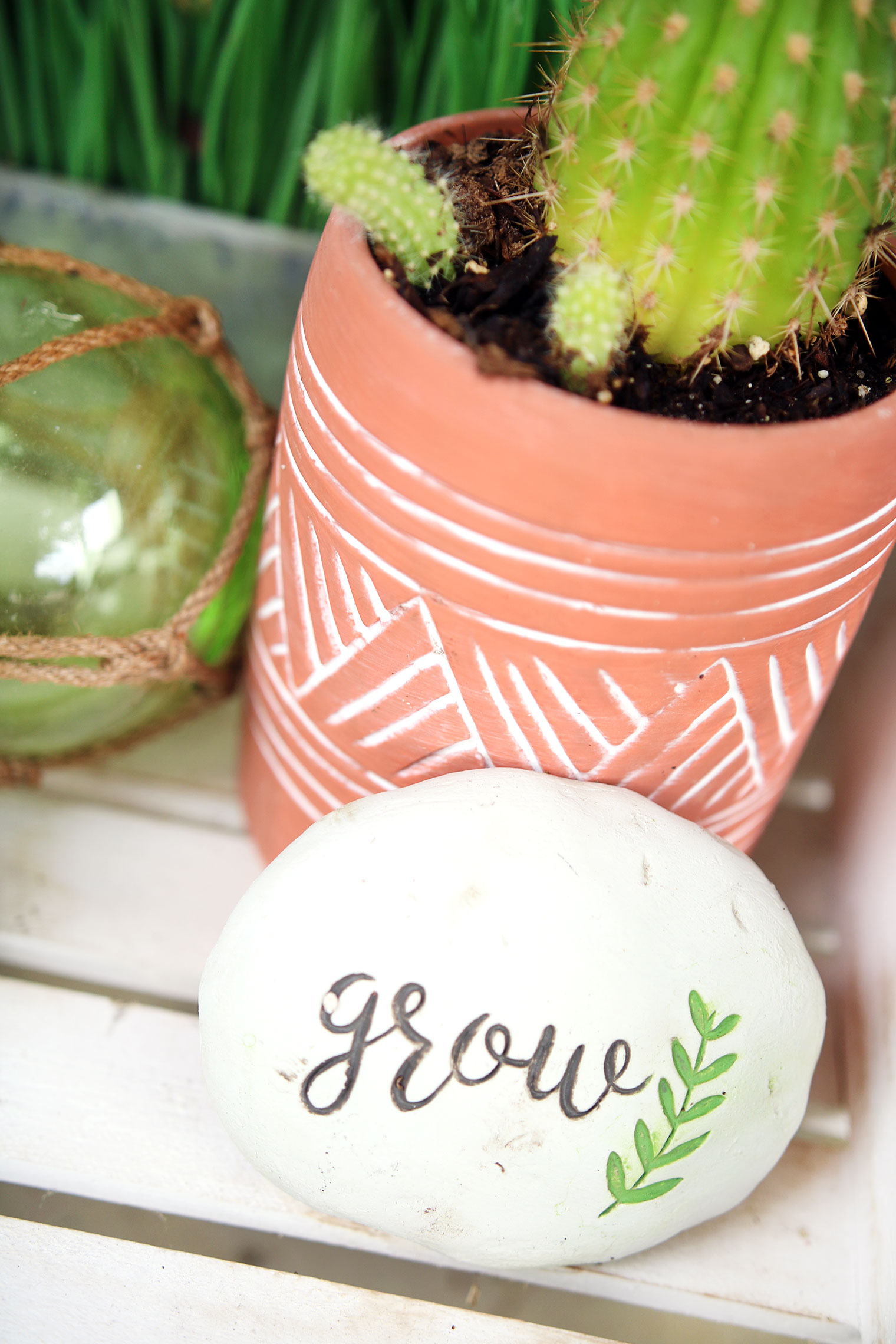 This cactus has been inside our house and is my son's. I put it in this fun tribal accent pot from Hobby Lobby. The grow stone/marker is another $1.00 find at Target's Dollar Spot.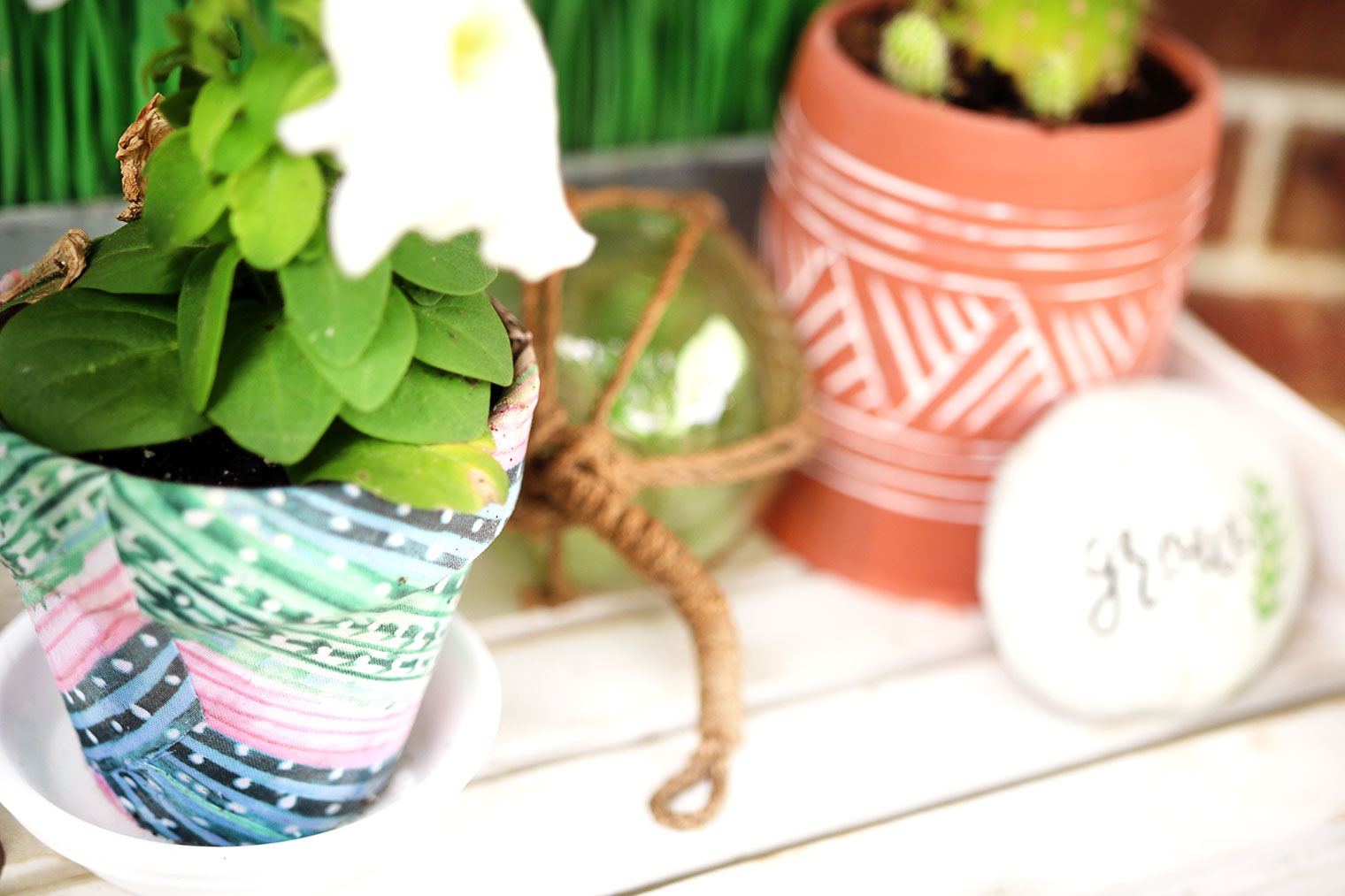 On the left you'll see the other fabric mod podge pot I made for this ladder shelf. This fabric is kind of what set the color scheme for the entire porch! I love picking out fabric!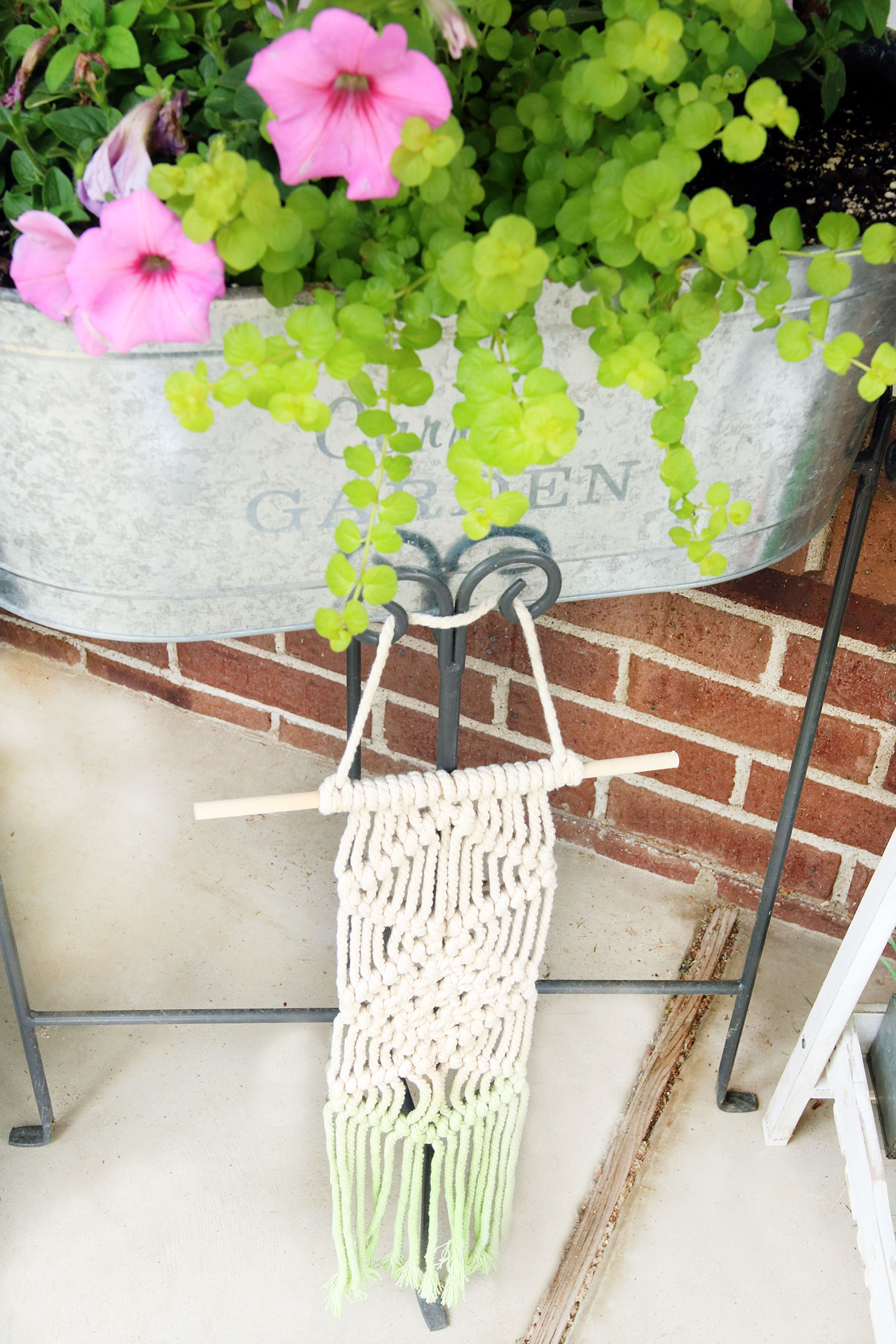 I found this yarn fringe wind catcher (or whatever you'd call it) at Hobby Lobby. I thought it'd be pretty to hang from this tin planter stand and it fills in this space a little. One year I hung a dried lavender wreath from this plant stand and it smelled so good on the front porch all summer! I need to do that again sometime.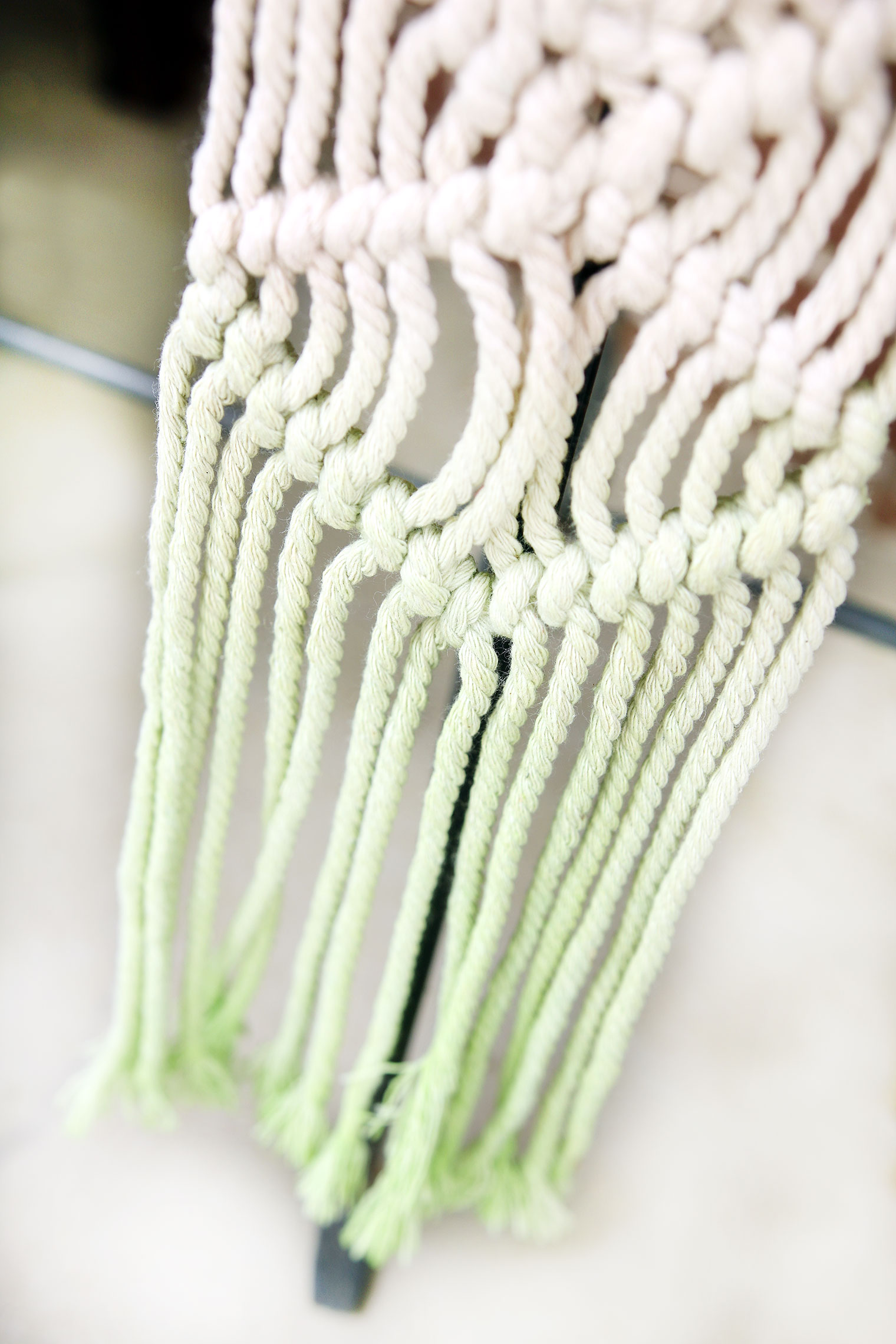 Isn't the fringe detail so pretty? I love the ombre in the green on the base of it.
Did you makeover your Summer Porch this year? I'd love to see it! Are you loving cactuses or what is your big 'on trend' crush this Summer? I know a lot of people are loving pineapples and trust me, I have acquired quite a few pineapple items for hosting parties, etc.! Have a great Monday!!
SaveSave
SaveSave
SaveSave
SaveSave
SaveSave
SaveSave
SaveSave
SaveSave
SaveSave
SaveSave
SaveSave
SaveSave
SaveSave