This shop has been compensated by Collective Bias, Inc. and its advertiser. All opinions are mine alone. #PackWithLove #CollectiveBias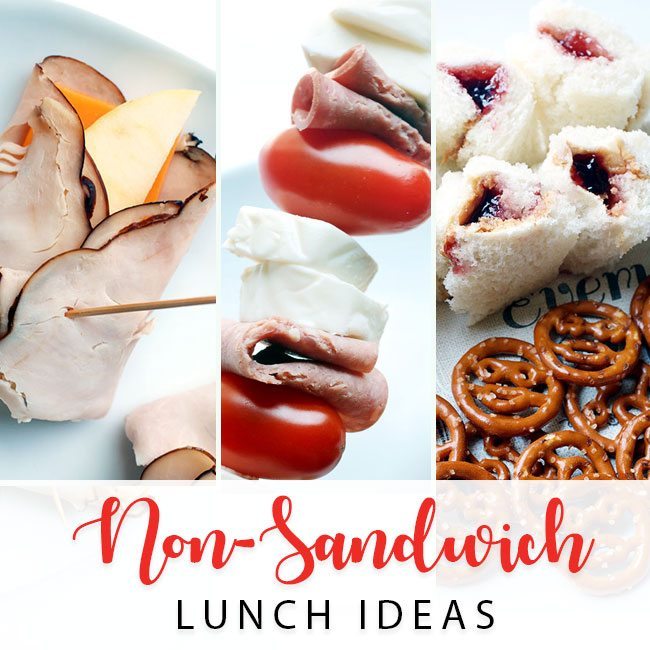 I can't believe that my kids go back to school in TWO weeks. Which means, we are in back to school mode over here with trips to the store to buy school supplies, uniform shopping and shoe shopping. I'm currently working on some Non-Sandwich Lunch Ideas for my daughter. I'll also include a fun snack in her bag, such as Lance Sandwich Crackers or Snyder's of Hanover Emoji Pretzels. Her lunch box will definitely be packed with love!

Is your child tired of the same old sandwich theme for lunch? I try to change around my daughter's lunch every week, because she gets tired of sandwiches! Today I'll be sharing a few non-sandwich ideas that I tried out with my daughter during her dance camp and they were all a huge hit!


3 Quick and Easy Non-Sandwich Lunch Box Ideas
First you'll want to stop into your nearest grocery store and pick up the supplies for these lunches. You might also want to pick up some lunch sides or snacks for after school or that they can enjoy on the way to their extra-curricular activities.



Snyder's has the best pretzels in so many varieties. I picked up a bag of Snyder's of Hanover Emoji Pretzels, since my daughter is into the emojis right now. The Lance Sandwich Crackers are also popular in my household. They come in a variety of flavors, my daughter prefers the peanut butter ones.


You can also save on these products right now:



$1.00 off 2 Snyder's of Hanover 5oz. or larger




$1.00 off 2 on Lance 8ct & 20ct Homepack and Nut Bars




$1.00 off 1 on 16ct Variety Pack
Now I'll share with you 3 Quick and Easy Non-Sandwich Lunch Box Recipes:

Turkey, Cheese and Apple Pocket


You'll want to take a slice of turkey and fold it in half. Then, lay a cut of cheese and a slice of apple on top.




To keep it together, you'll want to insert a toothpick.




My daughter just loves these! She will either eat them whole, or take them apart and eat the separate layers.




Snyder's of Hanover Emoji Pretzels go great with these sandwiches! Aren't these cute little pretzel faces adorable?
Tomato, Salami and Mozzarella Skewer


My daughter also loves food on a skewer! This is something you can mix and match with different meats, cheese and vegetables. You can even add cubes of bread on the skewer! Her favorite combo is tomato, salami and mozzarella on the skewer.

I decided to add some Lance Sandwich Crackers and baby carrots with this skewer!




My daughter just loves these peanut butter Lance Sandwich Crackers. She always breaks them open and eats the peanut butter inside them first!
PBJ Roll Ups


My daughter also loves anything with peanut butter and jelly! I usually try to change up the traditional peanut butter and jelly sandwich by making PBJ roll ups! These are so easy. Cut the crust off of a piece of bread, then cover half of the slice with peanut butter (you can use creamy, chunky, etc. for a variety of textures and flavors) and jelly. Then roll up the piece of bread slowly. I usually cut it into a few pieces, so they are easy to pack.




Of course, I added some Snyder's of Hanover Emoji Pretzels to go along with the PBJ roll ups!




You can also use wheat bread or a tortilla to wrap up the peanut butter and jelly.




Lance sandwiches are flavorful, wholesome, filling and portable. They've been making little sandwiches for over 100 years with two awesome crackers on the outside with incredible spreads between. These sandwiches have REAL peanut butter or REAL cheese between crispy baked crackers. There is 5 grams of protein and no high fructose corn syrup! These are the perfect satisfying snack solution for your family during the school year

Snyder's of Hanover has been America's pretzel bakery since 1909! Their pretzels have simple ingredients, a hearty crunch, robust flavor and lower fat than traditional snacks.


Enter the "Packed with Love Sweepstakes"


(Runs 7/15/17 through 8/28/17)

Each prize will be packed with love in a lunchbox!
Custom Lunchbox "packed with love" – weekly:
(6) $2,500 scholarships
(6) Years Supply of Snyder's-Lance snacks
(6) iPad/Tablets
(12) $50 gift cards for school supplies
(60) Swag kits – include robot keychain, chip clips, can cooler, thermos
What are you planning to pack in your child's lunch box this school year? Be sure to #PackWithLove by checking out some other ideas HERE.
SaveSave