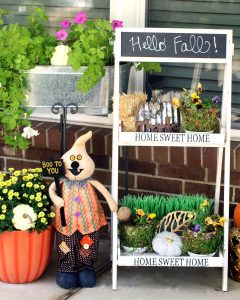 I can't believe it is October! Maybe it just doesn't feel like my kids have been back to school for almost 2 months now and with the 90 degree heat wave that just ended it is finally feeling like fall temps. Now that it is October, I know I can finally get out my Halloween decor! I picked up this adorable ghost at Here Today last week. I think he looks perfect tucked into my flower area on my front porch.
Here Today has so many fall and Halloween goodies inside their store right now. I went last week and I wanted to share some of what I found and how I plan to use it around my home. Here Today is a discount store that has different departments inside the store. They have food, clothing, home decor and seasonal items. I always find something different each time I'm in the store. I shopped at their Arnold store, which is closet to me, but they have several other stores in and outside the St. Louis area. They are also opening some stores outside of St. Louis, such as in Jefferson City and Cape Girardeau.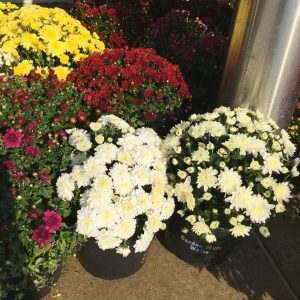 If you're looking to add some color to your front porch or patio area, Here Today has some gorgeous mums for you to purchase. They are also selling pumpkins!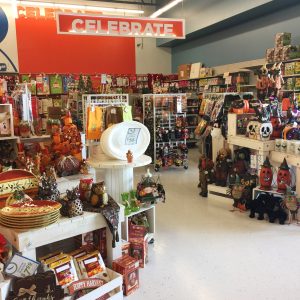 When I first walked in the store, I checked out the Celebrate section. This is where you'll find all of the seasonal items. They have fall, Halloween, candy, costumes and even some Christmas items!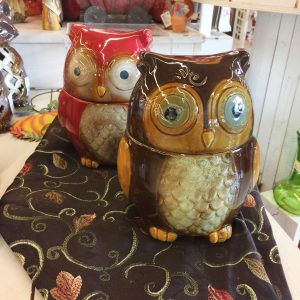 The first item I laid my eyes on were these owl cookie jars! How perfect for the fall, especially when I am getting my fall baking game on!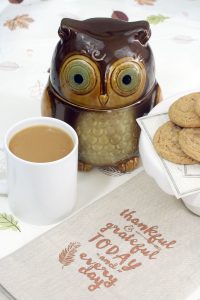 Later that week, I baked some pumpkin spice cookies and I put some in the owl cookie jar. My kids love the cookie jar just as much as I do! I also set out this adorable dish towel next to the jar that I found at Here Today.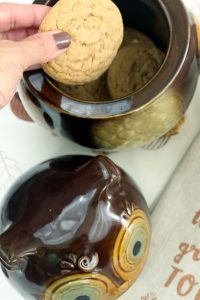 Here is what the jar looks like filled up with some delicious cookies!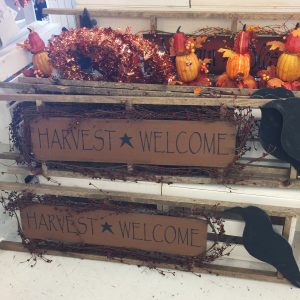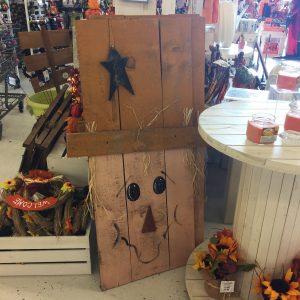 Here Today also has some bigger items that you can use for decor in our outside your home! They had these Harvest Welcome ladder signs and a huge scarecrow pallet!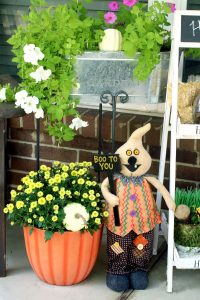 Here is another photo of the ghost that I took home.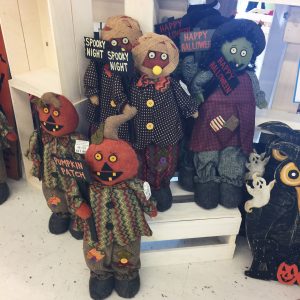 They also had pumpkin, zombie and mummy scarecrows. It was really hard for me to pick just one to take home!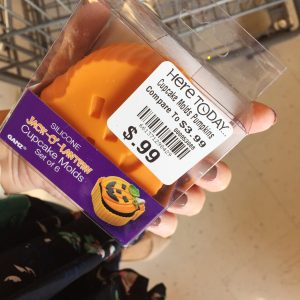 I've always wanted some cupcake molds, mainly to put little snacks and sliced up fruits/veggies in for my daughters lunch. They can be pricey though, but I found this pack of 6 for only $.99! I think I'm going to go back and get a couple more packs, because they'd be cute for fall baking.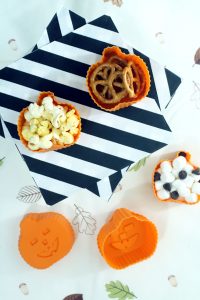 You could also wrap up a snack for a class party in them. Especially the s'mores mix!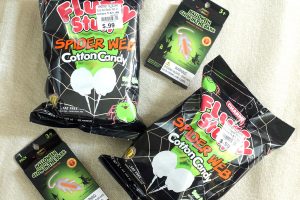 I picked up some candy and glow sticks for my kids Halloween gift bags that I make up for them every year.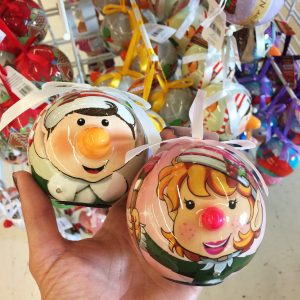 I had to go check out the Christmas aisles and I found these really cute elf ornaments that light up. We always do the Elf on the Shelf at our house and these will be a perfect little gift for the elf to bring!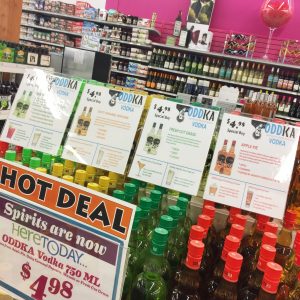 After I filled my cart up with items from the Celebration section, I headed over to the area where Here Today sells alcohol. I was pleasantly surprised to see some seasonal alcohol as well! I noticed a display with Oddka Vodka in a variety of different flavors, such as Wasabi, Salty Caramel Popcorn, Fresh Cut Grass (this one sounds interesting!) and Apple Pie. You could definitely come up with some delicious fall drinks with the Salty Caramel Popcorn and Apple Pie vodkas!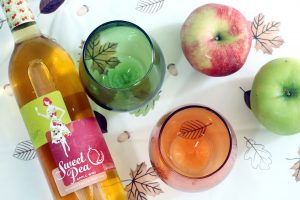 I am more of a wine lover, so I was pleasantly surprised to find a bottle of Apple Wine! I also found this adorable fall table cloth and these fall stemless wine glasses in the Celebration section of the store. I can't wait to dine outside on the patio with my husband and enjoy this wine!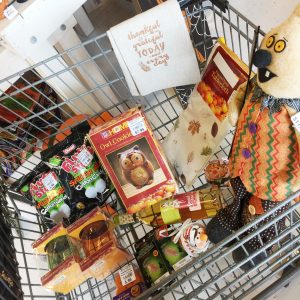 This was my cart when I was ready to check out. So many fall and Halloween goodies in here! I really enjoy shopping at Here Today!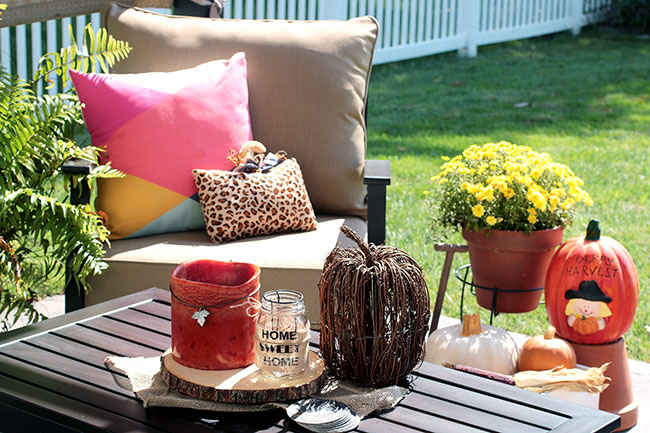 If you've been following my blog for awhile, last year I decorated our patio space with items from Here Today. You can go back and see the post HERE.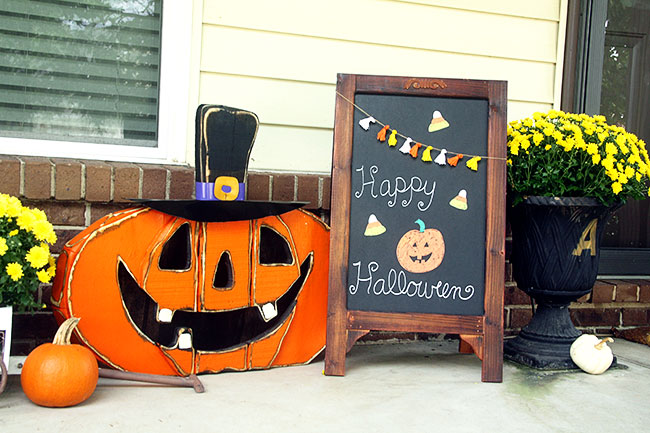 I also found this HUGE wooden Jack o Lantern pumpkin that I put on my front porch and some other home decor items from Here Today a couple of years ago. You can see this post HERE.
Be sure to check out Here Today if you are looking to save money and to have a rewarding shopping experience. You'll have a great time checking out all of their fall and Halloween merchandise!
SaveSave
SaveSave
SaveSave
SaveSave
SaveSave
SaveSave
SaveSave
SaveSave
SaveSave