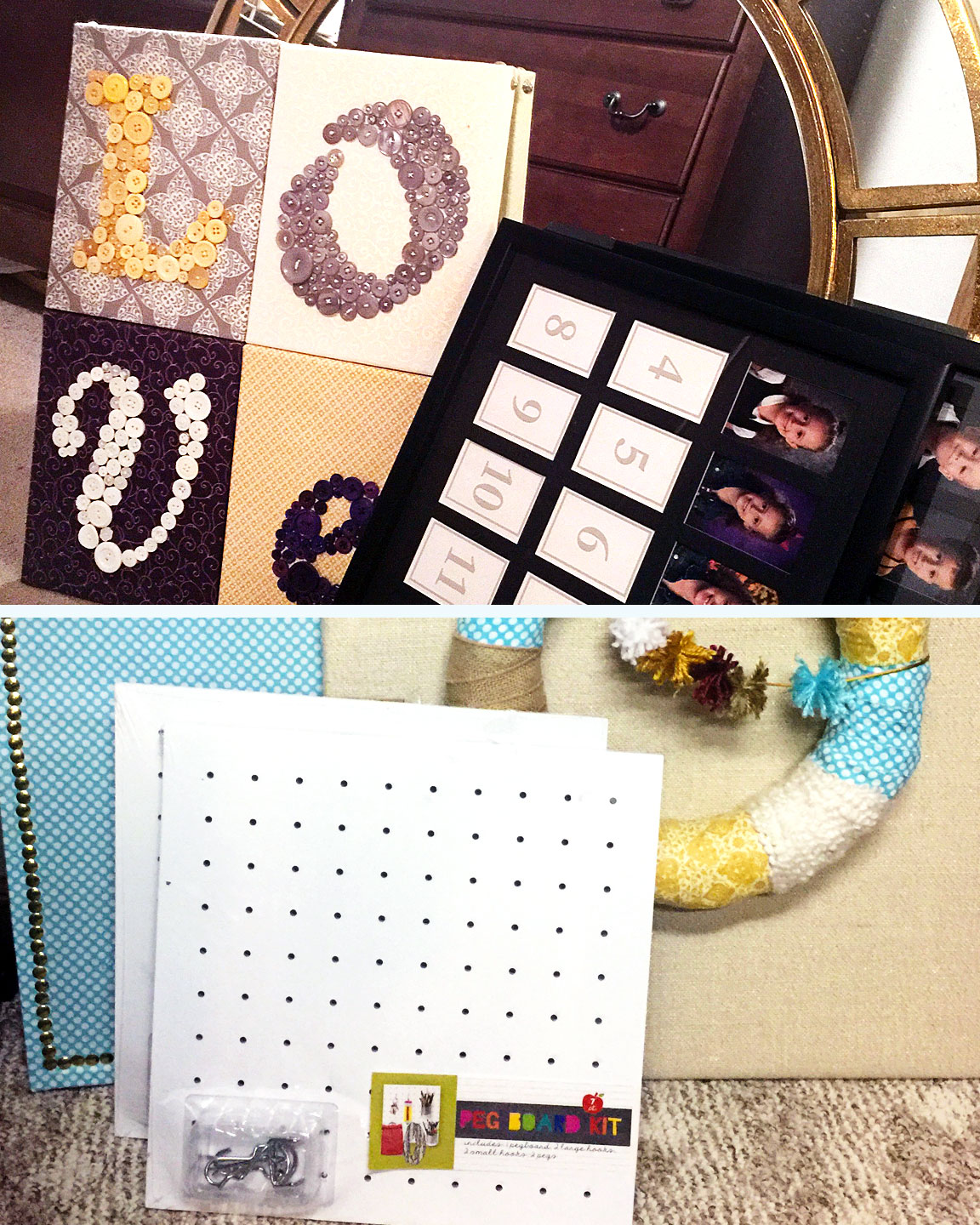 Last year I set 3 goals every month for myself and I accomplished a lot! This year, I wanted to down play it even more and just set ONE goal for myself. However, with just one goal each month I hope to devote more time to it. You can find an update on September's Goal below.
In October…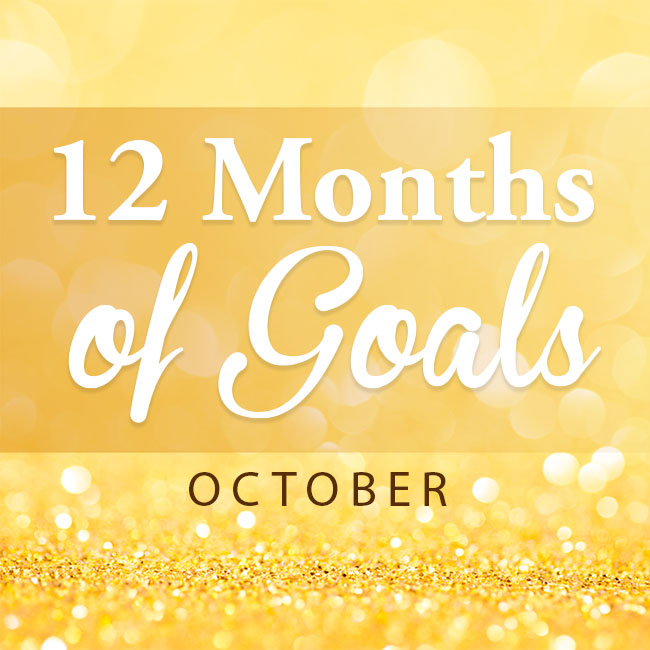 In October I'm stealing Lauren from Mom Home Guide's goal from last month. 🙂 I have a lot of items in my house that are just waiting to be hung! So, I figure since October is always a pretty busy month on its own, this would be an easy goal to knock out. I actually thought I had a lot more items to hang, but I don't… so, that is a relief. Let me show you my two piles of items that have been waiting to be hung… these have been sitting around for at least a couple of years now!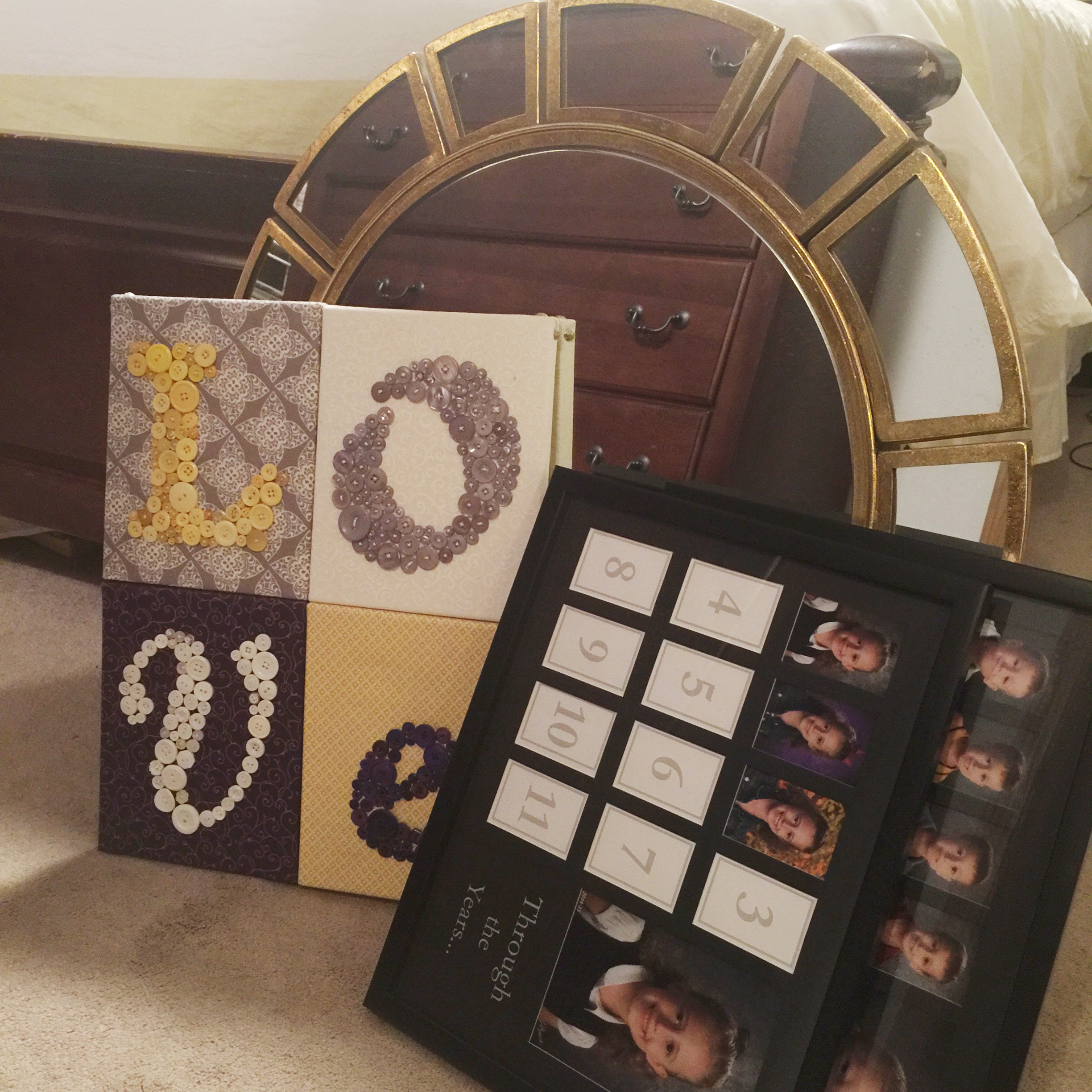 This pile has been stacked up on one side of my bedroom. The first item is a HUGE gold framed mirror that I got on clearance at Hobby Lobby. I had wanted to hang it in the living room, but now I'm not sure. I need to decide and get that baby up on the wall. It is HEAVY. Then, I have a 'LOVE' frame that I purchased off of Etsy a long time ago and it used to hang above our bed. I would like to hang it on my side of our walk in closet. The letters are all made up of tiny buttons. The other two frames are of the kids class photos from school. I would like to hang these in our hallway.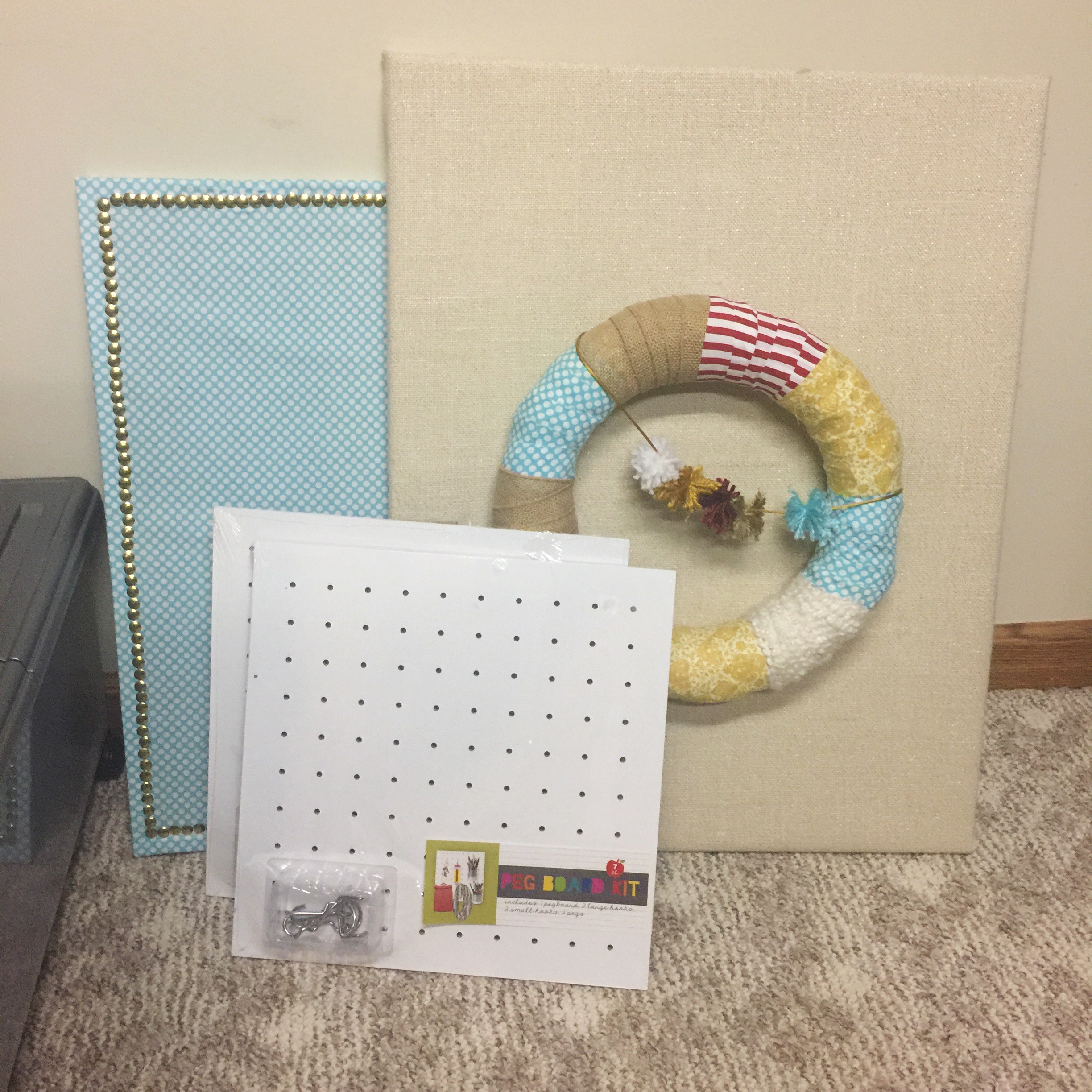 The other pile is downstairs in my office area. I made a fabric pin board to hang on the wall above my desk and this wreath on a burlap pin board I wanted to hang on the wall above my desk, too. Recently, I was in Target and they had these peg boards in their dollar section. They were only $3 a piece and I'd like to either hang them side by side or one above the other in my office. I want to go to Lowes to see if I can find some accessories for them, so I can hang my crafting tools off of them.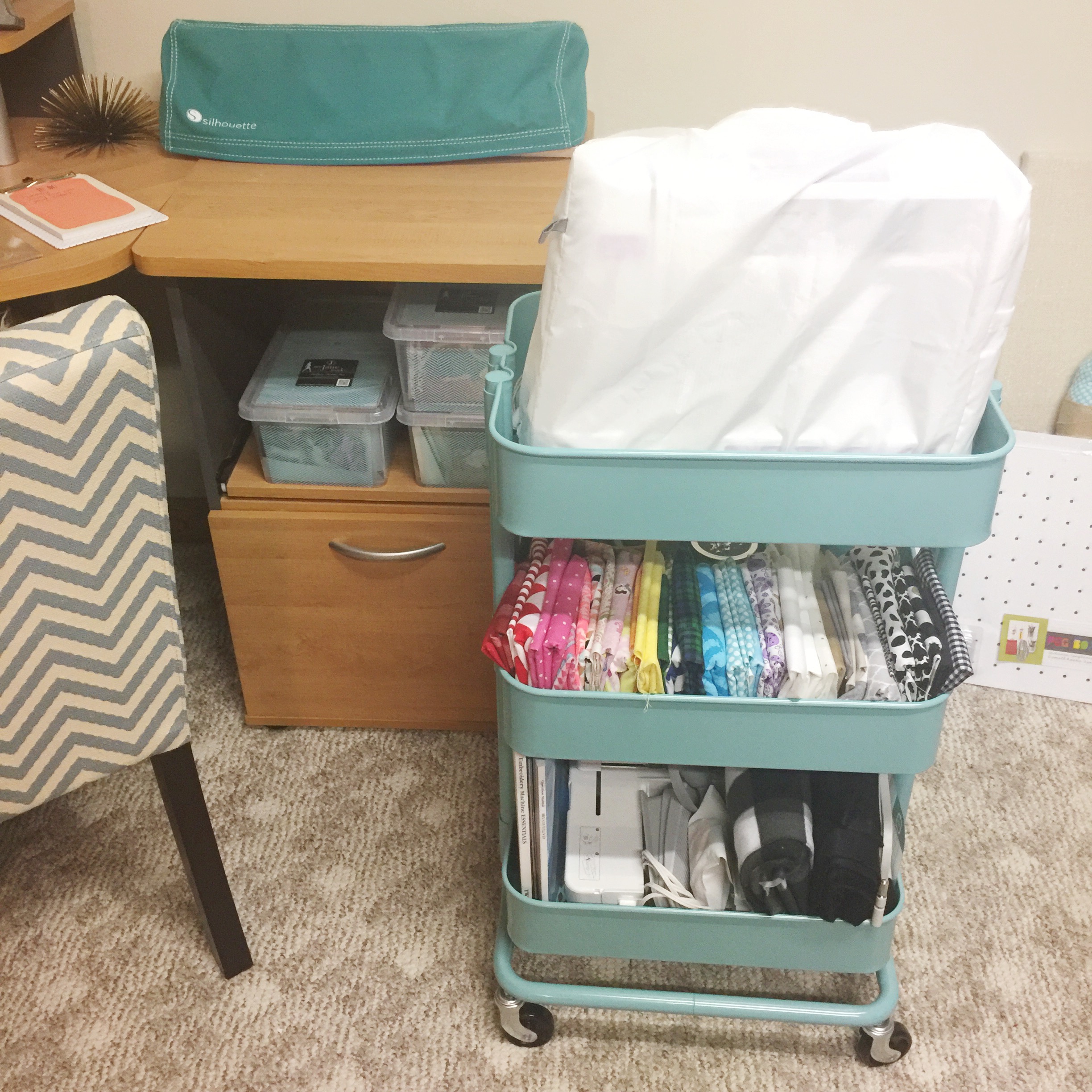 I also just wanted to share this adorable cart that I got from IKEA and how I put my sewing machine, sewing supplies and fabric on it. I love this cart!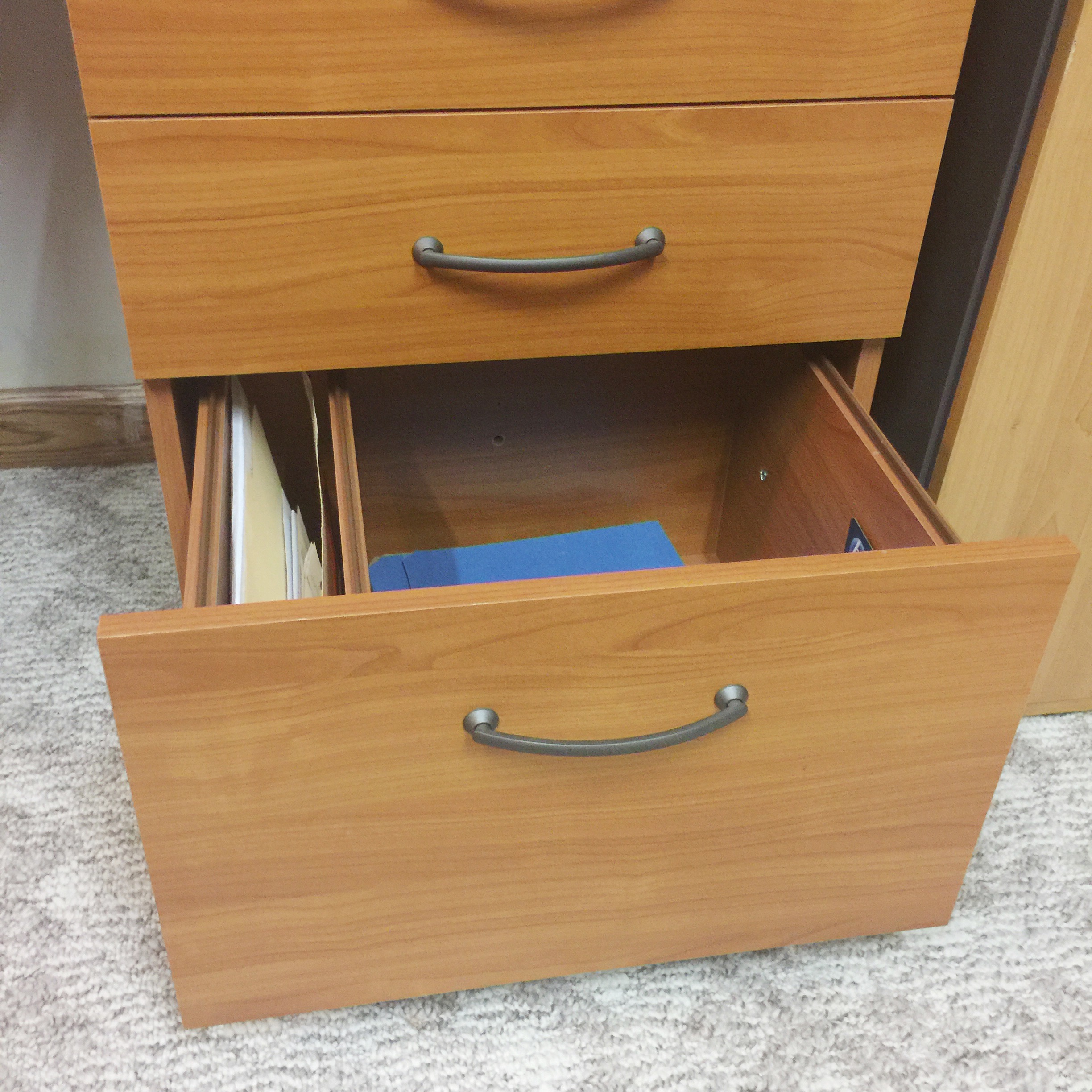 Another goal I need to just DO this month is fix this jammed drawer! There is paper lodged up behind the drawer and it won't close. I am going to need to ask my handy dandy husband to take it off and get the paper out!
Here is my September Goal Recap:
In September I wanted to figure out a better Blog Time Management Game Plan. Here is an update on everything:
# of Posts a Day – My goal would be to cut back to 3-4 posts a day. I've decided that cutting back to 4 posts a day would be easiest, as it would be a gradual transition. Unfortunately, the fall season hit which is CRAZY busy in blog land. So, I think after the holidays I am going to look into cutting back to 4 posts and when I can before then, I will def. not schedule in an extra 5th post!
Crafts/Decor – I want to get back into doing my craft/decor posts, perhaps a regular post once a week. This is something I'm still wanting to do and I'm planning on making it an active goal at the beginning of 2018.
Virtual Assistant (VA) – I did price out some virtual assistants, BUT I was able to avoid going down this expensive route for now… My husband works in IT and he's creating me some 'robots' to do some of this repetitive stuff for me! He is actually saving me a couple of hours PER day right now. So, this goal was definitely worth it for this month alone, because it prompted me start a talk with my husband and he was able to create what I needed! My husband is just awesome! Now, I would never have a robot leave comments for me or anything that is personal on the blog, but this is highly repetitive stuff that is not personal at all. Stuff that I can easily hand off to a robot and not feel bad about!
Link Up Parties – This is something my husband may be able to create a robot for as well! I will still stop by the parties and comment, but he's looking to create something that will link up my outfit or crafts (depending on the party) when the party starts, so that I don't need to spend my time doing this! Plus, if I'm asleep or out running the kids to their activities, this can run and link me up quickly at the beginning of the party!
Stepping Outside my Comfort Zone and BIGGER Blog Goals – I did not work on any of these yet.
Stock Art – I did find a Stock Art site that I really love and I'm looking to join it for a few months to get some images I need. I may stay on longer if it really impresses me.
Cost – The only cost thing I am looking at right now, since I won't be needing a VA is the Stock Art site. I do still pay for Adobe Cloud, HootSuite and InLinkz. I might do away with HootSuite after my year ends, there has been some things I've been unhappy about with them. I also want to look into Pinning software!
Keep Better Track of What I SPEND on the Blog – I need to start doing this still. It may be easier to just start this in 2018. I need to put this into a spreadsheet!
Blog Friendships – I'd really like to  make some STL IRL blog friends. I just haven't had time to figure out how to do this!
Blog Conference – I would love to go to Haven in Charleston next summer. I also want to talk Lauren from Mom Home Guide into going with me!
Other Items That Take A Lot of Time – Emails take a lot of my time. My current goal is I'm trying un UnSubscribe or ask to be taken off email lists that I've been but on for blogging projects that are not a right fit for me or the blog.
I feel like I made A LOT of progress on Blog Time Management in September. I hope to keep working on some of these items. 
Don't forget to stop by my friend Lauren's blog at Mom Home Guide is also sharing her October Goal today: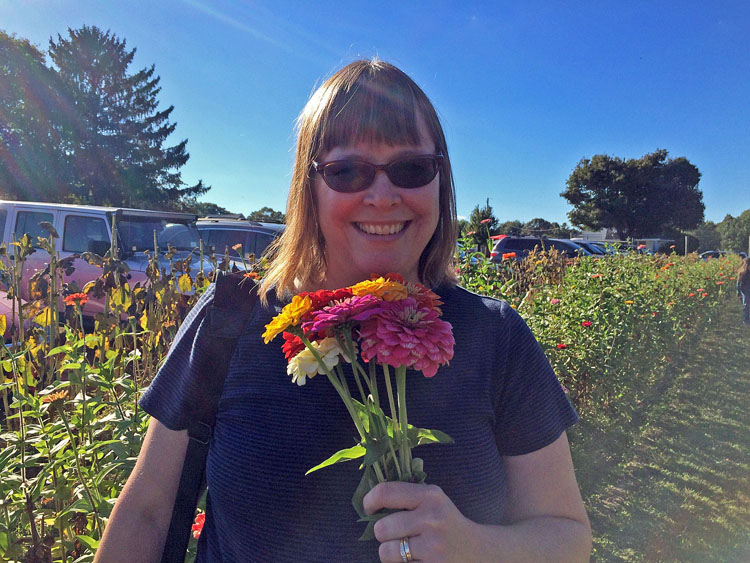 What goals do you have for October?
SaveSave
SaveSave
SaveSave
SaveSave
SaveSave
SaveSave
SaveSave
SaveSave
SaveSave
SaveSave
SaveSave
SaveSave
SaveSave
SaveSave
SaveSave
SaveSave
SaveSave
SaveSave