This shop has been compensated by Collective Bias, Inc. and its advertiser. All opinions are mine alone. #KingofFlavor #FieldToBottle #CollectiveBias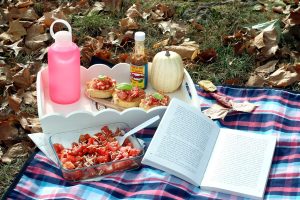 I always feel overbooked in the fall, there is just SO many extra activities on our social calendar. Sometimes, I enjoy taking a day to myself to read a book at a park and to relax. I like to prepare a little picnic/snack for myself to enjoy while I unwind. One of my favorites snacks is my Spicy Mexican Bruschetta recipe with
El Yucateco®
.
Win Some Exciting Prizes That Will Help You Discover New Places! 
#KingofFlavorSweepstakes (9/28 to 10/27)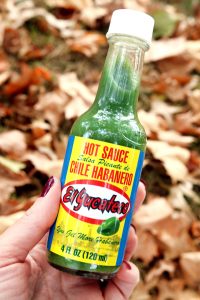 El Yucateco® fits perfectly for everyday adventures, I love how it can easily be thrown into my picnic bag if I need a little bit more of it! El Yucateco®'s ingredients come from Field to Bottle. It includes no artificial colors, but the same great taste that makes it the King of Flavor since 1968.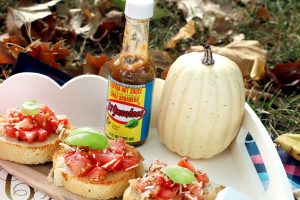 I love any recipe with tomatoes and this is a dish that is easy to prepare the day before and then it is even better the next day! It is also one of those recipes where you mix all of the ingredients together, let it chill and you're done! How easy is that? And, this bruschetta tastes great with El Yucateco® Green Chile Habanero or El Yucateco® XXX Hot Kutbil-ik, depending on which flavor your tastebuds are craving for that particular day. El Yucateco® really enhances the flavor of your recipe!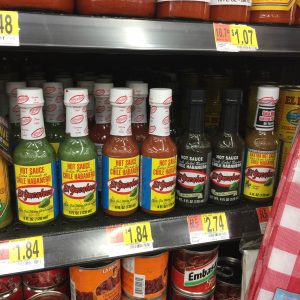 First, you'll want to visit your local Walmart store and pick up some El Yucateco® products and your ingredients for your recipe. At Walmart, I picked up a bottle of El Yucateco® Green Chile Habanero and a bottle of the El Yucateco® XXX Hot Kutbil-ik.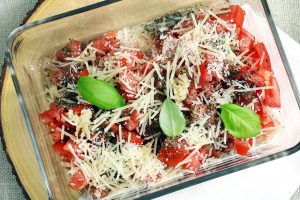 Mix  2 tomatoes (cubed), 1 teaspoon dried basil, 1/2 cup of of thinly shredded queso, 1/2 cup red onion, 2 tablespoons of olive oil, 1 clove garlic (crushed), 2 tablespoons of El Yucateco® Green Chile Habanero and salt/pepper to taste. Chill for 2 hours. Serve with a sliced baguette that is toasted or tortilla chips. You can add some basil as a garnish.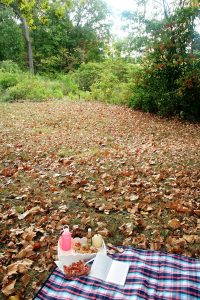 I have a special place at the park where I like to set up my picnic blanket and I use a tray to set out my water bottle and snack on. Sometimes I will pack along a sandwich if I plan to stay more than an hour. The leaves are starting to fall and the air is cool and crisp. It is really starting to feel like the fall season!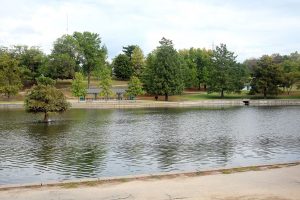 Sometimes, after I read I will take a short walk around the lake at the park. There is also a farm and sometimes I will see the horses or other various animals out.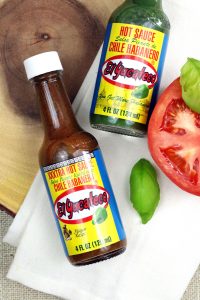 El Yucateco® is the #1 consumer choice and is a fun flavorful brand that everyone loves and can easily make a part of their every day. The mini bottles easily fit in your pockets, you can pack it along camping, to a friend's BBQ or to your favorite restaurant. The options really are endless. Go Native is all about celebrating all the ways people enjoy nature, outdoors, friends, family and El Yucateco®.
How do you include El Yucateco® into your outdoor activities?
SaveSave
SaveSave
SaveSave
SaveSave
SaveSave
SaveSave
SaveSave
SaveSave
SaveSave
SaveSave
SaveSave
SaveSave
SaveSave
SaveSave