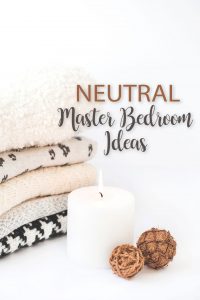 My husband and I have always had a rule, never to have a TV in our master bedroom. I know a lot of people will disagree, but I want our bedroom to be somewhere that I can retreat to relax and be cozy after a tiring day. I have read that decorating your bedroom in neutral colors can help you create a relaxing and peaceful environment. I have been decorating our home in neutrals lately and I can't seem to kick this obsession. It makes decorating easier, our home looks bigger and cleaner and now I've been looking into lightening the look of our bedroom with neutrals.
Bring in The Sofa & Chair Company, which specializes in contemporary, luxury, made-to-order sofas and bespoke furniture. Not only do they offer sofas, but they offer many other products… including bedroom furnishings!
I've created a mood board of some of my favorite 'wish list' items from Sofa & Chair Company.
Neutral Master Bedroom Ideas Mood Board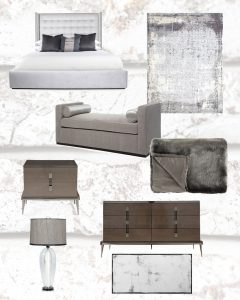 Portland Bed – With this company, you can customize this bed to fit your needs! If you don't want a neutral color scheme, you can change the fabric, stud, wood, etc. color! However, I love this bed exactly how it is pictured here. I've been wanting a padded headboard and I am in love with the look of beds that don't have a skirt. We've also been wanting to upgrade to a King size bed from a Queen.
Escher Day Bed – I really like the idea of having something, such as a day bed at the end of our bed! Just another place where I can sit to put on my shoes, or lounge with a book.
Amory Rug – We have carpeting in our bedroom, but I love the look and feel of a nice rug after I get out of bed in the morning. This rug has a nice contemporary look to it that would blend in effortlessly in any neutral room.
Courchevel Faux Fur Throw – I enjoy adding different textures to a room with neutral colors and a faux fur throw is the perfect way to do this… It also looks nice laid out on the end of the bed.
Langham Collection – I've also been wanting to update our furniture. It is funny how furniture can go out of style in time. We have a cherry stain on all of our furniture, which I bought in 2000 when I got my first apartment out of college. I would want to update our bedroom furniture with something that isn't SO DARK and heavy. At first, I wanted white furniture, but then I came across The Langham Collection. It has a natural look and attractive graphite hardware details on it. They offer bedside tables, chest of drawers, etc. in this collection.
Petite Concave Silver – Such a gorgeous lighting option for the bedside tables.
Theodore – This antique mirror is like nothing I have ever seen. It would be perfect on the wall in our bedroom!
I had a lot of fun creating this pinboard to start thinking about some ideas for our Master Bedroom. The Sofa & Chair Company has a lot of original pieces that I know I wouldn't find in furniture shops here in St. Louis. It is also nice that you have the flexibility to select sizes, color, fabrics, etc. with their company. What color scheme do you have your master bedroom decorated in and do you enjoy having a TV in the room or do you leave it out? Which of these pieces from The Sofa & Chair Company is your favorite? I'd love to hear in the comments!
SaveSave
SaveSave
SaveSave
SaveSave
SaveSave