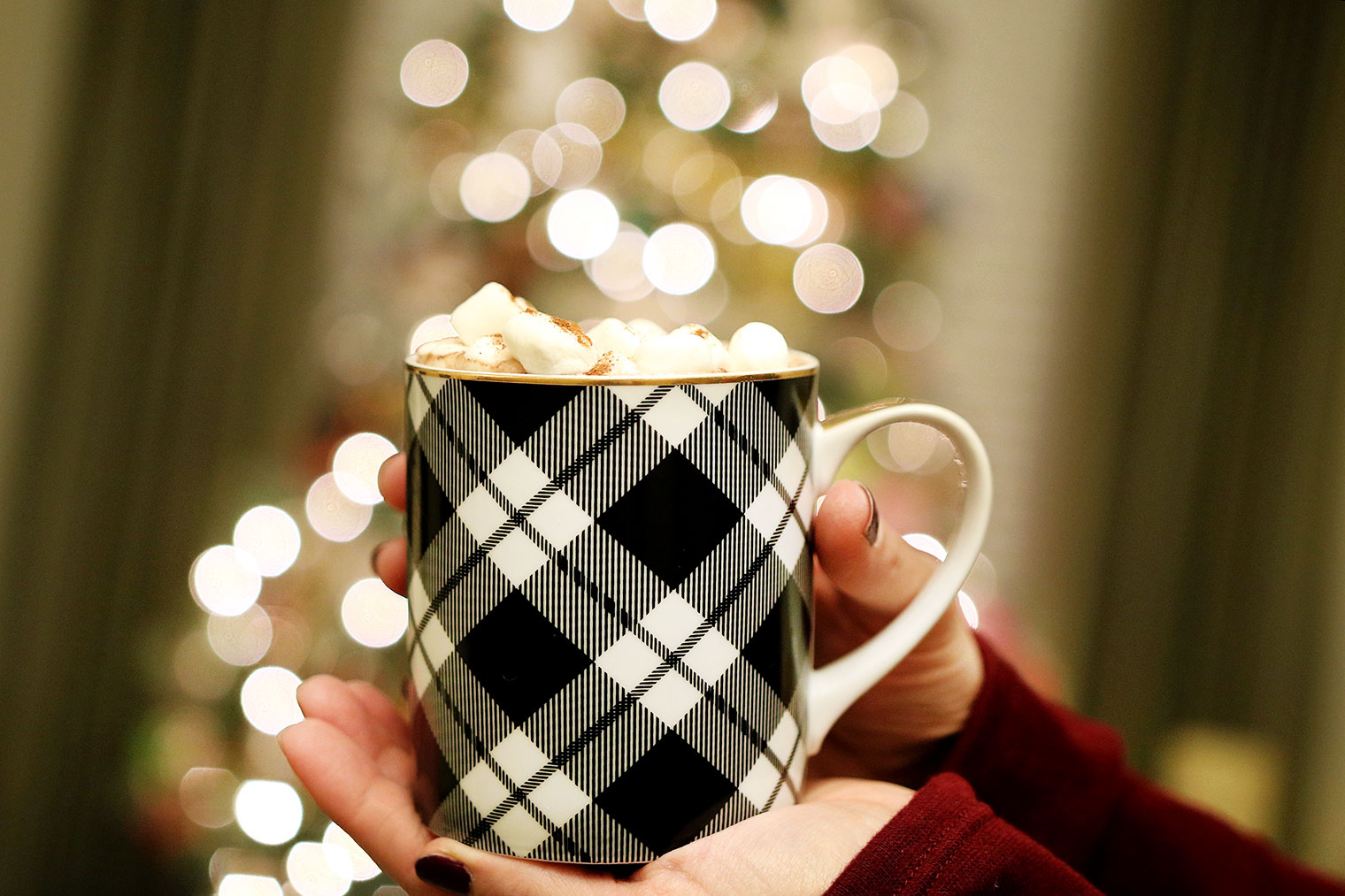 Today I am FINALLY sharing my Holiday Home Tour! I feel like SO much work goes into these posts. First, you have to decorate for Christmas and then you need to have everything clean before you take all the photos. Finally, you have to edit the photos (and there are always way too many!) and draft the post. Whew! So, thankfully I am getting this up before the New Year! Now I just need to start on my Christmas cards. My husband has been really getting into photography lately and helping me with my outfit photos. I asked him if he could figure out how to get the lights on the tree all 'sparkly' (isn't there a name for it?) and he took this really nice photo of me holding my new favorite plaid mug with hot cocoa in it in front of our Christmas tree! He did great!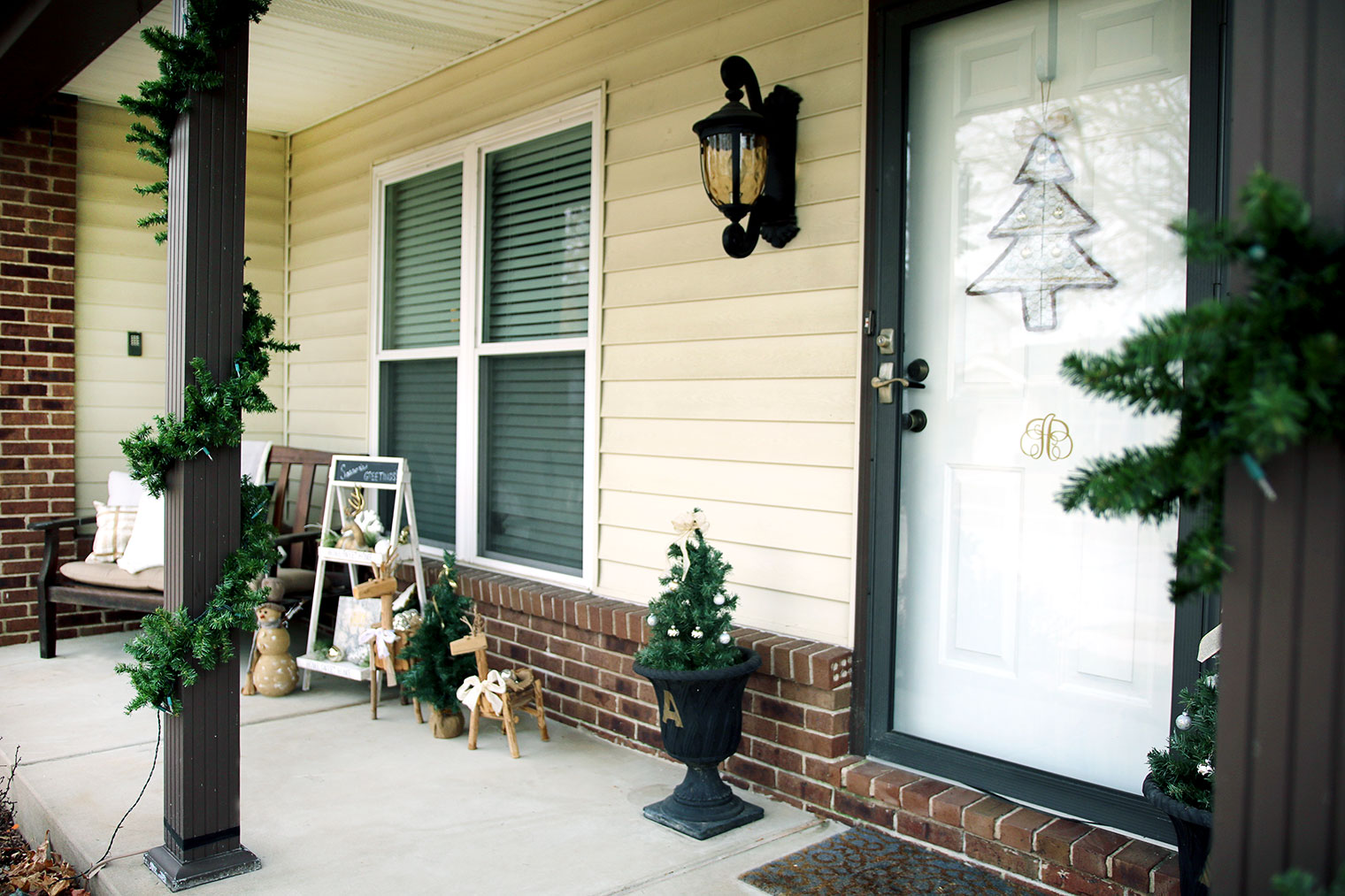 Let's start with my front porch! I always enjoy decorating this large porch every holiday! I usually change out the pillows on the bench, decorate the shelf ladder differently, change out what I have in the urns and I also change the wreath on the door. I wanted to get some greens around the window this year, but I ran out of time! I also want a black/white plaid door mat, but didn't have time to find one. I need more hours in my day, y'all. I'm not getting all the things done!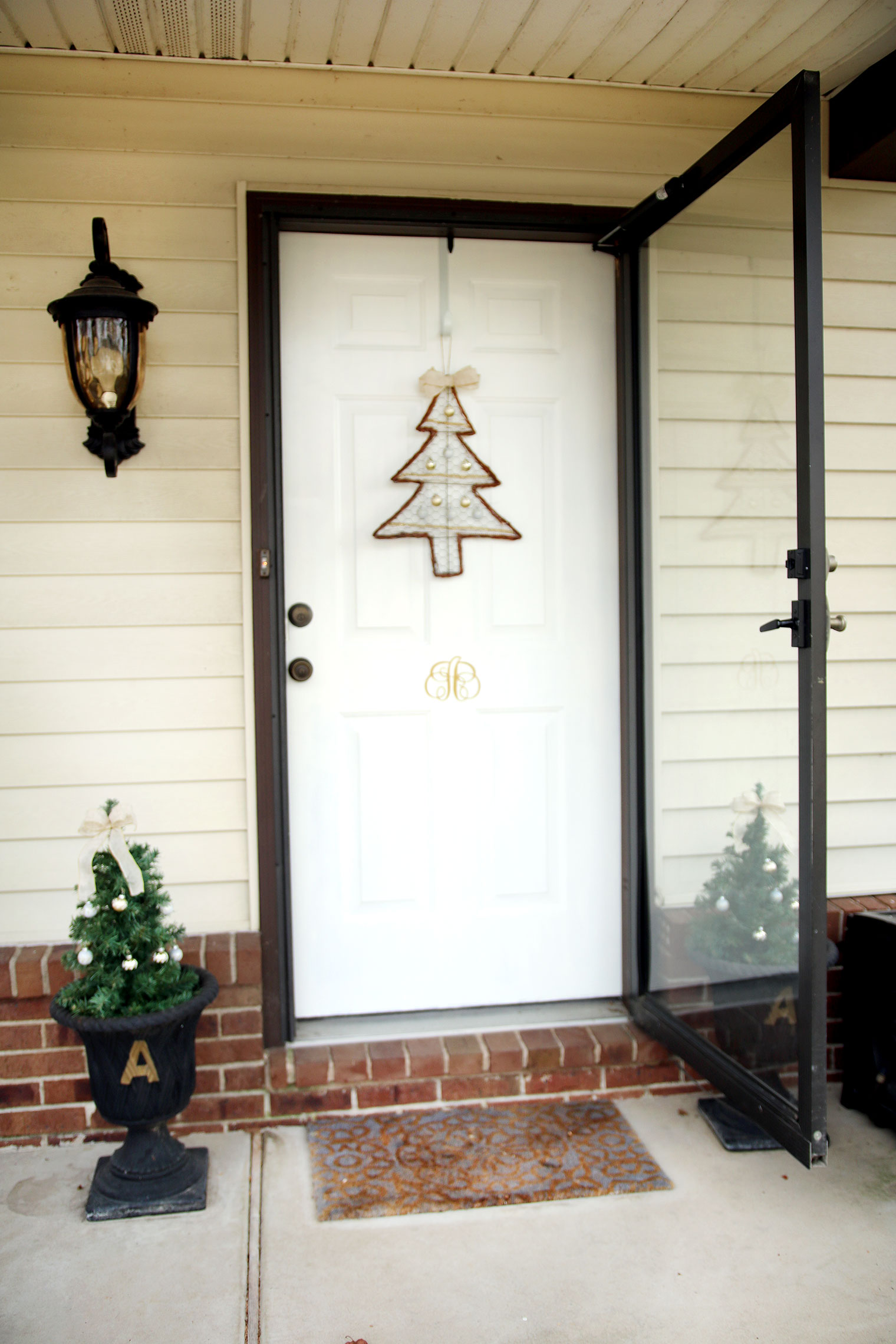 Recently, I made a Farmhouse Chicken Wire Christmas Tree wreath and it looks great on my white door! I did a Front Porch Makeover a couple of summers back and I painted the front door white (it used to be a dark brown color) and added a gold monogram to it. These monogrammed urns were another project I did several years ago.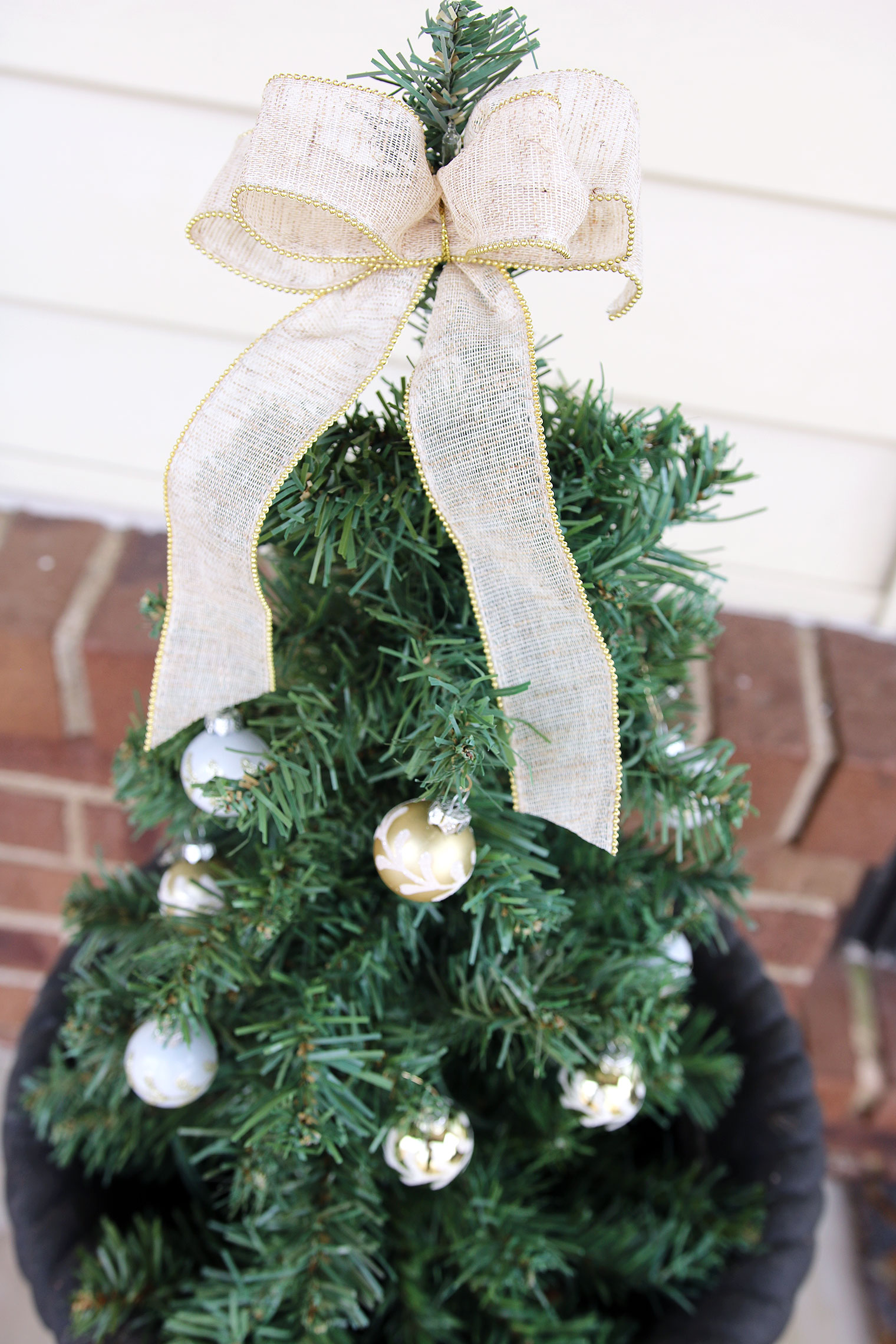 In the urns, I have mini topiaries that I decorated differently this year. I decided to add gold and silver ornaments to them and I also made each topiary a bow with some gold beaded edged ribbon that I found at Hobby Lobby. I love their simplicity and elegance!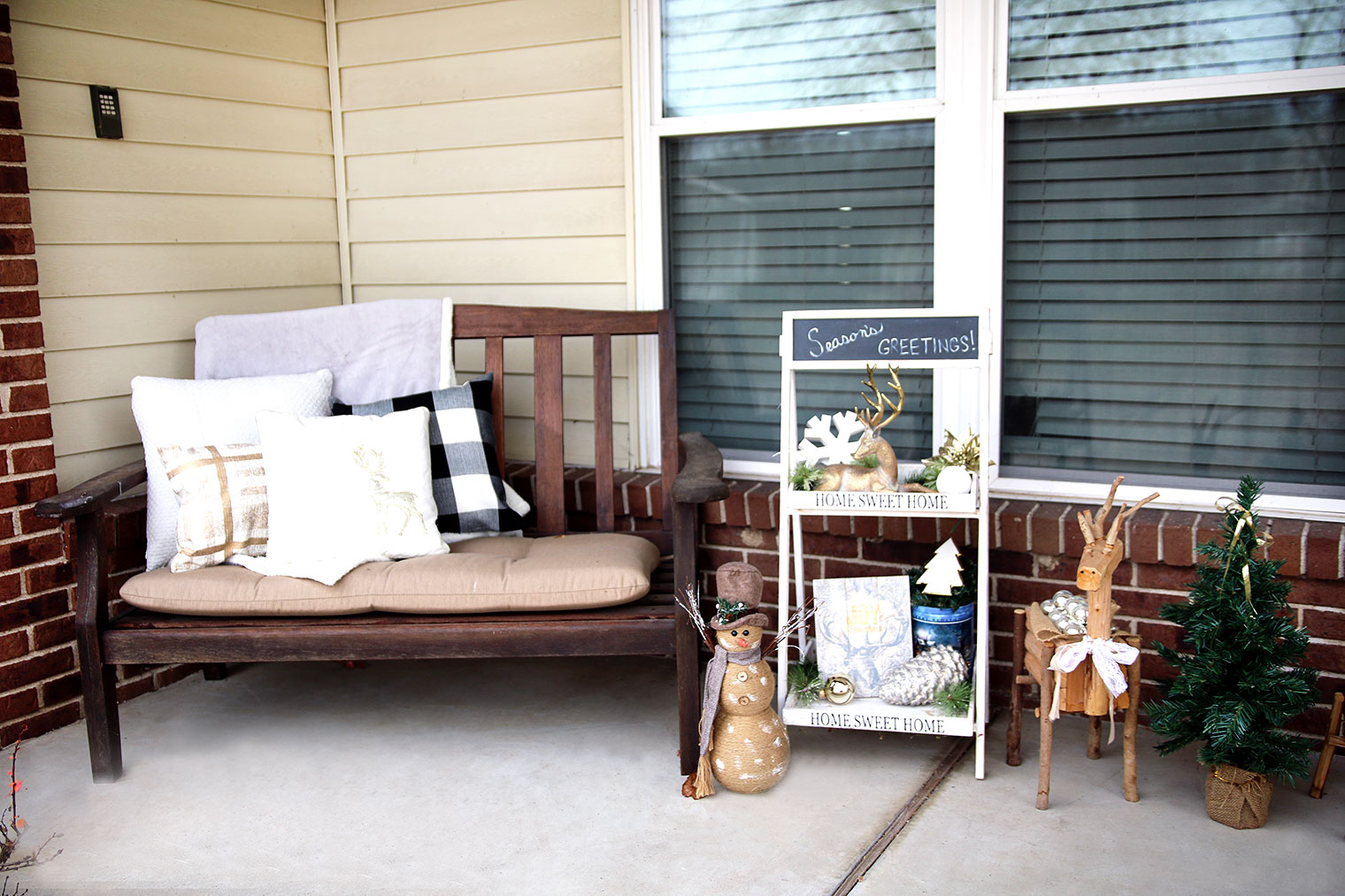 This is the other side of the porch. I really like to make the bench extra cozy, with a blanket and some pillows. Since this porch is covered, everything stays dry! Sometimes the wind does try to blow my pillows away, though! I also have a shelf ladder that I got from the At Home store and it is fun to decorate differently each season. 
Here is a close up of the pillows. The textured white one in the back is from Here Today Stores (a local St. Louis chain), the plaid one in b/w is from Amazon, the plaid one in gold and white was made from my sweet blog friend Lauren Kim (Mom Home Guide) from a placemat at Target! The reindeer one is from Hobby Lobby. As you can see, I get my pillows from all over! 🙂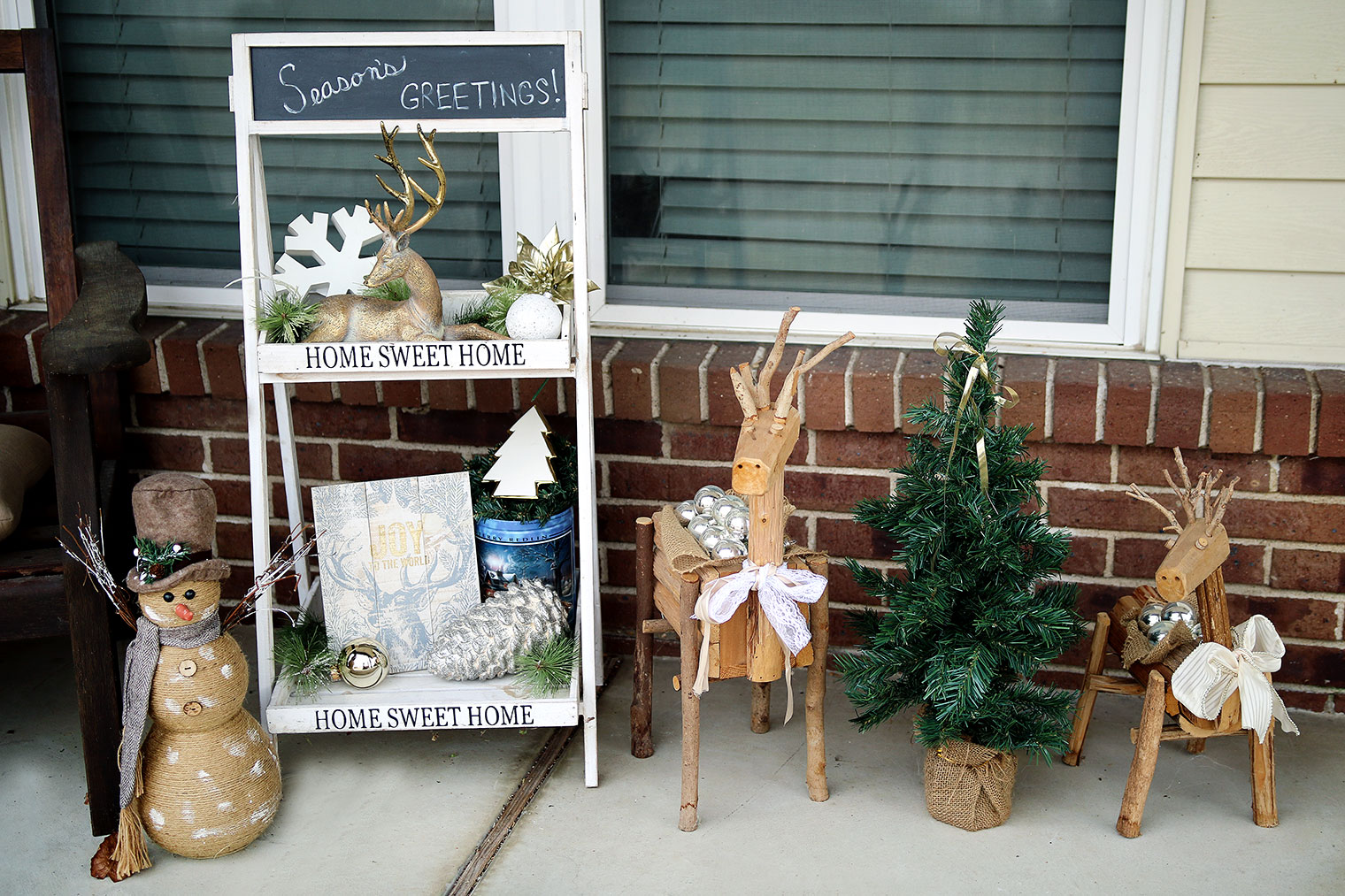 Just a closer view of the ladder shelf and my adorable wooden reindeer that I filled with ornaments.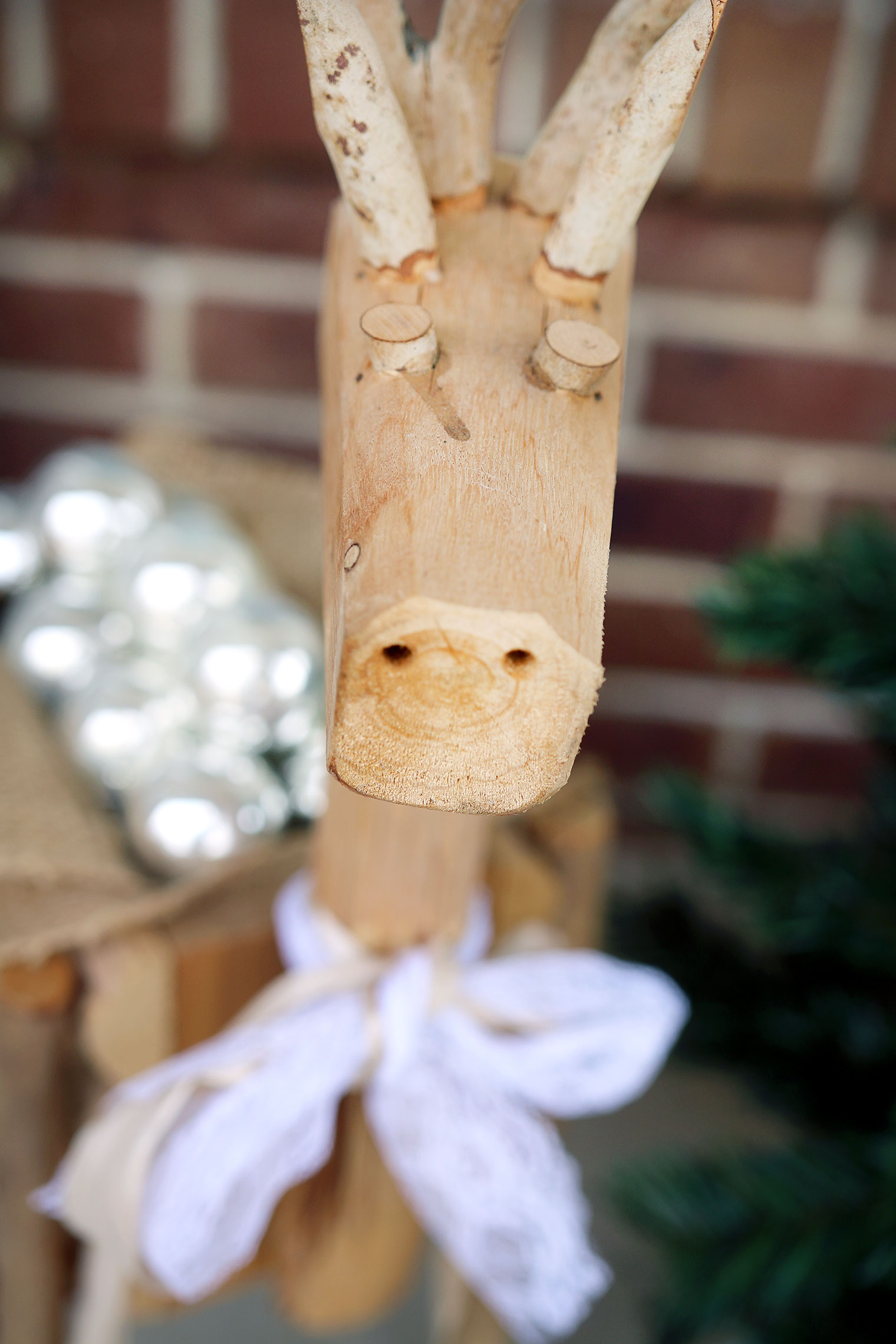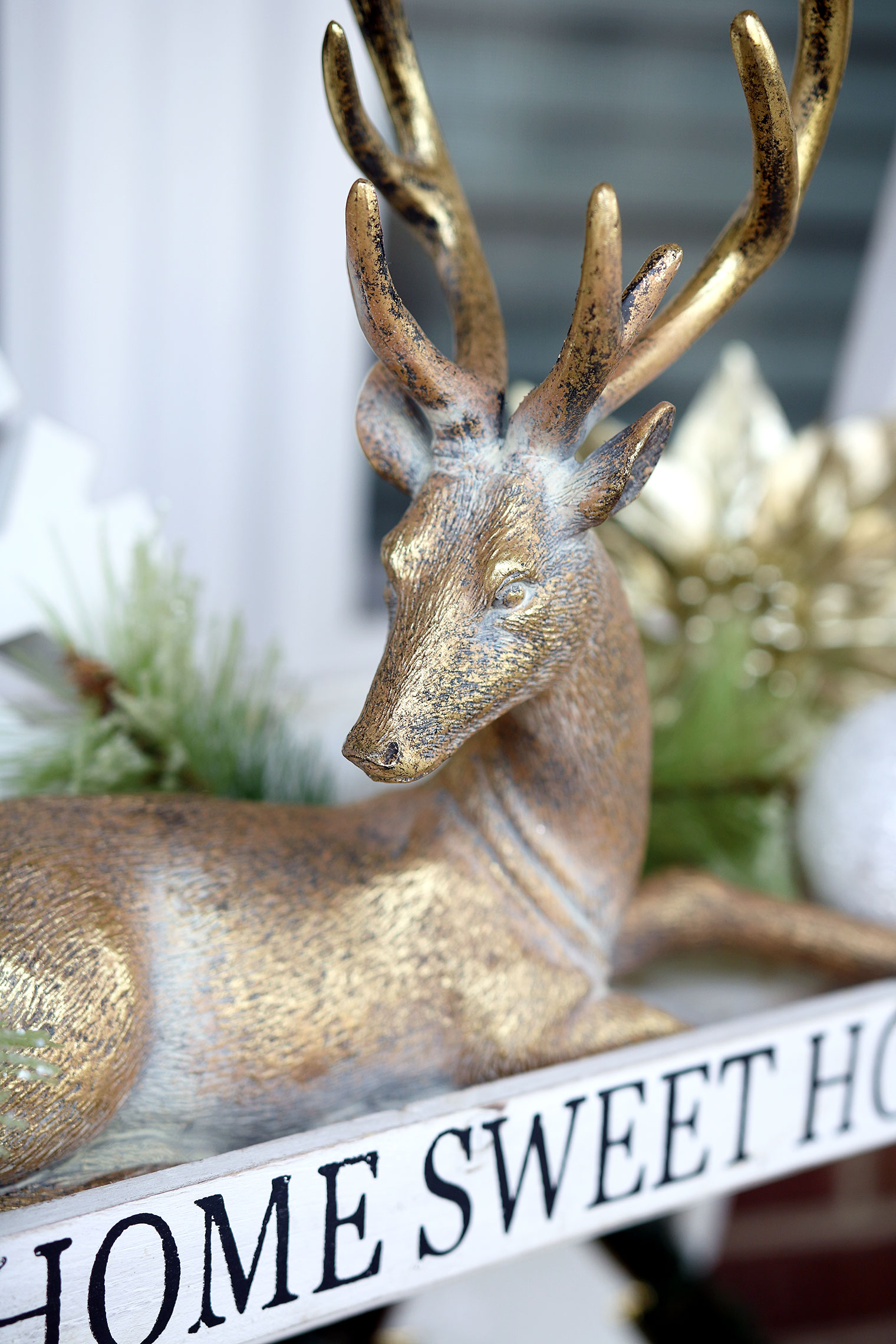 A couple of detail shots. 🙂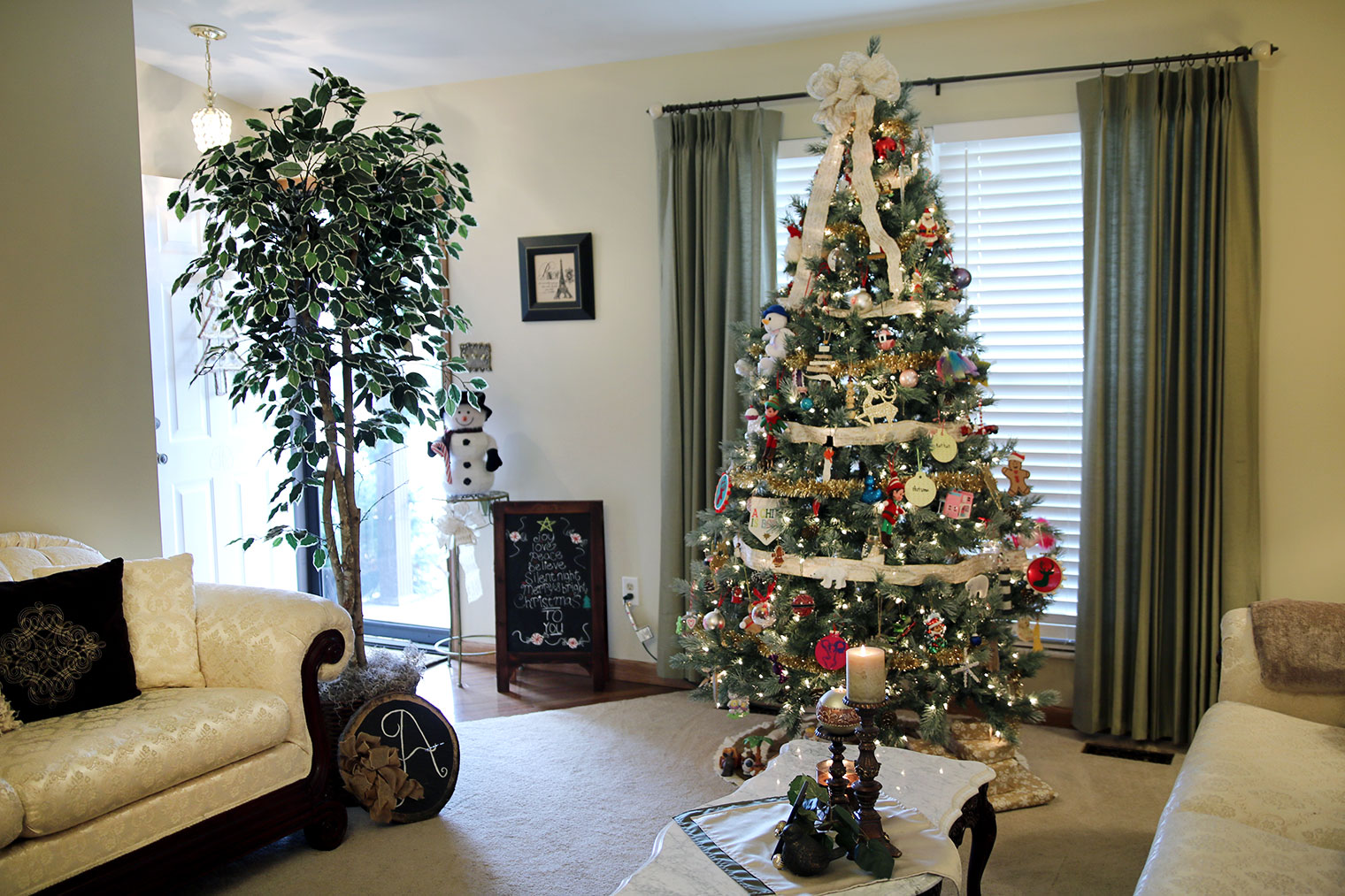 Now let's move to the inside of our home. We always have our tree in the living room by the front window. I change the ribbon about every 2-3 years and I also make a matching bow in the same ribbon for the top of the tree. We use family ornaments every year for the tree, but I dream of doing a matchy matchy tree someday!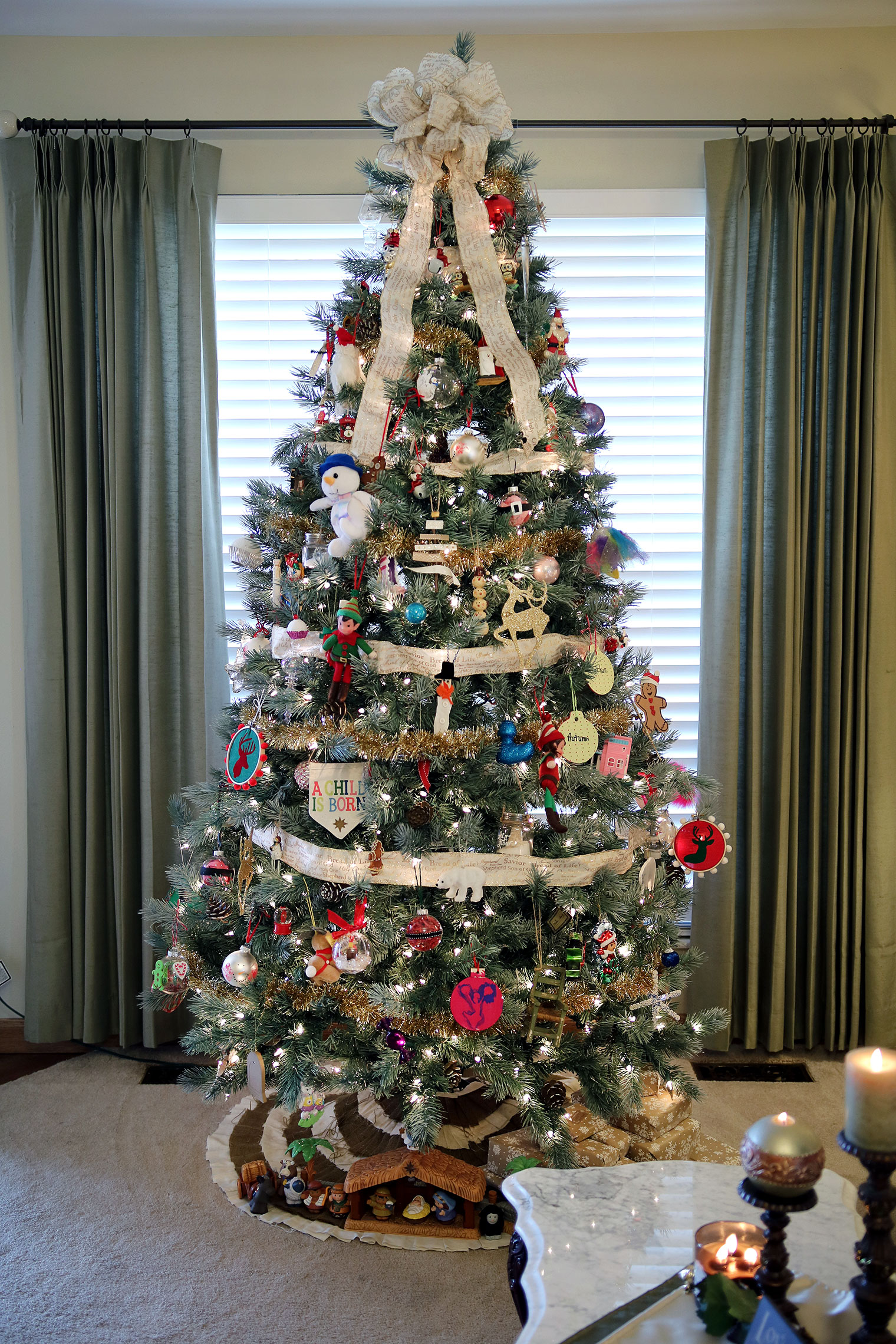 A closer look at my Christmas tree. We still have the Little People nativity set, I'm not ready to put it away yet. The skirt of our tree is a burlap and linen ruffled tree skirt that I made a few years back, you can find the directions HERE.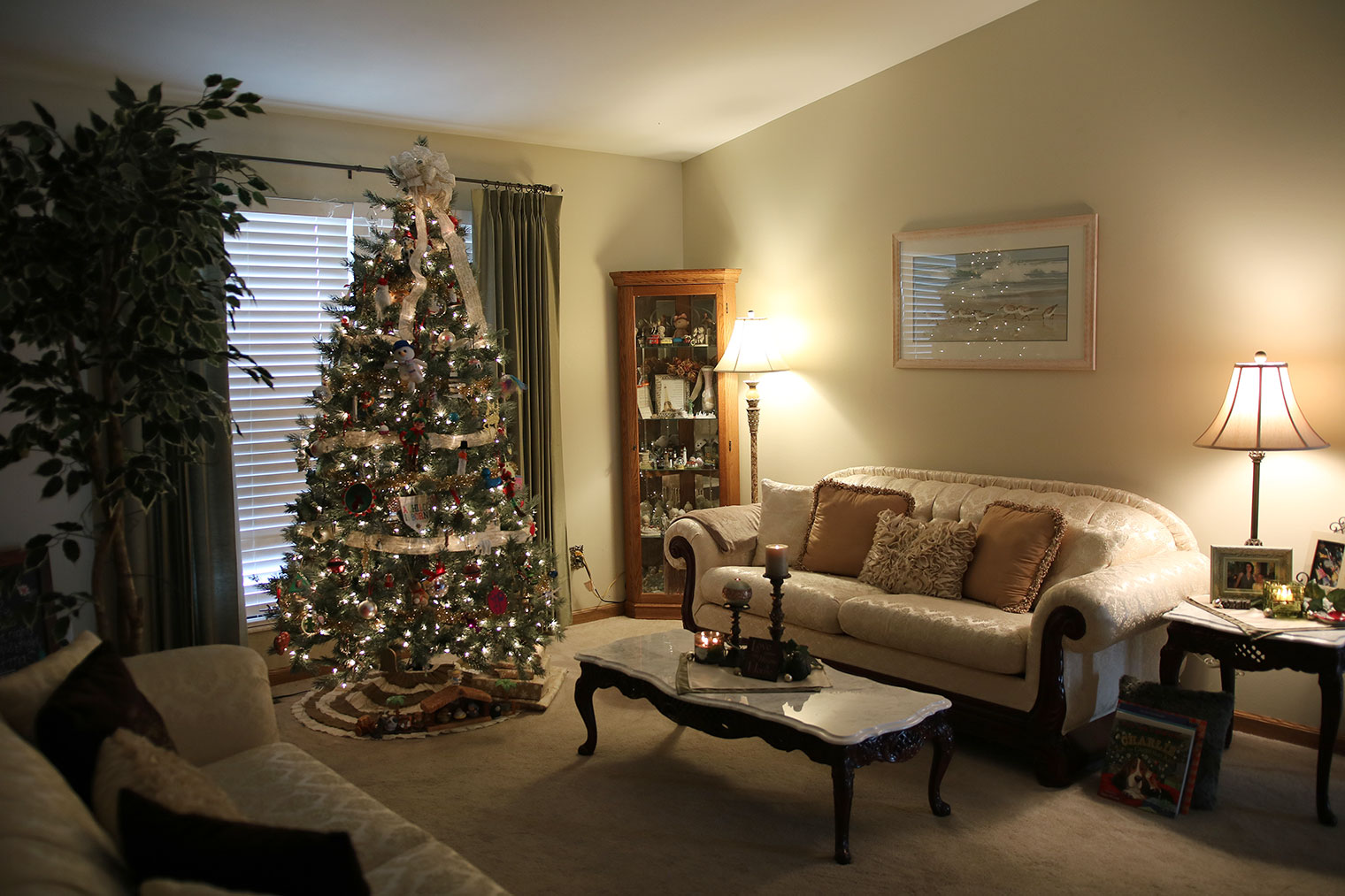 Here is a view of a different angle of the room with the lights off. Unfortunately, my corner curio cabinet has a light and the bulb is burned out. Boo.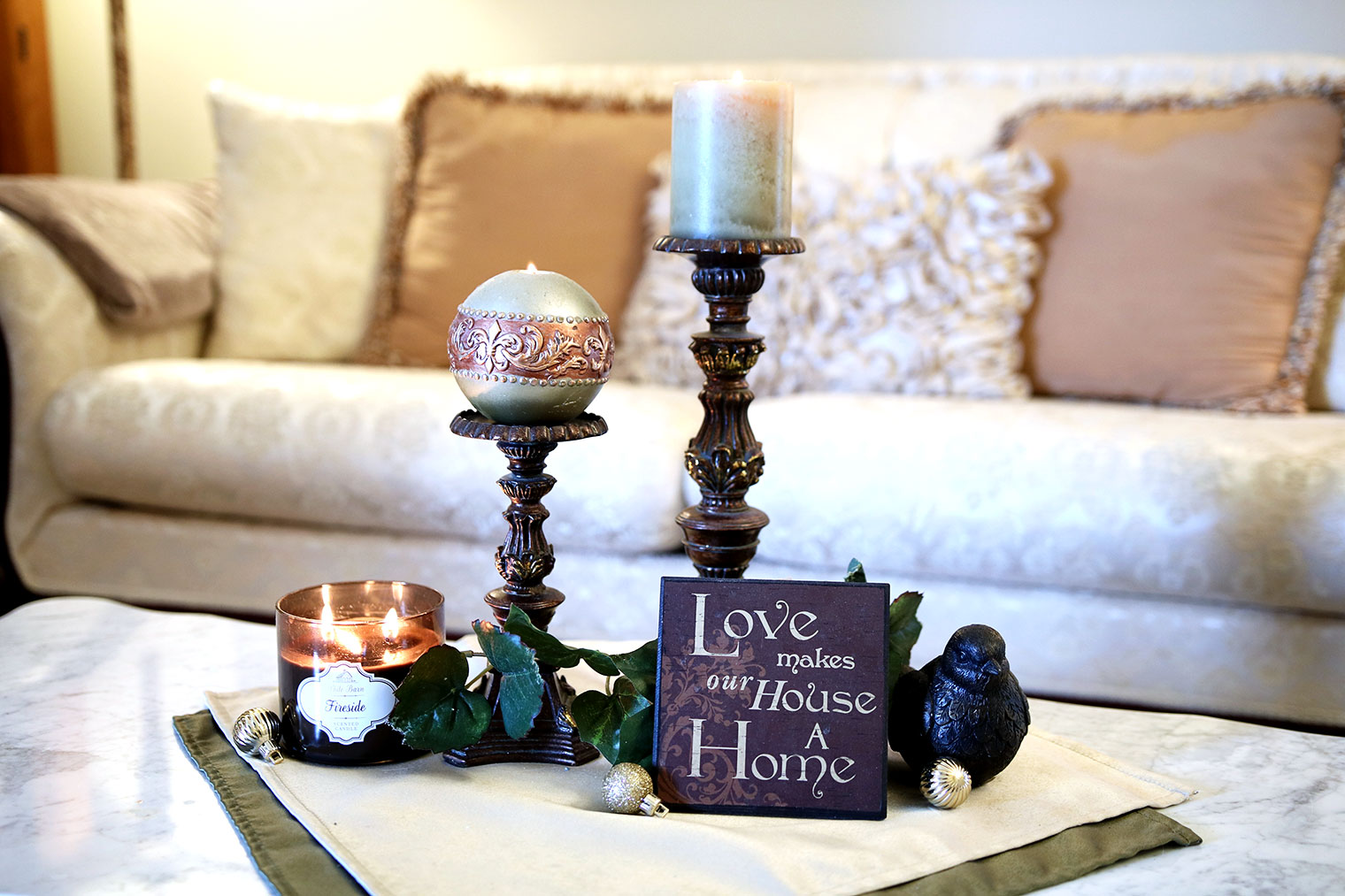 Here is a closer view of our coffee table in the room. I really like this Fireside candle from Bath & Body Works.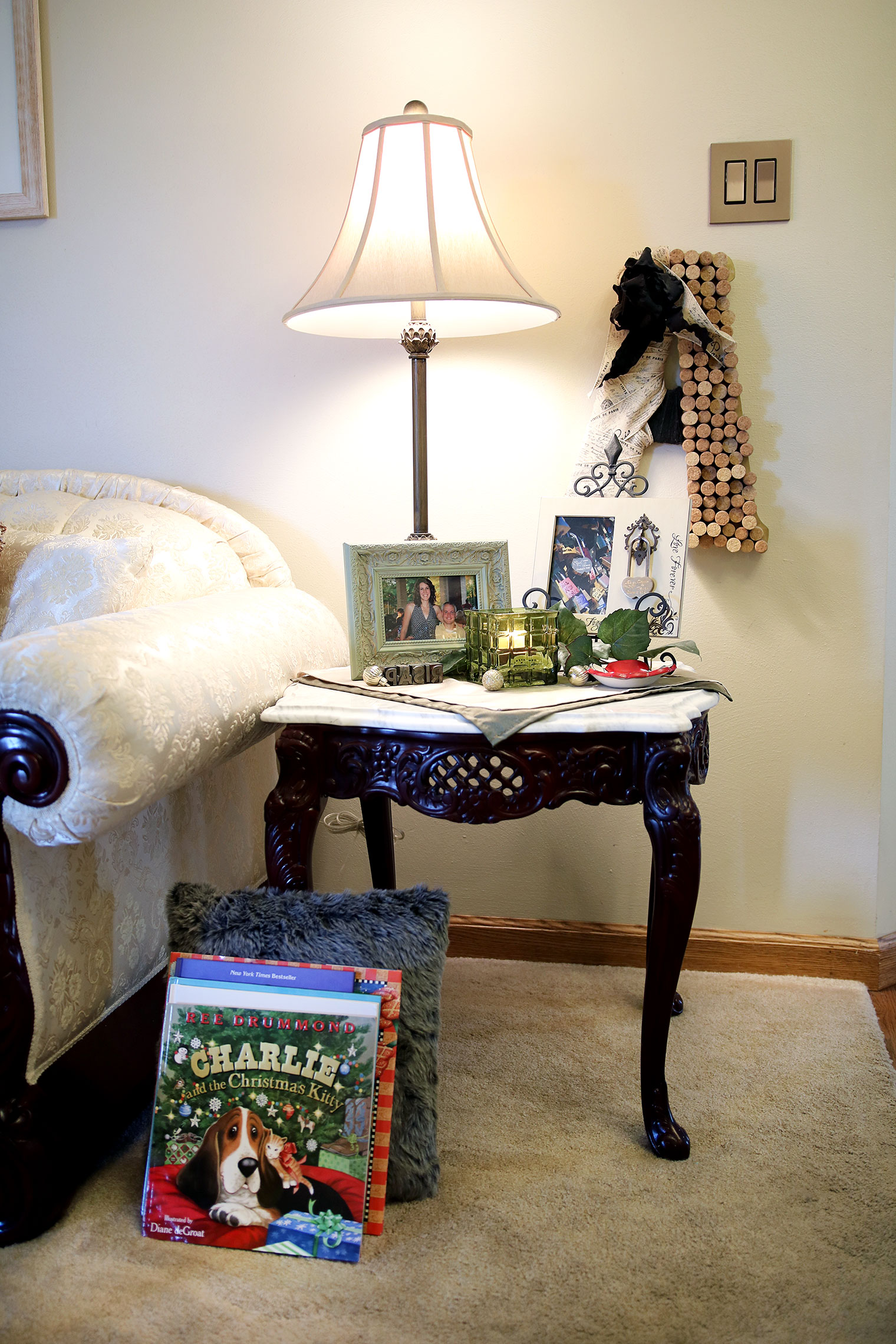 One of the end tables in the room. I always prop up childrens books against a pillow, because the kids love to lay around the Christmas tree and read them.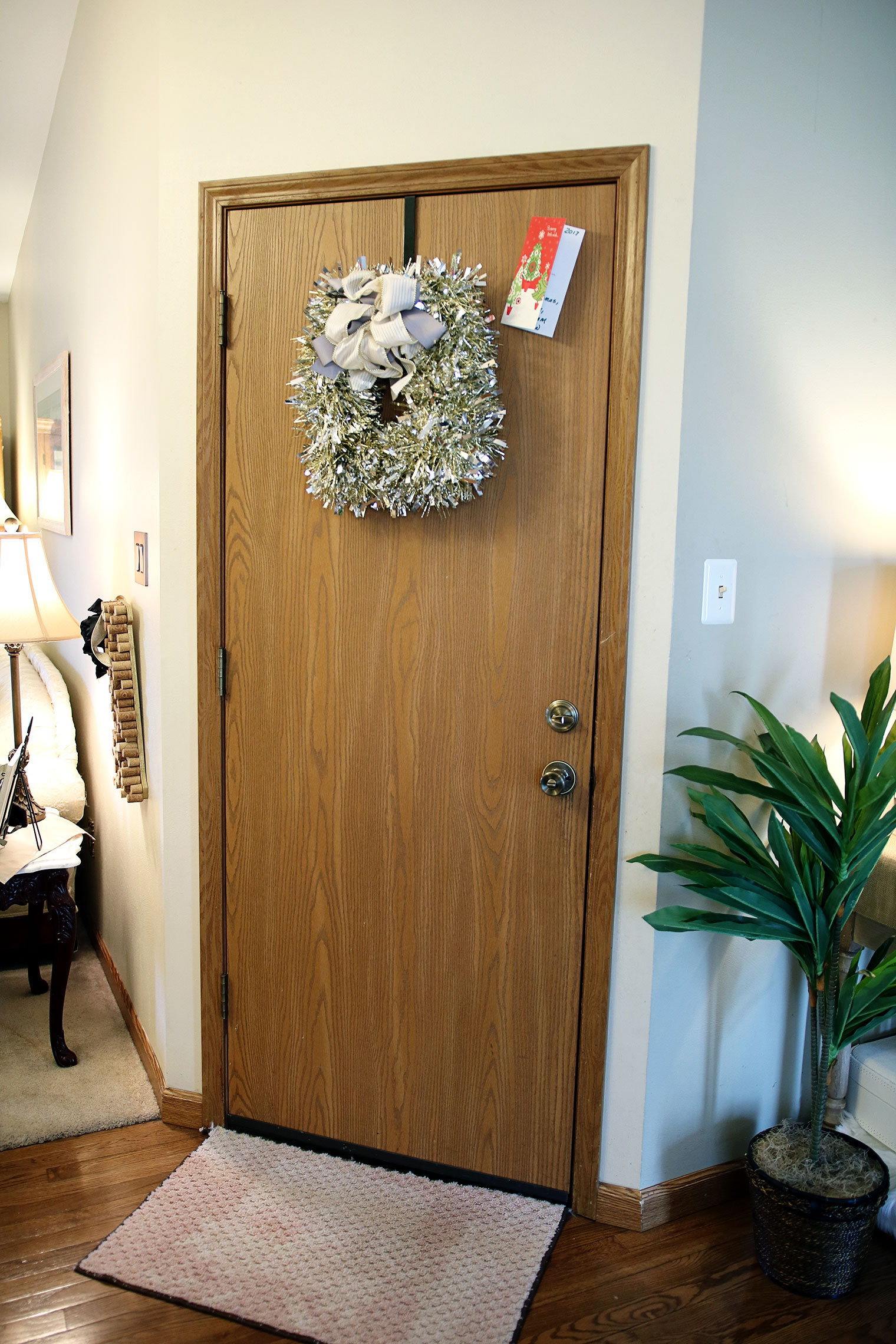 I enjoy changing up the wreath on this door for different seasons/holidays. I made this Tinsel Wreath with a Monogram Initial a few years ago. I tape all of my Christmas cards on this door, there are a lot more on there since I've taken these photos!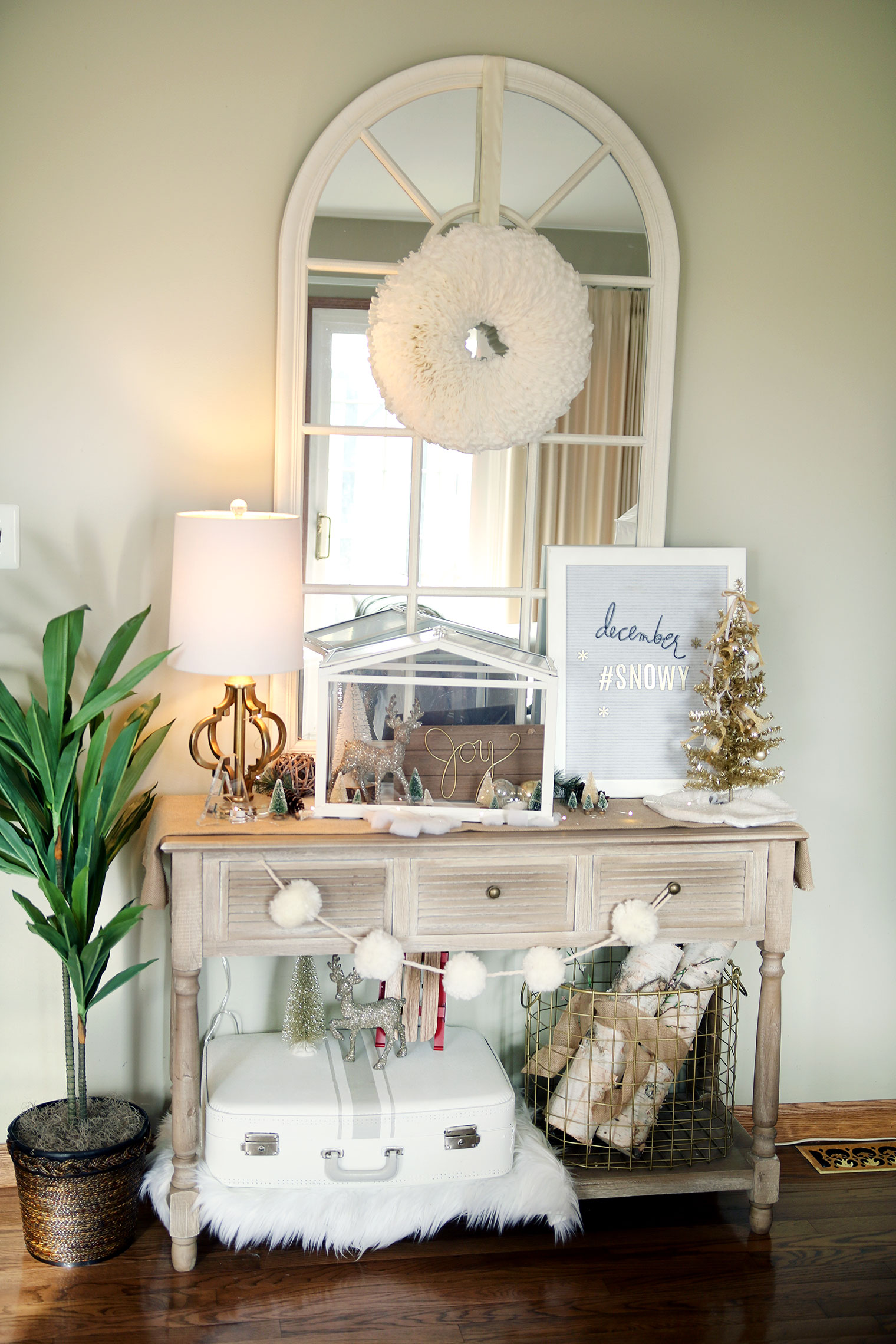 This console table is fairly new, Brian gave it to me for Mother's Day! I just love decorating it!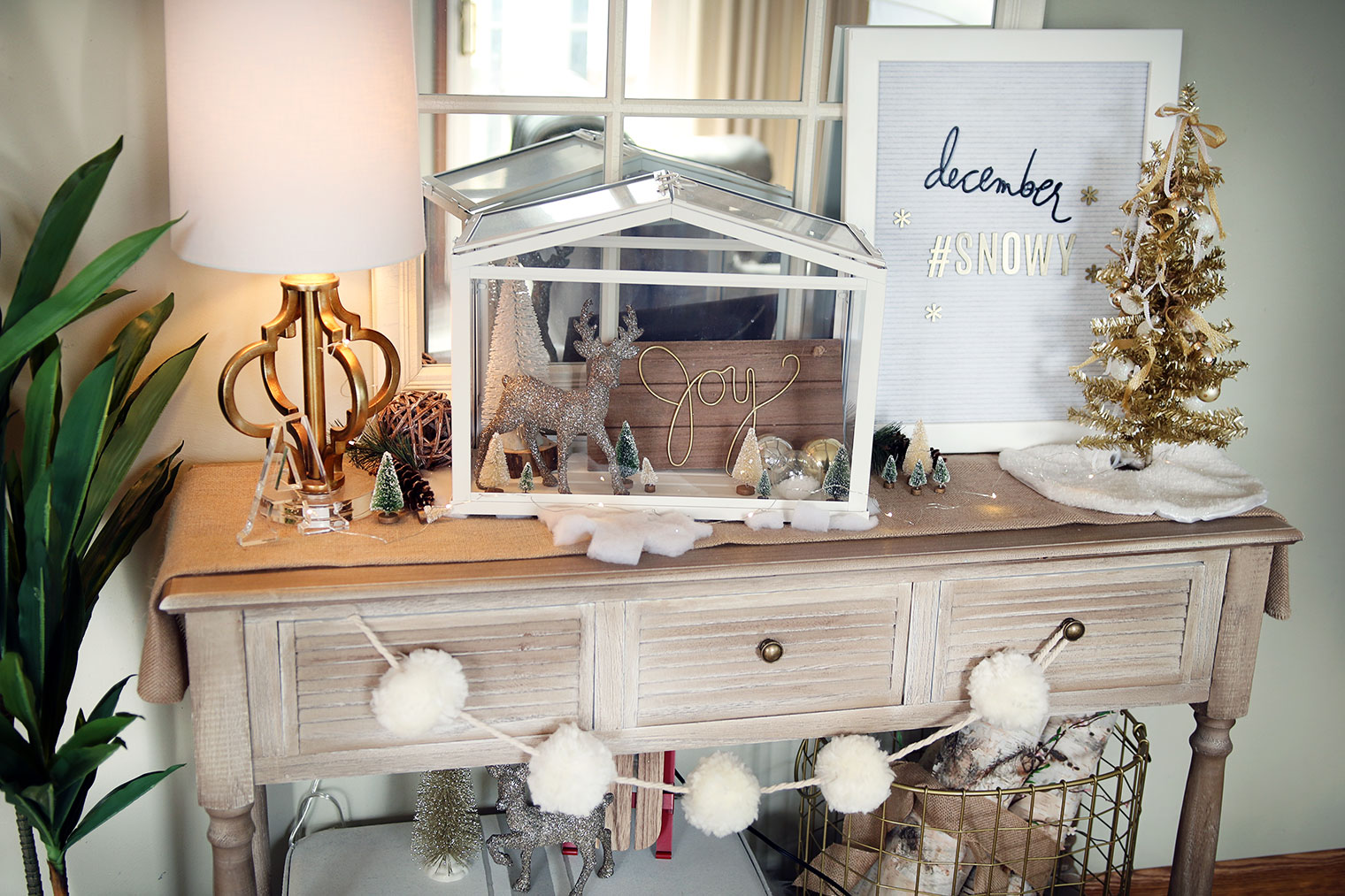 I found this cute snowball garland at Hobby Lobby and I always update the letter board every month. The terrarium is from IKEA and it is so fun to decorate the inside of it!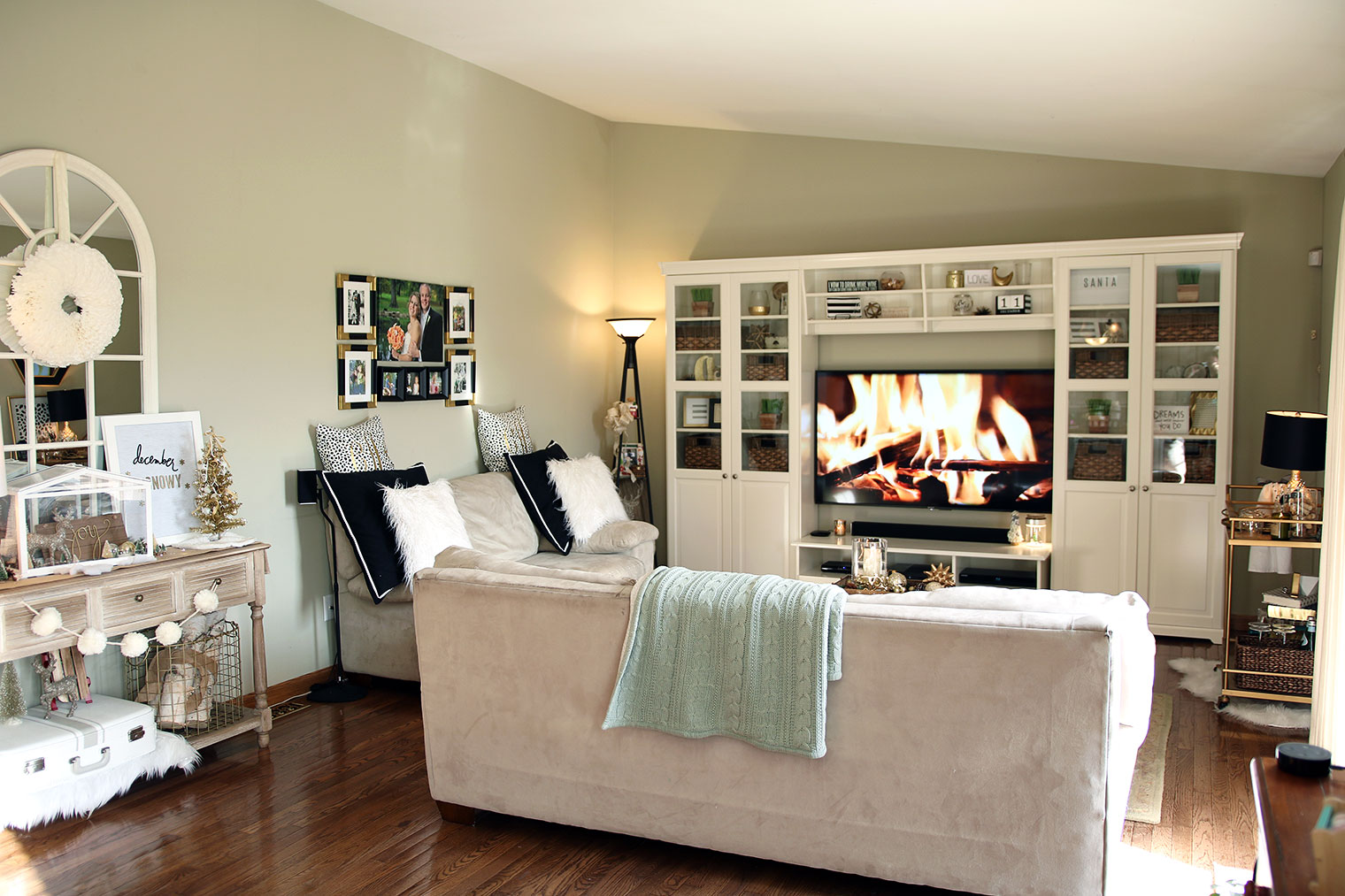 Our family room is my favorite space in our home right now! I love to turn on the crackling fireplace on Netflix and it plays Christmas tunes, too.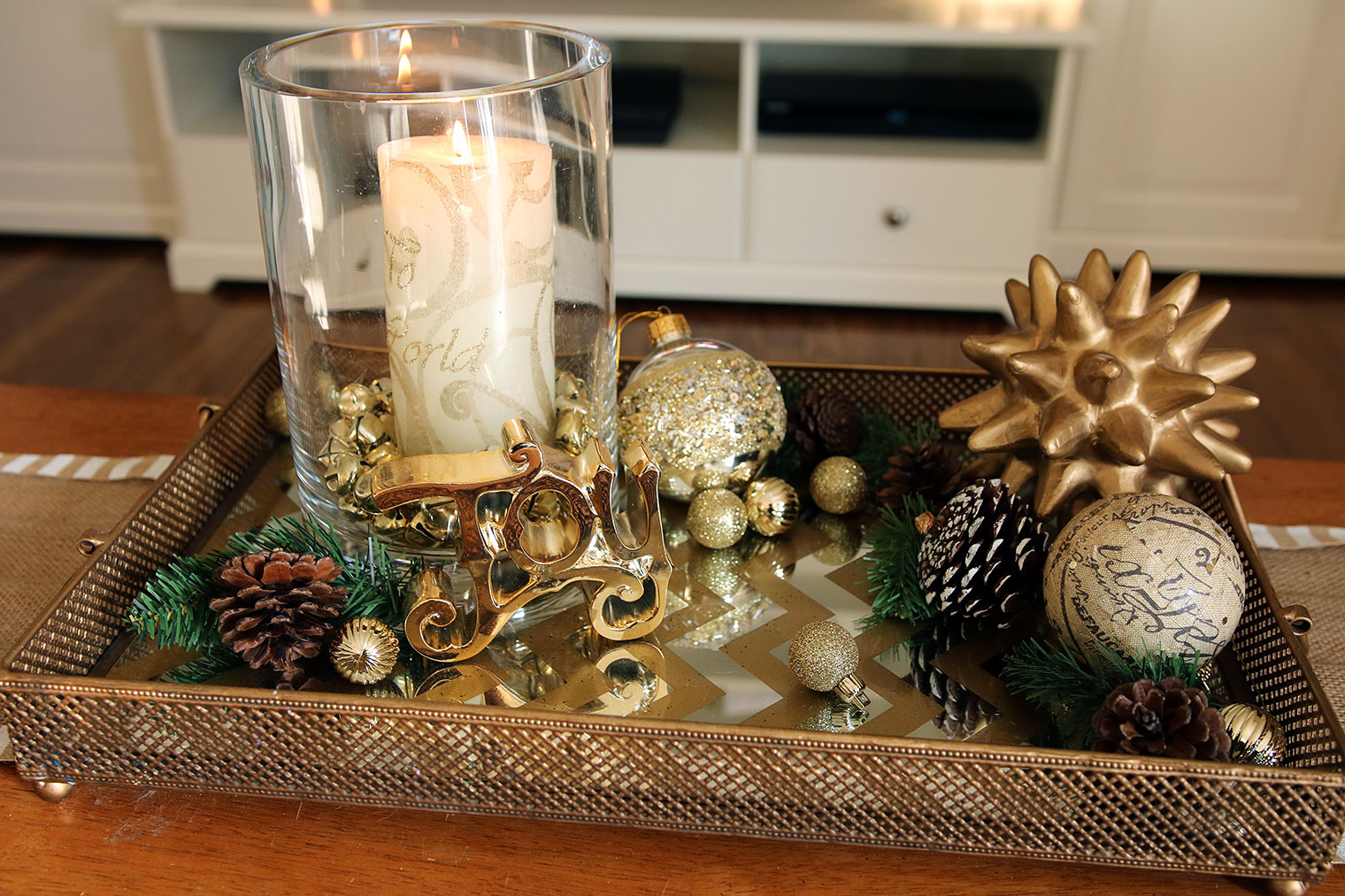 I got this oversized mirror tray from Hobby Lobby and it is so fun to decorate this time of year.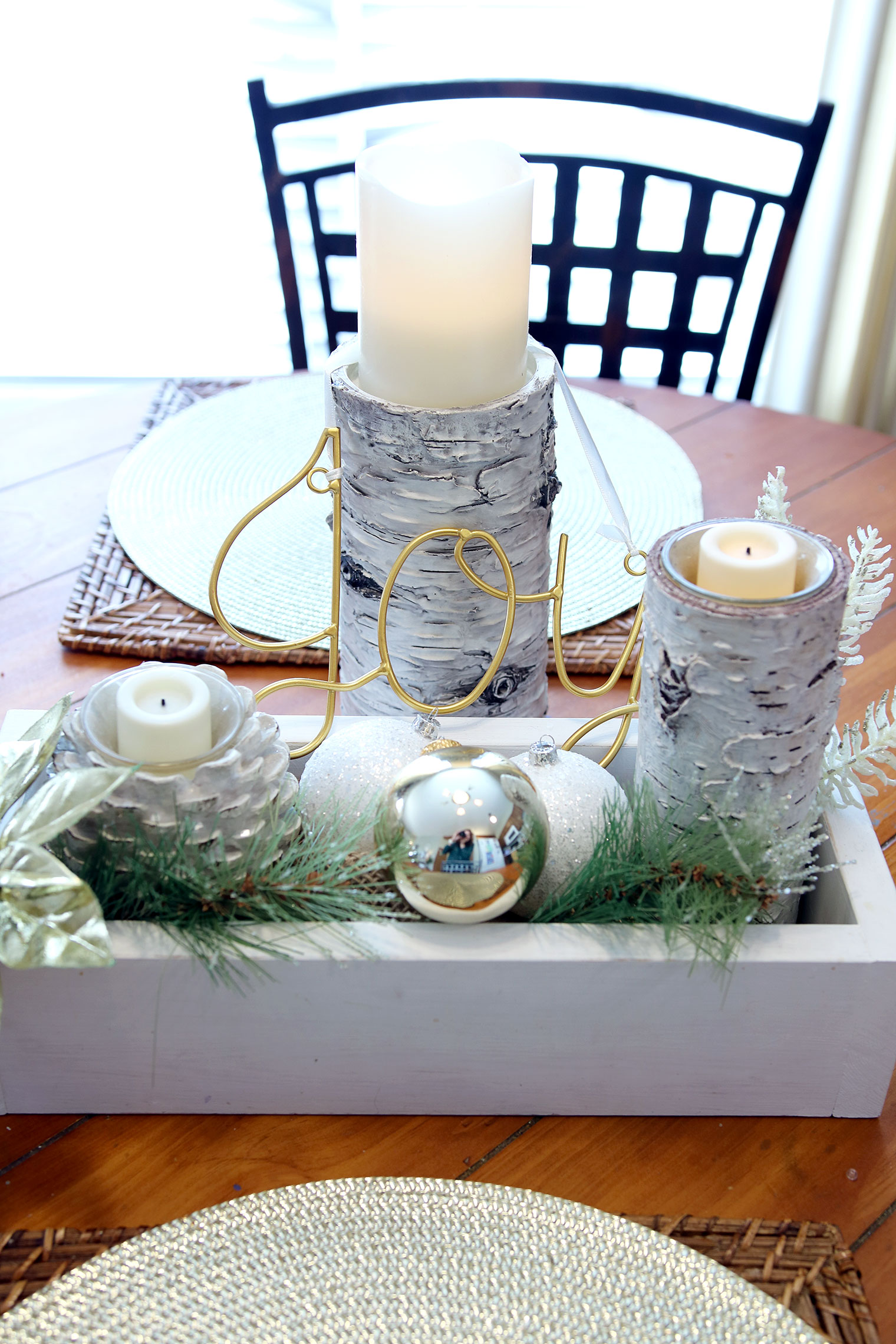 On our kitchen table, I have a planter box that my husband built for me. I just love these birchwood candles in it that I found at Hobby Lobby. There is a store only 2 miles from our house, so I shop there a lot! Lol!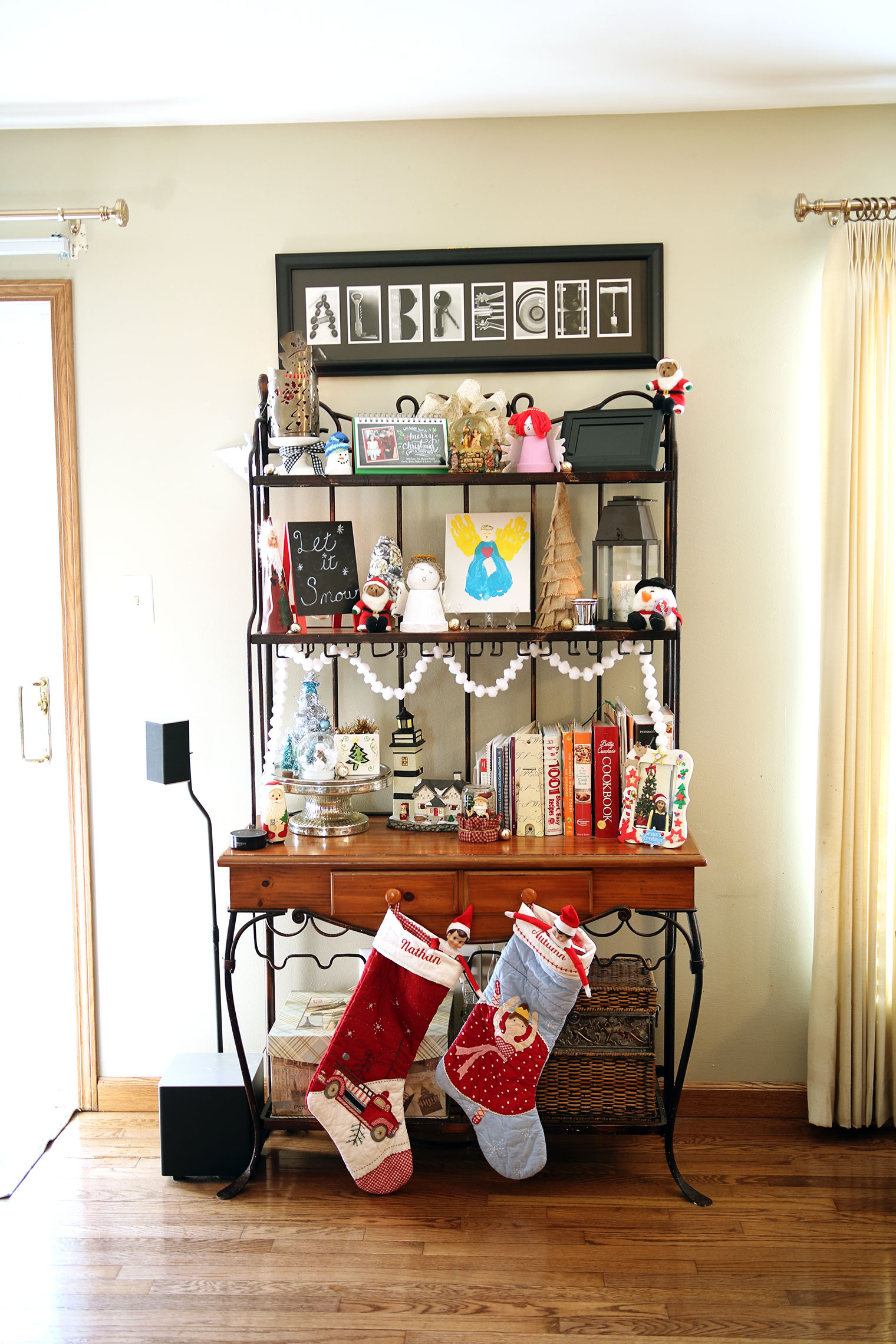 And… last… my bakers rack in the kitchen. I mainly display a lot of items that the kids have made or brought home from school on it. My husband and I are planning to get our kitchen redone and are going to start getting quotes this Spring. I can't wait and HOPEFULLY I'll be sharing it decked out for Christmas next year!
I hope you enjoyed my Christmas Home Tour! 🙂 The kids start Christmas break next Wednesday. I am so ready for a little break from homework and all of their extracurriculars. Hope y'all have a wonderful Christmas season!
SaveSave
SaveSave
SaveSave
SaveSaveSaveSave
SaveSave
SaveSaveSaveSave
SaveSaveSaveSave
SaveSave
SaveSave
SaveSave
SaveSave
SaveSave