Thank you Idahoan® Steakhouse® Soups for sponsoring this post. Grab yourself a bowl and celebrate National Soup Month with me!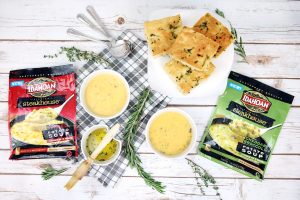 We are still in the dead of winter and I've been trying my best to stay warm. Idahoan® Steakhouse® Soups are warm and cozy soups with lots of texture and flavor in each bite! I'm also sharing an easy recipe for Garlic & Herb Focaccia Bread that is the perfect compliment with any of these soups! With this warm and tasty duo, you'll be looking forward to meal time and you'll forget about the bitter cold outside your window!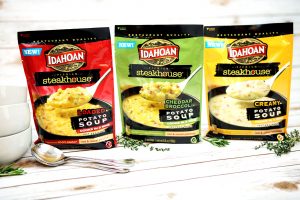 I received three packets of Idahoan® Steakhouse® Soups, including their Loaded Potato, Creamy Potato and Cheddar Broccoli. My husband and I decided to whip up these soups on a cold winter day and they were so delicious with the homemade focaccia bread. My favorite was their Loaded Potato soup, but my husband loved their Cheddar Broccoli. They also have a Cheddar Potato variety.
Here is a view inside the package, look at all of those hearty chunks of potato! Idahoan® Steakhouse® Soups bring together real, red Idaho® potatoes with flavorful seasonings and rich cheeses to provide a creamy taste in every spoonful – all you have to do is add water.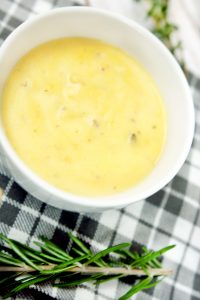 Idahoan® Steakhouse® Soups give you the flavorful, slow-cooked taste of restaurant-quality soup at home, in just five minutes. As your soup cooks, you'll smell the wonderful aroma from it!
How to Make Garlic & Herb Focaccia Bread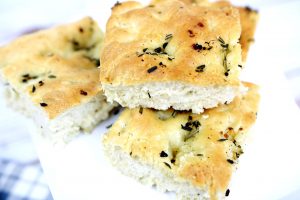 Now I'll share the simple recipe for the Garlic & Herb Focaccia Bread, this is actually my husband's recipe. He loves to make it in his bread machine.
Garlic & Herb Focaccia Bread
Ingredients:
1/2 Cup Olive Oil
2 garlic Cloves, Minced
1 Tablespoon Chopped Fresh Thyme
1 Tablespoon Chopped Fresh Rosemary
1/4 Teaspoon Black Pepper
1 Cup Warm Water
1 Packet of Active Dry Yeast
1/4 Teaspoon Honey
2 1/2 Cups Bread Flour
1 Teaspoon Kosher Salt
Directions:
Mix olive oil, minced garlic, thyme, rosemary and black pepper in a bowl. Transfer to a pan and cook over low heat for 5 to 10 minutes.
In the bowl of your bread machine, combine the warm water, yeast, and honey.  Add the flour,  salt, and 1/4 cup of the garlic-olive oil mixture.  Reserve the remaining oil for later.
Start your bread machine on the dough cycle (typically 90 minutes).
Once finished, transfer the dough to the baking sheet then press it down into the pan. Use your fingers to dimple the dough then drizzle the top with the remaining 2 tablespoons of the garlic-olive oil mixture. Let the dough rise for 20 minutes until it puffs slightly. Bake until golden brown, 15 to 20 minutes. Cool baked focaccia bread on a wire rack.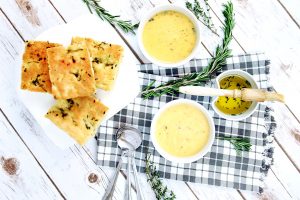 Idahoan® Steakhouse® Soups are an easy solution for a cozy and warm meal at dinner time. Would you serve yours with this focaccia bread, or what do you enjoy a hearty bowl of soup with?
I was selected for this opportunity as a member of CLEVER and the content and opinions expressed here are all my own.
SaveSave
SaveSave
SaveSave
SaveSave
SaveSave
SaveSave
SaveSave
SaveSave