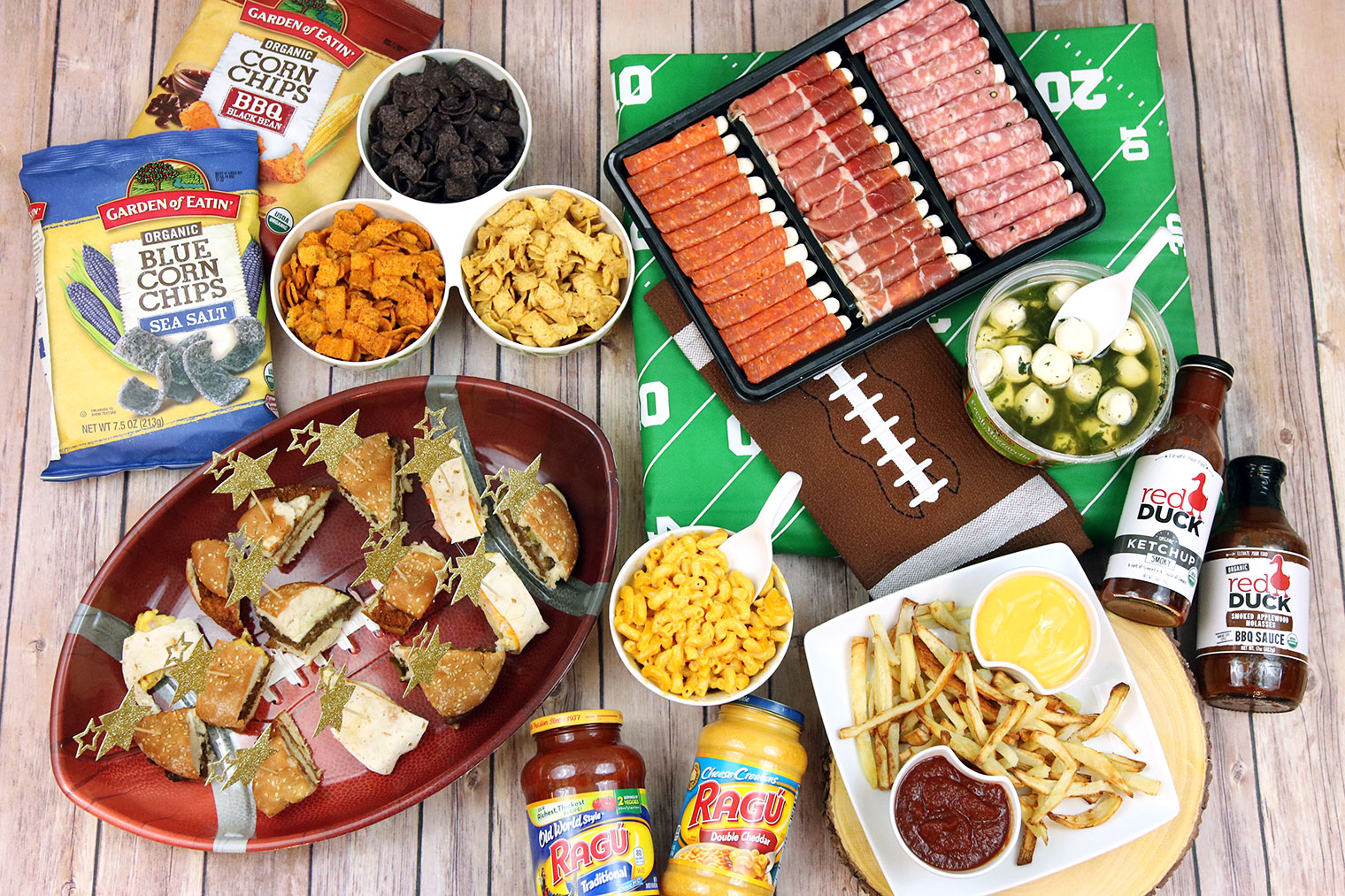 With Game Day only a couple of weeks away, you may be wondering what to serve to your family or guests. Today I'm sharing some Winning Game Day Foods with you, that will be sure to please! 
RAGÚ ® Old World Style Traditional Sauce & Double Cheddar Sauce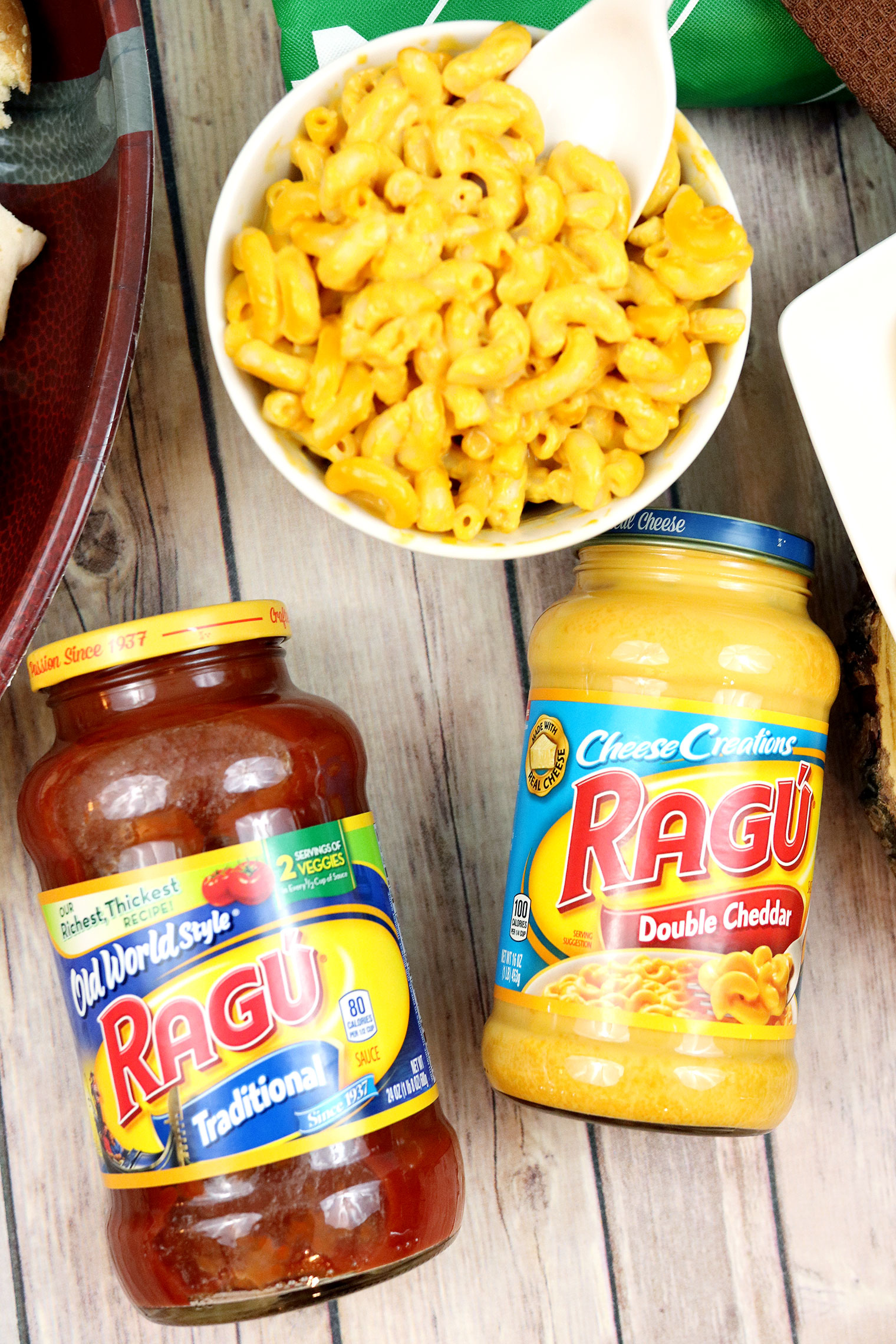 RAGÚ ® Old World Style Traditional Sauce and RAGÚ® Double Cheddar Sauce are products I always keep stocked in my pantry and they are perfect for a variety of recipes and dips for Game Day hosting. 
RAGÚ Old World Style Traditional spaghetti sauce is a smooth and flavorful classic pasta sauce crafted with fresh vine-ripened tomatoes. It also contains two servings of vegetables in every 1/2 cup of the sauce! This sauce would be perfect for lots of Game Day recipes, such as shredded BBQ chicken sandwiches, baked mostaccioli or a dip for mozzarella sticks.
I just made a simple mac and cheese recipe with the RAGÚ® Double Cheddar cheese sauce, but you you could try this southwest mac and cheese for more of a kick of flavor for your guests. This sauce features Cheddar, Parmesan and Romano Cheese and also makes a great dip. It truly is the best mac & cheese sauce!
Garden of Eatin'® Chips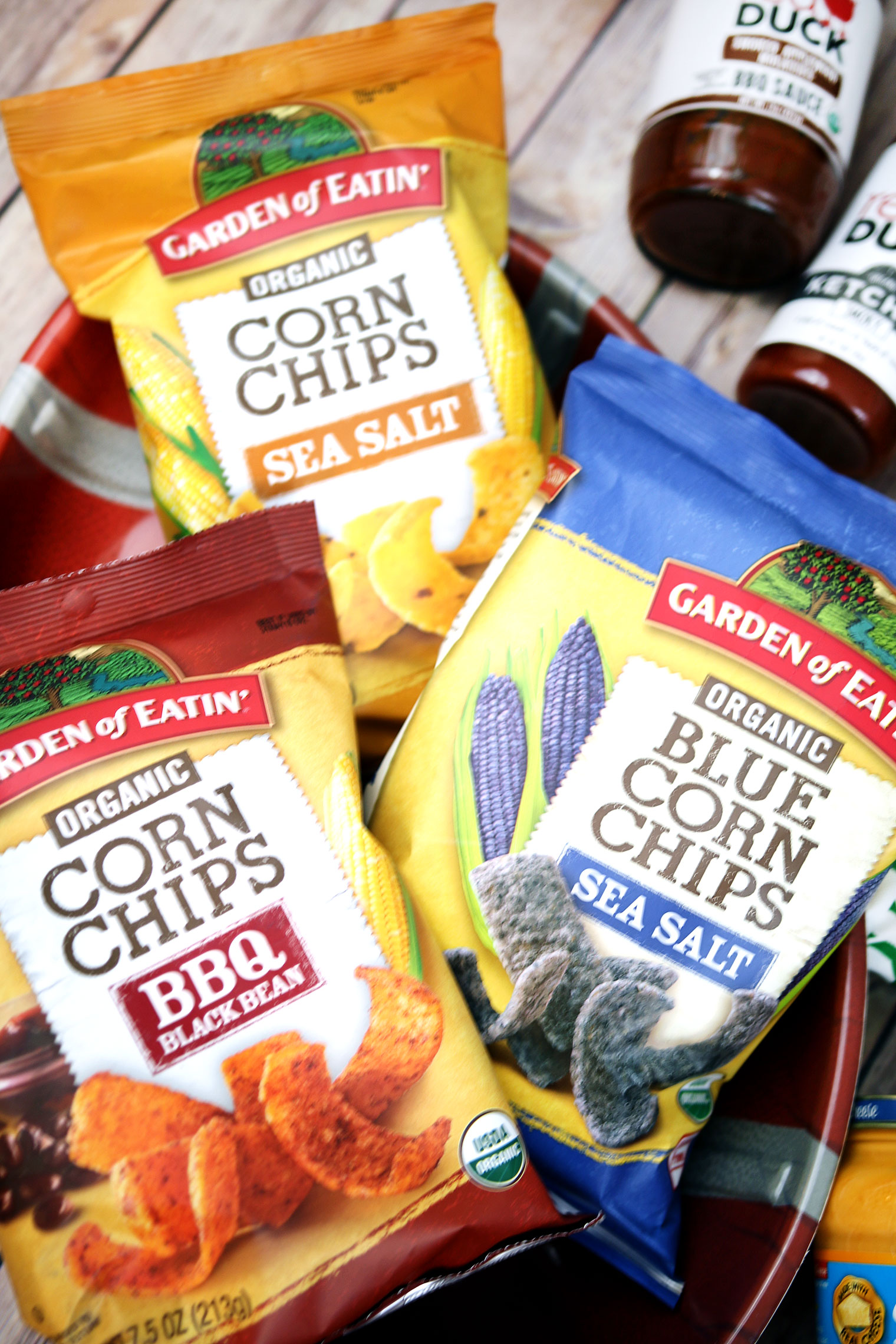 Garden of Eatin'® chips are a better-for-you organic corn chip and they are the perfect savory snack for the Big Game.
You can find a downloadable coupon for $ 0.75 of any ONE variety HERE.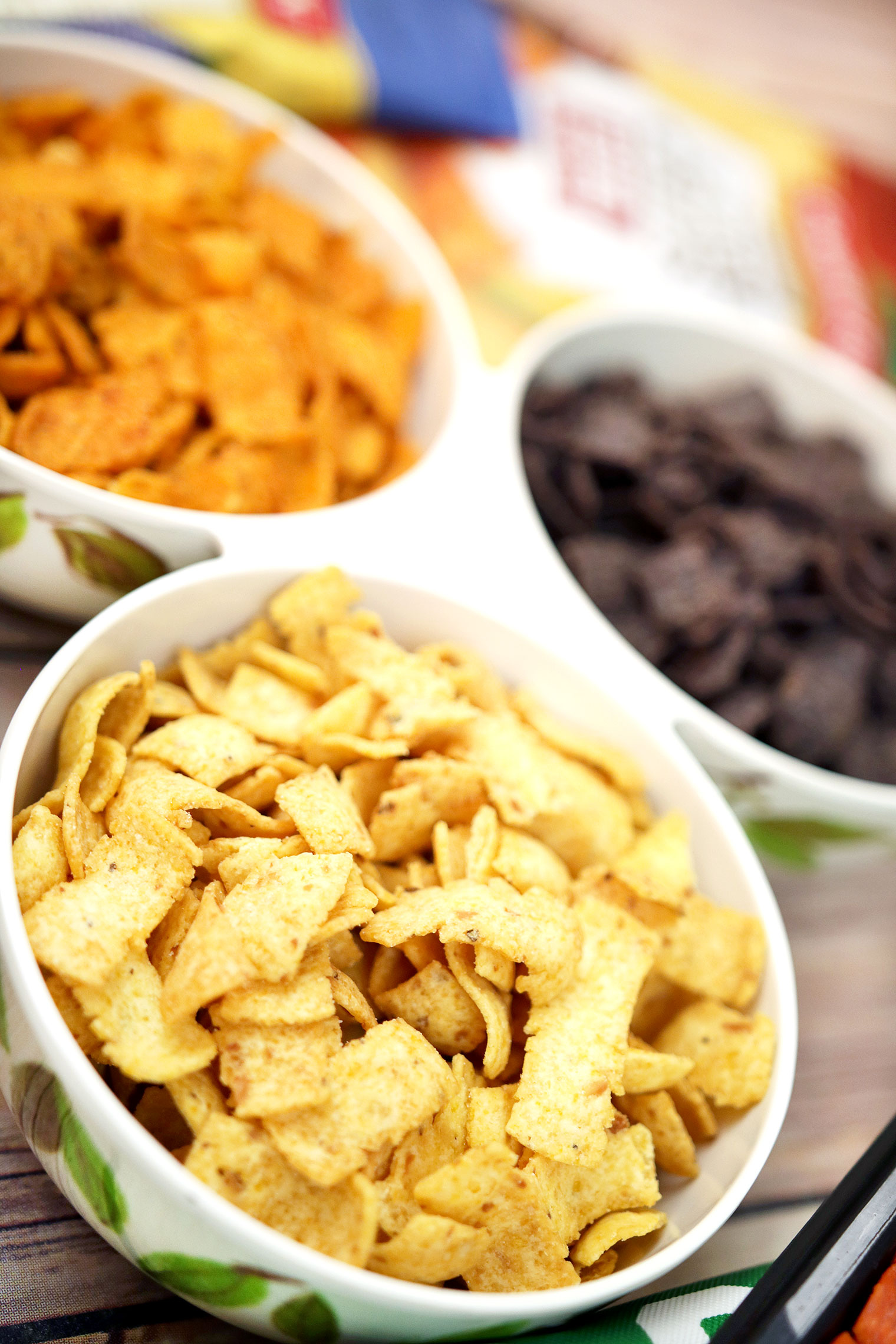 Garden of Eatin'® chips are available in a variety of flavors and I tried their Corn Chips with Sea Salt, Corn Chips BBQ Black Bean, and Blue Corn Chips with Sea Salt chips. The Corn Chips BBQ Black Bean were my absolute favorite, because I love BBQ chips and these had so much flavor! I served them in this trio bowl set, so that my guests could easily munch on them without having to reach into a bag.
BIG AZ® Sandwiches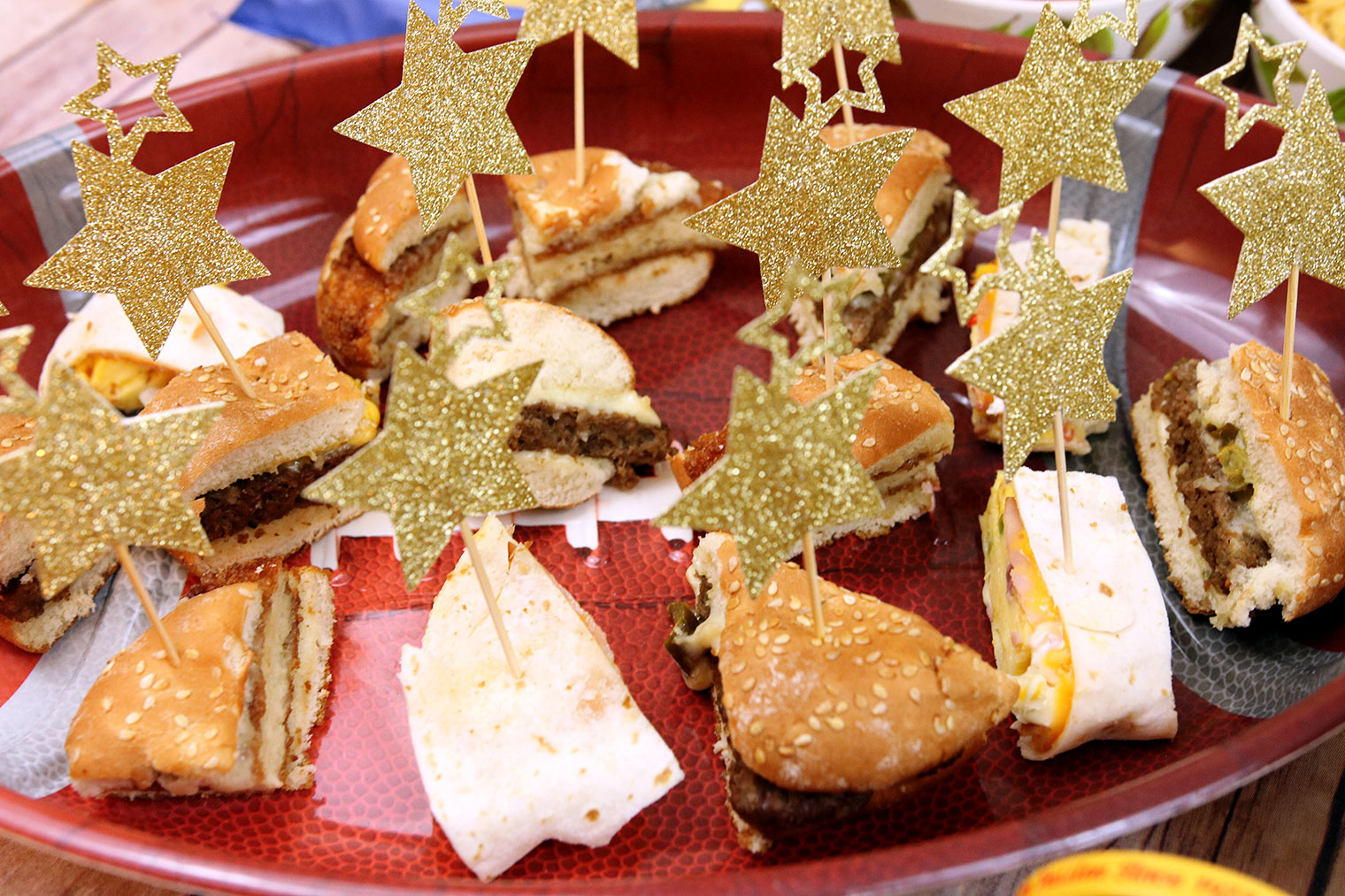 BIG AZ® Sandwiches are perfect for the Game Day party. With just four sandwiches, I was able to slice them up and put together an entire platter plate. I added some glittery star toothpicks, to make them look more 'bite-size'.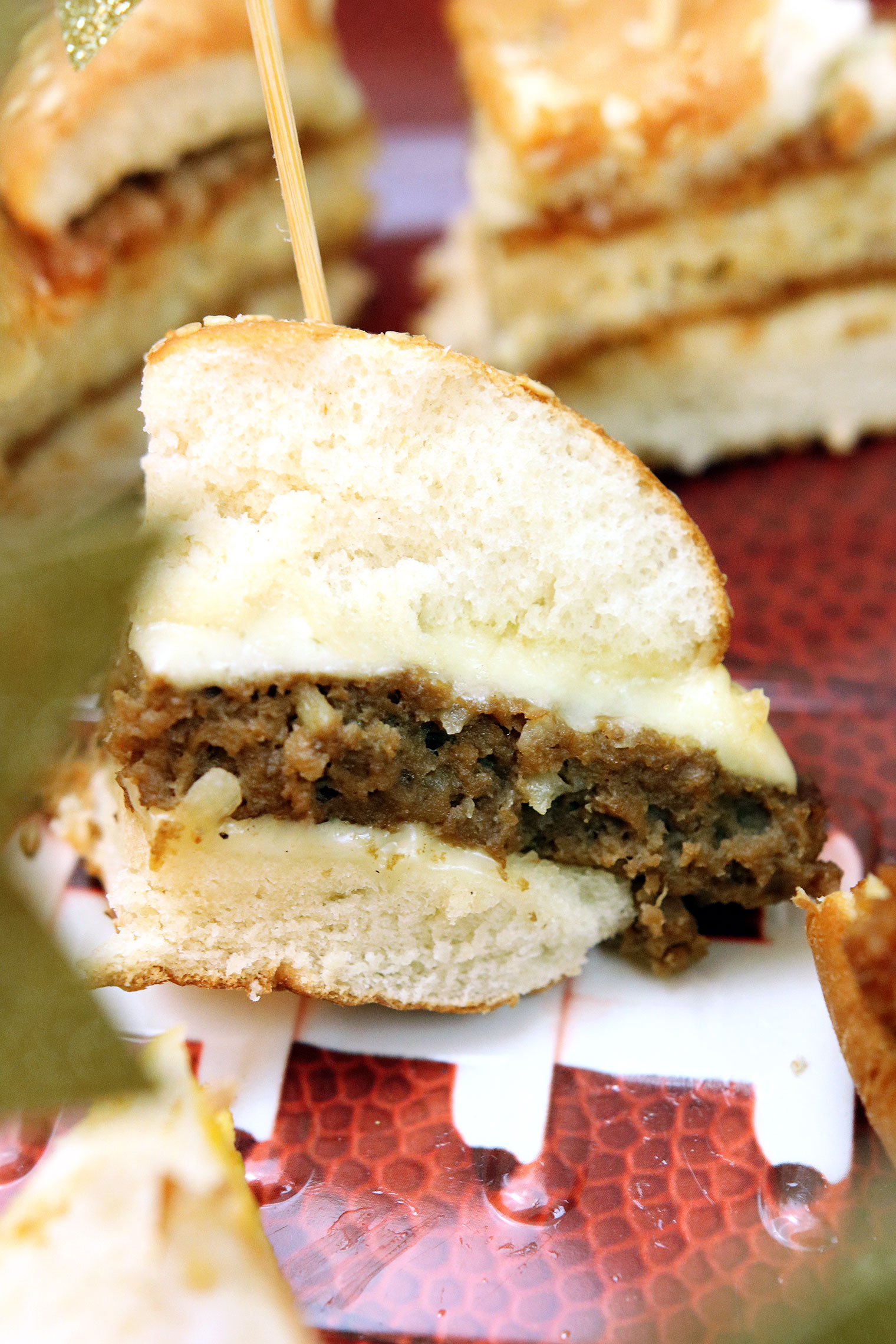 I received a variety of burgers, the BIG AZ® Sriracha Chicken Sandwich with cheese (which delivers a kick with its tangy-sweet hot sauce and was my absolute favorite!) and a tasty breakfast omelette sandwich. 
BIG AZ Sandwiches are sold in conveniences stores nationwide and they offer over nine lunch sandwiches and four breakfast sandwiches to satisfy your hunger. They're perfect for a quick and easy meal or Game Day hosting!
Midea Air Fryer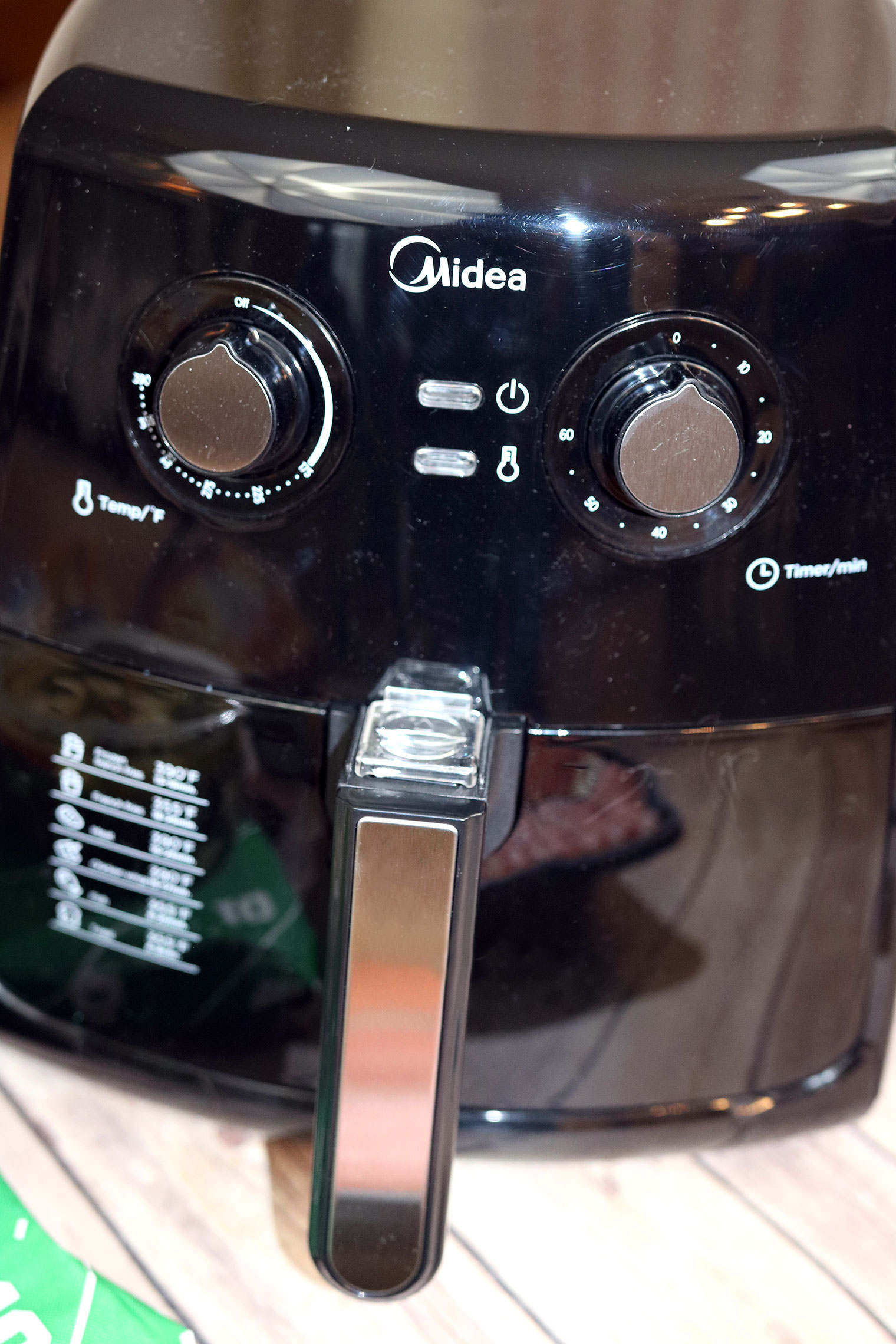 Midea's new MFTN3501 Air Fryer is perfect for making crisp and classic foods that gives your guests the taste of fried foods with less than eighty perfect of fat than if they were deep fried. 
The air fryer is powdered by 1500 watts of super-heated air that circulates in its chamber and by adding just a small amount of oil, it can cook mouth-watering foods like fries, mozzarella sticks, wings and more.
In addition to frying, users can also grill, bake and roast with the MFTN3501 Air Fryer.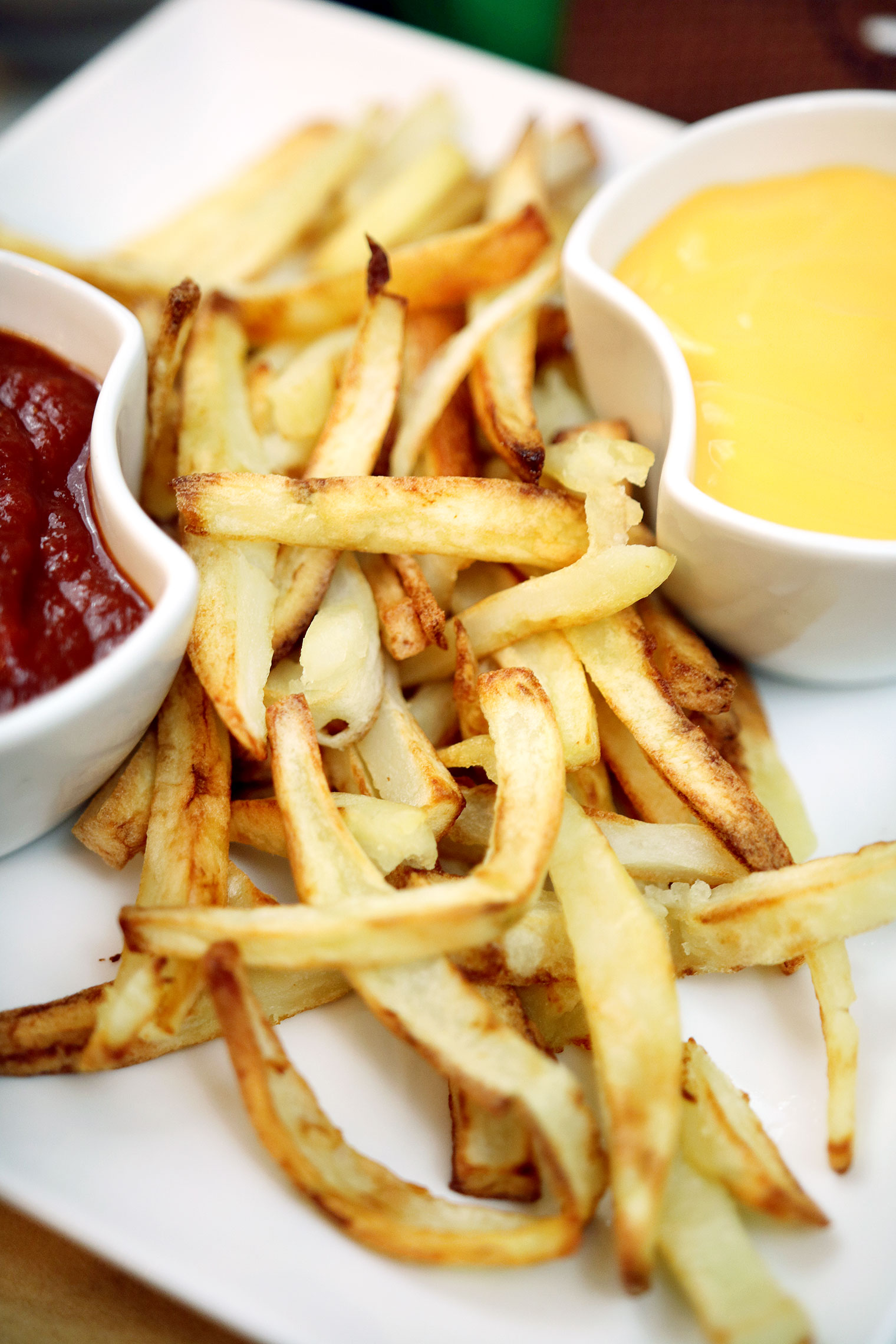 I decided to try making some homemade french fries with the MFTN3501 Air Fryer Air Fryer and was pleasantly surprised with how fresh and tasty they were! And, the whole process was so easy! All I had to do was peel, slice and add the fries into the MFTN3501 Air Fryer with a little oil. The MFTN3501 Air Fryer even has its own timer! It definitely tastes better than fried foods and is so much better for you! It will make a great conversational piece with guests at your party!
Formaggio Italian Cheeses
Cheese is definitely one of my favorite foods, I even have a drawer in my fridge devoted entirely to cheese! Cheese by itself or mixed with other ingredients or meats can make a great party food. This Fresh Marinated Mozzarella Salad Cup is delicious on its own, or could be thrown together with tomatoes to make a caprese salad or caprese skewers. This award winning cheese will not disappoint with its fresh mozzarella hand tossed in Formaggio's famous marinade of delectable herbs and spices. These can be found at Sam's Club and/or Costo.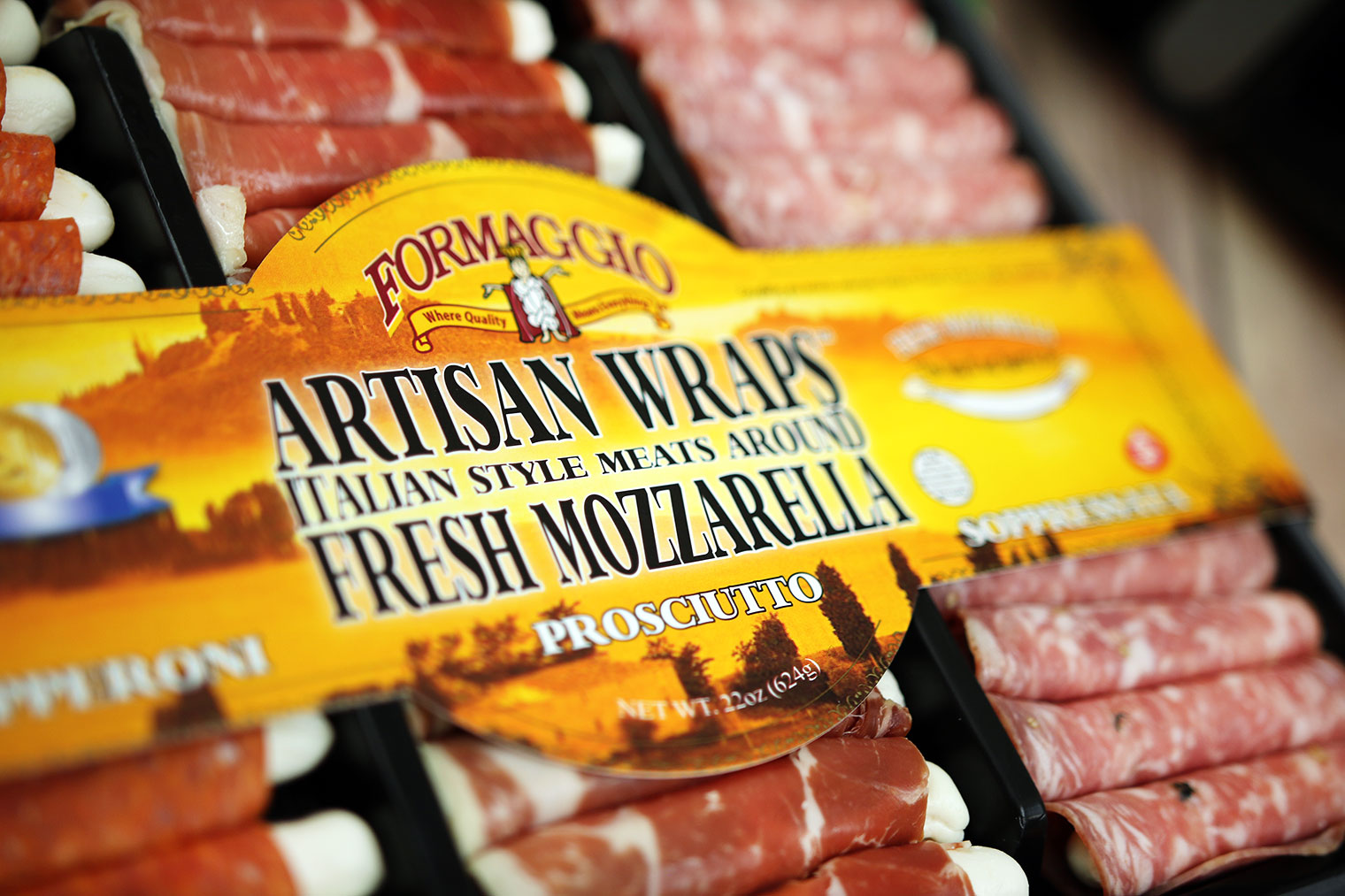 These Artisan Wraps also make a quick and easy party food. These Italian style meats are wrapped around finger length fresh and creamy mozzarella. These are best served at room temperature and can be found at Sam's Club and/or Costo.
Both of these products would look so great on a charcuterie board for a party. Lately I've been wanting to try a dessert cheese and meat board! I think it'd make a great hit at a party and these Formaggio's Cheese would be great on it!
Smoked Applewood Molasses BBQ Sauce and Smoky Ketchup from Red Duck Foods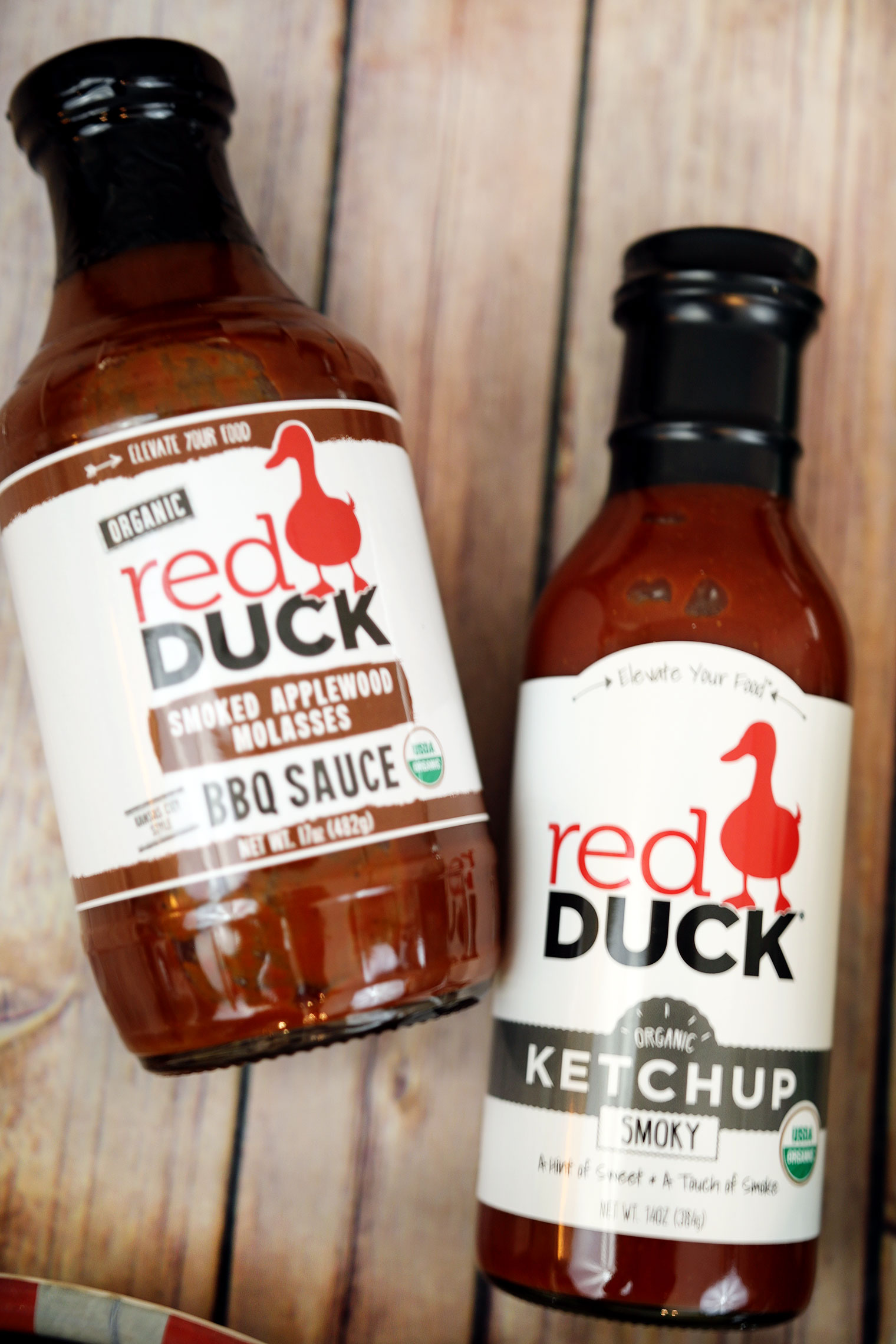 Red Duck Foods offers delicious condiments that have a unique twist on their flavor! The Smoky Ketchup is lower in sugar and sodium and delicious to cook with. You can add it to soups, chilis or swap it for anything that calls for tomato paste. I can't wait to try it in my next batch of chili! It is ketchup that actually tastes like tomatoes!
The Smoked Applewood Molasses is a BBQ sauce that has the perfect amount of sweetness. You can use it for breakfast hashes, pizza or your favorite BBQ wings recipe. It is made with whole and honest ingredients that don't include any of the junk, such as artificial coloring, preservatives or stabilizers. 
You can save 25% off of any purchase through February 28th, 2018 with the code BABBLEBOXX.
These condiments make great dips, but would also be delicious with meatballs, a big party sized batch of chili and more.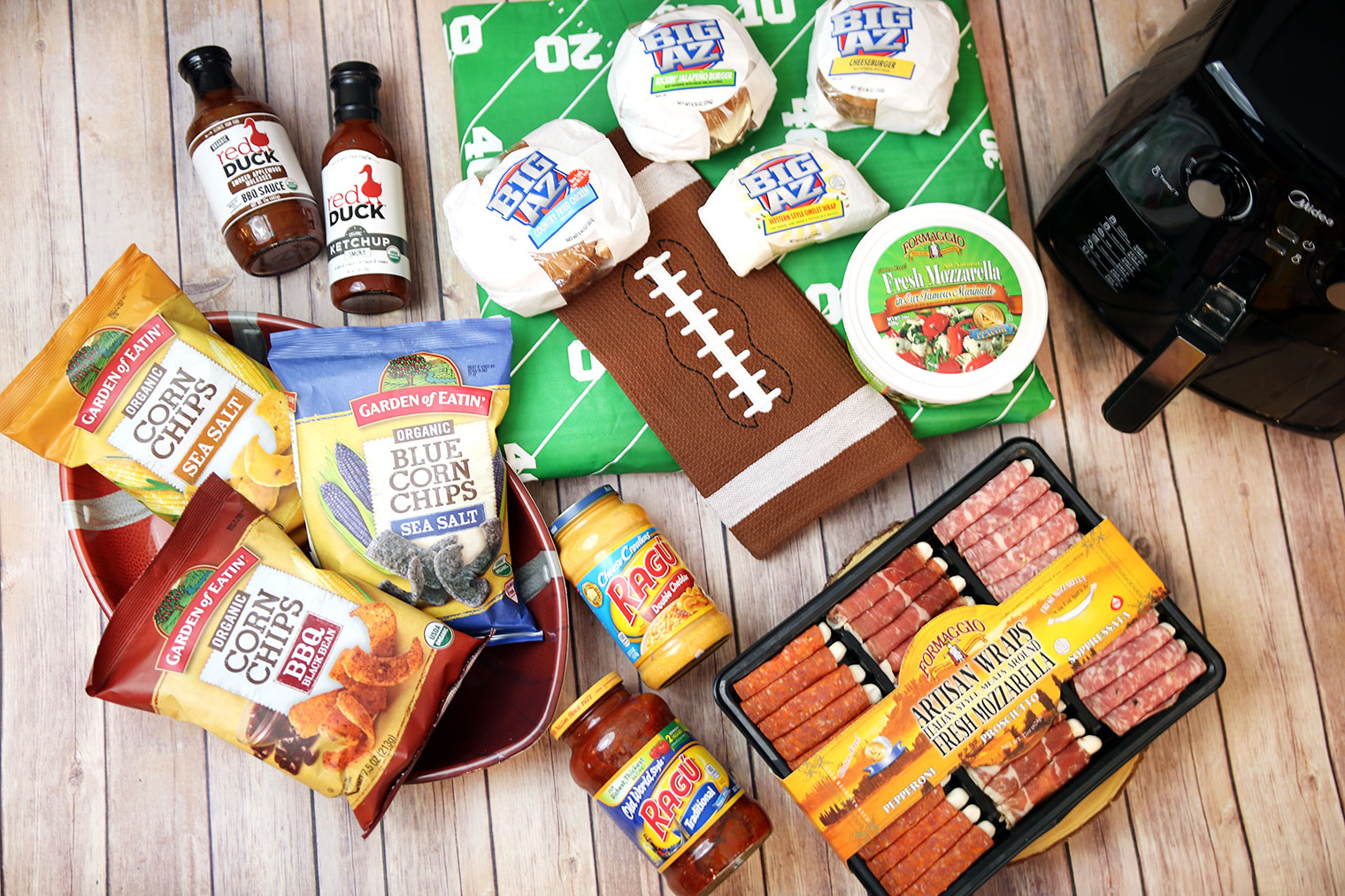 I hope I helped you to think of some Winning Game Day Foods for your guests! What is great about these products is that you can mix and match them together and come up with your own creative recipes with them! Happy Game Day!
This post is sponsored by BabbleBoxx.com.
SaveSave
SaveSave
SaveSave
SaveSave
SaveSave
SaveSave
SaveSave
SaveSave
SaveSave
SaveSave
SaveSave
SaveSave
SaveSave
SaveSave
SaveSave
SaveSave
SaveSave