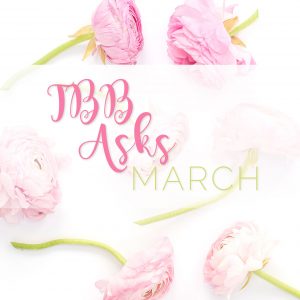 I can't believe it is Monday already… we had such a busy weekend and I feel like I could use another weekend just to relax! I have seen these TBB Q&A posts for awhile now and since I didn't already have a post scheduled for today, I thought why not? I always love these types of posts, it is fun to learn more about one another! So, let's start shall we?!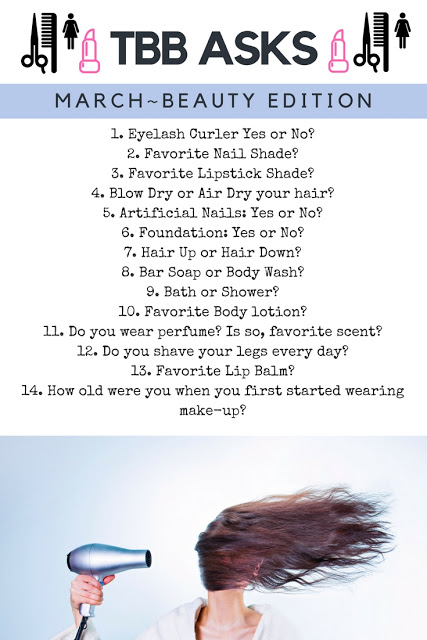 Shop This Post:

Eyelash Curler, Yes or No?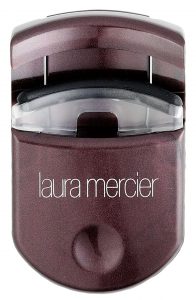 Yes! Except, I need to clean mine and remember to use it BEFORE I put my mascara on, so it doesn't get gunked up. Does anyone else always use theirs after they apply their mascara? I really like this compact Laura Mercier eyelash curler.
Favorite Nail Shade?
Ok… Let's stick to Spring shades! I have three FAVORITE shades that I have on repeat all Spring long. Let me share some photos of them on, because I think that always helps.
Esse's Gel Couture Fairy Tailor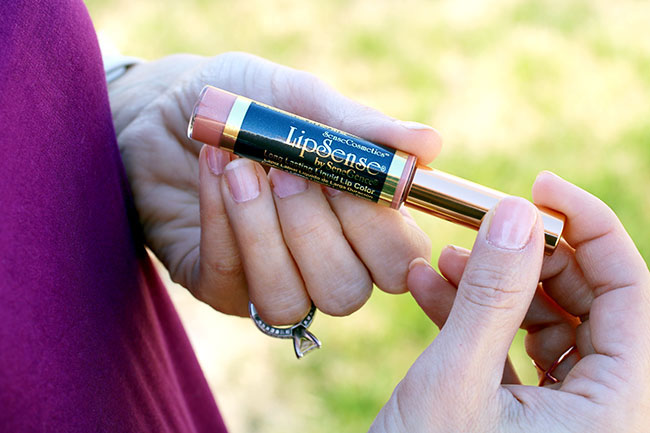 Fairy Tailor is my ABSOLUTE favorite shade for ALL seasons, but it is really nice in the Spring/Summer. It is that shade that gives your nails just a little hint of color, when you want something simple and natural. It also doesn't show chips as well, so I can get a FULL week out of this nail color with it still looking great! It also shows up in photos and makes my nails look healthy and clean, yet doesn't add a huge punch of color when I want the focus on something else.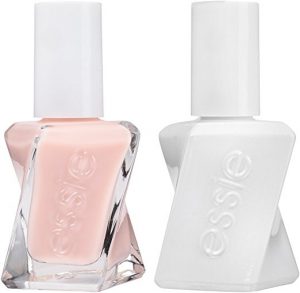 I LOVE Fairy Tailor, just love it! It's also part of the Gel Couture set that Essie has, so it come with a great top coat!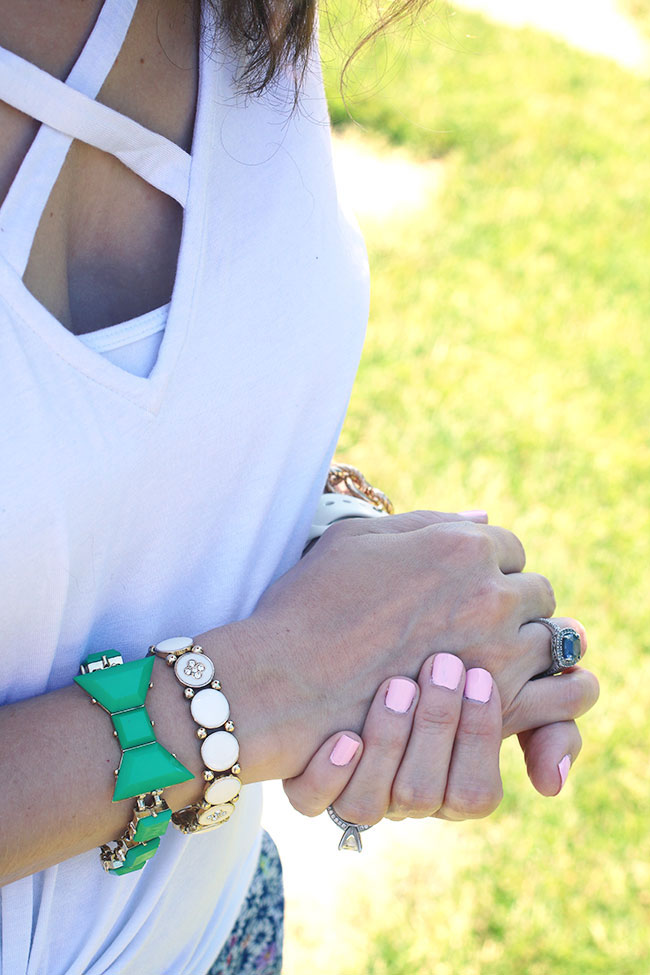 I am usually pretty brand loyal to Essie, but I saw another blogger wearing OPI's Mod About You and wow… I had to try it out. It is my FAVORITE pink color! I have gotten SO many compliments on this shade!

It also really goes nicely with a my favorite pink lip color, that I'll be sharing below!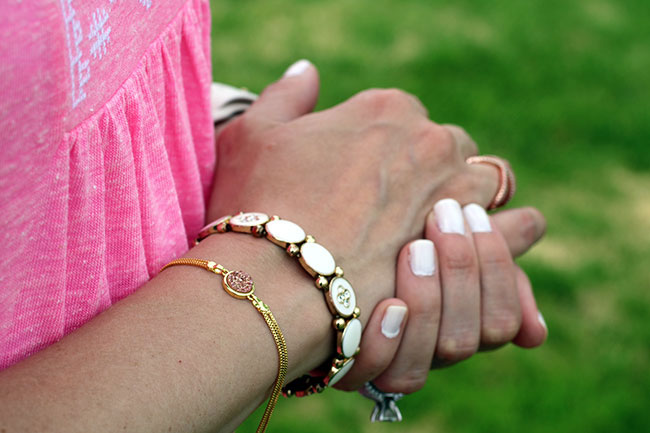 Essie's Marshmallow is the perfect WHITE color. It's not sheer, but goes on perfectly with two coats. I wear this color A LOT as my mani AND on my toes. It really gives your toes such a clean look with sandals! I just love this color.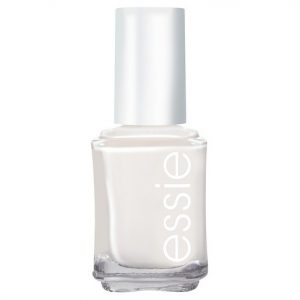 I need to buy another bottle of Marshmallow (isn't the name perfect?), I wear it so much! I used to love french manicures, but this is so much easier and honestly I love the look better!
Essie's Topless & Barefoot and Essie's Gel Setter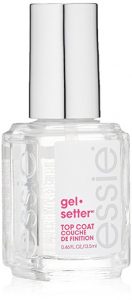 Another natural shade that I've been really loving lately, that is new to me is Essie's Topless & Barefoot. Another great clean and natural shade and perfect for digging your toes in the sand or to wear with all those cute summer dresses! My favorite top coat right now is Essie's Gel Setter.
Favorite Lipstick Shade?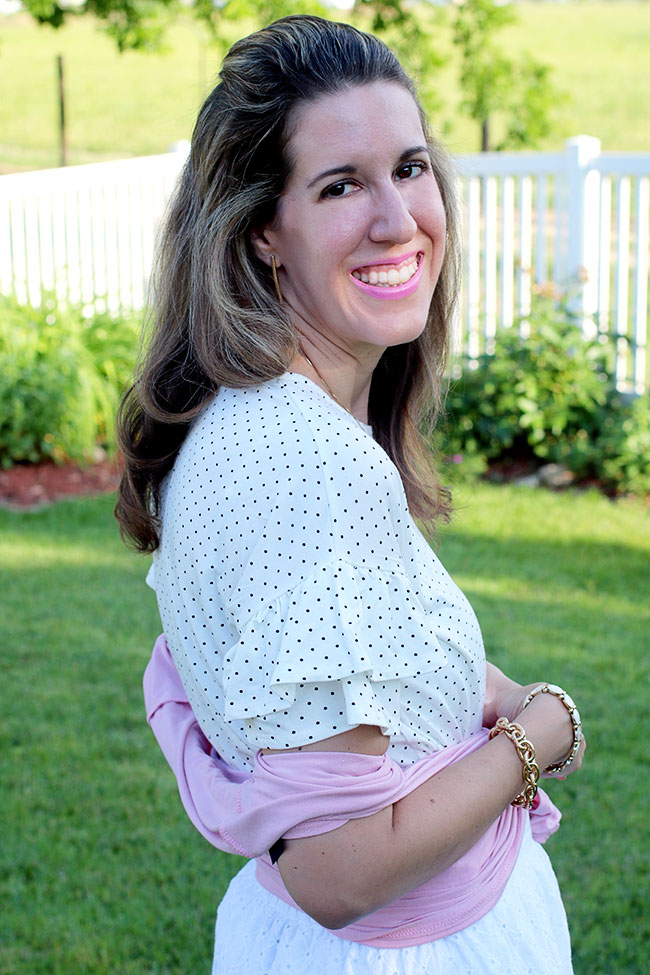 My ABSOLUTE favorite Spring lipstick is Mac's Saint Germain! It's the perfect pink, stands out… yet, it goes great with almost any skin tone!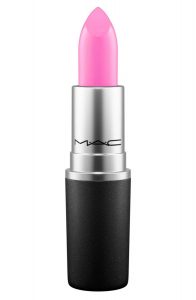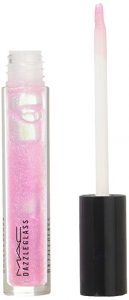 Anytime I wear Mac's Saint Germain lipstick in one of my blog photos, I have at least one person asking me what the shade and brand is… I just love Mac's lipsticks… they have the pigment, texture and quality down! I've never been disappointed with any of my Mac lippys. I also really like Mac's Dazzleglass in Like Venus!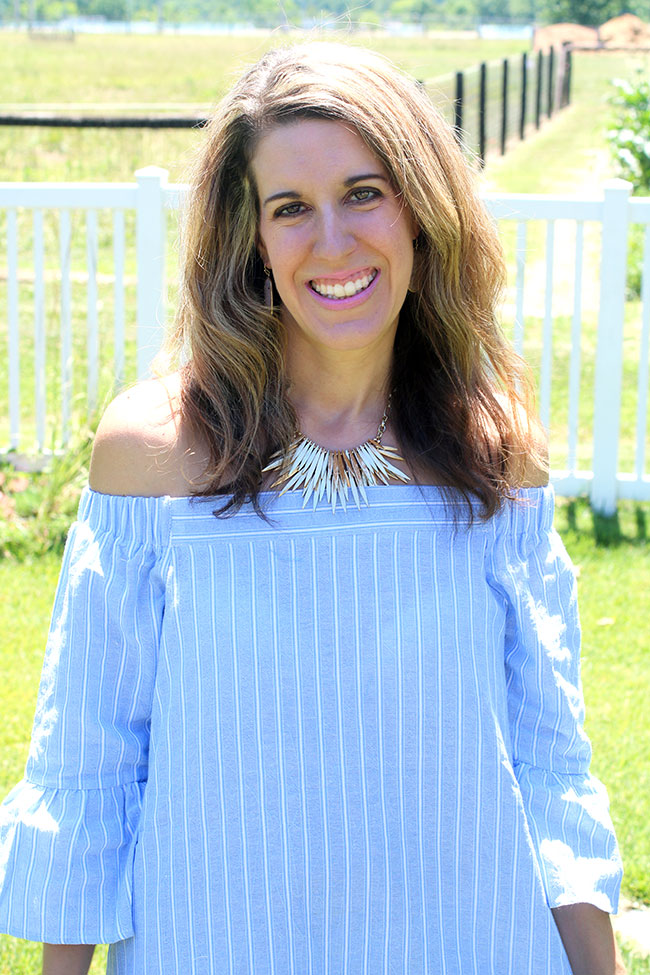 Here is another photo of me wearing Mac's Saint Germain lipstick. I also LOVE to wear Mac's Dazzleglass in Like Venus either over or even UNDER this lipstick… it gives it more of a glossy look and it stays on for an entire day!!
Blow Dry or Air Dry Your Hair?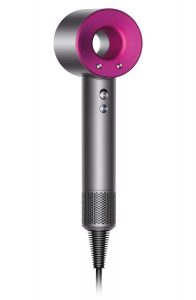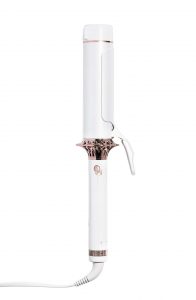 I have naturally curly hair, so I almost always air dry my hair and then I style it later in the day! Although, sometimes I will blow dry it and then style it afterwards. I almost always style my hair straighter with a little curl, but sometimes I'll completely straighten it. I also wash my hair everyday, mainly because I workout 5 days a week and I sweat a lot… not sure if any amount of dry shampoo could help me there. I also have really oily hair. My hair is super high maintenance. I'd love to have straight hair. LOL.
I would love to get my hands on one of those new (and pricey!) Dyson Supersonic hair dryers! I've heard they work wonders on your hair! And, if we're talking about pricey hair items. Gosh, I'd love a T3 styling base (especially this one that does body waves) and I'd buy all the fun barrel attachments!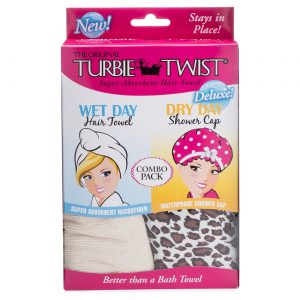 Has anyone tried this Turbie Twist Wet Day Hair Towel? It's supposed to cut down on wet hair drying time by A LOT. I really need to just get one next time I'm at Target.
Artificial Nails, Yes or No?
No, I haven't had artificial nails in a really long time. I do a lot of crafting/DIY, so I prefer keeping my nails on the shorter side. I do wear nail polish most of the time.
Foundation, Yes or No?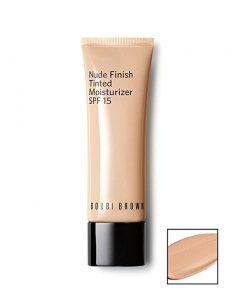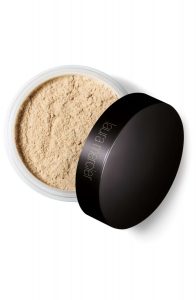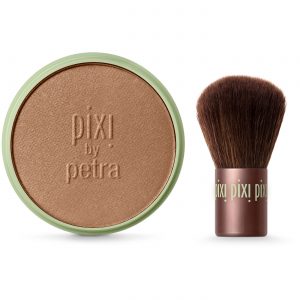 Yes! I love foundation, but I prefer a lighter foundation at this time of my life. I really like Bobbi Brown's SPF 15 Tinted Moisturizer in Light Tint. It's lightweight and gives me just the right amount of color on my face. I then use Laura Mercier's Translucent Loose Powder and highlight certain areas with Pixi's Bronzer in Summertime.
Hair Up or Hair Down?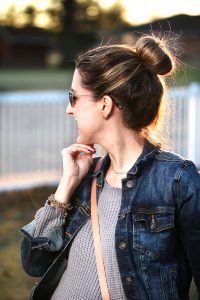 I usually wear my hair down, especially if I am going out. But, I do enjoy wearing it up sometimes, too!
Bar Soap or Body Wash?
I am not really a fan of bar soap at all, so I always use body wash! I usually just buy Dove body wash.
Bath or Shower?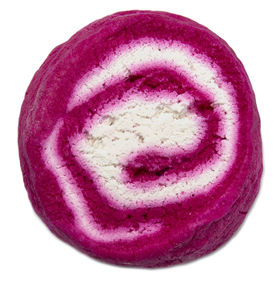 I shower every day and about once every two weeks I like to draw myself a nice bubble bath with one of my LUSH bath bombs! I LOVE, love, love LUSH products, so I have a whole stash of bath bombs under my bed in a box and I have so much fun picking out one for my bath! My husband knows what to get me for little gifts, etc. It is usually a gift box from LUSH. 🙂 By absolute FAVORITE bubble bar from LUSH is the Comforter Bubble Bar. LOTS of pink bubbles and the scent is delicious! Add in a glass of Rosé and some magazines and I am a happy camper!
Favorite Body Lotion?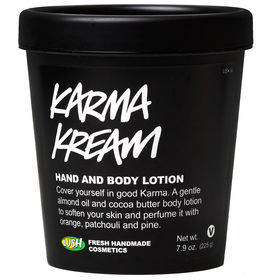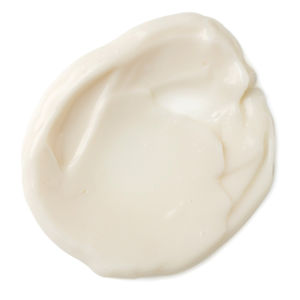 I DO have a favorite body lotion! I love LUSH's Karma Kream… the scent is just wonderful! My husband used to buy me a little pot of this every so often and I kept running out. So, he put me on a subscription service for this and a little pot arrived every 3 months with some other samples from LUSH. It was such a great package to get! I did cancel the subscription service, because I wanted to get other scents from time to time… Such as the Sympathy for the Skin (it has a dreamy vanilla banana custard scent), Dream Cream and Charity Pot.
Do You Wear Perfume? If so, Favorite Scent?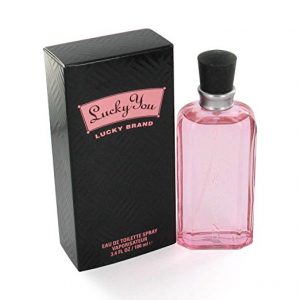 I do wear perfume and I have a lot of favorites, although the scent I keep going back to and that I get the most compliments on (especially from complete strangers, just standing next to me!) is Lucky… of all perfumes! It's the perfect daytime scent, although I have other favorites that I wear for date nights (I don't have a total favorite for an evening scent, I change these up a lot).
Do You Shave Your Legs Everyday?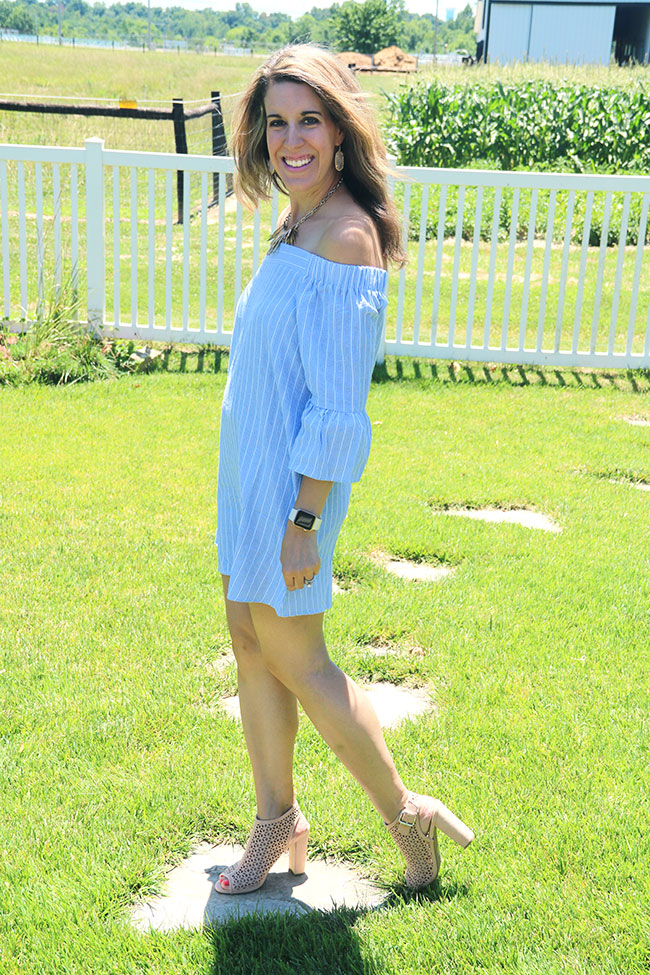 In the summer, YES. Every. Single. Day. I'd really like to look into laser hair removal eventually. Anyone done that? Let me know in the comments! In the Fall/Winter, I usually shave them once a week on the weekend, unless I'm wearing a skirt.
Favorite Lip Balm?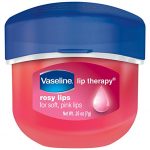 I love Vaseline Rosy Lip Therapy, although… I want to look for something more natural sometime soon.
How Old Were You When You First Started Wearing Makeup?
Oh gosh… I really don't remember? When I was in high school I used to work in the Cosmetics department at  Walgreens and I just loved it! My favorite part was setting up all of the displays in the front of the department with all the new products that just came in. I started to experiment with makeup a lot in high school, I think! That is also when I started to experiment with my hair more.
Shop This Post:

Well, that is it for TBB Asks for March! I am going to try to join in on this lovely link up when I can, but it may not be every month. I had a lot of fun answering the questions for this month and I can't wait to read everyone elses!
SaveSave
SaveSave
SaveSave
SaveSave
SaveSave
SaveSave
SaveSave
SaveSave
SaveSave
SaveSave
SaveSave
SaveSave
SaveSave
SaveSave
SaveSave
SaveSave
SaveSave