Happy Friday everyone! Once again I am getting this Friday Five up a little late… does anyone else feel like they're always a day behind on everything? Thank goodness it is almost the weekend!
One – Insanely Delicious Shrimp Sausage Gumbo Rice Bowl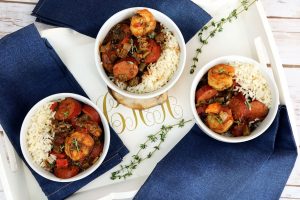 I had the pleasure of working on my first post with SoFab Food in January and they recently shared my recipe on their site! I would love for you to stop by HERE to check it out. It is for a tasty Shrimp Sausage Gumbo Rice Bowl meal, which takes a little time to prepare… but, oh your tastebuds will thank you for it!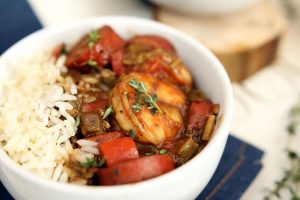 Here is a closeup of the dish… just mouthwatering with the steamy vegetables, rich roux and the smoky sausage and shrimp! I'm working on another recipe for SoFab Food that has an Easter theme (and it's a delicious dessert), so stay tuned for that later!
Two – StriVectin Anti-Wrinkle Recode™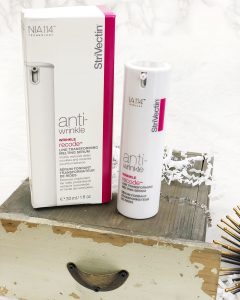 StriVectin always surprises me with fun mail for their new products and recently they sent me their Anti-Wrinkle Recode™, which is their most concentrated, high-powered wrinkle transforming serum EVER. In fact, it promises to reduce the look of lines and wrinkles in up to 7 days. All you do is put one drop of serum on your hands, rub it in until it is nice and warm and apply it to your face. Repeat this daily during the day and evening. I'm so excited to be trying this out, because the winter never helps with aging skin!!
Three – Ramen Noodle Experience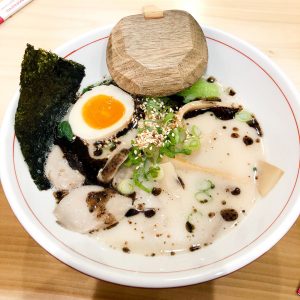 I went to lunch yesterday with a couple of my friends and we tried a ramen noodle place for the first time. If you're in St. Louis, the name of the place was Nudo House. It was so delicious and not like the cheapy packaged ramen noodles! The ramen is served in a bowl and covered with a delicious broth (you even got a little wooden ladle to slurp the soup up with!). It was so good! I think I'm going to have to have Brian try it with me next! My friends and I might try a pot sticker place next for lunch!
Four – Photos My Mom Dug Up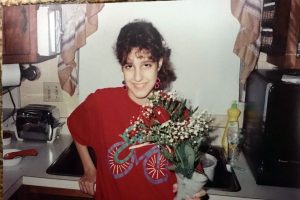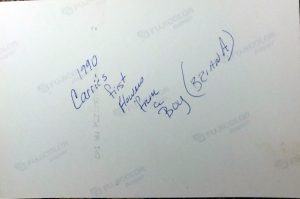 My mom is great for digging up old photos! Earlier this week she found a photo of me with my first flowers I ever received from a 'boy' (her own words on the back of the photo!). It is sweet to think that my first flowers were from my husband, Brian. 🙂 He actually brought these up to my moms work to give to me! I think he also brought some chocolate chip cookies, too, if I remember correctly. He did good!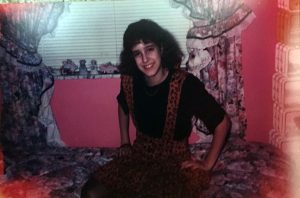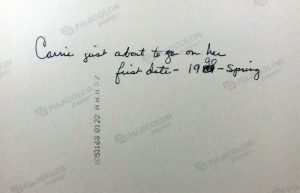 My husband and I went on our first date (WITH his parents along!) on the day after my 13th birthday! Yes, I was young! I actually got my first kiss (well, two pecks) that day. Ha! We went on a riverboat on the Mississippi. I also remember running into a pole that day, probably because I was so nervous! Ha! I was almost not going to post this photo on the blog, because my hair is a HOT mess! I have naturally curly hair (that I straighten and curl these days), but gosh… hair products and tools were just not that great during the early 90's!! And, my hair was really short and frizzy (plus, I remember it was a humid day!). So, if I delete this later… haha! It's because I hated my hair back then! Also, I guess leopard print was popular back then? I remember going with my mom to pick this dress out at JCPenneys. LOL! And, YES… that was my room with hot pink walls and all. Brian and I only went on one other date after this one and then his mom made him break up with me, because she was worried we were getting too serious! Lol! So, 20 years later my husband and I reconnected and got married! I'm not sure if many of you know, I'm remarried. It's funny, because I had a feeling on that first date many, many years ago that he was the one and it never really left me. I am so happy that we are together now, I have never been happier! 🙂
Five – Haven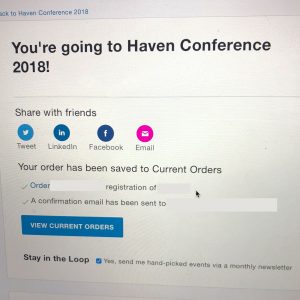 I'm officially signed up for Haven! I am so excited! This will be my very first blogging conference. I have the hotel booked and I just need to look at flights. My husband may fly in later and we may extend the trip out a few days so that we can do some sightseeing in Charleston after the conference is over. I've always wanted to see Charleston, so if anyone has any suggestions on what to see or eat, let me know! I'm also excited to finally meet Lauren from Mom Home Guide, we text each other all day long and it'll finally be nice to meet in real life. We almost met last year at Disney, but she had to cancel her trip. So, hopefully our paths will align this summer!
Oh, and just a little BONUS item… 🙂 Sometimes it is 8 weeks before I get back into my hair salon for a refresh on my locks. I was excited to try out Clairol Root Touch-Up (Temporary) Concealing Powder! It comes in a little compact and is easy to take with you on the go for touching up or you can keep it at home… or both! It's not messy or liquidy, just goes on with the brush and you're set! It looks natural and helps me cover those pesky gray hairs that pop up out of nowhere (can they just stay away?!). You can also use it to shape your brows. I received this product complementary for testing from Influenster.
Well, that's it! Everyone have a wonderful weekend! Ours is going to be crazy busy with a play, spelling bees, church and my daughter has a huge project for school. What a whammy!!
SaveSave
SaveSave
SaveSave
SaveSave
SaveSave
SaveSave
SaveSave