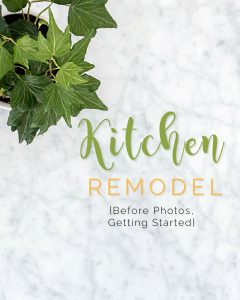 I've been wanting to remodel our kitchen for YEARS. The price factor has been the biggest reason why I've delayed the process. But, luckily this year it is in our budget to remodel the kitchen and it's going to be lighter (ALL white cabinets, baby!), more functional (goodbye ugly and small pantry!), modern and clean! I just CAN'T wait!
It is definitely a long process and I'm not sure if we'll be under construction until this summer (when the kids are home from school- eek!). But, it'll be so, so worth it! I've been asked to share some posts about the overall process, so I'm doing that today! I did a lot of prep work, envisioning what I wanted in our new kitchen and spent hours scrolling Pinterest. Also, my husband and I talked about our ideas to come up with one overall vision for the space. After that, we met with a designer at a store and selected what we wanted in the kitchen and the changes we wanted to make in this busy space. I thought it was time to do a before post about how I got started on this journey. Then, I'll add posts in as the journey progresses until the kitchen is complete!
Let's start with some Kitchen Before Photos and I'll explain what I want to change/add in the design of our kitchen.
Kitchen Before Photos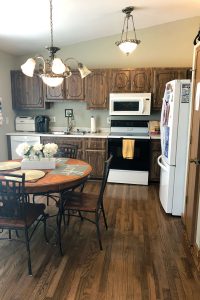 The photo above is our kitchen, the original kitchen to this house. Our house was built in the 1980's. We do have hardwood floors that are in really good shape, so they will remain. The current cabinets are not real wood, they are chipboard and really not a good option for painting. Therefore, we'll be updating them with new cabinets, that I believe are maple. They'll be painted white. I'm also planning on adding new hardware, I really love the pull knobs that are in style right now for the drawers and a little knob for everything else. We are also going to get quartz countertops. We won't be adding new appliances, but we may replace the stove for a new all white stove eventually. I also want to get a new kitchen table (in white) AND new lighting for the kitchen. We will probably purchase the lighting at Lowes, I have already found lights that I think will go perfect in the new kitchen.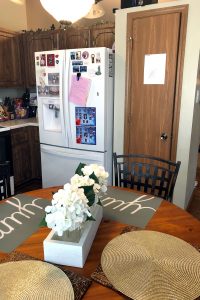 This side of the kitchen is what will be drastically changed. Well, maybe DRASTIC is too harsh of a word. I hate the pantry, it is small with wire shelving that goes really deep and it just looks like a big dry wall box that is sticking out. With the new kitchen, they'll be swapping the placement of the refrigerator with the pantry. The pantry will actually become cabinets that are built into the design of the kitchen. There is also an odd corner here and the new design fixes this problem with cabinets that will have hinge doors, relieving the problem of having too deep of cabinet space. This will make the corner area more functional. I CAN'T WAIT! I'll be sharing a 3D diagram of what the new kitchen will look like below.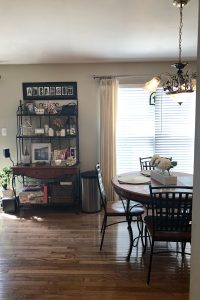 We also have a big window in the kitchen and EVENTUALLY I want to get this made into a bay window. You'll also see a buffet rack in this space. The buffet rack is in-between the big window in the kitchen and our patio door. We are getting the space where the buffet rack is turned into a 'serving area'. There will be glass door cabinets on top, a counter top and then cabinet space on the bottom. I will probably turn this space into a coffee/drink station and then when we have guests over, it'll be a serving area. Since we don't have space for an island in our kitchen, this will be the perfect solution. I also can't wait to display cute plates, cups, etc. in the glass cabinets on the top! The rest of the kitchen will have 'closed' cabinets without glass.
Planning Design of Kitchen at Store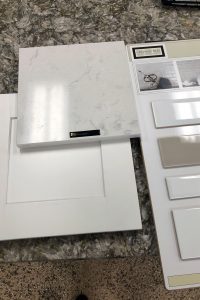 In the photo above, you'll see the selections that we made for our kitchen.
I set up an appointment at a kitchen remodeling store that I had heard was reasonable on their pricing. We did not get any other quotes at any other stores, because we were really pleased with the selection and our quote at this store. It was actually under our budget! If it had not been, we would have probably visited a couple of other stores to get some more prices and to see what other selections were out there. At our first visit, we walked around the showroom and talked about the dimensions of our kitchen with the designer and we also told him what changes we wanted to make to the kitchen to make it more functional. He brought a lot of great ideas to the table. We then got to pick our cabinet style, hardware, countertop and backsplash.
I had brought along a pin board from Pinterest of kitchen styles that I liked and this helped the designer pinpoint exactly what cabinet style I was interested in. He said that in my pins, I had pinned a lot of white cabinets in the 'shaker style'. We selected a shaker style in white and were pleased with it. Then, we selected a countertop. We went with quartz in a neutral almost marble color that has gray and white tones in it. I didn't want any brown tones.
For the backsplash, we went with white beveled subway tile, which is a timeless style. We were pleased to hear that subway tile is VERY affordable, it will only cost us $300 for the subway tile materials! The designer told us that the cabinets are what is the most expensive when you do a kitchen remodel.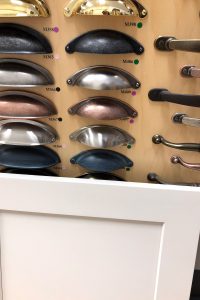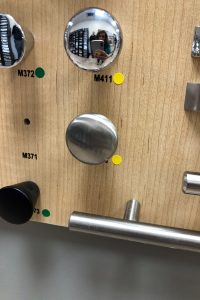 We also got to select the hardware for our cabinet doors. I am going with a pull knob in stainless steel for the drawers and a round knob for everything else.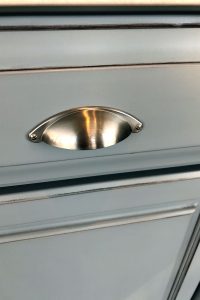 Here is an example (above) of what the pull knobs look like. They are really trendy right now! I really wanted to get them in gold, but we are going with a stainless steel sink and I thought the silver color would match better with the sink.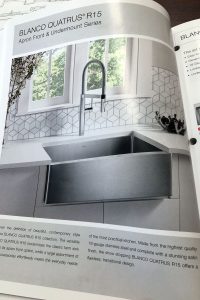 We decided to go with a stainless steel farmhouse style sink. These are very trendy, which I wanted to go with more of a timeless kitchen that wouldn't go out of style quickly. But, I think these sinks will be in style for a long time and I just LOVE them! The store also had a white option, but we loved the stainless steel finish much better, even if it is a little more. This sink will cost around $950.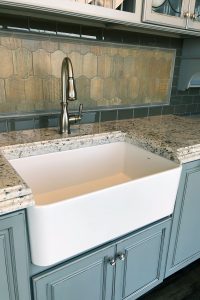 This is the white style of the sink, which is a little more affordable. I am showing this photo, because we went  with the faucet that is on this sink for our kitchen.
3D Kitchen Design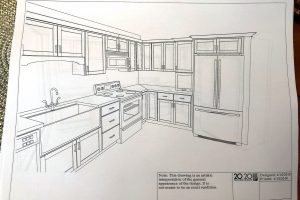 After our designer took the measurements of our kitchen at our house, he made up a 3D Design of our kitchen with the style sink, cabinets, etc. and with the changes to the layout of the kitchen that we had discussed. It was so nice to see how the kitchen would look with this 3D Design! It also helped me to see how the space would look with the fridge and pantry swapped. You'll see that the fridge is on the far right and the pantry is built into the design of the cabinets, with lots of extra cabinet space! In the corner, the cabinets are hinged, so that they open up more fully and is more functional. He also put in a lazy susan in one of the cabinets, and there is a pull out drawer (you'll see it is sort of a square shaped cabinet on the left side of the fridge in the middle). This pull out drawer will be nice for cereal boxes, etc.
We are also getting crown molding put on the top of the cabinets, because we have a vaulted ceiling in the kitchen and I think this will give it more of a polished/finished look on top.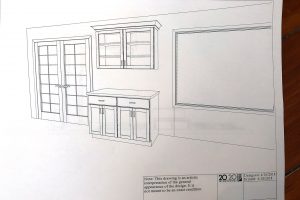 Here is a 3D Design view of the 'serving' area, where the buffet rack used to be. The cabinets on top have glass, so it'll be so fun to decorate these for the holidays or to display some fun plates/cups in them. I am also looking forward to having this space for when we host Christmas, etc.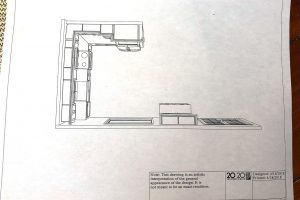 This is a 3D Design of what the kitchen looks like from an aerial view.
After going over the 3D Designs with the designer at the store, we got an estimate of what the final cost would be for all of the materials. The next step is to find a contractor. The designer at the store has one contractor he is going to set up a meeting time with to go over everything at our house and he also wanted me to look into finding a couple of contractors.
The cost of installing the kitchen can vary, so we wants us to get some quotes and to go with the contractor and quote that we prefer. I am going to call some contractors today to see if I can get them in soon to take a look at our kitchen and to meet with the designer at the same time. He said we can use a contractor linked to their store, but they are overpriced.
Once this is finalized, it takes about 3-4 weeks to order the cabinets and for them to come in. The designer is estimating about 5 weeks for the install of the kitchen, which will be a really long time without a kitchen! I am hoping it doesn't take that long, we'll find out more once we have a contractor!
SaveSave