This post was sponsored by Neutrogena as part of an Influencer Activation for Influence Central and all opinions expressed in my post are my own.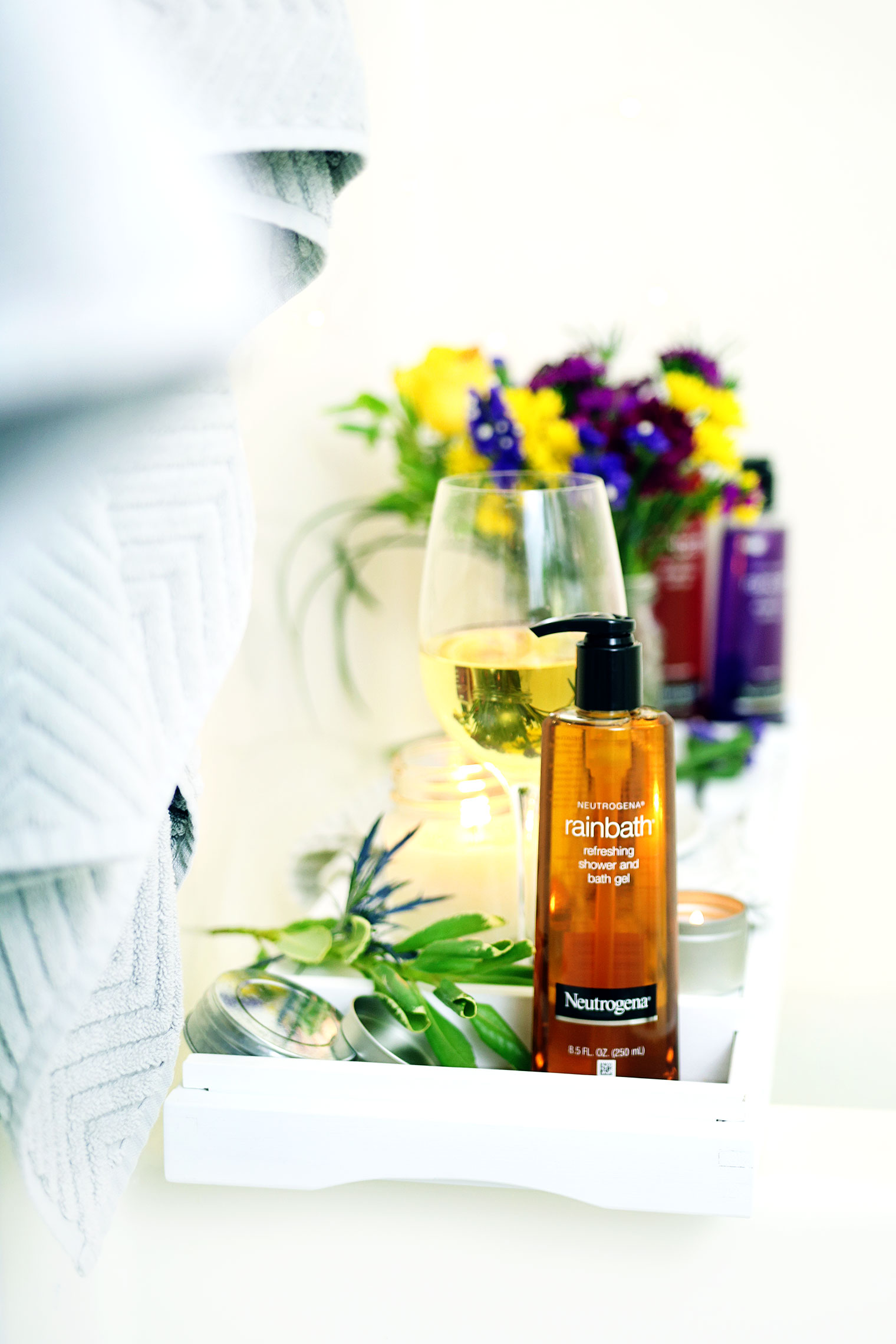 How often do you have a 'ME' day? I try to schedule one at least twice a month, because this mom needs time to unwind and recharge! This is a day where I leave my to do list behind and I just soak up on the beautiful moments that the day brings.
One of my favorite things to do is take a relaxing bath and read with a little candlelight, a glass of wine (or hot tea), and maybe a sweet indulgence (such as a chocolate or homemade brownie). I've found that Neutrogena Rainbath is a must-have essential for ANY mom. I can turn my shower or bath into a pampering experience, while I cleanse and condition my skin. I love that it doesn't leave behind a heavy, filmy residue (Who wants that?!).
AND… Enter to WIN one of Ten Neutrogena Rainbath Bundles
(for your own Spa ME Day!)
I-C will randomly select winners from all program entries and RPR will facilitate fulfillment of the winning prizes of 10 winners.
Prize: Ten Neutrogena Rainbath Bundles (includes one of each of the 5 Neutrogena Rainbath scents)
Dates: October 1st – November 4th
Neutrogena Rainbath Sweepstakes
Today I'm going to share some tips on how to have the best ME day and why you should schedule them on the calendar regularly!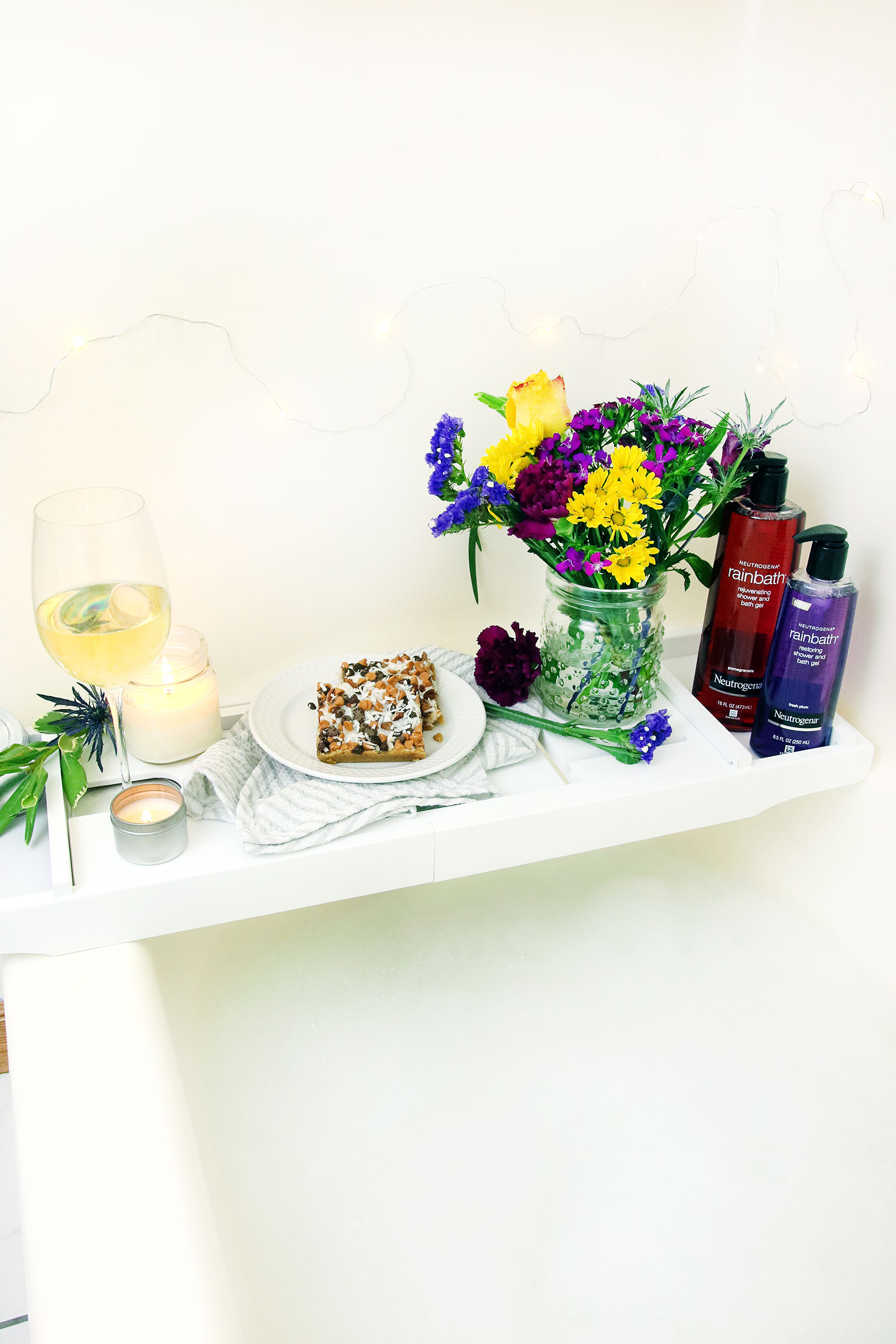 One of my all time favorite plans for a ME day is to spend a little time relaxing in a bubble bath. I can read a book, or catch up on my magazines while sipping some tea or a glass of wine. I was really excited to find Neutrogena Rainbath at my local Walgreens, because there are so many scents and it provides a spa-like experience for me right in the comfort of my own home!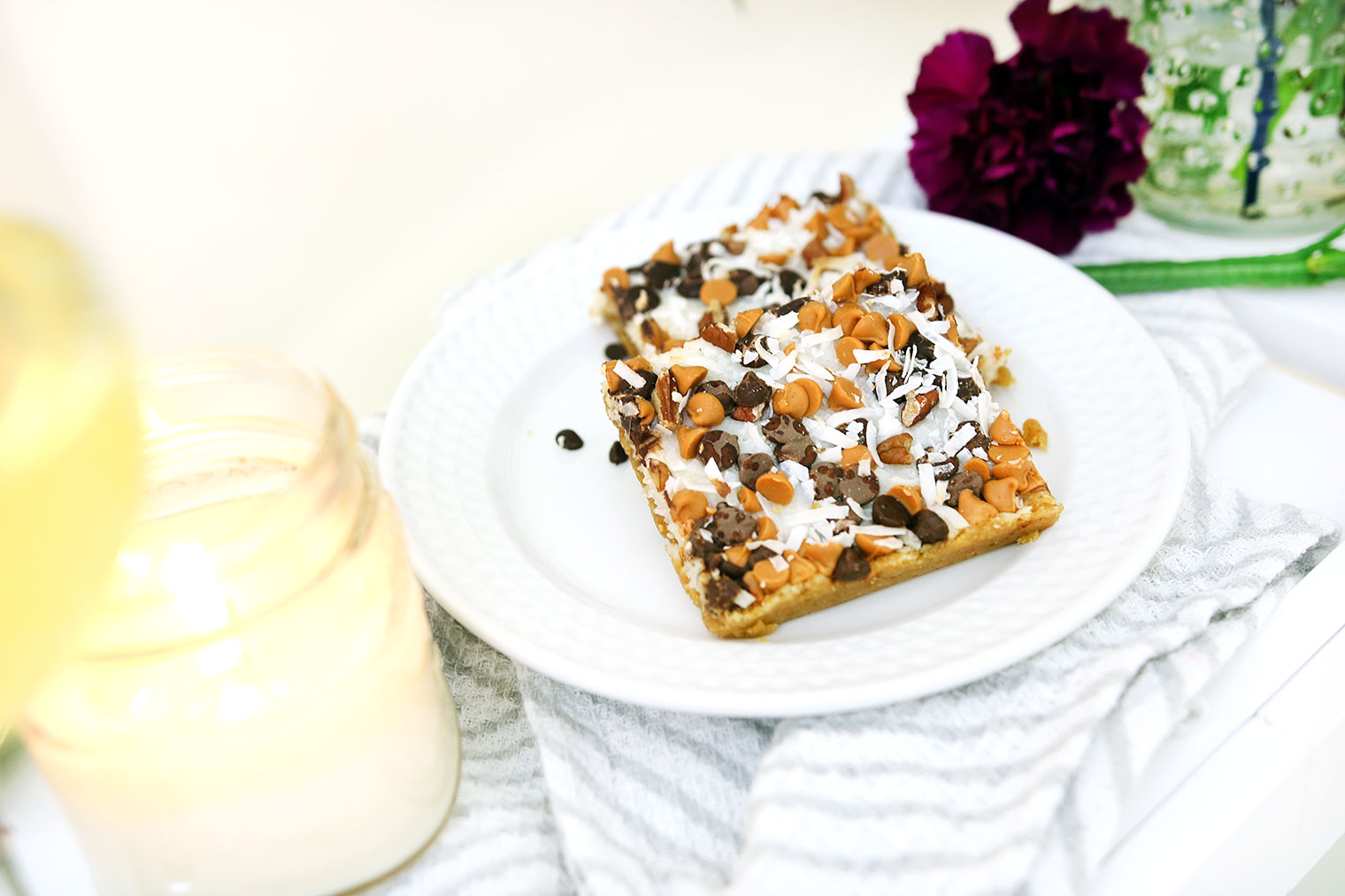 On this particular ME day, I went to a local grocery store and purchased some inexpensive flowers and a package of seven layer brownie bars from their bakery. Buying flowers for myself always cheers me up and so does anything with chocolate in it! 🙂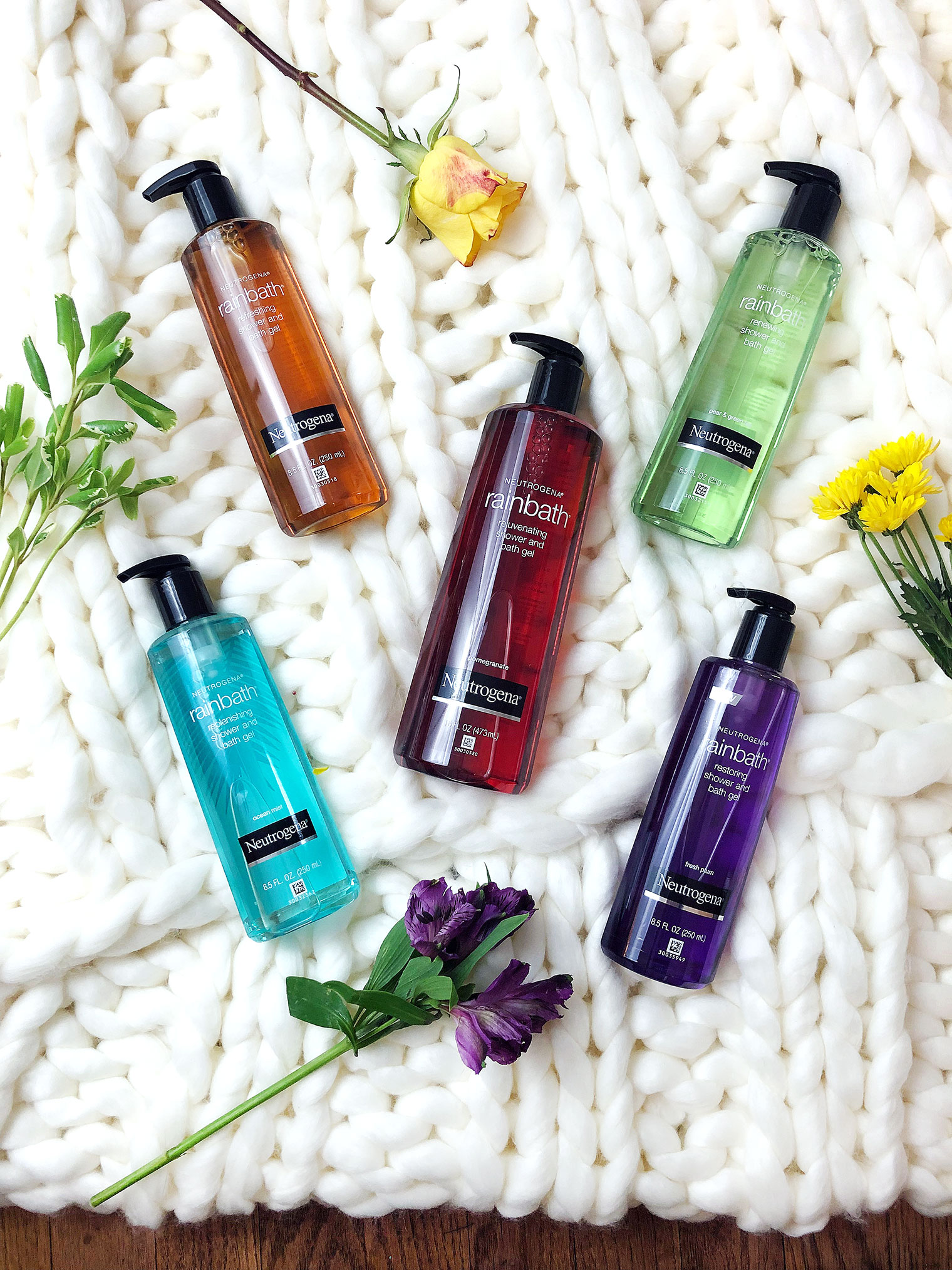 I love Fall scents this time of year and they always bring a smile on my face. Neutrogena Rainbath Refreshing Shower and Bath Gel comes in 5 refreshing scents: Original, Pomegranate, Fresh Plum, Pear & Green Tea and Ocean Mist. The Pomegranate and Fresh Plum scents are perfect for the Fall!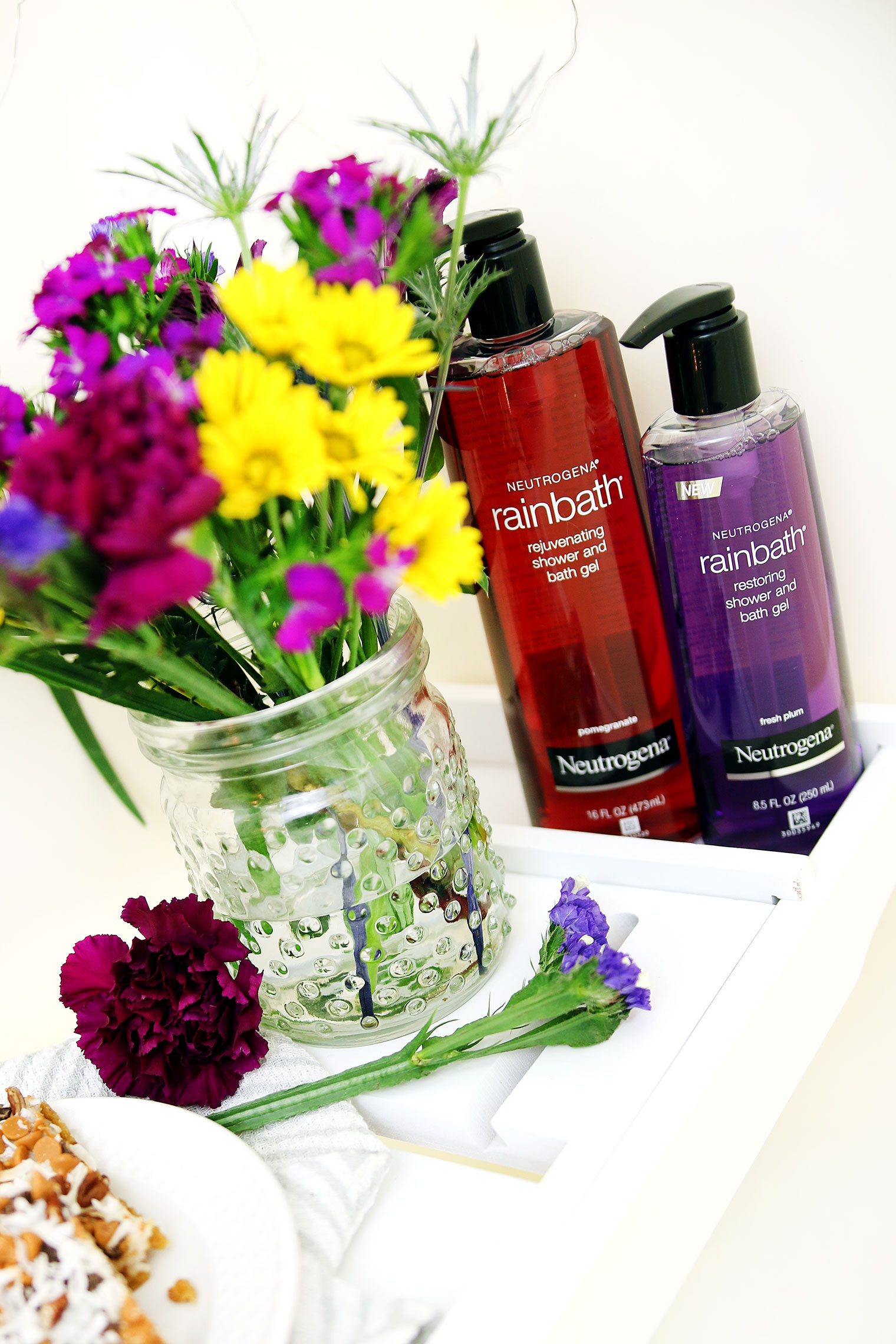 Neutrogena Rainbath can be used in a variety of ways, such as applied directly to the body, dispensed into a bath or for shaving. However, my favorite way to use the product is in a luxurious bubble bath! You don't need to add any other bubbles, it has the perfect amount with 4-5 pumps! And, the smell that you select will last your entire bath and you'll also smell so good after you towel off! The Pomegranate scent is my absolute FAVE, it is subtle, yet smells a little sweet yet tart with a bit of an aroma that reminds me of wine.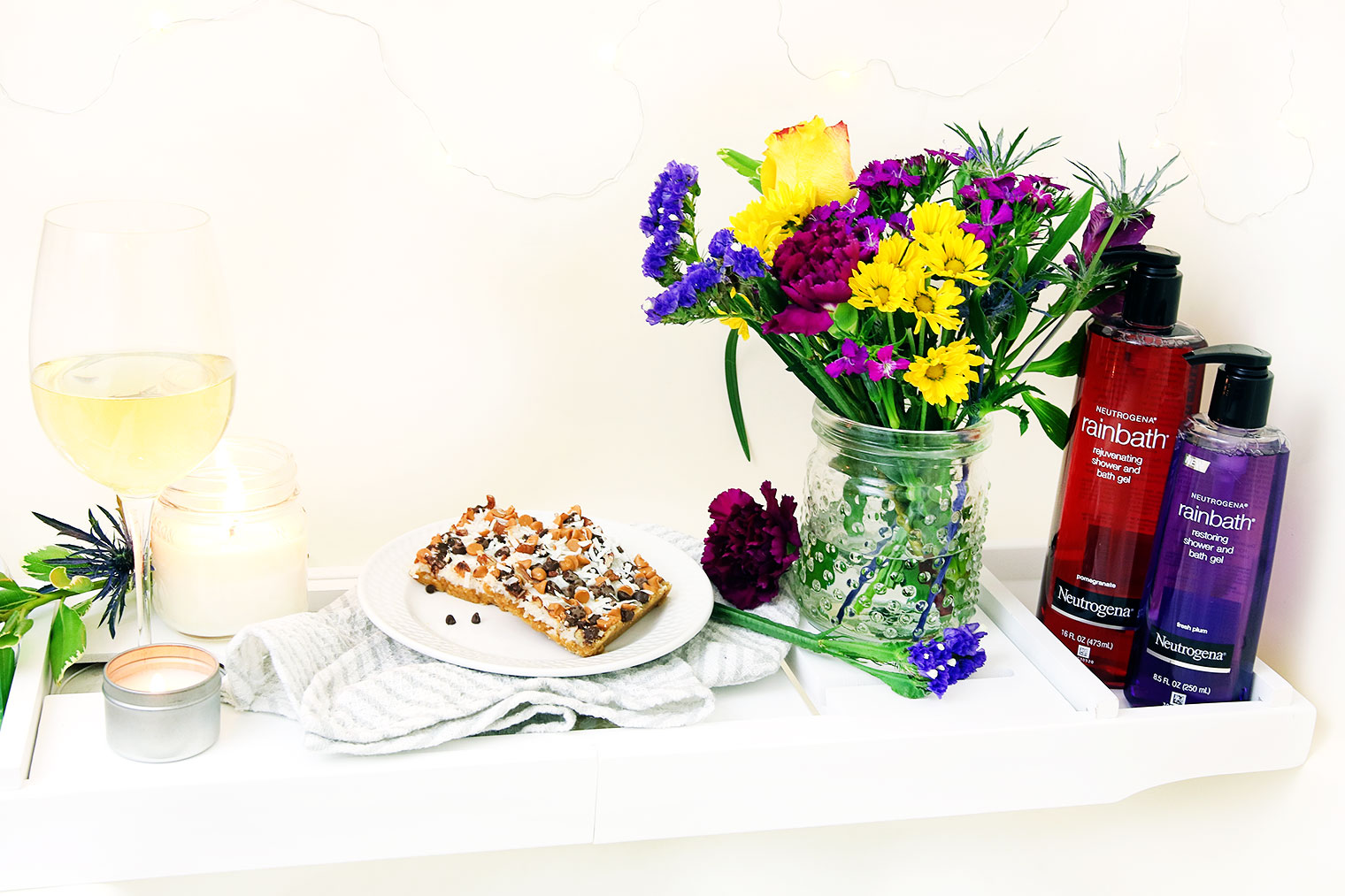 After a busy summer full of camp, play dates and vacations that are fun for the kids, mom deserves to kick back, relax and enjoy some well deserved ME time while their kiddos are back at school. Here are some other ways you can enjoy a ME day all to yourself:
How to Plan a ME Day:
At the beginning of each month, pencil in two open days that you can enjoy all to yourself!
Put away your to-do list on these ME days
Do something that you've pushed off doing and do it on your ME day
Some ME Day Ideas:
See a new exhibit at the art museum
Read a book at the park and bring along a little snack to enjoy
Go see a chick-flick at the theater by yourself
Spend an entire day to finish a book you just don't have time to read
Catch up on your favorite show
Do an organization project that you can finish in a day
Do a little clothes shopping at the outlet mall, etc.
Be sure to go in-store at Walgreens or Walgreens.com to purchase Neutrogena Rainbath to indulge a little on your on ME day!
You can follow Neutrogena on Facebook, Instagram and Twitter.
And you can follow Walgreens on Facebook, Instagram or Twitter.
SaveSave
SaveSave