Welcome everyone! Today I'm sharing my home decked out for Christmas, which is part of a blog hop called Christmas Tour of Home. This entire week, you can stop by and be inspired by a total of 23 homes (see info below!). This year, I decided to change up my tree to more of a farmhouse style look and I also got to decorate our recently renovated kitchen. I'm also sharing my front porch and other areas in my home. I hope you enjoy this photo-loaded post, which is full of holiday cheer! 🙂 Merry Christmas!
MONDAY
White Arrows Home | The Chelsea Project | Our Prairie Farmhouse |
Noting Grace | The Red Painted Cottage
TUESDAY
Celebrate and Decorate | Rain and Pine| Savvy Apron
WEDNESDAY
Curly Crafty Mom | Camelot Art Creations | Follow The Yellow Brick Home |
Mom Home Guide | Twelve On Main
THURSDAY
County Road 407 | Art and Sand | Simple Nature Decor | Sweet Parrish Place
FRIDAY
Deeply Southern Home | First Day of Home | Life on Summerhill |
Lemons, Lavender, and Laundry | The Aspiring Home
Now, let's get started with the front porch: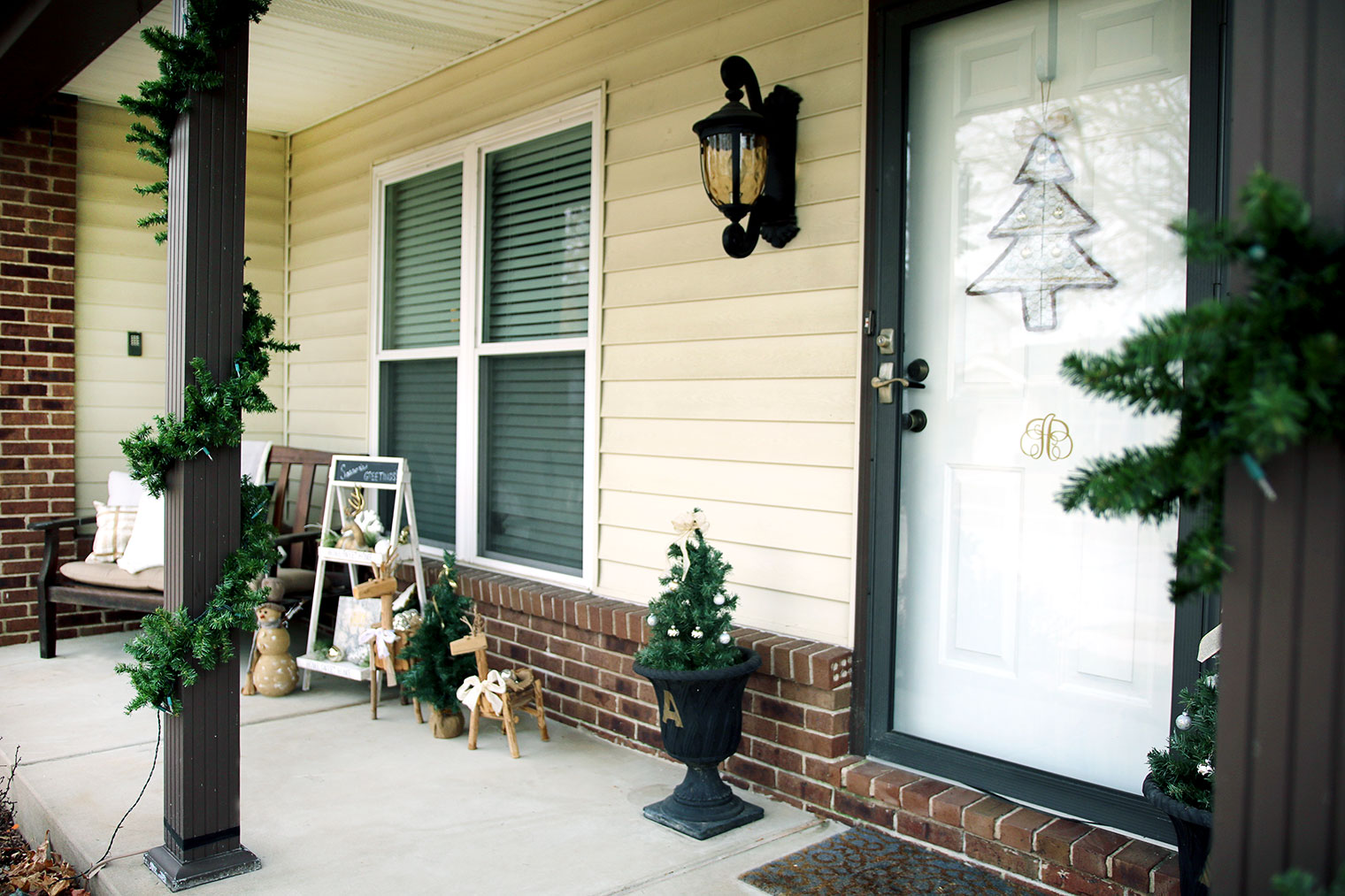 I always enjoy decorating this large porch every holiday! I usually change out the pillows on the bench, decorate the shelf ladder differently, change out what I have in the urns and I change the wreath on the door.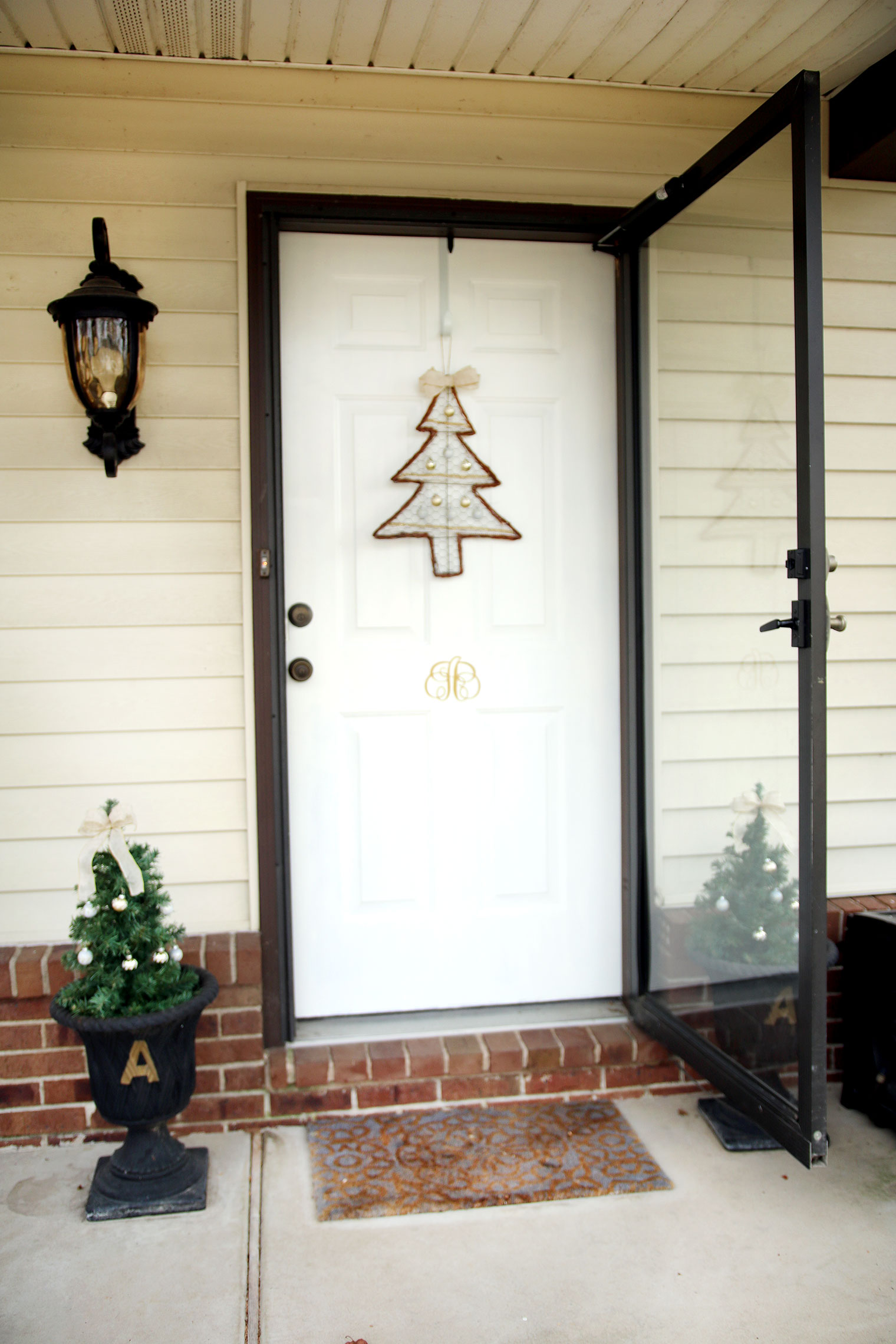 Last year, I made a Farmhouse Chicken Wire Christmas Tree wreath and it looks great on my white door! I did a Front Porch Makeover a couple of summers back and I painted the front door white (it used to be a dark brown color) and added a gold monogram to it. These monogrammed urns were another project I did several years ago.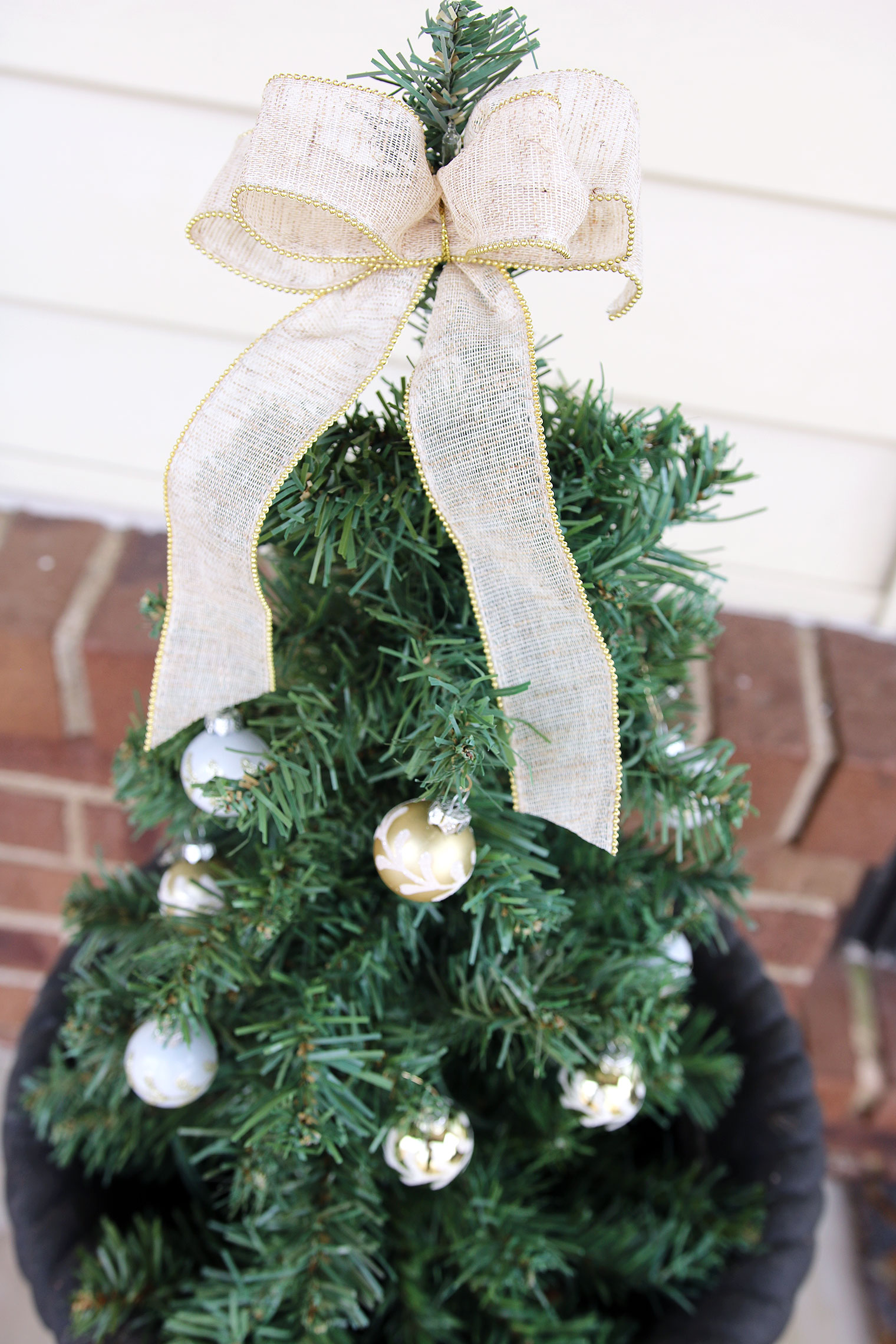 In the urns, I have mini topiaries that I topped with a bow and decorated with mini ornaments in gold and silver.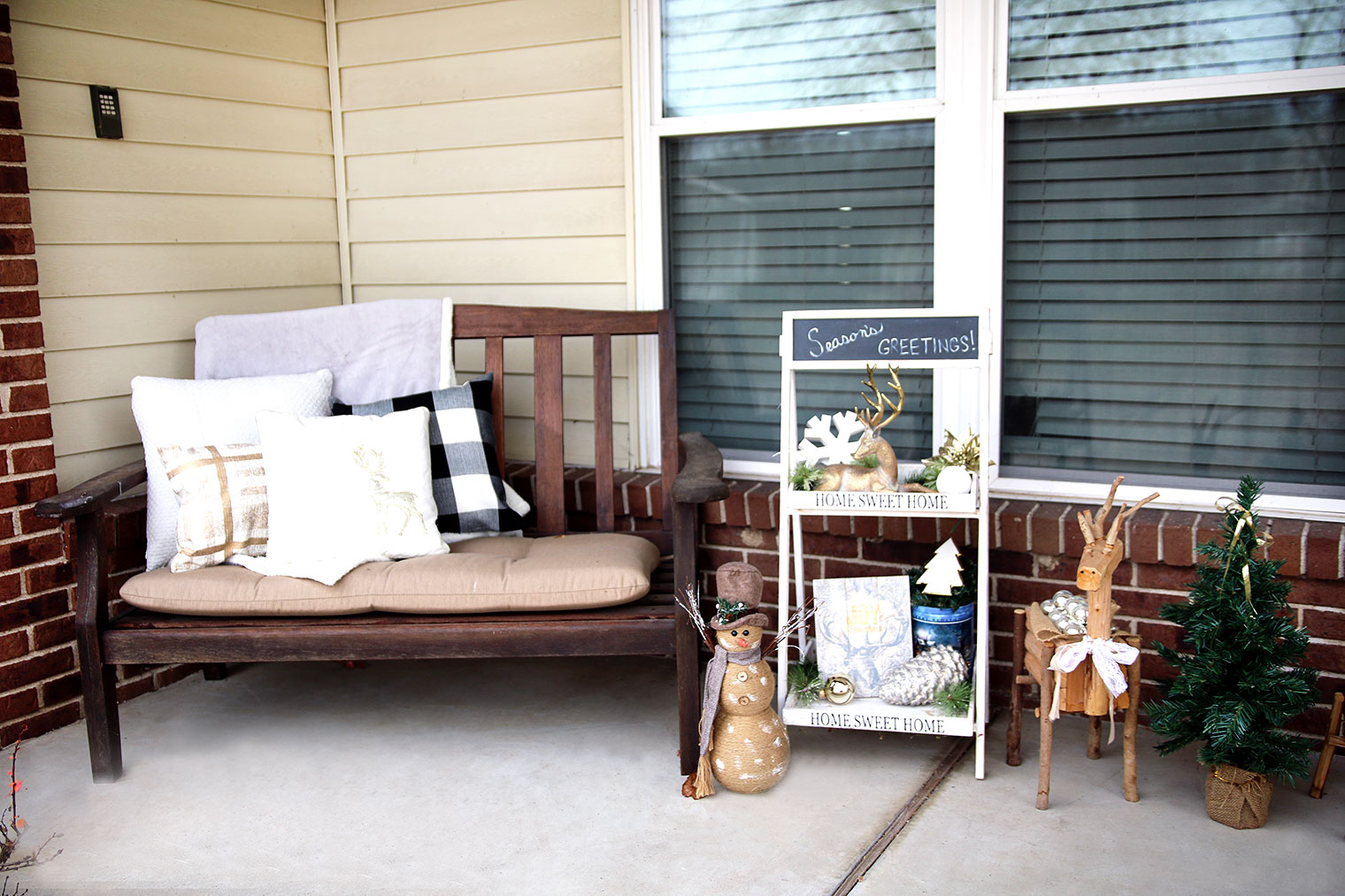 This is the other side of the porch. I really like to make the bench extra cozy, with a blanket and some pillows. Since this porch is covered, everything stays dry! Sometimes the wind does try to blow my pillows away, though! I have a shelf ladder that I got from the At Home store and it is fun to decorate differently each season. 
Here is a close up of the pillows. The textured white one in the back is from Here Today Stores (a local St. Louis chain), the plaid one in b/w is from Amazon, the plaid one in gold and white was made from my sweet blog friend Lauren Kim (Mom Home Guide) from a placemat at Target! The reindeer one is from Hobby Lobby. As you can see, I get my pillows from all over! 🙂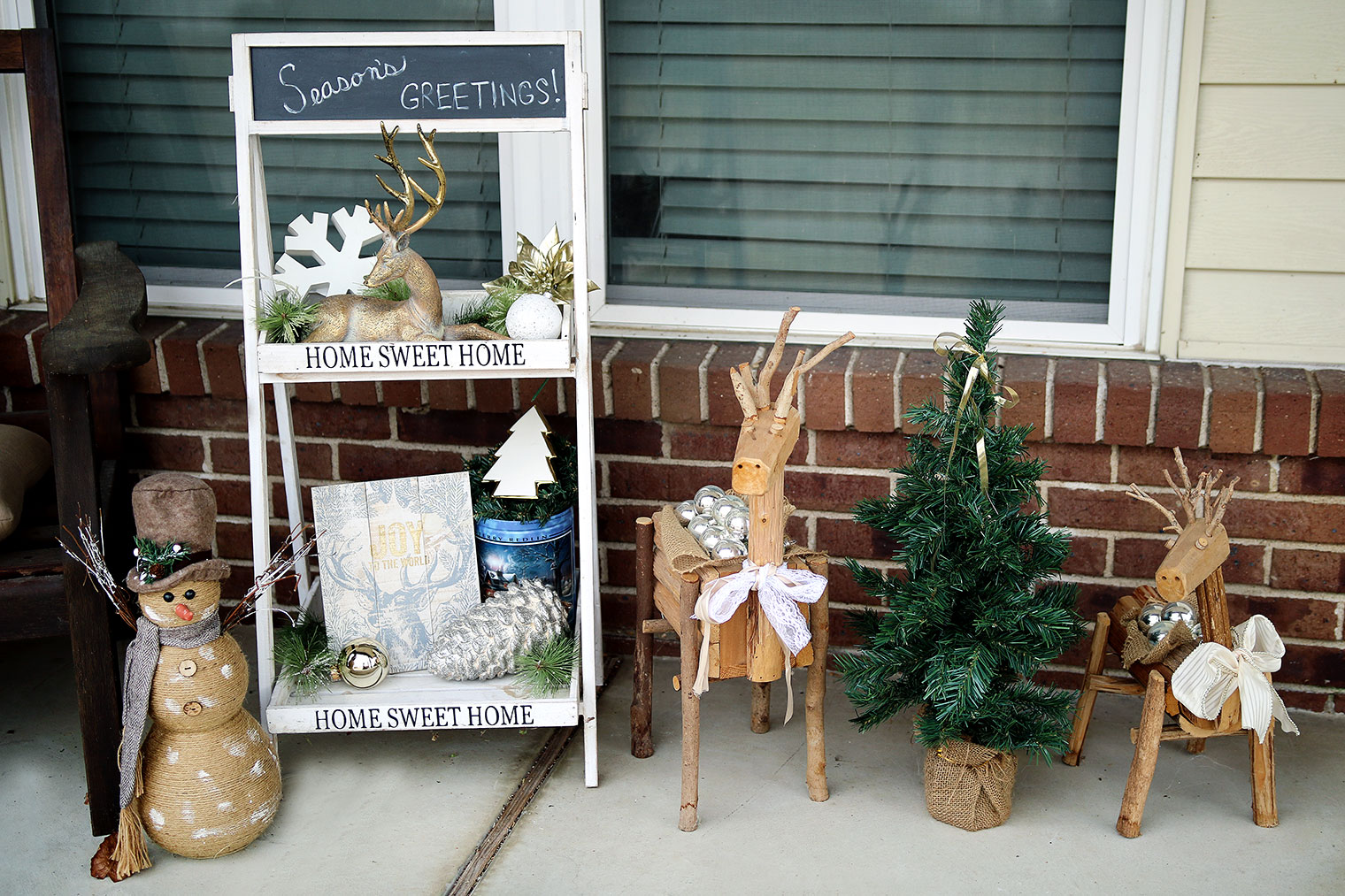 Just a closer view of the ladder shelf and my adorable wooden reindeer that I filled with ornaments.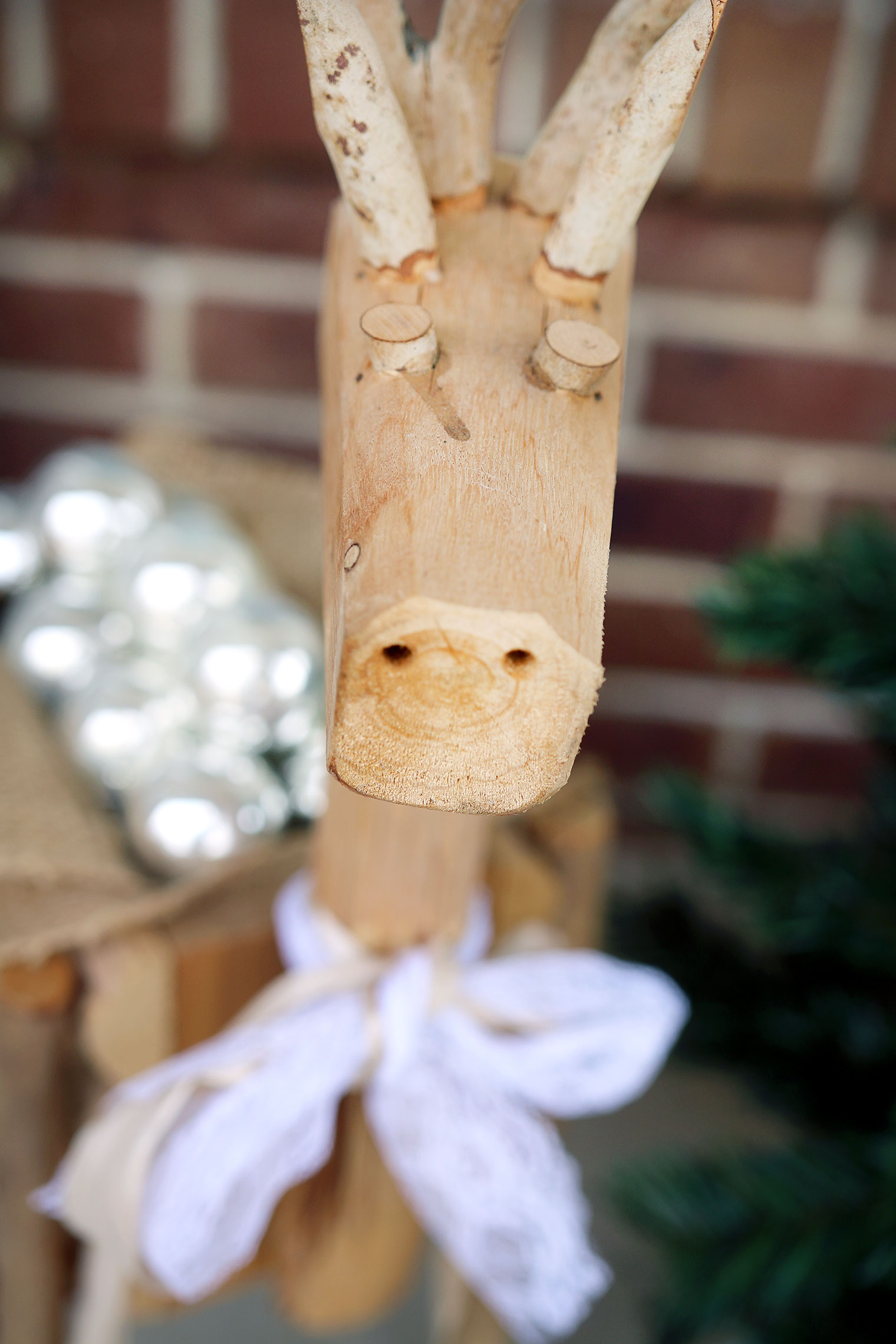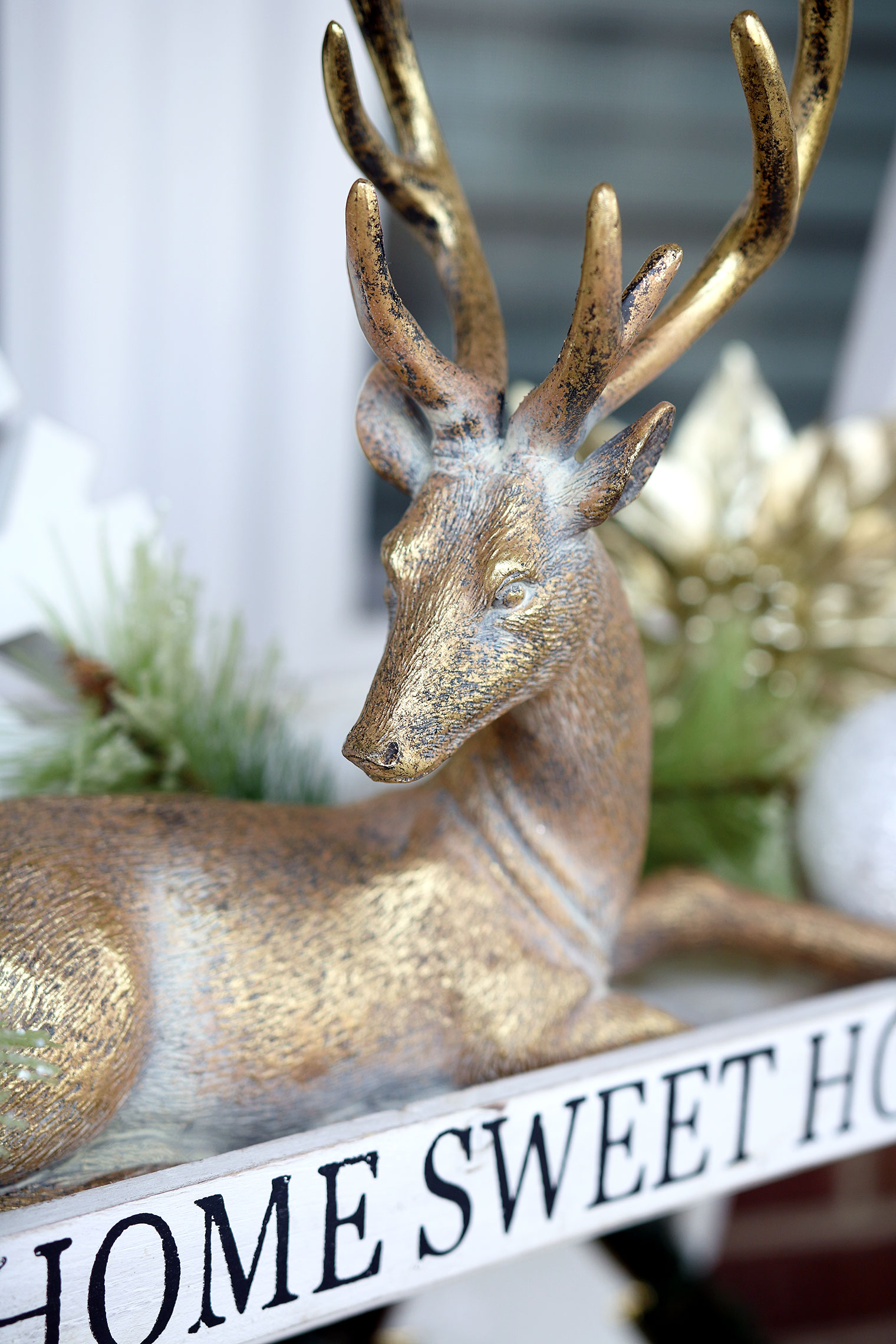 A couple of detail shots. 🙂
Now let's move to the inside of our home. We always have our tree in the living room by the front window. I change the ribbon about every 2-3 years and I also make a matching bow in the same ribbon for the top of the tree. We usually do a tree full of family ornaments, but this year I wanted to focus on creating a farmhouse style tree! I had a lot of fun with this, but I do plan to add some family ornaments to it still. 
I decorated the tree in neutrals with some pops of red. You'll see that I used two different ribbons and I also used lambs ear garland (and frosted lambs ear clips) on the tree. I just love lambs ear right now!
I found a lot of farmhouse style ornaments at Hobby Lobby. I just love these tobacco basket ornaments. I used them on my holiday tablescape, which I'll be sharing on Friday.
I got some cookie cutter ornaments, ribbon balls, pom poms, etc. You can see a closer view of the lambs ear garland in the above photo.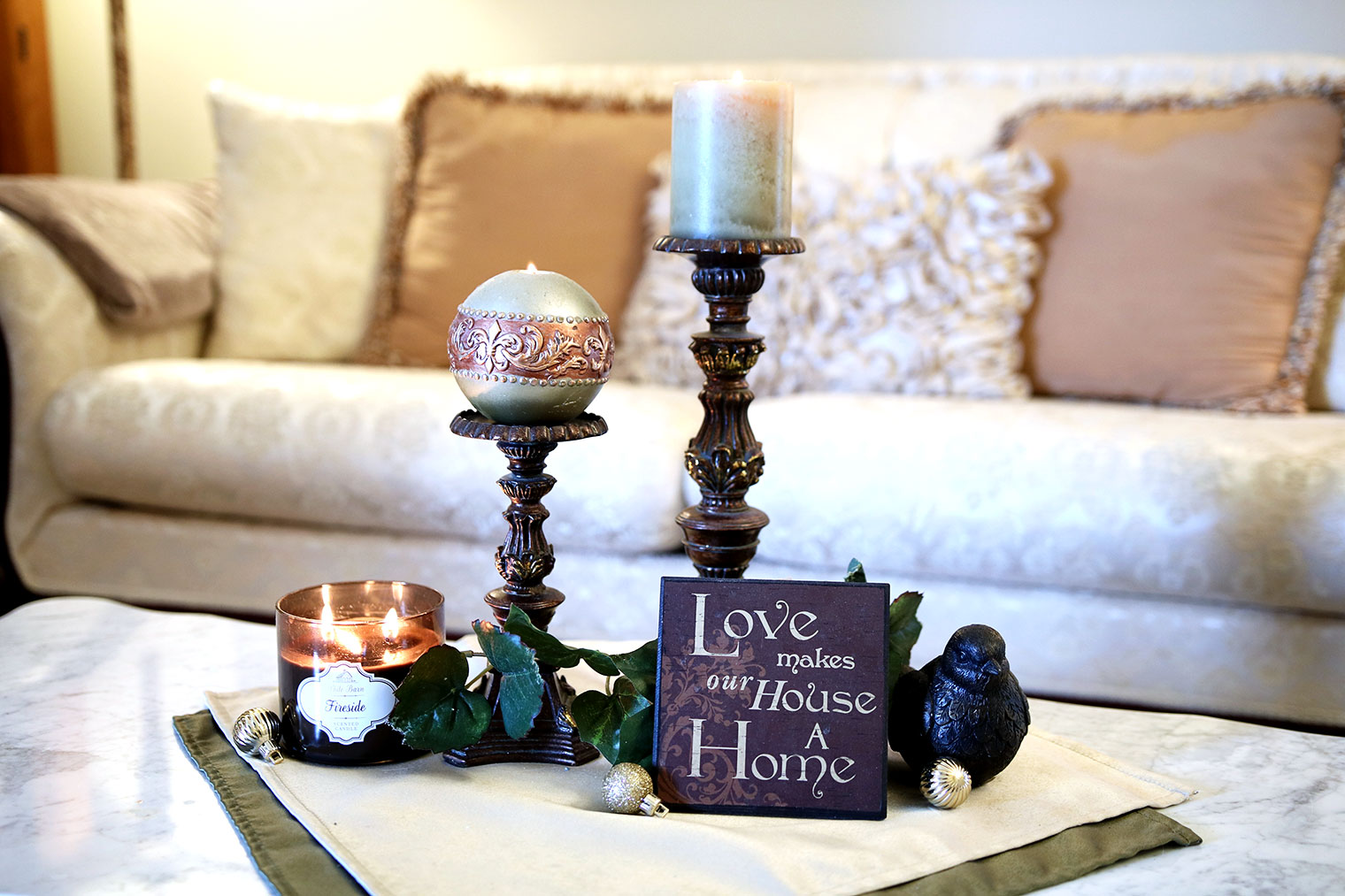 Here is a closer view of our coffee table in the room. I love to burn 3 wick candles from Bath and Body Works during the holidays.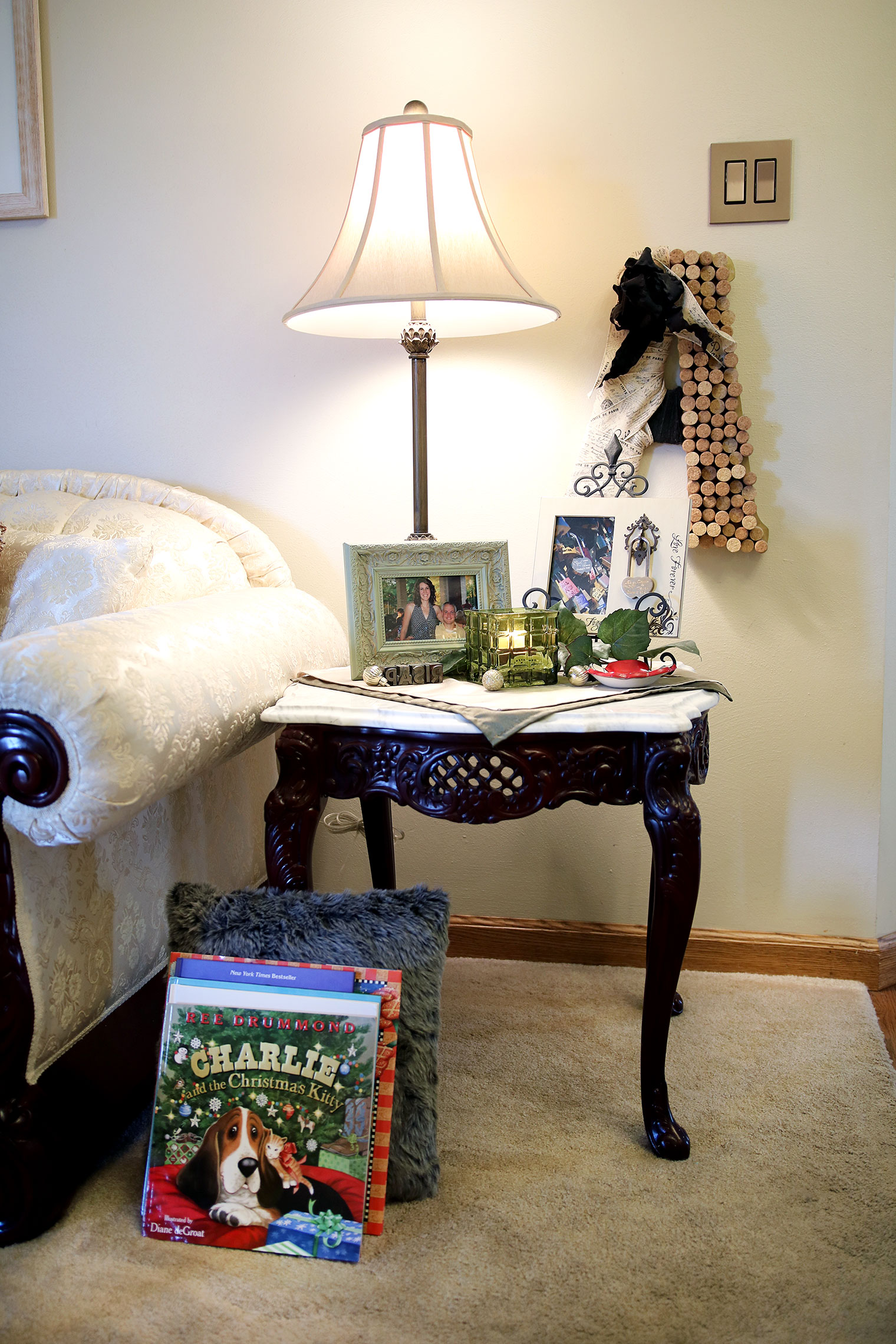 One of the end tables in the room. I always prop up childrens books against a pillow, because the kids love to lay around the Christmas tree and read them.
I enjoy changing up the wreath on this door for different seasons/holidays. I made this Tinsel Wreath with a Monogram Initial a few years ago. I tape all of my Christmas cards on this door.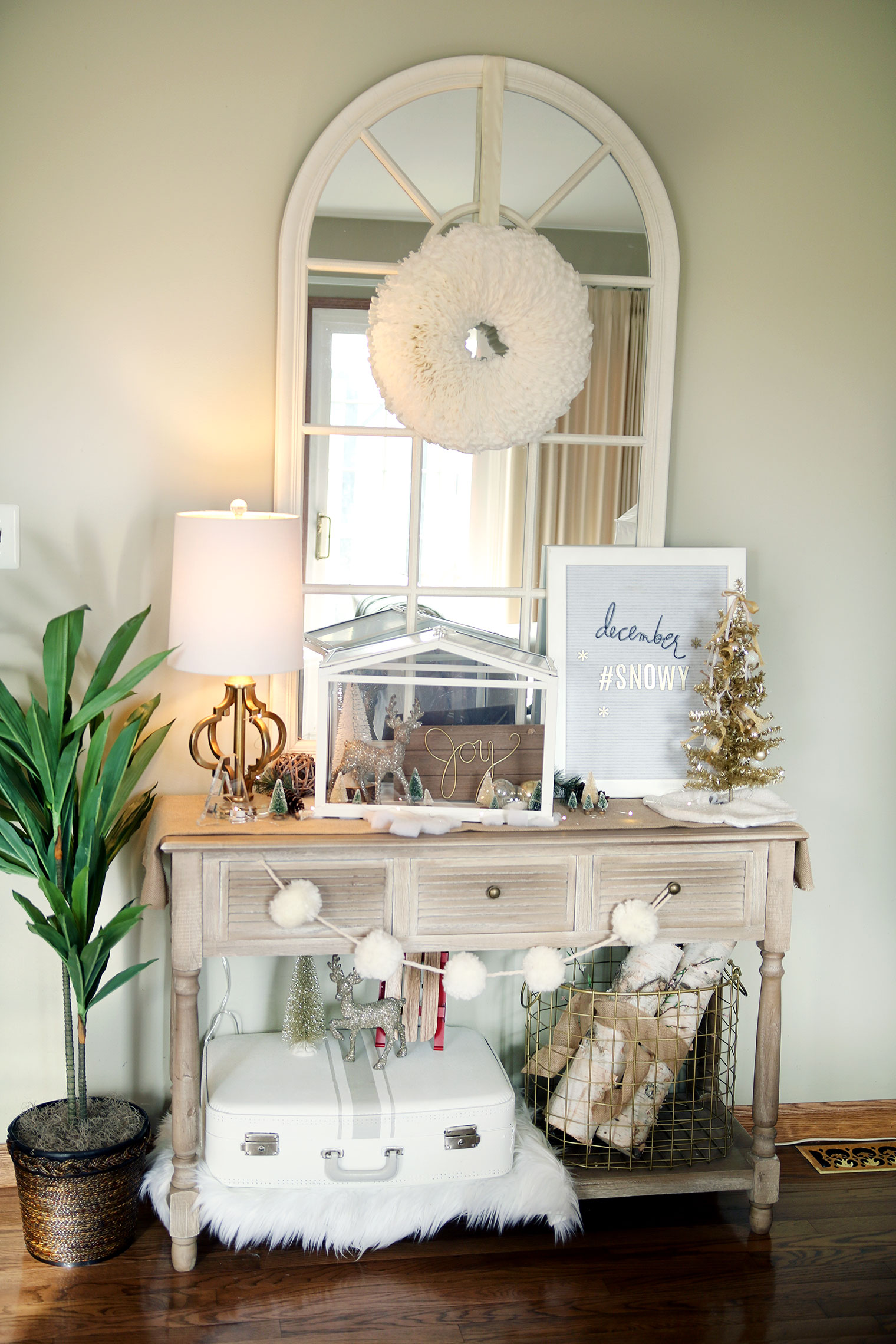 This console table is a few years old and from Hobby Lobby. Brian gave it to me for Mother's Day and I just love decorating it!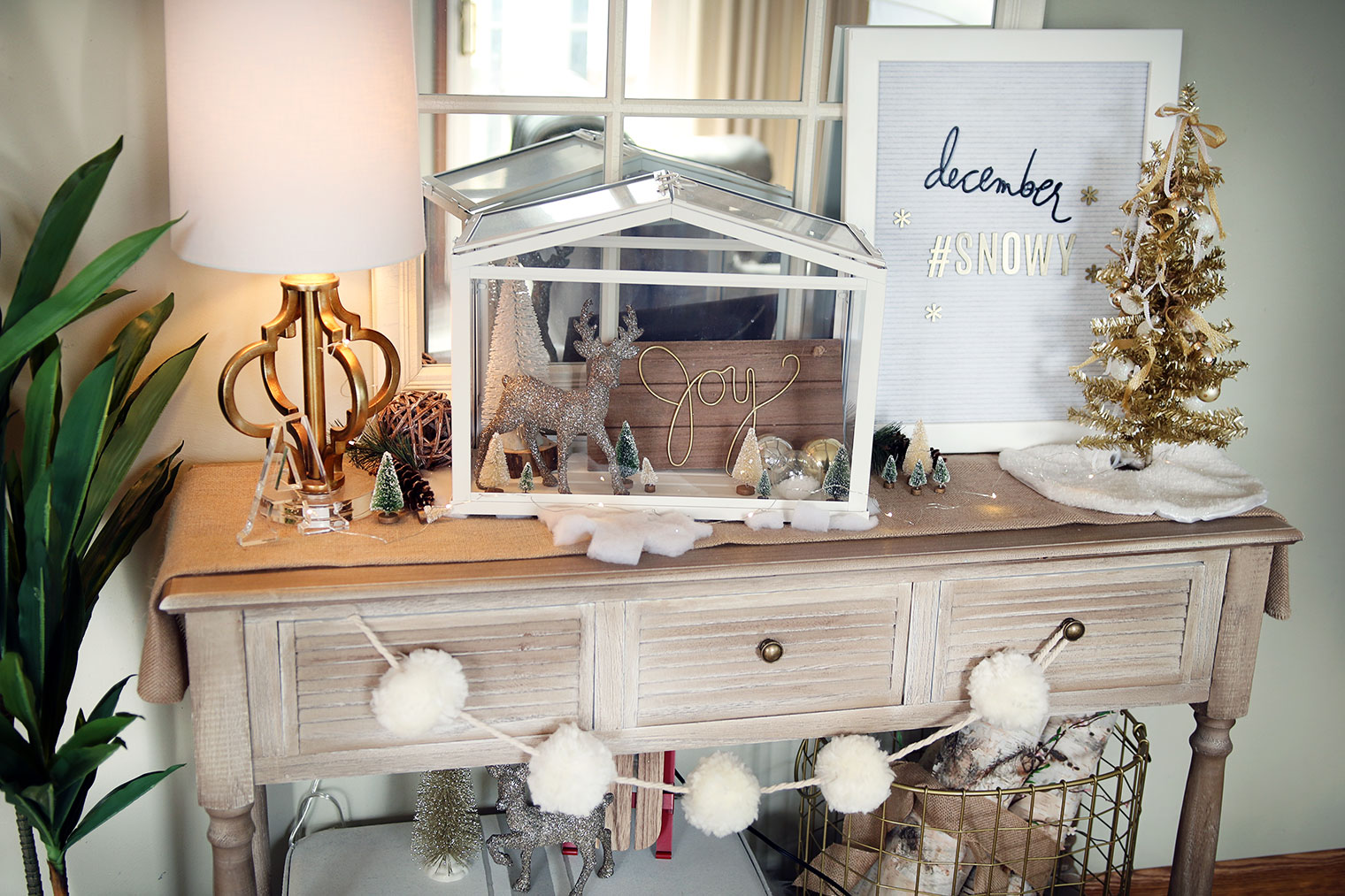 I found this cute snowball garland at Hobby Lobby and I always update the letter board every month. The terrarium is from IKEA and it is so fun to decorate the inside of it!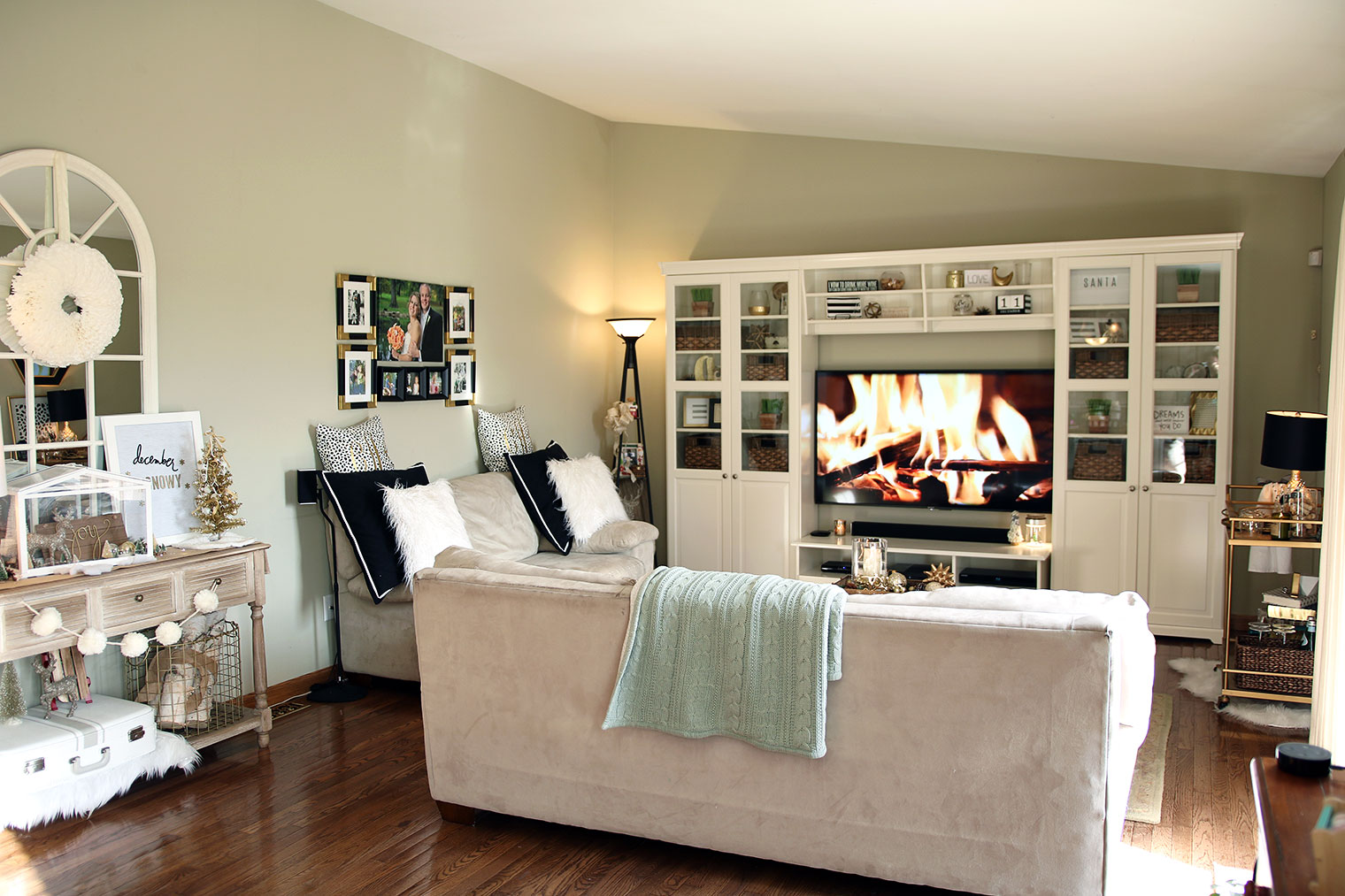 Our family room is my favorite space in our home right now! I love to turn on the crackling fireplace on Netflix and it plays Christmas tunes, too.
I got this oversized mirror tray from Hobby Lobby and it is so fun to decorate this time of year.
Now, let's move onto the kitchen! This is our first Christmas in the new kitchen and I was excited to decorate it. Here is how I decorated the little corner nook where I have my coffee area. I used a tea towel as a skirt for the flocked topiary, a 'Let it Snow' sign with a bottle brush tree on it from the Target Dollar Spot, then I put one of those tobacco basket ornaments up on the stand with some more bottle brush trees, a metal house below it and an acorn. I just love this little cozy nook!
Decorating our new serving area was so much fun! Ahh… I have been wanting a space like this since we moved into this house.
I just love to decorate shelves and it was nice this time around, because I only had to swap out the Fall decor items with Christmas decor. I found a Noel metal bucket and placed the plant in it on the top shelf, on the middle shelf I super glued a mini topiary to the bottom of a lid to a mason jar and filled it with snow. I did this again on the other side, but with a different mason jar. On the bottom shelf, you'll see a mini wreath that is dusted in 'snow'- I found it in the Target Dollar Spot.
I try to repeat the same thing on different shelves on the other side, so you'll see another mason jar/tree combo and another snow dusted wreath on this side of the open shelving. 
Here are the mason jars that I placed a mini tree in with some faux snow. These were really easy to make and they are perfect for a filler! You'll see I used two different kinds of mason jars.
I found this adorable 'Silent Night' sign at HomeGoods. The day that I bought it, my daughter came home from school with this exact verse for her memory work. What a coincidence!
Hobby Lobby always has THE best fillers! I filled this basket with acorns, ornaments, etc.
Shop This Post:

I really enjoyed decorating my new two tier stand as well! I had to run to about 3-4 different stores to find items that would work just right in it. It am so particular about it, I have little folded paper towels, etc. under certain items just to get them to stand up at the right depth. I filled the bottom with mini acorns, ornaments, etc., so you can't see the paper towels! Lol!
Shop This Post:

Here is a close up of the two tier stand with all of its holiday goodies galore inside of it. If you don't have a 2 or 3 tier stand yet, GET one! They're so fun!
Here are some detail shots of items in the two tier shelf:
I found this ceramic Peppermint Chips jar at Hobby Lobby and it is tucked away a bit in the 2 tier shelf, so I wanted to share a photo of it by itself. They also had a Chocolate Chips one.
Shop This Post:

I've been raving about this little tree on my Instagram Stories. I found it at Target and it is just the perfect size! The white color goes perfectly with my farmhouse style decor. I haven't seen anything like it, usually these antiqueish trees are green.
I hope you enjoyed my Christmas Home Tour! 🙂 On Friday I'll be back to share my Christmas Tablescape along with another Holiday Blog Hop. Hope y'all have a wonderful Christmas season!