Welcome to Thursday Fashion Files!
Welcome to Thursday Fashion Files with Carrie at Curly Crafty Mom and Jill at Doused in Pink. I'm excited to have you here and would love to have you link up one of your latest outfits at the bottom of this post. Don't forget to check out our Thursday Fashion Files Pinterest board and click HERE if you'd like to contribute!
I will be taking occasional Co-Hosts for Thursday Fashion Files, if you are interested you can email me at carrie (at) curlycraftymom (dot) com to set up a date.
Shop This Look:

Hey everyone! Last week my husband and I enjoyed a nice and relaxing vacation in Maui. Hawaii has been on my bucket list forever and it was just as beautiful as I imagined. Today I wanted to share some of the outfits and swimsuits I wore while in Maui, starting with this beautiful high waisted floral bikini that is from Amazon, of course! I added an inexpensive pair of statement earrings, my packable beach hat and a flower I found on a nearby tree to my hair to complete this look. It's hard not to look relaxed and glowing in Hawaii with all of the beauty all around you.
Shop This Look:

This high waisted floral bikini comes in several colors and you could easily mix and match them. This was hands down my absolute FAVORITE swimsuit I found on Amazon this summer! I'm thinking about snagging a couple more pairs in other colors, so I'm set for next summer!
See my Original Post for this outfit HERE.
For our flight there, I wanted to look cute because I knew we were going to receive a lei greeting at the airport (and resort!), but I also wanted to be comfortable since we had such a long flight. I decided to wear my You + Pio Paper Bag pants and a simple white tee. These white slides are from Target, but they're completely sold out.
Here is the same outfit, but I'm on the beach enjoying my first Hawaiian sunset. 🙂
See my Original Post for this outfit HERE.
This cute outfit is from my Summer Stitch Fix box. It was perfect for vacay at Hawaii with its bright cheerful colors. 🙂
See my Original Post for this outfit HERE.
This is a fun little midi dress in a tropical print and I wore it around the resort with my swimsuit underneath. I received it from PinkBlush last summer and I just adore it. It ties at the waist. Unfortunately, it is sold out.
Shop This Look:

This high waisted black pom pom bikini is so fun! It comes in a variety of colors and is less than $15 on Amazon!
See my Original Post for this outfit HERE.
Shop This Look:

We attended a luau (my first!) while in Hawaii and I wanted to have a special dress for it. I purchased this pink palm dress from the Gibson line and it took me awhile to get it, because it kept selling out. I have to say, it was perfect for the special evening and I'm glad I splurged on it! Unfortunately, the dress is no longer available.
See my Original Post for this outfit HERE.
We did an 11 hour day during our trip to Maui to drive up and then back down the windy (curvy) roads to Hana. I'll be sharing a post about this journey soon on the blog. I knew I wanted to be comfortable, since we'd be in the van all day with our driver and getting in and out to explore. I wore this stretchy polyester dress from REI, which is breathable and offers UPF 50 sun protection. They only have one style left HERE on their site. The dress also has pockets and is so cute with a pair of colored sneaks.
Another photo of me in this comfy dress out on a peninsula on our way up to see Hana.
See my Original Post for this outfit HERE.
Shop This Look:

We did a sunset dinner boat cruise one evening and it said not to wear clothing that goes below your knees, because we would board the boat from the beach and we could get wet. I knew it'd be hot on the boat, so I wore an all white outfit (which showed off my new Maui tan perfectly) and I brought along a kimono (not pictured) incase it got breezy. I never did need the kimono and I left it in my bag. The white top is from my last Summer Stitch Fix box and the white shorts have a scalloped hem and are 60% off J. Crew Factory right now.
Shop This Look:

Just a closer view of these cute scalloped resin earrings that I found at Target.
See my Original Post for this outfit HERE.
Shop This Look:

I received this adorable outfit from You + Pio right before the trip and I packed it along as an 'extra' outfit. It turns out that it was perfect for a day where we left the resort and explored a little via Uber! 
Shop This Look:

This was my first ever Amazon swimsuit purchase and oh do I love it! It's a one piece, so perfect after a day of eating too much and yet it looks almost like a 2 piece (especially if you look at the back side of it, which you can see HERE). It has a sexy front dip in the back yet isn't too cheeky in the back.
See my Original Post for this outfit HERE and HERE.
Shop This Look:

This pink/white striped jumpsuit (also comes in other colors!) is such a steal on Amazon. I recently shared a post where it is styled 6 ways (with the help of 2 other bloggers). I wore this out to dinner our last evening in Maui.
Hope everyone has a wonderful Thursday! I can't wait to see everyones outfits for this week!
Link Up Guidelines:
1. Feel free to grab our button to display on your blog sidebar. Help spread the word and share about our link up community.
2. **By adding your links, you are stating that you have the proper licensing/rights to the images in your blog posts.** 
3.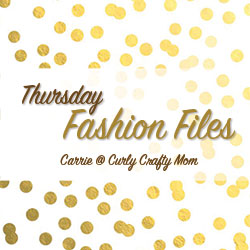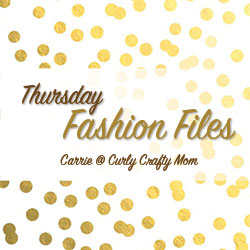 My Pick from Last Week's Party: