Today I decided to try out a recipe that they have been raving about on the Babycenter Bargain thread that I follow. After seeing numerous posts about how delicious these bars are, I decided I'd make them this Saturday afternoon.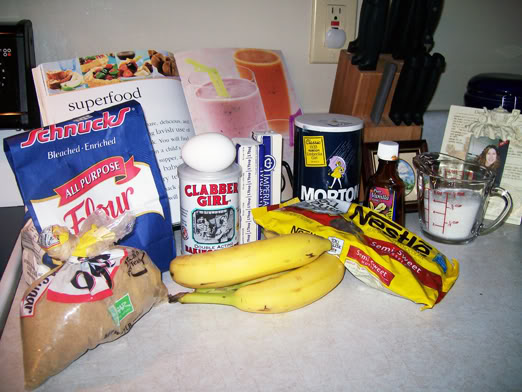 The ingredients… and, no, there really isn't two sticks of butter in this, 3/4 of a cup… so, still, its A LOTTA butter, but not 2 sticks. lol.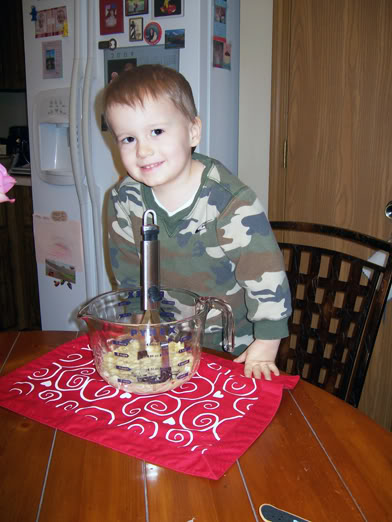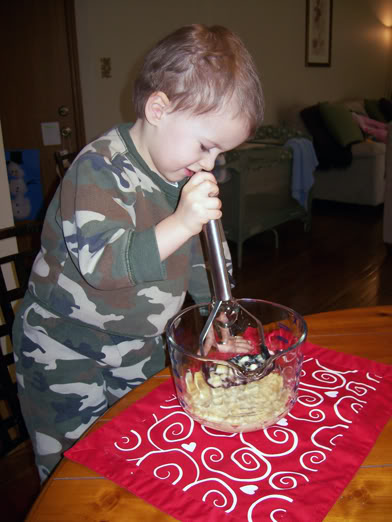 I thought I'd get some energy out of Nathan, so I let him mash the bananas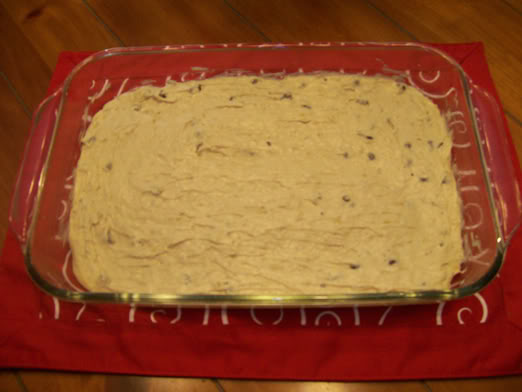 Ready to go in the oven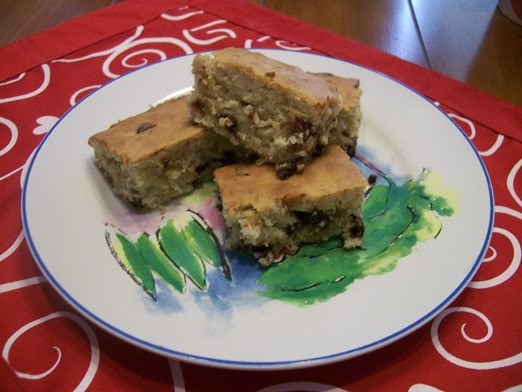 Here they are…YUM! Yes, I really had 3 of them. I couldn't help myself… they were that good!!!!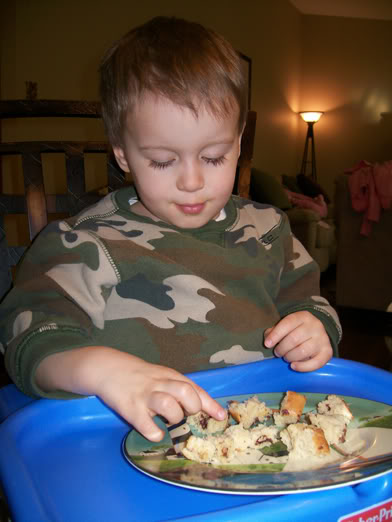 Even Mr. Picky loved them!! So, I'd say they were a SUCESS!
Below is the recipe… and, tomorrow, I am going to make the other all too popular recipe on the Bargain thread– Meatloaf on a Bed of Potatoes in the Crockpot. I haven't been doing much baking or cooking (thank goodness for carry out), so I thought it'd be fun to try out these two recipes this weekend. Another recipe that is popular on there that I want to try at another time is their Sticky Chicken recipe.
Banana Chocolate Chunk Bars
¾ cup butter
2/3 cup granulated sugar
2/3 cup packed brown sugar
2 teaspoons baking powder
½ teaspoon salt
1 egg
1 cup (2-3) mashed ripe bananas
1 teaspoon vanilla
2 cups all purpose flour
6 oz semisweet chocolate pieces
Grease 15x10x1 inch baking pan. In a bowl, beat butter, granulated sugar, brown sugar, baking powder, and salt. Beat until combined. Beat in the egg, bananas, and vanilla. Stir in flour. Add chocolate pieces.
Spread into baking pan. Bake at 350 degrees for about 25 minutes or till golden. Cool. Cut into bars.