Today was a hectic day… I got a lot done.. Jeremi had to work again today, he works for a beer distributpr and everyone in the office has to work Mardi Gras weekend as we have a huge parade here in Saint Louis. So, he was gone at 8am. I gave Autumn her daily bath (yes, daily!) because she always has a huge morning poop and then there is the spit up and constant drool. We go through 8 bibs a day on her right now. After her bath, I made a scrambled egg with mustard for Nathan and I had cereal. Then, I fed Autumn and she fell asleep so I put her in the swing… thank goodness she stayed asleep because I had to get the ingredients in the crockpot. So, today I decided to try the other recipe that everyone is raving about on the Bargain Board which is Meatloaf on a Bed of Potatoes in the crockpot!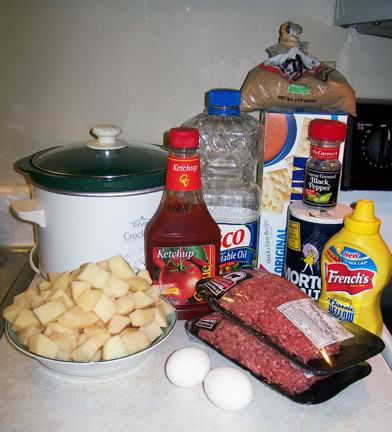 The meat is ground sirloin, which is not cheap– 2 lbs was almost $9. I am guessing it needs to be ground sirloin since it is leaner because this cooks in the crockpot so hence no draining the meat. I must add, the final product was not greasy at all. Also, you'll see vegetable oil here but the recipe calls for Olive oil… which I didn't realize I was out of.. but, the vegetable oil did just fine. I also didn't want to buy a jar of Dijon mustard and the French's mustard did just fine as well…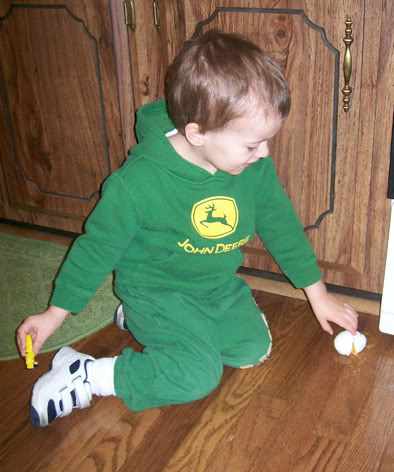 I am famous for dropping eggs… I was just really rushing and trying to get the ingredients together and in the crock pot before Autumn woke up… I am sure Moms of new babies will understand this… Nathan was teasing Mommy for dropping the egg, so of course, I had to snatch a picture of him checking out the egg.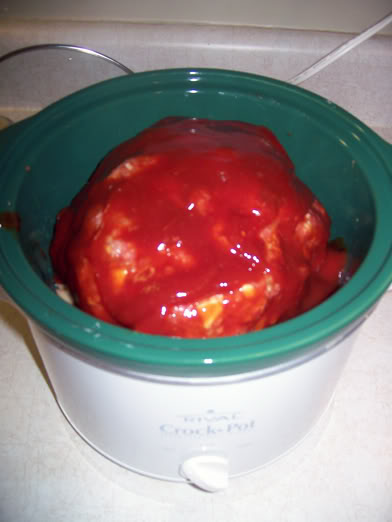 There, its all in the crock pot, ready to cook me dinner.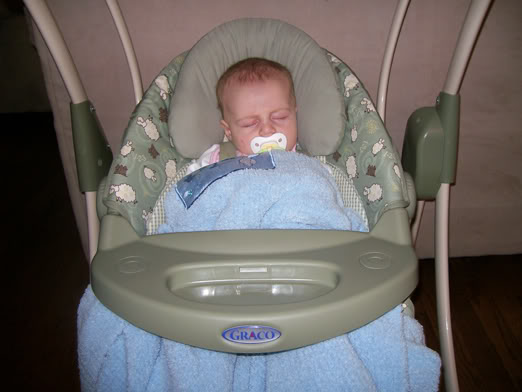 Sleeping Beauty… doesn't she look so serious in her sleep? Well, while she slept I finished cleaning the hallway bathroom and got it done JUST when she woke up and started to cry. Good timing!!
Then, we ran over to Babies R Us… I did their Pampers wipes deal yesterday but couldn't use the $15 giftcard they gave me till 6 hours later. Grr. So, of course that meant I had to take the kids there by myself again today. I got 2 packages of bottles (I need more), Huggies Overnight diapers for Nathan and freezer milk storage bags.. I am freezing my milk on Fri. and Sat. nights when I pump on one side at her 3am feeding. This way I can build up an emergency/backup supply in my freezer.
Ok, so back home… I feed Autumn, then Nathan and I eat a simple lunch. Feed Autumn again and she is sleeping realllly good so I try putting her in the swing and jackpot!! She slept 2-3 hours. Nathan and I worked on a big project while she was asleep, organizing Autumn's closet and drawers. I pulled 90% of her 0-3 mo. clothes out and put them in a storage bin. Then, I organized her sock drawer… I will have to post a pic of this later, it is sooo much better then it was.. its the small things that matter, right? Then, I organized her clothes in her chest of drawers better…and, cleaned up Nathan's room a bit. I also ironed my work pants and her baptism dress and I finally stored it away. I got a lot done with my free hands!!! Jeremi came home during part of this so that helped too, as Nathan and him went downstairs to play.
Ok, so duing all this… dinner was just cooking away for us in the lovely crockpot. 4:30pm came around… and the meatloaf was done!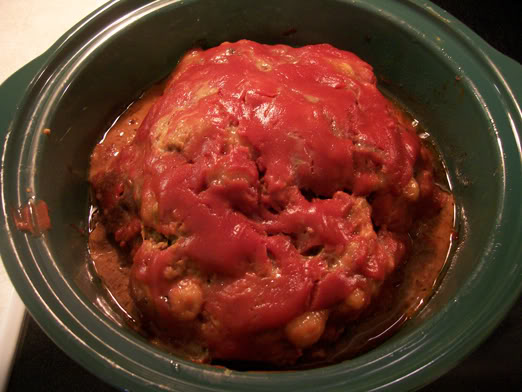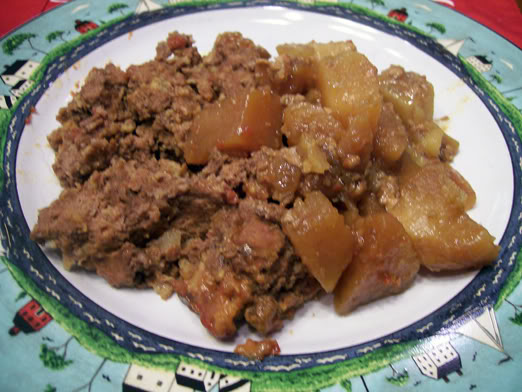 Yummmm! Believe it or not, this is the first time I've ever made meatloaf. It was reallly good and we both have enough leftovers for our lunches tomorrow. I will def. be making it again! The meatloaf was tender and moist with great flavor and the potatoes were done and they also had good flavor.
Here is the recipe:
Meatloaf on a Bed of Potatoes (Crockpot recipe)
2 T olive oil
3 large russets, cut into 1 to 1-1/2" chunks
2 lb ground sirloin
2 large eggs, beaten
3/4 cup crushed saltine crackers
3/4 cup ketchup
2 T dehydrated onions (optional)
1 tsp salt
Freshly ground black pepper
Topping
3/4 cup ketchup
1/3 cup brown sugar
1 tsp Dijon mustard
Combine oil and potatoes in crock pot, toss to coat. Spread in an even layer on the bottom of the crock.
In a large bowl, combine beef, eggs, crumbs, ketchup, onion, salt and pepper. Mix gently, do not compact. Shape into oval or round, place on top of potatoes. Spread with topping.
Cover and cook on High for 1 hour. Reduce heat to Low and continue to cook for 7 hours, or until a meat thermometer reads 160º to 165ºF.