I met Janna on BBC after she received Nathan's name TWO years in a row for a Christmas exchange. She got me into the Mature Mama's thread and we've kept in touch ever since. She might even make a trip to St. Louis with her May 06 girl Sam and her brother this summer. She's actually from St. Louis (Clayton) but lives in Colorado now.
Janna is one of the most giving people I know… and, she's a shopaholic like me! Ever since I've been pregnant and since I've had Autumn, she has been mailing me boxes and boxes of baby girl clothes. I think she has sent 5 boxes in all? She is a nanny and gets a lot of these clothes from her boss and previous bosses daughters. I have been paying her shipping and formula checks in return for the clothes! lol!
I wanted to share with you the latest JANNA BOX which was awesome! We are talking almost 90% Gymboree stuff and even a lot of Gap clothing. THANKS, JANNA!!!!!!!!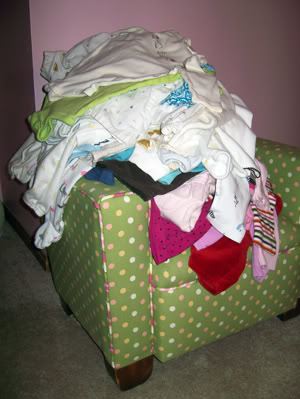 Here is the MOUND of clothes she mailed this time… plus she sent a pair of Children's Place sandals that is not shown.
Some of my favorites from the bunch…