Nathan moved to his crib at 4 months old and now Autumn is spending her first night in the crib at 7 months old. I have no idea why I waited so long to move her to the crib, but I think she is a lot more comfortable now that she can stretch out and has a mattress to lay on. I am looking at her bare bassinet right now and I am so sad that my little girl is growing up so fast. I know there will be nights where I will bring her to bed with me still, but for the most part she will be sleeping in her room. I am still working on getting her out of the swaddle, it seems some nights she wants one arm out and some she will do great with both arms out. So, we are making a little bit of progress… I also took the crib bumpers off her crib for now since she is so squirmy and I feel 'safer' knowing that they are off. I will probably put them back on in a few months.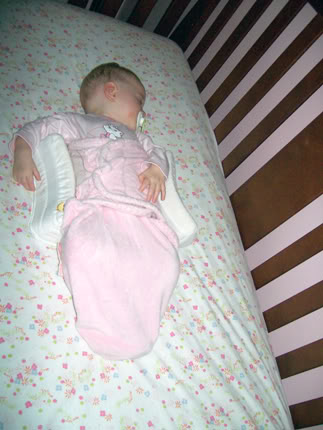 Autumn asleep in her crib
Tonight we also had the Little Gym and I have had a cold since last night so it has been a long day for me with work and then the Little Gym. I am so glad Autumn did not put up a fight to sleep in her crib as the last few nights she's been sleeping horribly, which is unlike her… So I was a bit of a zombie today. Hopefully I will feel better tomorrow. On our way out of the mall from the Little Gym, I got a lemonade and pretzel. Guess who gave Nathan half of my drink when we got home? JEREMI! Ughhh! So, I hope Nathan doesn't land up with my cold now!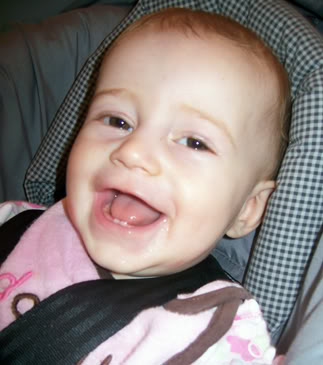 Autumn loves bananas and so I brought some to feed her at the Little Gym. She smiled so big for me and I finally got a really good picture of her showing her new pearly white teeth! Such a pretty girl!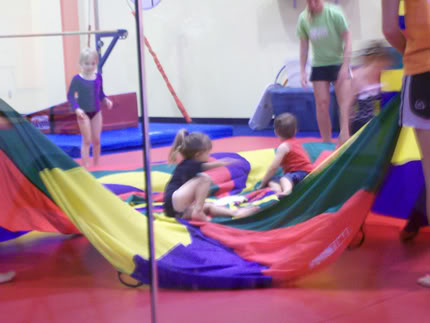 We had many talks with Nathan about 'not staying with the group' at the Little Gym last week. He did MUCH better today until the last 15 minutes. So, I am happy about that, as it is a 1 hour class and that is a long time for a 3 year old. Here they are playing with the parachutes. Nathan got to lay in the middle while the other kids scooted the parachute around in a circle. He loved it!
Earn Amazon giftcards by searching the web with Swagbucks!