Autumn has been napping really good during the day (probably because she is being a PITA at night- huge sigh) and I decided to do one of the Highlight's activities with Nathan. We had so much fun!!!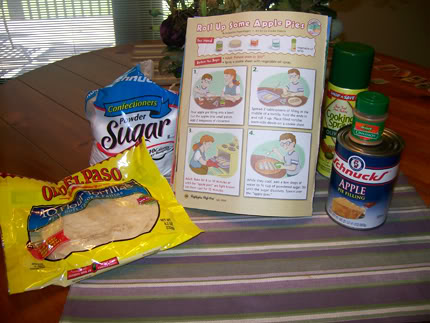 Ingredients.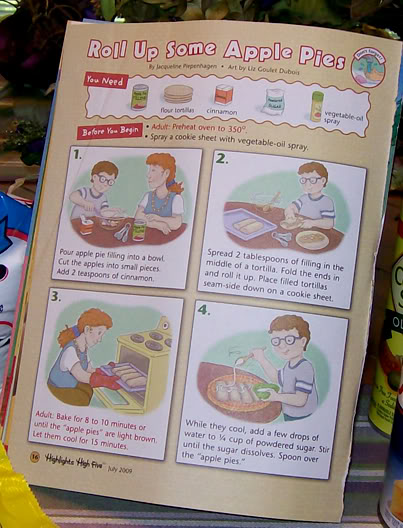 Instructions.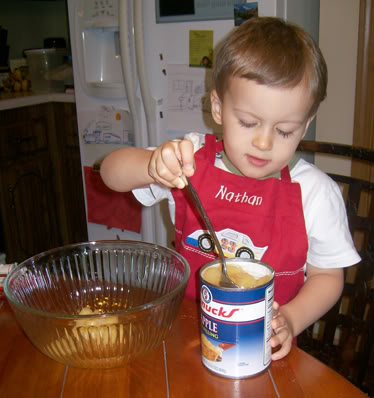 First, you dump a can of apple filling into a glass bowl. Nathan had a hard time with dumping it in the bowl so I gave him a spoon so he could scoop the apples into the bowl.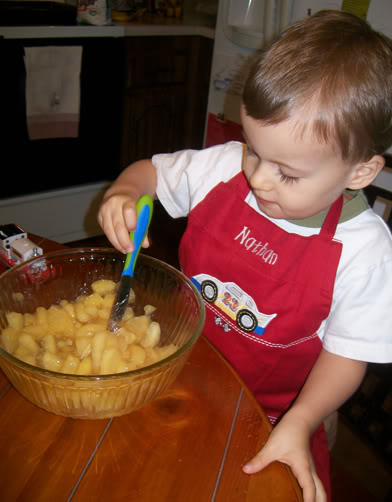 Then, you need to cut the apples up into small pieces. Nathan never gets to 'play' with knives, so he enjoyed this activity.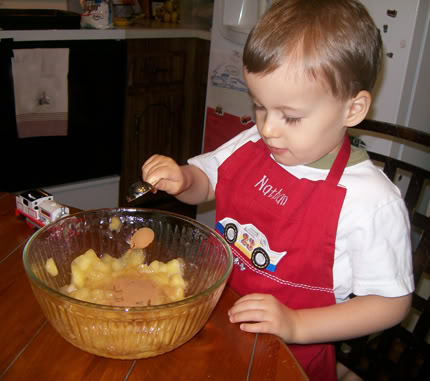 Add 2 teaspons of cinnamon to the apples. I got a GREAT shot on this picture, see the dallop of cinnamon in mid-air! Awesome!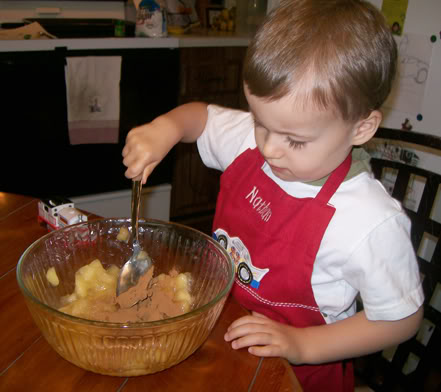 Stir. My boy does not like to be messy. The apple mix was very sticky and everytime he'd get a little on his fingers he asked me to wash it off.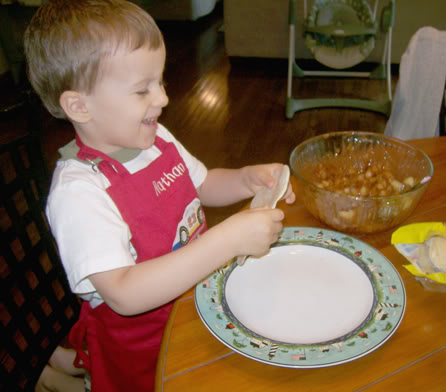 Then, you grab an enchilada to put the filling onto… I love how Nathan says enchilada. He says enchlala. He can pronounce most words well, but this one through him for a loop!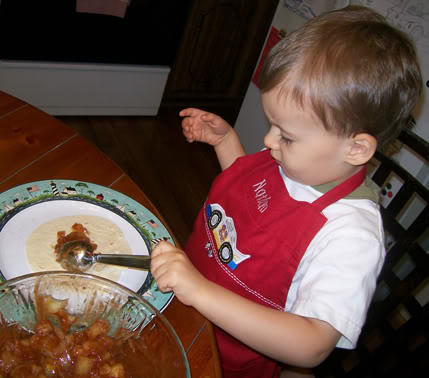 Spooning two tablespoons of apple mixture onto each enchilada. You can tell by Nathan's face that he is trying to avoid getting anymore of the sticky mixture on himself by all costs.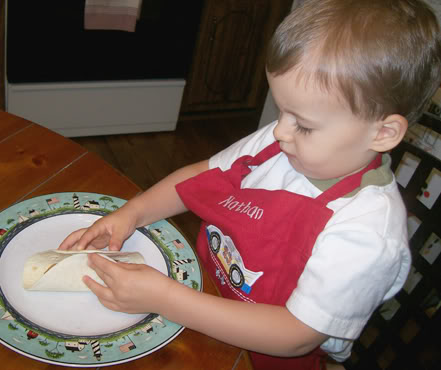 Roll it up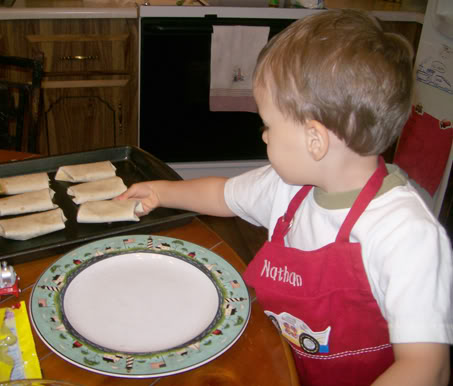 Place it on the baking sheet. Bake.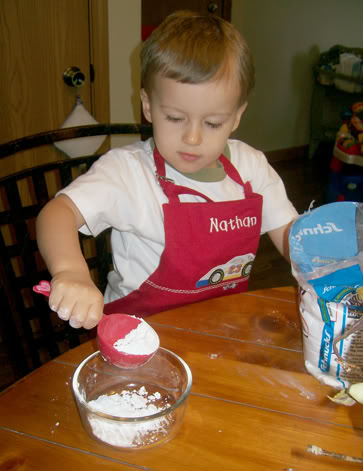 Meanwhile, mix 1/4 cup powdered sugar with a few drops of water for a glaze to drizzle over the cooked enchiladas.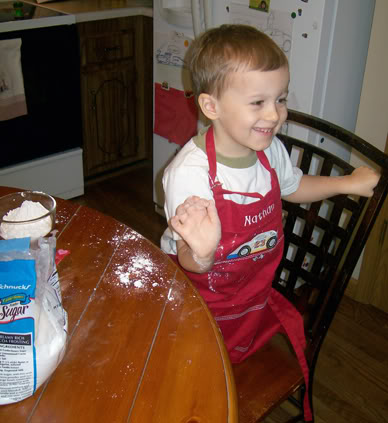 Of course… the powdered sugar was Nathan's favorite part! He may not like having sticky stuff on him, but sprinkling sweet sugar all over the table, himself and the floor was a real treat! Maybe even a bigger treat them the apple pie roll ups!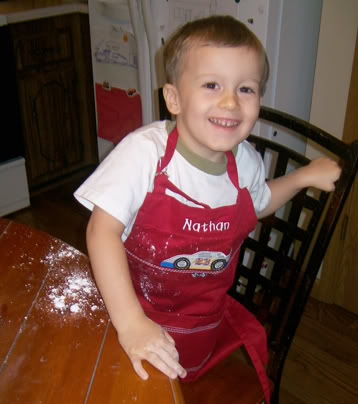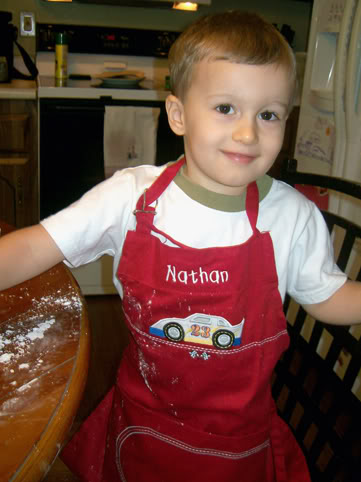 I could barely get Nathan to crack a smile the entire process until he got into the sugar. So, I had to share these pictures… The red apron he is wearing was a deal I got when he was just a baby. Williams Sonoma had the aprons on sale for $6.99 including personalization (name) AND free shipping. I may have to buy Autumn one eventually at full price. I had forgotten about it until this morning and it was great to have because his clothes stayed clean! He loves the racecar on it!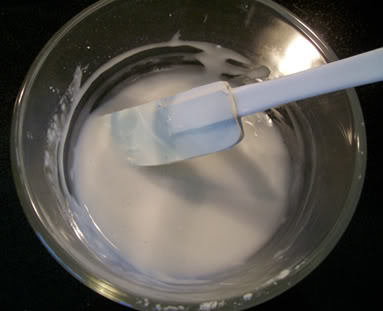 Sugar glaze mixture to drizzle over the pies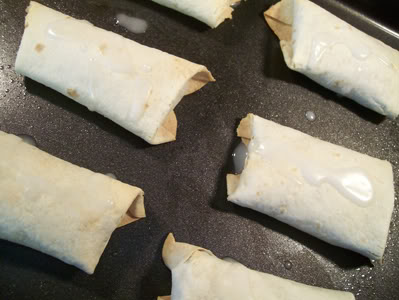 Fresh out of the oven and with the glaze dribbled on them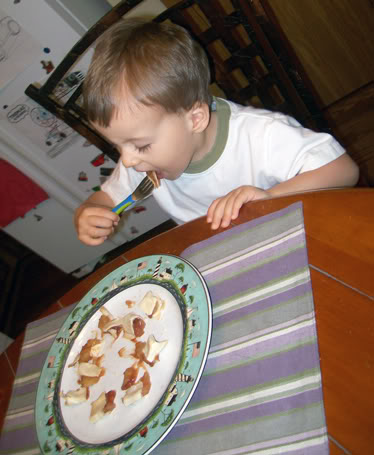 Nathan enjoyed his creation. Mmmm!
Earn Amazon giftcards by searching the web with Swagbucks!